February 15, 2023
Good morning. In today's either/view, we discuss whether India is prepared to deal with natural disasters. We also look at the mass arrest of drug smugglers in Punjab, among other news.
---
📰

FEATURE STORY
Is India prepared to deal with natural disasters?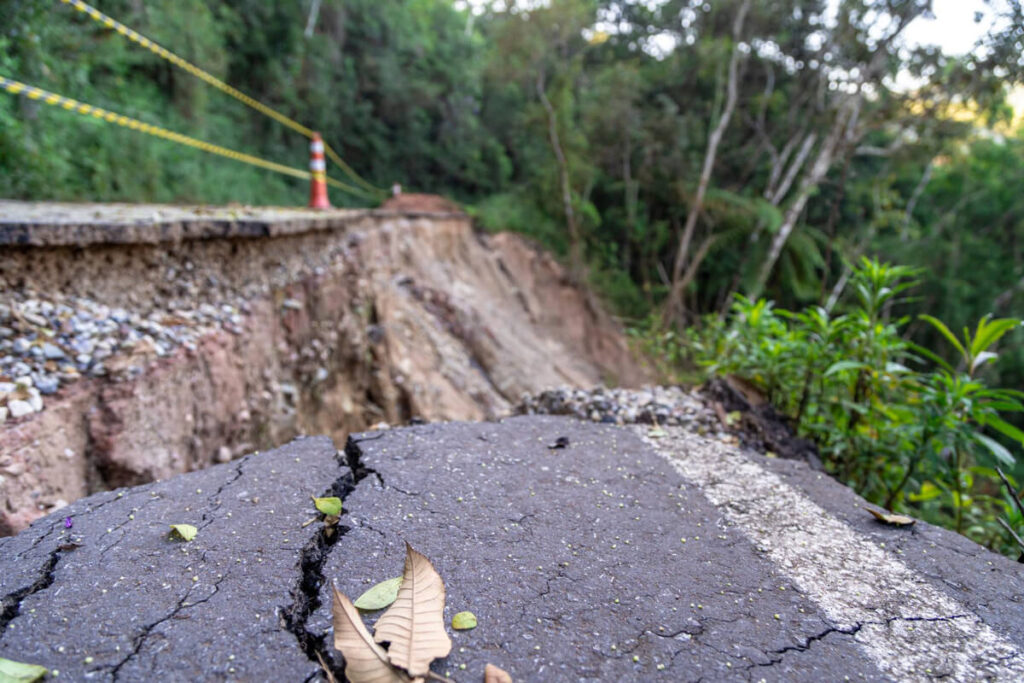 This week, Assam and Sikkim reported mild earthquakes with reportedly no damage to life and property. The good news about earthquakes is that experts believe India is protected from devastating quakes because it experiences micro tremors regularly that relieve tectonic stress. But if there is a lesson to be learnt from the Assam floods of 2022 or the Joshimath land subsidence crises, it is that waiting for the worst to happen leads to immeasurable loss of life and livelihood.
The country needs a disaster management framework which prioritises risk management and second-order impacts. So, where does India currently stand – is it prepared to withstand potentially catastrophic disasters, or are some lessons still to be learnt?
Context
The rising toll of disasters across the world has prompted experts and politicians to reassess their countries' resilience and mitigation strategies. Research suggests that most weather-related catastrophes are likely to become more frequent and intense. While disasters can be freak accidents of nature, human negligence and climate change compound their intensity and frequency.
India is one of the most disaster-prone countries in the world, with many territories witnessing recurrent environmental disasters such as cyclones, earthquakes, landslides, floods and droughts. In 2022, around 88% of the year witnessed natural calamities. According to the World Risk Index survey 2022, India possesses the second highest risk of experiencing disaster or vulnerability to extreme natural events.
It ranks 7th on the Global Climate Risk Index 2021. In 2019, 1,800 people died due to heavier monsoons and floods alone, while 1.8 million people were displaced, leaving their normal ties to community, land, and livelihood disrupted. Then again, not all communities and regions are hit to the same degree.
Expansive networks of waterbodies and seismological placement increase the frequency of earthquakes, floods, and landslides in India's northeast states. Arunachal Pradesh, Assam, Manipur, Meghalaya, Mizoram, Nagaland, and Tripura are in Seismic Zone 5, vulnerable to high damage risk, while Sikkim is in Zone 4. In Assam, residents remember experiencing multiple high-intensity floods in their lifetime, in 1986, 1990, 2004, and the 2022 disaster wherein cities were deluged overnight.
It is then the centre and the vulnerable state's government's imperative to devise prevention and mitigation policies foregrounding the region's higher vulnerability and strictly regulating development activity and construction projects.
In 2019, the Centre introduced a National Disaster Management Plan per the provisions of the Disaster Management Act, 2005 and the National Policy on Disaster Management (NPDM), 2009. A new plan was imminent due to the global perspective shift in understanding natural disasters as less natural and more human-made.
This shift has two important implications: one, after years of developing post-disaster mitigation methods, countries will attach paramount attention to pre-disaster variables, such as exercising regular risk assessment, detailed reports on causes and multiple-level impact, and construction regulations.
The other implication is that governments now have to focus on building community resilience towards resisting and recovering from disasters through resilient infrastructure codes, capacity development of local leaders and stakeholders, and inter-agency coordination. Let's assess how India fares on its disaster mitigation and resilience efforts.
VIEW: A solid institutional network will bolster community resilience
India has a robust and multi-layered institutional setup for disaster management, relief, and rehabilitation running down to the district and panchayat levels. The National Disaster Management Authority (NDMA) functions as the statutory body for coordinating country-level mitigation of and resilience to natural disasters. The centre, on its part, incentivises efficient disaster management by state agencies through awards and cash rewards.
The National Disaster Response Force battalions, supplemented by their State-level counterparts, are deployed in vulnerable regions like Assam, Mandi in Himachal, and Haldwani in Uttarakhand to perform timely rescue and restoration operations in calamity struck areas.
India's rural governance system and expansive institutional structure ensure the presence of a well-equipped first responder network. The COVID-19 pandemic has demonstrated how panchayats and village frontline workers can mobilise to contain the spread of disasters, execute rescue operations, and coordinate with nodal agencies to improve awareness and preparedness at the household and community levels.
The NDMP 2019 integrates disaster resilience, a method of preventing devastation during calamities, thereby enhancing risk management at the community level. This is not simply a claim that the policy has. Its successful implementation has been affirmed by experts who opine that the resilience of communities is increasing in India, which will help people to rebound quicker.
India has adopted advanced early warning systems that effectively monitor and predict natural calamities in vulnerable areas, although their distribution has room for improvement. After the Joshimath crisis in Himachal became apparent, the Sukhvinder Singh Sukhu-led government issued a directive to develop an advanced warning system to better prepare for future disasters.
COUNTERVIEW: Neither mitigation nor prevention meets the mark
India's policy instruments and institutional infrastructure may be expansive, but they are plagued with serious flaws in both framing and implementation. The hydra-headed disaster management network requires a high centre and state expenditure to maintain a large and skilled workforce. Its scarcity, however, has warranted the deployment of armed forces as first responders in calamity-hit areas. Several defence veterans and experts criticise the Indian state's inability to expand first responders and dependence on military personnel to fill in the gaps.
The future of relief operations and rehabilitation seems grim after the Centre slashed relief funds by ₹30 crore in the 2023-24 budget. This is after Cyclone Yaas in Odisha demonstrated how communities were gasping for relief measures. Besides, rural welfare schemes play a significant role in ensuring people recover quickly from calamities. However, the current budget remains myopic in recognising the far-reaching impact of rural welfare schemes in villages post-disaster.
A major shortcoming of building pre-disaster resilience is apparent in earthquake preparedness. Despite approving new buildings according to seismic code designs, the disaster authorities have failed to make even the slightest dent in upgrading the existing buildings. About 90% of the existing infrastructure is based on old technology and, in rural areas, is often non-engineered.
Finally, the 2019 policy has several inconsistencies that are more likely to delay than expedite disaster resilience and mitigation. The NDMP clubs several ministries together at the central level, thereby diminishing their authority and independent functioning. The policy also introduces a private, non-profit Disaster Resilient and Research Foundation (DRRF) but lacks cla­rity on meaningfully tasking nodal agencies with disaster management.
Most of them are scientific, administrative organisations that are burdened with a new responsibility framework. Consider, for instance, the Geological Survey of India (GSI), which is recognised as the nodal agency for landslides, while its primary role revolves around mineral exploration.
Reference Links:
What is your opinion on this?
(Only subscribers can participate in polls)
a) India is prepared to deal with natural disasters.
b) India is not prepared to deal with natural disasters.
---
🕵️ BEYOND ECHO CHAMBERS
For the Right:
AYUSH medicines can't grow without the support of allopathy
For the Left:
The Bharat Jodo Yatra was good, but it is over. RaGa must move on and find variety in his narrative
---
🇮🇳 STATE OF THE STATES
10,576 drug smugglers arrested in 7 months (Punjab) – Following the beginning of a special campaign by Punjab Chief Minister Bhagwant Mann to combat the drug menace in the state, Punjab Police have detained 10,576 drug traffickers in the past seven months, according to Inspector General of Police (IGP) Headquarters Sukhchain Singh Gill.
Why it matters: The problem of drug smuggling in Punjab is a huge one. Drugs are not only circulated within the state but are also smuggled from across the border. The police have filed a total of 7,999 FIRs related to drug smuggling, 915 of which are related to commercial transactions. A total of 667.03 kg of heroin was confiscated during this period.
New EV policy to boost employment (Tamil Nadu) – Tamil Nadu has signed MoUs with approximately ₹24,000 crore in potential investment and 48,000 jobs in the EV value chain. According to the new policy, EV projects would receive a five-year term of 100% tax-free electricity, the power they acquire from the Tamil Nadu Generation & Distribution Corporation Limited (TANGEDCO) or produce and use themselves.
Why it matters: The strategy states that Chennai, Coimbatore, Tiruchirappalli, Madurai, Salem, and Tirunelveli would be promoted as pilot cities for adopting e-mobility solutions. It also states that changes will be made to the building and construction legislation to guarantee that all new buildings and flats in cities have charging infrastructure from the beginning of the design process. The strategy also provides financial assistance to businesses that want to diversify or move towards EV production in order to upskill their employees.
Panchayat Mmkhiyas facing lethal threats (Bihar) – According to police, a total of 50 mukhiya killings have taken place in Bihar in the last ten years. The mukhiyas are targeted for the large sum of developmental funds they have. The police so far have proven to be deficient in either stopping the killings or predicting the political tension between people.
Why it matters: The position of a mukhiya has grown lucrative and the competition fierce, thanks to the successful devolution of powers and the mukhiyas' increased ability to have a voice in how development money is used. Every project that is undertaken in rural regions, from constructing roads and schools to providing housing assistance, operating anganwadis, and distributing PDS, has the mukhiyas' signature. Thus, the killing of a mukhiya translates to the shattering of the backbone of a village. While the police are able to solve the murder cases, they are unable to put a stop to them.
CM Gehlot raises the question of ERCP before Modi (Rajasthan) – Rajasthan chief minister Ashok Gehlot brought up the issue of the Eastern Rajasthan Canal Project (ERCP) during the inauguration of the first phase of the Delhi-Mumbai Expressway on 12th February. He said that while 50 roads have been approved to be developed into national highways, no gazette notification has been made so far.
Why it matters: Despite covering 342.52 lakh hectares, or 10.4% of the nation, Rajasthan only has 1.16 per cent of the country's surface water and 1.72 per cent of its groundwater, according to the state's water resources department. With the help of the Eastern Rajasthan Canal Project, excess water that is accessible during the rainy season in southern Rajasthan rivers like the Chambal and its tributaries Kunnu, Parvati, and Kalisindh will be collected and used in the state's water-scarce south-eastern regions.
Greater representation of women in politics is a need (Meghalaya) – In the Matrilineal society of Meghalaya, kids take the last names of their mothers, grooms move in with the family of the brides, and the youngest daughters inherit the familial property. However, this pattern is totally invisible in the politics of Meghalaya.
Why it matters: In the Meghalayan state assembly of 60 seats, only 4 members are women. While women enjoy a lot of privileges in society, the lack of representation in politics washes it all away. The traditional Khasi Dorbar Shnongs actively prohibit women from contesting in politics. This election year, Meghalayan parties are trying to improve the situation, and a total of 36 women candidates are contesting the election.
---
🔢 KEY NUMBER
161 – Young sportspersons from Maharashtra emerged as the overall champions of the 5th Khelo India games with a total of 161 medals.