February 14, 2023
Good morning. In today's either/view, we discuss the trajectory of India-Canada relations. We also look at the E-MIRCHA initiative in Andhra Pradesh, among other news.
---
📰

FEATURE STORY
India-Canada relations: How will things go moving forward?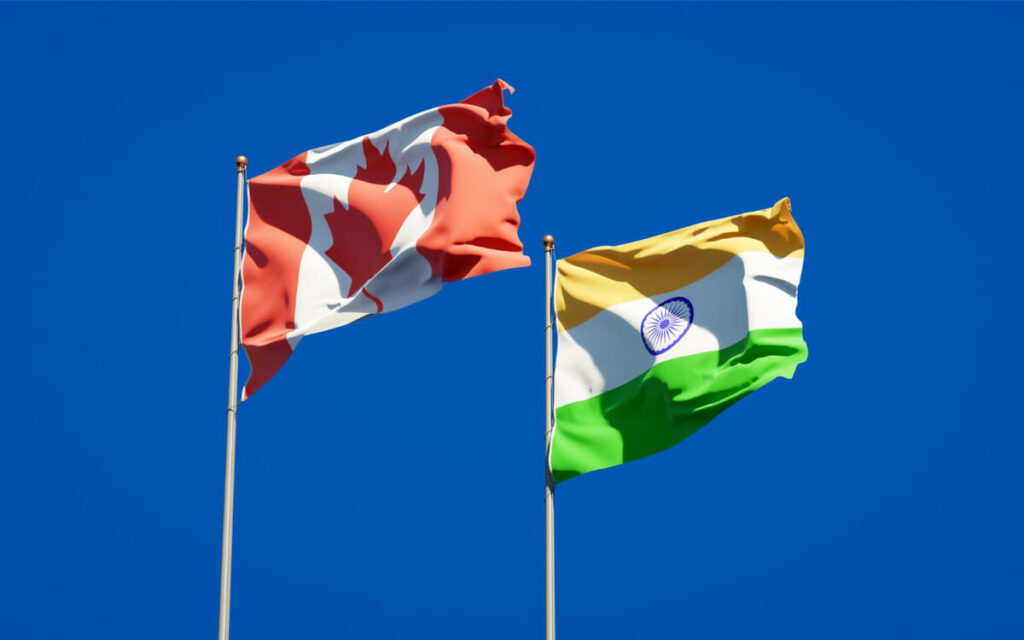 Foreign policy is sometimes described as a matter of costs and benefits. Some countries may seem like natural allies on paper, but it may not translate in the real world. They might not be at war, but there's some friction that both sides might occasionally lobby against the other.
India's relationship with Canada should be tip-top. In reality, there have been some points of contention. The arrival of Canadian Foreign Minister Mélanie Joly without much fanfare to meet with her Indian counterpart is a significant step. Given the past couple of years haven't been best for bilateral relations between the two countries, does the future bode well for India-Canada relations?
Context
Since India's Independence, Canada has recognised India's role in the region. Bilateral relations between both countries took off during Nehru's visit to Canada in 1949. This isn't to say everything was rosy at the time. In 1948, Canada supported a plebiscite in Kashmir, followed by a ceasefire. This didn't please India. Add to that John Diefenbaker's Conservative Party-led government in Canada was close to the Ayub Khan-led Pakistani government.
Canada was one of the founding members of NATO, which went against India's Non-Aligned Movement (NAM) membership. India wanted to be neutral between the two Cold War blocs, a key feature of its foreign policy during the Cold War. Canada's military and economic ties were closer with the US than India at the time.
The first real diplomatic roadblock came in 1974 when India carried out its first nuclear test. Canada suspected it was done with the help of its CIRUS reactor. It was the only one that provided plutonium. Canada thought India was on its side in being ideologically opposed to nuclear weapons. History would repeat itself in 1998 in the aftermath of the Pokhran nuclear test. Foreign Minister Mitchell Sharp said trust between both countries was gone.
One thorny issue that has remained to some extent is the actions of Punjab immigrants. In the 1980s, Punjab accounted for a significant portion of immigrants to Canada thanks to its Liberal government and family reunification policy. India raised concerns about Khalistani sympathisers in Canada who called for Punjab's secession. Things turned deadly in 1985 when Sikh extremists blew up Air India flight 182, killing all on board.
Economically, Canada welcomed the liberalisation policies of the early 90s. Canada saw India as an emerging economic power. There was progress economically. However, the long-standing issues regarding nuclear weapons continued to hinder relations. In the 2000s, Canada and India upped their game with high-level meetings and visits between heads of state.
With the Justin Trudeau government, there was speculation that relations would be tricky since the previous Liberal government prioritised a human security agenda. However, a new geopolitical landscape in Asia changed things. Canada recognised the importance of the Global South, China, and India. Given all that has transpired between the two countries, what's in store for India-Canada relations?
VIEW: Future looks bright
Some would say Trudeau's relationship with Modi hasn't been warm in the past. Despite this, it seems part of Canada's Indo-Pacific strategy has prioritised constructive engagement with India. The theme is 2023 will be the year of a necessary reset in relations. Part of this is looking at the regions it's focussing on – China, India, the North Pacific, and the ASEAN countries. Its strategy involves an initial investment of $2.5 billion over the next five years and identifying India as a key partner.
For Canada, there's enough impetus to expand in the region. Its closest allies, like the US and EU countries, have increased their presence militarily and economically. One important aspect is China. For India, its view of China is clear. It has been confrontational. Canada had a taste of this when Xi Jinping accused Trudeau of leaking meeting details days after the G20 summit. While Canada won't stop engaging with China, it will use blunt language, as it did last year, and be wary.
Economically, there's room for growth in light of Canada's high commissioner to India, Cameron MacKay's comments that trade relations between the two are underperforming. India's exports were $3.7 billion, and its imports were $2.7 billion. Both countries are negotiating an early progress trade agreement. The next step would be a Comprehensive Economic Partnership Agreement (CEPA) which will double trade between the countries. Canada will have access to one of the fastest-growing economies. There's room for opportunities in research and education, given Canada has one of the largest Indian diasporas.
COUNTERVIEW: Long-standing issues remain
Successive governments in both countries have tried to leverage the diaspora to strengthen bilateral relations. Engaging the Indian diaspora in Canada has been challenging. India wants to limit the influence of Canada-based Khalistan sympathisers. Here's the problem for India, Sikhs make up a significant portion of the diaspora and have a decent influence on Canada's politics.
Last September, India issued a travel advisory for students travelling to Canada after it objected to a Khalistan referendum held in Ontario by a pro-Khalistani group. A few weeks earlier, the BAPS Swaminarayan temple in Canada was defaced with anti-India graffiti. Under Trudeau, the Khalistani issue has gotten worse. In 2015, he attended a Khalsa day parade at home. His 2018 visit to India was deemed disastrous.
On Kashmir, as tensions between India and Pakistan escalated in the past few years, the Liberal government has come under pressure to stand against the Indian government's crackdown. Economically, the formal negotiations on CEPA haven't borne fruit. Canada remains an insignificant trading partner for India in the grand scheme of things. India's exports to Canada were behind that of the US and Mexico. On paper, both countries have some shared values. It's unlikely India will set aside politically contentious issues that have dominated relations in the past.
Reference Links:
What is your opinion on this?
(Only subscribers can participate in polls)
a) India-Canada relations look promising going forward.
b) India-Canada relations look shaky going forward.
---
🕵️ BEYOND ECHO CHAMBERS
For the Right:
The problematic appointment at the judiciary
For the Left:
How Nehru supporters and historians stole the limelight from other significant revolutionaries
---
🇮🇳 STATE OF THE STATES
Economists suggest Punjab raise money from the public (Punjab) – According to a report by three economics experts, the government should ask for a seven-year moratorium on debt payments to give the economy some breathing room. To get the state out of debt, economists advise the government to establish a debt relief fund (DRF) and ask for voluntary contributions from the populace. Additionally, they requested that the state government work with other local political parties to urge the federal government for a debt relief programme.
Why it matters: This situation started in 1984–1985 when the state had its first revenue deficit, and since then, successive governments have borrowed excessively and added to the debt's buildup. Because of this, the present government is also compelled to do the same. According to the economists' findings, the state government has borrowed an average of ₹35,201.87 crores each year as per the three-year average. Only 7.8% of the total borrowings—₹2,734.09 crores—are really available for use; the remaining 92.2% gets spent on paying off the debt.
E-MIRCHA initiative benefits 49,000 chilli farmers (Andhra Pradesh) – To improve the quality of mirchi produced in the State, the AP government's Horticulture department, in collaboration with the Digital Green NGO and the Bill and Milinda Gates Foundation, has launched the E-MIRCHA initiative. The primary goals of this project are to boost farmer productivity and to introduce the most recent digital technologies to mirchi growing.
Why it matters: The E-MIRCHA initiative, which the AP government started, has given nearly 49,000 chilli growers various incentives. Due to its vibrant colour and spicy flavour, Andhra Pradesh produces the majority of the chillies in India. Because of its worldwide fame, it has a great demand on the global market.
Almost 70% of roads under PMGSY are incomplete (Odisha) – In Odisha, phase III of the Pradhan Mantri Gram Sadak Yojana (PMGSY) is still in progress on more than 70% of the roads and 97% of the minor bridges that were taken on. Under the PMGSY-III, as many as 1,408 roads totalling 9,400 km and 92 bridges were approved in 2019. Although 366 roads totalling 4,273 km and three bridges have been finished, 1,042 roads totalling 5,081 km and 89 bridges are still unfinished.
Why it matters: Even though the first two phases of the PMGSY were finished before phase III launched, some 54 roads and 23 bridges that had been approved under those phases are still awaiting completion. According to the recommendation, all elected officials, including the MPs and MLAs of the region, should be consulted at various phases of the design and execution of the project, and comments should be taken into consideration when choosing which roads would be undertaken under the PMGSY.
SC orders Uber to obtain licences to continue work (Maharashtra) – On February 13, the Supreme Court ordered Uber to reapply for a licence in Maharashtra by March 6 to continue operating there. The Supreme Court's prior temporary injunction allowing Uber to operate in the state cannot stand since the statute forbids an aggregator from operating without a licence.
Why it matters: Uber was appealing against a Bombay High Court judgement given in March 2022 requiring it to apply for an aggregator licence in the state in accordance with the Motor Vehicles Aggregator (MVA) Guidelines of 2020 published by the centre. While the HC did not forbid aggregators from operating taxis in the state, it did request that they do it within a certain time frame and stated that it was mindful that this would negatively impact commuters. The Motor Vehicles Act, as modified in 2019, makes it plain that aggregators cannot function without a legal licence, according to the Supreme Court.
Meghalaya cabbie wins award for innovation (Meghalaya) – Gautam Gurung, a taxi driver from Meghalaya, has received the Guwahati-based Dinanath Pandey Smart Idea Innovation Award. Gurung received a prize for his inventive "Automatic Car Sanitizer" model, which he displayed at the two-day Innovation Festival held on Saturday and Sunday at the Regional Science Centre in Guwahati.
Why it matters: The "Innovation Festival," put on by the Indian Council for Science Museum in partnership with the National Innovation Foundation (NIF), gives people from all the northeastern states who work in a variety of fields—innovators, artists, performers, crafters, and scientists—a common stage on which to display their creativity. According to this method, sanitisers are automatically sprayed over the seats and inside when a passenger opens the door with the handle.
---
🔢 KEY NUMBER
6.52% – India's retail inflation reaches a new high, from 6.01% to 6.52%.