June 23, 2023
Good morning. In today's either/view, we discuss whether giving the Gandhi Peace Prize to Gita Press is the right move. We also look at Delhi's plan to rejuvenate the city's ageing markets, among other news.
---
📰

FEATURE STORY
Gandhi Peace Prize for Gita Press – The right move?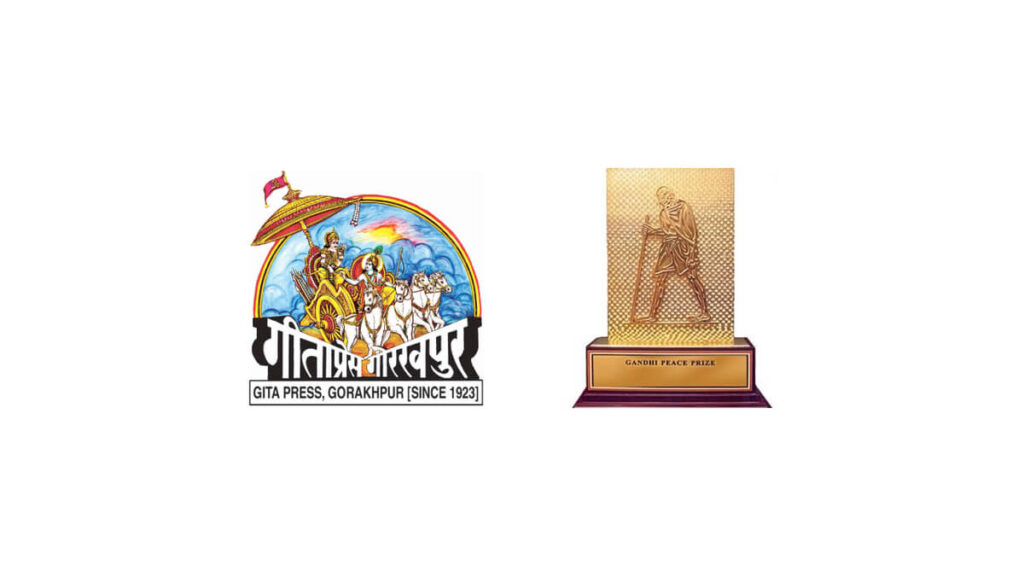 What do Nelson Mandela, ISRO, and Bangladesh's Grameen Bank have in common? They've all been awarded the Gandhi Peace Prize in the past. It's a pretty exclusive award, with only one winner each year. But this one too, couldn't escape the cloud of controversy that usually surrounds the most awaited awards.
Now, add to that prestigious list the Gita Press, a Gorakhpur-based publishing house. That name might not stand out to many people, but it probably will now, given the debate this decision has started. The government has cited reasons why the publication is worthy of such an honour. Others, including the opposition, have cried foul.
Context
Let's set the stage here. What is the Gandhi Peace Prize? To commemorate the 125th birth anniversary of Mahatma Gandhi, the Indian government decided to institute the Gandhi Peace Prize in October 1995. Gandhi had a set of values – Gandhian as it's become widely known. Recipients of the prize embody those Gandhian values; they promote and encourage Gandhian principles through their work.
In essence, any person or entity having Gandhian values and working toward the betterment of society through socio-economic and political transformation is worthy of the prize. It's open to all persons regardless of nationality, race, and religion if they've worked for peace, non-violence, and lifting up the less-privileged. They get a cash reward of ₹1 crore, a plaque, a citation, and a traditional handicraft or handloom item.
Any award like this has a jury, and the Gandhi Peace Prize is no different. There's a five-member jury headed by the Prime Minister. It also has the Leader of the Opposition in the Lok Sabha, the Chief Justice of India, and a couple of other eminent people.
While the awards are an annual affair, for reasons unknown, there were no awardees from 2015 to 2018. They were subsequently announced in 2019. Since then, there's been a lag in announcements for each year. Hence the current recipient Gita Press was awarded for the year 2021.
The first recipient of the Gandhi Peace Prize was former Tanzanian president Julius Nyerere. He was recognised for his non-violent struggle in fighting for his country's independence. Subsequent winners were Nelson Mandela and Archbishop Desmond Tutu.
The announcement of the most recent winner, Gita Press, seems to have rustled some feathers. Established in 1923 by Jaya Dayal Goyanka and Ghanshyam Das Jalan, they publish Hindu religious books. The publishing house grew in popularity and stature since it first began publishing in 1927.
They have a large collection of Hindu texts and manuscripts, including over 100 interpretations of the Bhagwad Gita. They've published over 140 million copies of the Gita and 100 million copies of the Ramcharitamanas, all at subsidised prices. Its centenary celebrations were inaugurated by former President Ram Nath Kovind, with Prime Minister Narendra Modi also extending his gratitude this year.
While the government sees the publisher's history, work, and motto as worthy of the prestigious Gandhi Peace Prize, others say it goes against the very ideals of Gandhi himself.
VIEW: Worthy of the recognition
The motto of Gita Press is to promote the principles of Sanatana Dharma. It has been referred to as the leading player in print Hinduism in the twentieth century. Gita Press came to the fore at a crucial time in India's history. Hindi was more widespread in the public sphere by the end of the nineteenth century. The publisher's magazine, Kalyan, was an important voice and vessel during this time.
The publisher wanted to spread their message rather than necessarily make money off it. They provided subsidised copies of sacred Hindu texts and made them accessible to the masses. In the paper by Monika Freier titled "Cultivating Emotions: the Gita Press and its Agenda of Social and spiritual reform", she highlights the publisher's success at being able to reconcile reformist organisations like the Arya and Brahmo Samaj with traditional ones like the Hindu Mahasabha.
Some have questioned the relationship between Gandhi and the publisher. When Congress leader Jairam Ramesh quoted Akshaya Mukul's biography of the publisher claiming a frosty relationship, the same book suggests otherwise. In one of its chapters, Poddar and Jamnalal Bajaj met Gandhi to seek his blessings for Kalyan. He told them not to have any advertisements and book reviews. They took that to heart and follow it till today. In fact, while acknowledging the recent recognition of the prize, they refused the ₹1 crore, stating they don't take donations.
COUNTERVIEW: Defying logic
After Gandhi's assassination by Godse, the publisher's magazine Kalyan mentioned the incident only in April 1948 and not in the previous two months' issues. The history of Gandhi and the Gita Press is complicated, perhaps even fraught. Poddar actively defended the RSS, which was banned at the time for its alleged role in the assassination. After the recent announcement, Congress didn't hold back in its criticism. Jairam Ramesh said this was akin to rewarding Godse.
While some might think Gandhi and Gita Press shared similar worldviews in general or about Hinduism in particular, that doesn't seem to be the case. On caste and communal issues like temple entry for Harijans and the Poona Pact, the publisher disagreed with Gandhi. Godse's biographer Dhirendra K Jha believed the Hindu right didn't see Gandhi as an ally but as a threat. They wanted a reformer. Instead, Gandhi embodied and worked toward the best version of what Hinduism could be.
The BJP is now more than ever committed to VD Savarkar's ideals of militarising Hinduism. Gita Press' motto is to propogate Sanatana Dharma. The philosophical premise of this has been criticised for being exclusive. Needless to say, it doesn't conform to any Gandhian vision or value. Recognising Gita Press with the prize seems to be a way for the ruling disposition to conflate India's history and tradition with Sanatana Dharma. If so, it's a narrow-minded view of India's diverse traditions and certainly not something Gandhi would be proud of.
Reference Links:
What is your opinion on this?
(Only subscribers can participate in polls)
a) Awarding Gita Press the Gandhi Peace Prize was the right decision.
b) Awarding Gita Press the Gandhi Peace Prize was the wrong decision.
---
🕵️ BEYOND ECHO CHAMBERS
For the Right:
How Arunachal Pradesh is using a draconian law to target those protesting against paper leaks
For the Left:
J Sai Deepak writes: 'Majoritarianism' is used to gaslight Hindus
---
🇮🇳 STATE OF THE STATES
Facelift for popular markets (Delhi) – The Delhi government has unveiled a comprehensive plan to rejuvenate the city's ageing markets, enhance customer footfall, and grow traders' incomes. Following a high-level meeting chaired by Chief Minister Arvind Kejriwal, the plan is to redevelop and beautify Kamla Nagar, Khari Baoli, Lajpat Nagar, Sarojini Nagar, and Kirti Nagar while maintaining their local essence. The Gandhi Nagar wholesale garment market will also be renovated, and the government plans to launch its online marketplace, where it'll onboard a minimum of 100,000 traders.
Why it matters: These markets face numerous issues like crumbling infrastructure, limited amenities, and safety problems. Renovations, infrastructural improvements, and the provision of basic amenities to enhance accessibility are the need of the hour. Through the initiative, Kamla Nagar will become a youth hangout zone, Khari Baoli will reflect its Mughal origins, Lajpat Nagar will cater to high-end fashion and weddings, Sarojini Nagar will be a fast fashion market, and Kirti Nagar will be a one-stop-shop for furniture and home decor.
Jobs for history-sheeters (Kerala) – On Wednesday, 300 rowdy-sheeters and suspected sheet holders, currently driving auto-rickshaws or running pan shops, attended a mass counselling programme organised by the city police. Commissioner of Police CM Trivikrama Varma has offered them assistance to source lawful employment and lead stable lives with their families. He will collaborate with the GVMC to employ history-sheeters with skills in food truck businesses.
Why it matters: Varma assured that history-sheeters are being closely monitored by the police, resulting in a decrease in major crimes. He mentioned the presence of various police teams, including those responsible for surveillance and information gathering. Counselling sessions occur weekly, and an internal committee will monitor their behaviour and consider removing their status as rowdy-sheeters.
Fogging e-rickshaws (Odisha) – To combat the spread of dengue during the upcoming monsoon season, the Bhubaneswar Municipal Corporation (BMC) will introduce a unique e-rickshaw-mounted anti-mosquito fogging machine. This innovative approach will be administered in localities near open drains and garbage dumps, which will be closely observed. BMC anticipates milder dengue cases this year due to the conversion of informal dump yards into mini parks or recreational areas.
Why it matters: The BMC finds its current infrastructure for mosquito-breeding source destruction insufficient. These small, cost-effective machines can navigate narrow lanes, drains, and slums to spray anti-mosquito chemicals. With this addition, the need for drones, which were previously used, may no longer be necessary. The BMC currently possesses one tractor-mounted and seven manually operated machines.
Centre's bid for Ambedkar Museum in London (Maharashtra) – The Ministry of External Affairs (MEA) has requested the Maharashtra government to transfer ownership of the Ambedkar Museum in London to the central government, aiming to establish it as an autonomous unit. The Maharashtra government, which currently oversees the museum's upkeep, respond in the affirmative to the proposal after consulting with the chief minister and deputy chief minister.
Why it matters: Santosh Dass, President of the Federation of Ambedkarite and Buddhist Organisations (FABO) UK, criticised the Centre's plan to take over. Dass stated that the Maharashtra government had purchased the property in 2015 in response to FABO's proposal. She recalled how in 2017, the state government resisted similar attempts by the Centre to take over. Dass and Ambedkar scholar JV Pawar questioned the need for central government intervention when Maharashtra was doing an adequate job.
Opposition criticises delimitation draft (Assam) – The draft proposal on the delimitation of assembly and Lok Sabha constituencies in Assam has been rejected by several political parties, including the Assam Pradesh Congress Committee (APCC), CPI-M, TMC, and AIUDF. The Election Commission of India (ECI) published the draft, which retains 14 Lok Sabha and 126 assembly constituencies but expands the number of reserved seats for Scheduled Caste (SC) and Schedule Tribes (ST) and modifies boundaries and names of certain constituencies.
Why it matters: The redistribution of boundaries and reserved seats was based on the 2001 census. Chief Minister Himanta Biswa Sarma announced that it would help indigenous communities in the state. APCC president Bhupen Kumar Bora rejected Chief Minister Himanta Biswa Sarma's claim and accused him of protecting his followers. He said that the BJP and RSS would eventually face consequences for the proposal. He emphasised the need to implement Assam Accord clauses, grant ST status to six communities, and amend the Land Protection Act.
---
🔢 KEY NUMBER
₹4,224.22 crore – The revised outlay for Puri's development plan after the Odisha cabinet raised it by ₹1,000 crore. It's one of the biggest State-sponsored projects for developing any religious place in India.