March 15, 2022
Good morning. In today's either/view, we discuss whether the concept of 'One Nation One Election' is feasible in the Indian context. We also look at some fascinating fossils found in Jharkhand, among other news.
---
📰

FEATURE STORY
How feasible is "One Nation One Election"?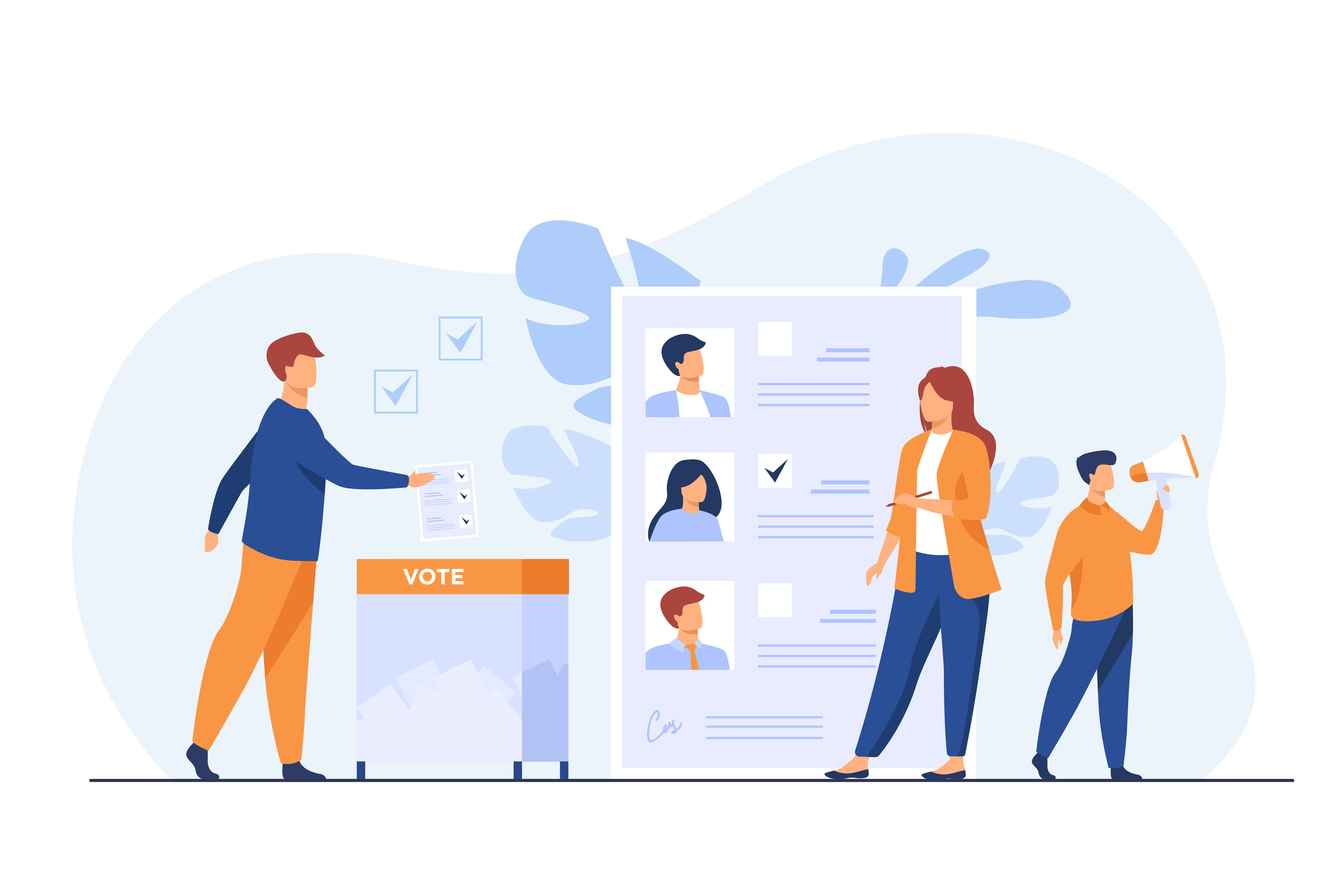 Whether it's the US Presidential race of 2020 or India's Lok Sabha polls of 2019 (two of the most expensive elections), polls are pricey, by a lot. And in India's case, it doesn't just stop at the prime ministerial elections. After voting for the Lok Sabha, the state assemblies go into elections. And again, it isn't like all state assemblies have their terms synced. Those polls happen at different times.
Basically, a political party in modern-day India spends more time campaigning than working on policy. This is why, in 2014, the BJP added "One Nation One Election", or the notion of simultaneous elections, in their party manifesto. Now, if William of Ockham was right about his razor – where the simplest solution is often the correct one – then this particular structure of polling might actually be good for us.
Unfortunately, things are rarely as simple as they seem, especially regarding policy. So join us as we try to work through the incredibly catchy and somewhat greying concept of "One Nation One Election".
Context
In a recent interview with ANI, Chief Election Commissioner Sushil Chandra said that the Election Commission is ready to hold simultaneous elections. Finally, seeing through PM Narendra Modi's call for "One Nation One Election". While it hasn't been implemented yet, it isn't like India has never had such elections before.
Simultaneous elections basically mean that each voter gets to vote for the three tiers of government at once instead of voting for them separately. In India, the Central Election Commission holds elections for the Parliament and State Assemblies only. And those of the final tier of government, i.e. the local body, are taken care of by the State Election Commission.
This polling structure used to be the norm in newly independent India, at least for the first two decades after gaining independence. The Election Commission held simultaneous elections in 1951-52, 1957, 1962 and 1967. This well-oiled cycle soon got disrupted due to a couple of premature assembly dissolutions, both state and centre, in 1968-71. Thus, marked the end of simultaneous elections in India.
Since then, several experts, think tanks and even the Law Commission have looked into the reinstatement of simultaneous elections in the country. PM Narendra Modi, from 2016 onwards, has been talking about it in his speeches. In 2019, the NDA government held an All-Party meet where the idea of simultaneous elections was heavily pushed. Something the Opposition, however, do not see as the best idea.
It's all about efficiency
The Election Commission, as of now, is one of the rare government agencies that actually work round the clock. It has to overlook elections of the Panchayat, District Board, State Assemblies, Legislative Council, Lok Sabha, Rajya Sabha, President and Vice-President. And, of course, none of them happens at the same time. Along with this, the delimitation process of constituencies, verification of voters and tallying votes itself take up a lot of the Commission's time. Now, imagine having to do this almost every month of the year across several states of the country.
And it does not just affect the working of the Election Commission; this prolonged polling is largely believed to hinder development in India. In a literal sense, according to the Model Code of Conduct, new projects cannot be taken up during an election. When the Commission included a pitch for simultaneous elections in their 1983 annual report, it mentioned that the frequent polling was actively hurting day-to-day governance.
You see, political parties, in attempts to either retain or gain prominence in the electoral race, tend to spend more time and resources on campaigning than actual work. Political discourse gets limited to poll promises and populist conditions over the long-form discussion, eventually hurting the public.
There are also the costs. Elections everywhere are incredibly expensive. In 2019, the Lok Sabha polls cost around ₹500 billion; and this was just one of the elections that happened that year. The maximum amount spent on the larger state assembly polls is limited to ₹2.8 million. Right now, at least 5 states enter the polling season each year. If all states were to finish their elections together, the total cost would come to ₹11 billion for their entire tenure. This would serve as a massive relief to the country's exchequer.
As the PM himself noted in one of his speeches pushing for One Nation One Election, "Only one voter list should be used for Lok Sabha, Vidhan Sabha, and other elections. Why are we wasting time and money?"
Threat to local issues
What's important to note is that the Law Commission, even as they spoke about simultaneous elections, mooted the idea of it ever working in India. Why? Well, frequent elections are actually good for democracy. According to author and journalist Sandip Sen, these repeated polls actually favour citizens as it keeps political parties on their feet and makes sure that people's voices are heard. Considering that a political party will have to continuously reaffirm their commitment to issues that resonate with the people, it often leads to better decision making that favours the citizen.
This multi-phased and separated polling also makes sure regional issues get catered to. The themes that run state and national elections are very different. While major crises in unemployment, national security and very recently, the farmers' issue can run a national election, state ones usually focus on health, education and more welfare-based issues. Now, it doesn't matter which side of the political spectrum you align with, the gravity of local issues is pretty hard to miss. According to experts, the regional parties that seem to be thriving in their states are sure to lose out if the elections are merged.
Constitutionally speaking, this whole merging of elections also goes against the basic principles of Indian polity – its federalism. The reason why simultaneous elections in India were dismissed back in the 70s was because of assemblies dissolving. What happens when it happens again? If the Centre fell, for whatever reason, the whole nation would have to go into elections once again, even if the state governments were doing fine. Even worse, if a state government fell, what then? Impose President's Rule on it till the end of that particular administration's tenure? The aim here seems to push the centralisation of power.
Several opposing this amendment to our electoral system also noted that the change might be getting pushed by the BJP to simply make things easier for them. Given that the largest representative of the BJP is PM Narendra Modi himself, it is rather torturous to reiterate the same promises over and over again. From a simple logistical point of view, it's easier for the ruling party to work with a merged election. For citizens, however, practicalities might be letting us down.
What's your opinion on this?
(Only subscribers can participate in polls)
a) One Nation One Election will be good for the Indian citizen.
b) One Nation One Election will hurt the Indian citizen.
---
🕵️ BEYOND ECHO CHAMBERS
For the Right:
India's Silence On Russian Invasion: Why 'Morals' Matter In Foreign Policy
For the Left:
BJP's Electoral Victories Are A Result Of A New Kind Of Welfarism
---
🏴 STATE OF THE STATES
Harassment of journalists (Jammu & Kashmir) – A report by the Press Council of India (PCI) revealed the J&K government stifled the press due to the curbs imposed by the local administration. The report said many journalists who haven't towed the government line have been harassed and intimidated. Lines of communication between local officials and the press have been disrupted as some think the journalists are sympathetic to the militant's cause. The government has also used other measures like denying accreditation and freedom to travel.
Why it matters: Since the scrapping of Article 370 in J&K, there have been several concerns outlined by the opposition and the press. The report stated the police conceded that as many as 49 journalists were arrested and charged since 2016. Of these, 8 were arrested under the Unlawful Activities (Prevention) Act (UAPA), making bail almost impossible. It also spoke of the importance of communication lines and the internet in a sensitive region as the government previously suspended mobile internet services.
PSU losses (Kerala) – The performance of state-owned PSUs has been poor even as Kerala shows interest in the Central PSUs up for sale. According to the annual Review of Public Enterprises in Kerala 2020-21, losses incurred by state-level public enterprises (SLPEs) were ₹6,055.47 crores. The previous year it was ₹1,738.25 crores. A big reason for this is the pandemic. The losses increased despite a 10.05% increase in investment. Among those loss-making SLPEs are the Kerala State Road Transport Corporation and the Kerala State Electricity Board Ltd.
Why it matters: The report covered 116 of the 150 SLPEs which provide employment to more than 1.3 lakh people. The number of profit-making enterprises was 50. However, their profits decreased by 41.86% for 2020-21. The most profitable enterprise was the Kerala State Financial Enterprises followed by the Kerala Minerals and Metals Limited. Bevco MD S Syamsundar said despite the data, a sizeable chunk of the revenue collected goes to the state exchequer as sales tax and excise duty.
Jurassic-era fossils (Jharkhand) – In the hills and foothills of Rajmahal, fossils dating back to the Jurassic era have been found. Their ages are estimated to be between 68 and 150 million years. Research by the Lucknow-based National Botanical Research Institute will shed more light. Initial research showed that the region was a large oceanic field with volcanic eruptions that changed the geological structure. One conclusion is the fossils belong to trees and could've been food for herbivorous dinosaurs.
Why it matters: The fossils present in this area are of keen interest to scientists and researchers worldwide. Recently, a team from New Zealand visited the region. A few years ago, scientists with the Geological Survey of India (GSI) found egg-like fossils in the Katghar village. With carbon dating, the hills of the Rajmahal spread out over 2,600 square km, are 500 million years older than the Himalayas. A few years ago, the state began work on Fossils Park in Sahibganj Kemandro, which is in its final stages.
Action against doctors (Rajasthan) – The state's healthcare infrastructure in rural areas is in bad shape since many hospitals are closed due to a shortage of doctors and healthcare workers. State Health Minister Parsadi Lal Meena has now warned over 3,000 government doctors against using their influence to get postings in cities. As doctors are reluctant to get posted in remote rural areas, more than 3,500 posts are vacant.
Why it matters: The state has been grappling with this problem for some time. In August, it was reported that the state has more than 1,100 posts of specialist doctors in districts, sub-district, satellite, community health centres (CHCs), and primary health centres (PHCs) vacant. Recently, Meena said the government recruited 12,000 auxiliary nurses and midwives under the National Rural Health Mission.
Free sanitary pads (Sikkim) – The state is set to announce an initiative to install vending machines to provide free sanitary pads for all 210 secondary and senior secondary schools. Called "Bahini", it aims to provide 100% access to free and safe sanitary pads. It comes as an effort to prevent school dropouts and increase awareness about menstrual hygiene. This scheme will be particularly important in rural areas where there is little awareness about menstrual hygiene.
Why it matters: The state has more than 18,000 adolescent girls in government schools. This scheme is based on one initiated by the state in 2018 in partnership with Sulabh International. At the time, vending machines were installed in some schools. Due to a lack of funds, the damaged ones couldn't be repaired, and stocks of pads weren't properly acquired.
---
🔢 KEY NUMBER
1.38 crore – The number of cases taken up by the first National Lok Adalat across India. It was organised by the National Legal Services Authority (NALSA) under the leadership of Justice Uday Umesh Lalit.