December 15, 2022
Good morning. In today's either/view, we discuss whether the proposed India-UK Free Trade Agreement (FTA) benefits India. We also look at the investments in Maharashtra, among other news.
---
📰

FEATURE STORY
India-UK Free Trade Agreement (FTA): Is it to India's benefit?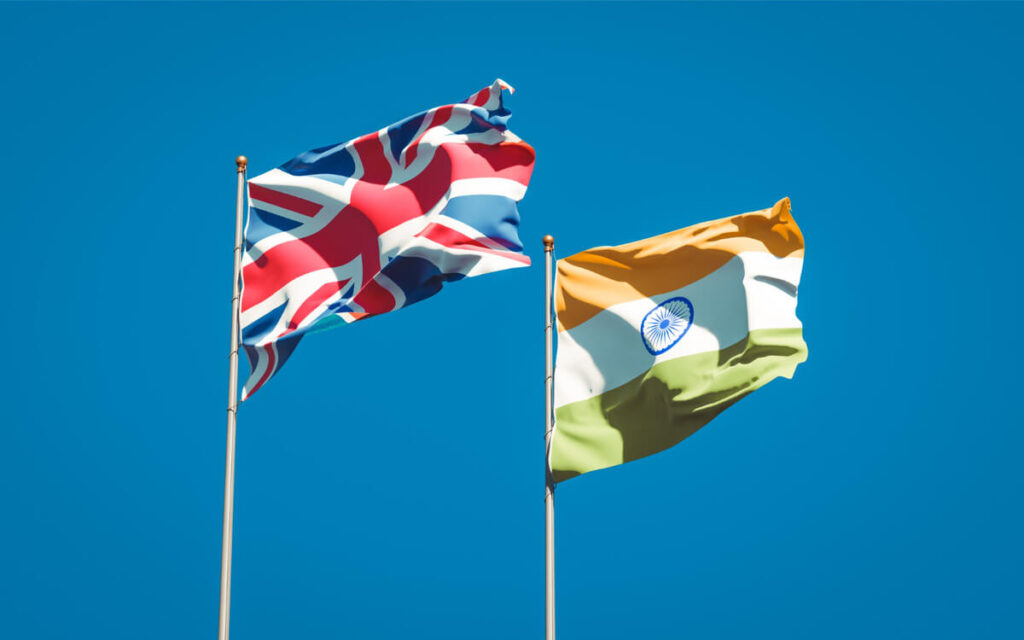 The UK has gone through a political storm this year with the resignations of Boris Johnson and Liz Truss. One could argue it all began with Brexit. The new Prime Minister, Rishi Sunak, has his work cut out in dealing with a world in flux. One of the items on his agenda is the FTA with India. It has been in the works for a while and will take a few more months.
India's previous resistance to FTA has withered down significantly. The government has engaged with Australia and UAE on FTAs as it looks to participate in the global trade arena. On the FTA with the UK specifically, is it beneficial for India in any way? Is India negotiating from a position of strength?
Context
Amidst the revolving door at 10 Downing Street, one thing has remained constant – the UK wanting to have an FTA with India. Back in January, UK officials visited New Delhi to kick off discussions on an ambitious new trade pact. For the UK, it was the beginning of its tilt to the Indo-Pacific and the "5-star year of trade." This includes similar deals with Canada, Mexico, and the Gulf countries.
In June, Prime Minister Boris Johnson set a Diwali deadline for the draft FTA with India. He said it'll be the biggest yet in the UK's post-Brexit era. Once Johnson was out, in came Liz Truss. Interestingly, she was the UK's International Trade Secretary who visited India in February 2021 and met with Commerce and Industry Minister Piyush Goyal. She discussed a path to a potential FTA and deeper trading ties.
As she struggled to keep a working coalition government, she also had to deal with the FTA deadline already set. Facing political pressure at home, she ordered her trade chief to hold fast on the Diwali deadline. If she did finalise it, it would've been a win. It wasn't. India drove a hard bargain on certain parts of the deal.
As her coalition collapsed, in came Rishi Sunak. Like his predecessors, he had the task of bringing the deal over the finish line. Thankfully for him, he's been able to keep a stable government and expressed confidence in getting it done. The timeline has shifted, with reports now stating March 2023. Touting his business background, Sunak spoke of the potential of the Indo-Pacific and India as trading partners.
Regarding India, UK, and trade, here are some numbers to provide a little context. In 2020, India's exports to the UK were valued at $7.75 billion. Most of this included medications and refined petroleum. From the UK's perspective, exports have increased from $2.45 billion in 1995 to $4.63 billion in 2020.
With the current FTA currently being negotiated, who really benefits? Will India gain by opening up its markets to the UK? Will some sectors suffer?
VIEW: It's a win-win
Any deal, even something as complex as an FTA, is unlikely to 100% satisfy both parties. There will be some compromises since that's the nature of things. Arguably the basis of the deal is potential. The potential for both countries to increase trade. While Brexit has been disruptive in many ways, the number of Indian firms operating in the UK has increased to 890 in FY2019-20.
One of its components is the "Global Innovation Partnership" (GIP) to support the transfer of inclusive, climate-smart innovations from India. It'll also promote UK financing and expertise in sustainable infrastructure for projects in India. Take apparel manufacturers as an example. Some have been hit by high tariffs while importing raw materials from Europe and exporting the finished article. It's an opportunity for India as countries want to diversify their manufacturing base and not rely only on China or Vietnam.
For the Indian liquor sector, the FTA is a boon. It's likely to see a cut in import duties that's at 150% currently. India exported about $400,000 worth of alcoholic beverages in 2021-22 compared to imports worth $192 million from the UK. The UK has also decided to have a separate category for Indian-imported liquor. Given the Indian government's ambitions of putting India on the world map across several spheres, the FTA with the UK will be a big step in that direction.
COUNTERVIEW: It's not all good news for India
As Lord Megnath Desai put it, the UK needs this FTA more than India. If it does go through, history should show India negotiated from a position of strength. Calling the Brexit decision foolish, he said the UK needs this deal more than ever. Broadly speaking, trading economic blows to the Indian economy for minimal gains isn't justified.
While much has been spoken about the garment and liquor sectors, the gains for India will be minimal. The UK's customs duties in most sectors are already low. Even in the most optimistic scenario, analysis by the UK's department of international trade showed India's exports to the UK would increase by 10.6 billion pounds. This will happen gradually and only by 2035. That doesn't bode well for domestic companies as job losses will accrue over time as domestic production will be replaced by UK imports.
Taking the pharma sector specifically, a draft of the FTA included TRIPS-plus provisions which will affect the global supply of generic medicines. Points like overriding a section of the Indian Patents Act will make it harder for affordable medications to be available in India. In other areas like migration and mobility, the current political leadership in the UK is hesitant, given historic unemployment.
Reference Links:
What is your opinion on this?
(Only subscribers can participate in polls)
a) The FTA with the UK will be beneficial for India.
b) The FTA with the UK will not be beneficial for India.
---
🕵️ BEYOND ECHO CHAMBERS
For the Right:
One uniform, many people
For the Left:
How Modi government is rejuvenating India's civilizational heritage
---
🇮🇳 STATE OF THE STATES
Free medical tests (Delhi) – Beginning on January 1, the Arvind Kejriwal administration in Delhi will offer 450 different medical tests for free at its clinics and hospitals. 212 medical tests are currently being offered by the Delhi government free of charge.
Why it matters: The government's goal is to provide high-quality healthcare and education to everyone, regardless of their financial situation. The cost of healthcare has greatly increased. Several people struggle to pay for private treatment. All of these people would benefit from our action, Kejriwal remarked in a tweet.
Gamusa gets GI tag (Assam) – The Geographical Indication (GI) designation for Assam's traditional textile, known as "gamusa" or "gamosa," was granted by the Indian government on Tuesday. To stop its unauthorized use, the product will now receive legal protection.
Why it matters: One of the most notable cultural identifiers of the Assamese people is gamusa. A marking or symbol placed on products that designate a particular geographic area or origin is known as a Geographical Indication (GI).
Exhibition on heroes of freedom struggle (Arunachal Pradesh) – An exhibition honouring the brave Arunachal Pradesh freedom fighters and the martyrs of the 1962 Sino-Indian War was opened by the RSS Chief, Mohan Bhagwat. The exhibition is a compilation of inspiring tales of Indian soldiers who fought courageously in Arunachal Pradesh during the Sino-Indian War in 1962.
Why it matters: The exhibition also showcased the stories of brave Arunachal heroes who fought against anti-national forces in distant Jammu and Kashmir. A handful of them were martyred and given the Ashok Chakra, Kirti Chakra, Sena Medal, and other bravery awards.
Investment projects worth ₹70,000 crores (Maharashtra) – The Eknath Shinde-Devendra Fadnavis government approved investments worth a whopping ₹70,000 crore on Tuesday, which are expected to result in the generation of 55,000 new jobs. Cosmo Films (₹900 crores in Sambhajinagar), LG Electronics India (₹350 crores in Ranjangaon, Pune), and Lloyd Metals & Energy (₹5,700 crores in Gadchiroli) are just a few of the prominent companies.
Why it matters: These investments gained relevance since two megaprojects, Vedanta-Foxconn and Tata-Airbus, which had previously planned investments in Maharashtra, relocated to neighbouring Gujarat, which drew criticism from the opposition Maha Vikas Aghadi.
Climate change goals set (Tamil Nadu) – The first state to launch its own effort to combat climate change and become a "climate smart state" is Tamil Nadu. As part of the Tamil Nadu State Action Plan on Climate Change 2.0 (TNSAPCC 2.0), the state has suggested 11 key areas for climate action and 13 goals for the mission.
Why it matters: The Tamil Nadu Climate Change Mission has a number of notable goals. One of them is the 10-year objective to increase the state's tree and forest cover from 23.7% to 33%. In order to mitigate the effects of disasters and successfully address them, the mission also intends to develop smarter infrastructure systems. It focuses on identifying ways to reduce a variety of climate crises, such as the unprecedented rise in sea levels, the productivity of agriculture, and the vulnerable coastal population.
---
🔢 KEY NUMBER
₹10,000 crores – Mahindra & Mahindra Ltd. (M&M Ltd.) announced that it would invest ₹10,000 crores in constructing an electric car manufacturing facility in Pune, Maharashtra.