February 24, 2022
Good morning. In today's either/view, we look at whether the move to exclude Indian topics from National Overseas Scholarship Scheme is right. We also look at why Jharkhand has failed to provide pensions to the elderly on time, among other news.
---
📰

FEATURE STORY
Indian topics excluded from National Overseas Scholarships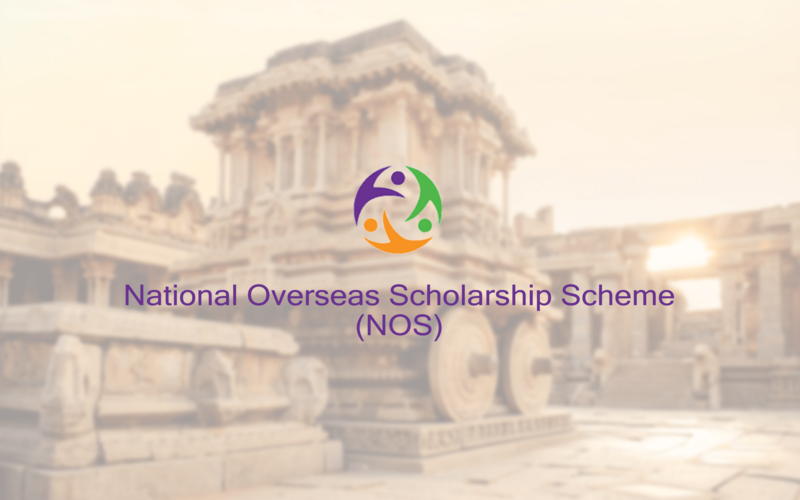 Some of us might know people in our lives who have gone outside India to pursue their education. It's often seen as a positive step to expand one's horizons in terms of culture, learning opportunities, and perhaps, hope for desired employment. For some, that goal is attainable. For many others, not so much.
To expand this opportunity, the government has the National Overseas Scholarship (NOS) Scheme. It funds students from Scheduled Castes (SC), Scheduled Tribes (ST), and other marginalised sections to pursue their post-graduate education abroad.
Recently, the government introduced new guidelines that have caused some controversy. They decided to exclude subjects and courses related to culture, heritage, history, and social studies concerning India under the scholarship. The government wants students to study these topics here, not abroad.
Context
Providing education for SC/ST students has been a long-standing challenge for successive governments. It's widely accepted that providing quality education to kids from backward and marginalised communities can help unlock untapped potential in the country. After all, many SC/ST people have worked hard to help advance India as far as it has. Investing in their education is the right thing to do.
Part of unlocking that potential is ensuring children of Dalits, the poor, and marginalised communities have access to higher education worldwide. Limiting that opportunity to only those who can afford it won't help India's cause. Safe to say, India has taken cognizance of this, as author Suraj Yengde wrote on the importance of SC/ST students pursuing foreign education.
Starting in 1954, for almost seven decades, the NOS has been funding students from marginalised sections to study abroad. Operating under the Ministry of Social Justice and Empowerment, it awards scholarships to a little more than 100 students so that they can go abroad to pursue their higher education. The money allocated for this scheme isn't much. Yearly allocation for the scholarship is less than ₹20 crores.
When the NOS launched, it covered only science and engineering disciplines. In 2012, humanities were added. Under the new guidelines, disciplines like Indian history, culture, and heritage have been removed. A selection and screening committee of the NOS will take a final call on what specific topics fall under this umbrella. The change comes just a couple of months before the final application deadline.
Is the government wrong in wanting subjects about India to be studied in India? Or is this some form of restriction to ensure that the students get a narrow view of Indian history/culture, etc.?
Domestic resources adequate
Research and studies on the culture and history of India are a good thing in general. For students wanting to know more about these topics, there are ample resources in India. Especially for students from marginalised backgrounds, having them study these important subjects in India would give them more experience and practical knowledge.
Indian universities have the necessary and right resources to teach the concerned subjects, as Professor Badri Narayan of the GB Pant Social Science Institute said. They are the best placed with subject-matter experts on Indian history, culture, and social studies. Given that some of the concerned topics are vast and cover a lot of ground, universities and teachers in India would provide the required depth and nuance to students.
In many instances, studying these topics and subjects might necessitate field visits. Hence, students would anyway need to spend a considerable portion of their course period in India for research. The government also noted that the NOS scheme is limited to 125 students. Hence, encouraging those who want to study India-specific subjects at home would free-up opportunities for those wanting to study other subjects where foreign universities are better equipped.
Unnecessary restriction
A government wanting to control what and how students can learn is a slippery slope. While the NOS is a good thing overall in terms of providing education for those from marginalised communities, the scheme itself isn't perfect and has issues regarding the utilisation of funds and awarding scholarships. However, the government's move to restrict particular courses is suspect at the very least. It's also absurd for the Indian government to decide on research topics available in foreign universities.
If a student wants to learn about Indian history, society, and culture, it should be fully accessible. By fully accessible, it includes the good and the bad. Rashtriya Janata Dal parliamentarian and Delhi University academic Manoj Jha sought Prime Minister Modi's intervention. Former Madhya Pradesh Chief Minister Digvijay Singh criticised the policy and called the BJP anti-Dalit. He underscored the need for academic freedom. Some scholars have posited that the reasoning is to present students with a sanitised view of Indian history and culture. That means not giving much or any attention to a topic like caste, for example.
The current government isn't the most receptive to Western critique. Universities in India aren't as open to discussing issues like caste. Foreign ones are, on the other hand. It's ironic given the intention of the scholarship is to empower Dalit, SC, and ST students. Also, the ruling government and other political parties compete for votes from caste blocs. They talk of reservations and expanding economic and educational opportunities. If students from SC/ST backgrounds aren't given academic freedom, any talk of improving their livelihood is hollow.
What's your opinion on this?
(Only subscribers can participate in polls)
a) Excluding Indian topics from the National Overseas Scholarship Scheme is the right move.
b) Excluding Indian topics from the National Overseas Scholarship Scheme is the wrong move.
---
🕵️ BEYOND ECHO CHAMBERS
For the Right:
Guilty Until Proven Innocent: Is India's Undertrial Problem Getting Worse?
For the Left:
Indian Muslims Need To Emulate The Indonesian Model
---
🏴 STATE OF THE STATES
Missed deadline (Nagaland) – The six-member committee set up by the Union Home Ministry to study the effects of the Armed Forces (Special Powers) Act (AFSPA) on the region has missed its deadline again. As per CM Neiphiu Rio, the committee had 45 days to submit the report on AFSPA's withdrawal, i.e. by 9 February. But this was overridden by the Home Ministry, giving the committee 3 months, making the deadline 26 March.
Why it matters: As per the Naga People's Front (NPF), the committee headed by Registrar General of India (RGI) Vivek Joshi is likely to miss the coming deadline as well. The movement for repealing AFSPA has been growing in the Northeast since December 2021, after the killing of 13 civilians in Mon. Even the NPF, despite being an ally of the BJP, has been pretty vocal about their demands.
Yellow rust spotted (Haryana) – The first couple of cases of yellow rust has been recorded in the districts of Yamunagar and Kurukshetra. While the spread of the airborne crop disease was definitely not alarming, the Agriculture Department has sent out an advisory to farmers of the region. Turns out, the disease spreads very easily and vigilant monitoring and prevention could keep the situation in control.
Why it matters: Yellow rust is an airborne fungal disease that shows itself as yellow powder on leaves. This stops photosynthesis which affects the growth and yield of the plant. Unfortunately, this is a yearly occurrence among wheat crops and has caused severe losses in the past. This year, around 1.10 lakh hectares are covered by wheat crops in Kurukshetra alone.
Failing at universal pension (Jharkhand) – Despite being the only state to offer universal pension to the elderly, Jharkhand has failed to distribute funds to beneficiaries for the past 4 months. According to officials in the state's social justice department, the distribution has been delayed as the Centre failed to send its share of the allocation on time. The state has received the funds this month and the money should reach beneficiaries in a week.
Why it matters: Jharkhand is the only state in the country that provides a pension scheme covering anybody over 60, widows and differently-abled people. All of them are supposed to get ₹1,000 each month. In other states, only when a person in these categories falls below the poverty line will they become beneficiaries of pension schemes. In Jharkhand, only when one is an income taxpayer, or someone in their family pays taxes or is a government employee will they not receive a pension.
Rights over inoculation (Maharashtra) – On Tuesday, the Bombay High Court ruled that the Chief Secretary's order restricting public transport to fully vaccinated individuals is a violation of citizens' fundamental rights. It was then informed by the state government that the latter was willing to withdraw the order and replace it with more appropriate guidelines. This came up as the court was hearing 2 public interest litigations (PILs) about the state's travel restrictions.
Why it matters: Back in November 2021, Chief Secretary Debashish Chakrabarty issued an order stating that only those who have received both their vaccines against Covid-19 are allowed to use public transport. A month later, he had to defend it at court as PILs had claimed that it was against Articles 14, 19 and 21 of the Constitution which are fundamental rights. Chakrabarty said that this was done on reasonable grounds.
Sexual harassment in the force (Kerala) – In a recent interview, Kerala's first woman IPS officer, R Sreelekha, brought to attention the issue of sexual harassment prevalent in the police force. She even narrated incidents of blatant misogyny directed towards women police officers from the men in the force. As a response to this, the General Secretary of the Kerala Police Officers Association, CR Biju, questioned her allegations and said that they were baseless.
Why it matters: According to the Bureau of Police Research and Development, as of 2020, women make up only 8.98% of India's police force. And only about 1% of them hold supervisory positions in law enforcement. According to the Status of Policing Report in India, 2019, 3 out of 4 women in uniform say that they have experienced sexual harassment in the workplace.
---
🔢 KEY NUMBER
17,914 – According to the National Commission for Protection of Child Rights (NCPCR), there are 17,914 children living on the street or in "street situations" across the country. Out of them, 834 children live on the streets alone, 9,530 are on the streets with their families and 7,550 of them are on the streets during the day and live in slums at night.