February 23, 2022
Good morning. In today's either/view, we look at what impact the Production Linked Incentive schemes have on the Indian economy. We also look at why there is a clamour to bring Bhojpuri under the Eighth Schedule, among other news.
---
📰

FEATURE STORY
Understanding PLIs: The gamification of economies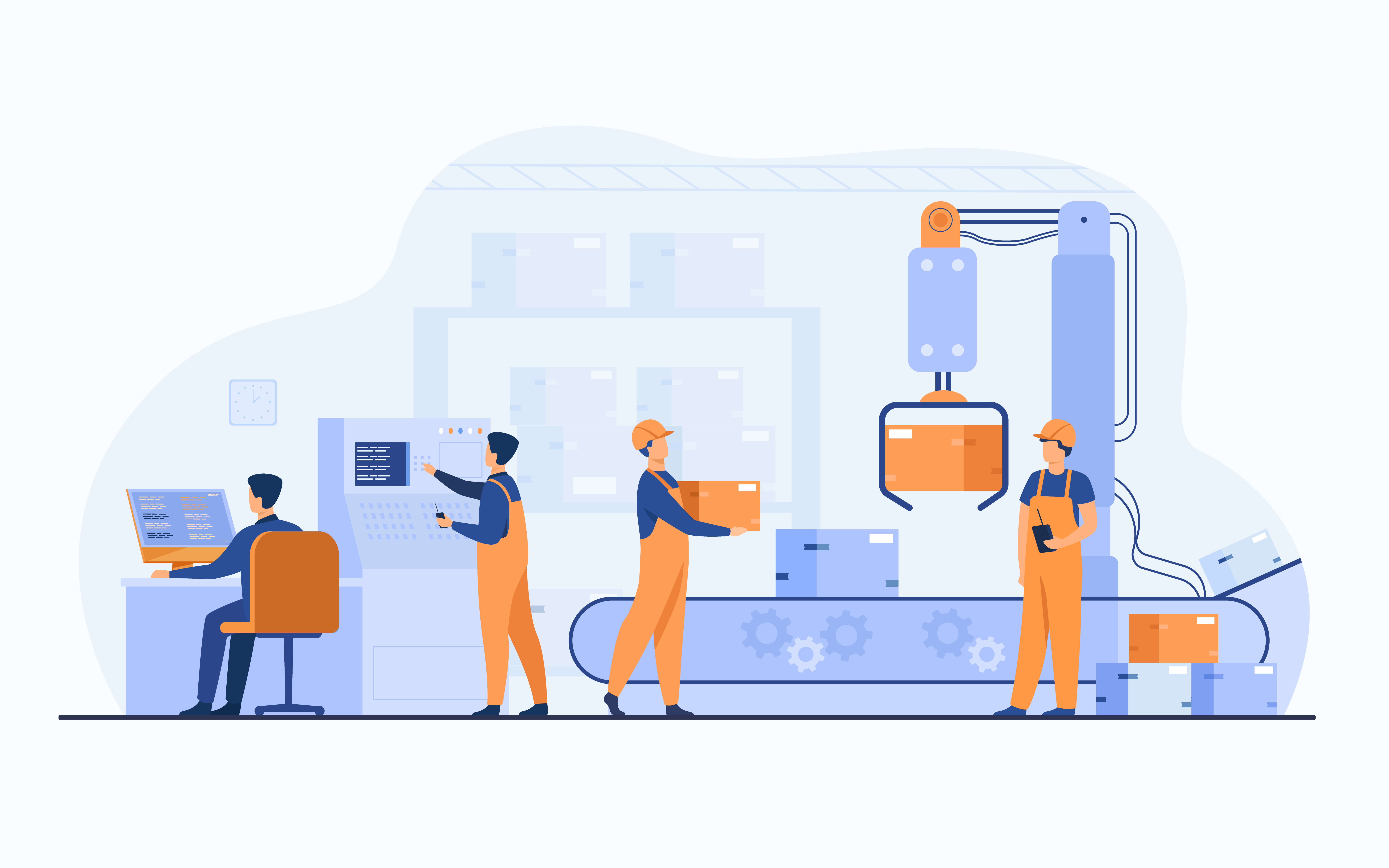 Now, you don't need to be Bob Dylan to know that the times, they are a-changin'. Since the onset of Miss Rona's pandemic, the Centre's push for an "Atmanirbhar" India has taken on a life of its own. As of now, there are 14 Production Linked Incentive (PLI) schemes to push manufacturing in the country. Something the Centre deems is absolutely necessary when it comes to creating jobs and hiking performance.
Still, some believe that bombarding the market with too many PLIs at once might prove to be counterproductive. Let's face it, markets are like ecosystems, and they must be respected. So are we really headed for the golden age of "Make in India", or is this our version of the rolling twenties, destined for a hard crash?
Context
Right after independence, when India was frankly over the "wonders" of the West, many socialist policies were formulated to pave the way for true self-sufficiency. Unfortunately, simply positive attitudes and a dream are not enough to see you through the industrialisation process of a budding nation. Our public sector quickly started crumbling, and manufacturing got stuck in the hands of the foreign-run private companies.
The PLIs are expected to turn this around. A PLI scheme incentivises performance, i.e. offers rewards for better performance. The more goods a company manufactures, the better rewards it will receive. It is the policy version of a gold star sticker given in schools. As emotionally attached as we are to those shiny pieces of adhesive paper, the PLIs seem to come with a little more real-world value.
The Centre offers these PLIs to both domestic and international companies, but on slightly different grounds. For foreign manufacturers to benefit from these schemes, they need to establish production units in India. For domestic companies, on the other hand, the incentives are aimed at making them expand their businesses and take on exporting ventures.
Considering India's dependence on Chinese imports, the PLIs first started surfacing during the height of the pandemic in 2020. Our relationship with them soon evolved from curbing the spread of Covid-19 to a mainstay in our economic journey. The first PLI scheme was announced in April 2020 regarding tech production. Now they cover everything from metals, chemicals and mining, all the way to food processing and apparel.
A certified gamechanger
While it is expected of Union Ministers to laud the Centre's PLIs, an unexpected piece of positive reinforcement came from the World Bank. In a report called Global Economic Prospects, the World Bank has said that the Indian economy is expected to grow at 8.7% in the financial year 2022-23. The year after, it is set to grow at 6.8% and eventually overtake markets like China. It also brings us closer to our $5 trillion economy goal. And what do they give credit to for these figures? Well, the Production Linked Incentive or PLI schemes, of course.
India has had its issues with protectionist policies in the past. Giving way to the practical shunning foreign players from having a piece of the indigenous pie. In a globalised world, building a 12ft wall around you does not make much sense, and the PLIs get that. What these PLIs do, according to the World Bank, is encourage Indian companies to use domestic markets and venture out into global ones with a safety net. This even lets micro, small and medium enterprises (MSMEs) form links with larger firms under the schemes.
Another factor of the PLIs is that the incentives are milestone-based or output-oriented. This makes industry players more likely to develop an efficient and integrated production ecosystem. It also makes India a good alternative for companies looking to branch out of China and establish their manufacturing units elsewhere. Major companies like Apple and Samsung have already started moving their factories to India. Given our massive market size and relatively low labour prices, goal-oriented incentives could be what these companies need to permanently establish their units here.
Finally, this focus on manufacturing is also expected to have a few trickle-down effects on employment and growth. Sectors like textiles, pharmaceuticals and steel, areas India already exports a lot, are supposed to widen their market prospects through this. The PLI schemes regarding renewable energy and solar panels will also lower our import dependency. And bringing down our import bill is always good as it improves the Indian rupee's purchasing power. Not to mention the huge employment generation that is to come of this, both directly and indirectly.
Not entirely what meets the eye
What these PLIs do is successfully dangle a carrot in front of an already working horse. How the horse got to its prime is none of its business. When the hype around the PLIs simmered a bit, people were quick to point out that India's import duties still remain rather high. This is what makes our Asian neighbours like Vietnam and Korea way more friendly towards foreign investors than we are. While the tariff walls did help us despite the World Trade Organisation's issues with it, the changing paradigms of trade have placed some of our neighbours in a far more favourable light.
There are also concerns about the sudden inclusion of a wide array of sectors. When the first PLI was announced, regarding electronics and tech manufacturing, it was lauded for how specific its goals were. It was a simple change that was easy to manage. The sudden onslaught of PLIs covering 14 entire sectors makes the scope of these schemes simply uncontrollable. Even when one looks into the financial allocations, the schemes seem to be lacking. While sure, manufacturing is always covered, in research-based areas like pharmaceuticals and tech, the funds for studies and design seem to be lacking.
According to Brickwork Ratings, the subsidies provided by the PLIs will eventually make sectors dependent on the schemes. Instead, the focus should have been on encouraging competitiveness in the market. This is usually done by letting domestic companies enter in direct and unwavering competition with international players. "An overvalued rupee and increased tariff protection cannot make the economy competitive," says the agency.
And to those claiming the PLIs are teetering towards the socialistic side of the political spectrum: the schemes clearly favour winners over the rest. This is a classic example of conditional assistance as one receives subsidies only when they're doing well and meeting production targets. Leaving smaller companies to fend for themselves. The schemes are also steeped in bureaucracy as the PLIs call for the constitution of an Empowered Committee (EC) that will dictate who gets what under it. This seems to contrast the Centre's "ease of doing business" policies.
What's your opinion on this?
(Only subscribers can participate in polls)
a) The Production Linked Incentive (PLI) schemes will ultimately be good for the Indian economy.
b) The Production Linked Incentive (PLI) schemes will turn investors away from the Indian economy.
---
🕵️ BEYOND ECHO CHAMBERS
For the Right:
Will India's Gender Budget Truly Serve As An Instrument For Ushering In Women-led Development?
For the Left:
Rage And Reason Have United Against Gowhar Geelani Today
---
🏴 STATE OF THE STATES
Import of trout ova (Himachal Pradesh) – The Himachal Pradesh fisheries department will import around 8 lakh genetically modified species of brown and rainbow trout eyed ova from Denmark. It will help the state meets its production target of 1,200 tonnes of trout over the next five years. Current production is about 700 tonnes, according to fisheries minister Virender Kanwar. They will be reared at some trout farms across the state and then distributed to trout growers. The department is also generating awareness of the benefits of trout fish farming.
Why it matters: Trout farmers in the state have had a tough time over the past year. Poor supply of feeds from the government and exposure to flash floods have made it economically unviable. There are more than 500 trout farmers registered with the state fisheries department. This isn't the first time the state has relied on trout imports. From 2018 to 2021, it imported 18 lakh genetically modified eyed ova from Denmark. The state is also investing in developing fisheries, spending ₹90 crores from 2017-18 to 2020-21 on hatcheries, pond development projects, and trout units.
Buying more land (Tamil Nadu) – The state government is looking to attract big names to the state in hopes of increased investment. One place that has garnered interest is Hosur, where Tata and Ola have already made their home over the past two years. Now, the government is looking to acquire 4,000 acres of land in Hosur to bring in more industries and companies. K Velmurugan, President of Hosur Small and Tiny Industries Association (HOSTIA) welcomed the move saying it can attract ₹25,000 crores of investment and generate over 1 lakh jobs.
Why it matters: Tamil Nadu is the second-largest manufacturing hub in the country, accounting for 20% of electronics production in India. Hosur has become an attractive investment destination due to its proximity to Bengaluru and the presence of MSMEs. The state government wants to make Hosur a hub for electronics manufacturing. Bringing industries here would also help decongest Chennai and its neighbouring districts. Tata is investing ₹7,000 crores in an electronic ecosystem to manufacture smartphones. Last year, Velmurugan said the government should prepare a master plan for the development of Hosur.
Bhojpuri in Eighth Schedule (Bihar) – The state government is looking to revive its long-pending demand to include Bhojpuri in the Eighth Schedule of the Constitution. This would give it the status of an official language. Chief Minister Nitish Kumar said his government will continue to press for official recognition of Bhojpuri. He also criticised the Jharkhand government for its recent decision to withdraw Bhojpuri and Magahi from the list of regional languages of the Dhanbad and Bokaro districts.
Why it matters: The demand to include Bhojpuri in the Eighth Schedule has a long history. In 1971, the CPI MP Bhogendra Jha introduced a bill in the Lok Sabha on this, but it was rejected. Since then, several ministers have spoken about including Bhojpuri but nothing came to fruition. In 2017, the Bihar cabinet decided to send a proposal to the centre to include Bhojpuri in the Eighth Schedule of the Constitution. The Eighth Schedule has 22 languages, with 14 initially included in the constitution.
Commercial real estate gains momentum (Gujarat) – Since last year, the commercial real estate market in the state is gaining momentum. Per data from the Gujarat Real Estate Regulatory Authority (GRERA), new commercial project registrations increased by 24% in 2021-22. The state saw investments worth ₹5,005 crores in new commercial real estate projects in 2021-22. Ahmedabad alone saw the registration of 76 new commercial projects, an increase of 17% from FY 2021. Experts say the growth in demand is due to renewed confidence among businesses as COVID-19 cases continue to decline.
Why it matters: Last year, the mood wasn't as optimistic. In all four major cities – Ahmedabad, Vadodara, Surat, and Rajkot, there were fewer projects registered with the GRERA. In 2020-21, the number of new residential, commercial, and mixed development projects declined by 22.8% compared to 2019-20. As the first nationwide lockdown came into effect, the real estate market came to a standstill in the first quarter (April-June) of fiscal 2021. Also impacting the sector were delays as government offices weren't operating at full capacity due to the pandemic.
Construction of houses (Sikkim) – More than 1900 houses have been constructed to date under the Sikkim Garib Awas Yojana (SGAY). The agency in charge said the remaining will be completed by March. In a meeting to assess the scheme's progress, the Principal Secretary said he was pleased with the pace of work so far. The government set a target to construct 3050 houses by March. So far, nearly 100 houses have been allocated in each constituency.
Why it matters: In 2020, the state government launched SGAY to provide affordable and safe housing. Before its launch, then Chief Minister P.S. Golay said there should be no discrimination in the selection of beneficiaries for SGAY. While the SGAY is only for rural areas, the state also has the Sikkim Urban Awas Yojana for building houses in urban areas. In September, Chief Minister Prem Singh Tamang inaugurated the first house under SGAY.
---
🔢 KEY NUMBER
$6.7 billion – The estimated cost of broadcast rights for the upcoming IPL. Amazon, Reliance, Sony, and Disney are in contention to secure a 5 year TV and digital broadcast rights.