August 15, 2022
Good morning. Wish you a happy 76th Independence Day! Our team will be on leave to celebrate the occasion today. So this newsletter will not be published tomorrow. We will be back on Wednesday.
In today's either/view, we discuss whether Indian democracy is stronger after 75 years of independence. We also look at the Blackbuck memorial in Rajasthan, among other news.
---
📰

FEATURE STORY
75 Years After Independence – Is Indian Democracy Stronger?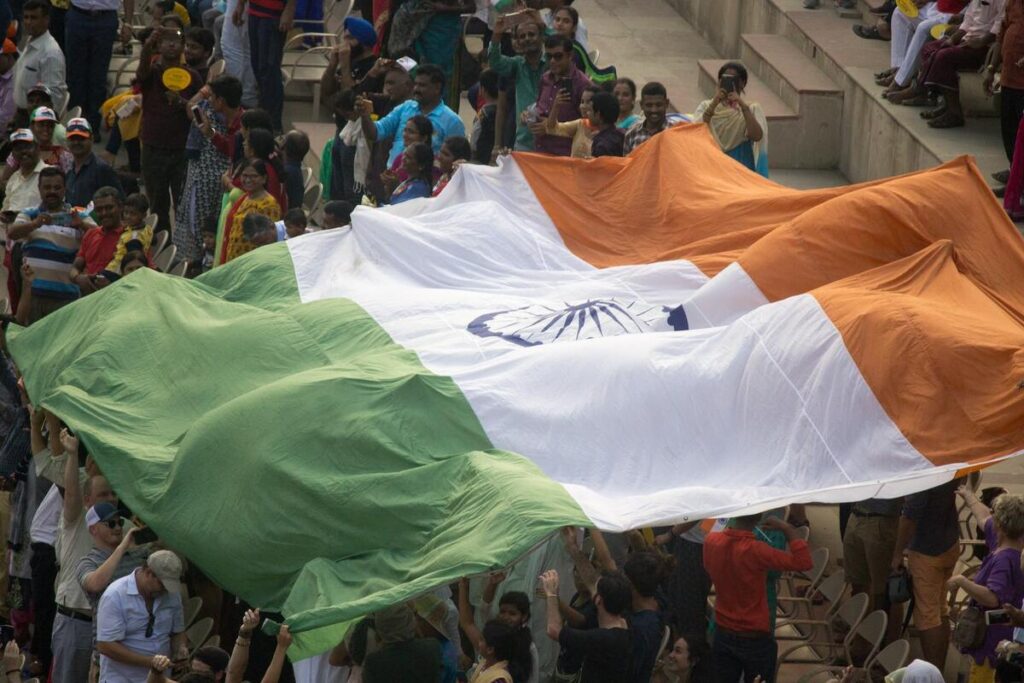 Jawaharlal Nehru once said democracy is good because other systems are worse. 75 years is a long time, and India is still a relatively young country and democracy. Over the past 75 years, the world and India have changed while not necessarily at the same pace.
India can seem like a country of a billion people and a million contradictions. Over the decades, various governments and leaders have been at the helm of the Indian republic. Many have made their mark, seldom without controversy. As India celebrates 75 years of independence, is India's democracy in good shape, despite the challenges before it? Or have we become weaker?
Context
Like many other British colonies, India had to fight to get its independence. The vast majority of other British colonies didn't necessarily emerge as model democratic states, quickly succumbing to autocratic rule. Take one of India's closest neighbours, Pakistan. It has undergone long periods of military rule. It hasn't seen much democratic consolidation even when it seemed that might be the case.
During the mid-nineteenth century, the British began a foothold in India. Between 1757 and 1857, the British made their presence felt in more ways than one. In 1857, things began to change due to the great Indian mutiny, as referred to by British colonial historians. For Indian historians, this was the first war of independence. In the wake of 1857, Queen Victoria promised not to interfere with the local traditions and religious beliefs.
By the late nineteenth century, Indian nationalism began to emerge. However, the type of nationalism often referred to at this time was elitist and catered to the upper middle class. It coincided with the formation of the Indian National Congress in 1885. Then came leaders like MK Gandhi and his civil disobedience, a tool that would ultimately be successful. Many saw him as an example of peaceful protest, the echoes of which were seen and felt in the USA through Dr Martin Luther King's actions.
Once freedom was achieved, democracy, equality, and other rights became the first and fundamental principles of the constitution. The constitution, the much-debated laws of the land, was a big step for a country recently declared free of colonial rule, but not necessarily colonialism. A drafting committee with Dr BR Ambedkar at the helm was set up. The constitution was introduced in the Assembly and passed in 1949. On January 26, 1950, it came into force.
One of the core tenets of a democracy is free and fair elections. Citizens have their say on who should govern them. Independent India's first elections were held from October 25, 1951, to February 21, 1952. While Congress was the most widely recognised party, 53 in total participated. Estimates state that 106 million votes were cast.
The concept of democracy has changed and evolved over time. Global and regional events shape the way we think, write, and talk about democracy. The pandemic is one such example. The International Institute for Democracy and Electoral Assistance stated as of August 2021, 64% of countries took action to curb the pandemic that was considered unnecessary or illegal. Its report highlighted that the number of backsliding democracies has doubled in the past decade.
On August 15, 1947, at the stroke of midnight, the question posed before Indians had changed. It was no longer "when shall we get freedom", but "what shall we do with freedom"? 75 years on, is Indian democracy stable, or is it on shaky ground?
VIEW: Imperfect but stable
Democracy is often described as an experiment. A system of government where people with wide-ranging ideological and sociological views can co-exist. A system where people have the right to choose those who govern them. India is the world's biggest democracy. As journalist Tom Friedman said in an interview, it's a miracle that a country with 1.3 billion people speaking more than a hundred different languages can have free and fair elections every five years.
While many countries, with faults of their own, have criticised India's democratic nature and functioning, India has hit back. Earlier this year, Foreign Minister S Jaishankar had a message to the West. He said democracy struck deeper roots in India and is stronger after 75 years. His reasoning was that more people participate in the electoral process as more people believe in the democratic system.
Taking the response to the pandemic, for instance, India has fared far better than China, which has been cagey, and the USA, under the Trump administration, was disastrous. Concerning India's neighbours, we've already mentioned Pakistan. Another example is Sri Lanka, currently in political turmoil. What makes Indian democracy stable is that it's based on a broad consensus of balancing the interests of various religious, language, caste, and tribal groups.
India's status as a relatively stable democracy, people's preference for a democratic system, and the government's acceptance of global economic interdependence have enabled and fostered relations with Western democracies. This has helped the country grow and become an economic powerhouse. As Greg Earl, a participant of an international observer group wrote before the 2019 elections, Indians have a sense that India's embedded democratic culture deserved respect abroad as things weren't as rosy in Washington and London.
COUNTERVIEW: Leaders and institutions failing
Democracy is a tightrope. In 1814, America's second President, John Adams, decried that democracy soon wastes, exhausts, and murders itself. Now, no democracy is perfect, nor do they function per the wishes of all. However, at 75, Indian democracy is as shaky as ever. No government has been perfect. We only need to look at Indira Gandhi and the emergency for that. However, since Modi and the BJP have come to power, there have been serious concerns about democratic institutions in India.
In March, the U.S.-based non-profit Freedom House downgraded India from a free democracy to partially free. The report highlighted harassment of journalists, NGOs, and other government critics has increased under the Modi-led BJP government. Muslims, Dalits, and other scheduled castes and tribes continue to be economically and socially marginalised.
In the same interview mentioned earlier, Tom Friedman did say he saw some dangers to India's democracy. He reiterated that India's pluralism and democracy are keys to any success it can have. It has to be cherished, preserved, and respected, he said. Journalist Shikha Mukerjee wrote about how Indian democracy and its elections aren't safe. She stated even after 75 years of independence, there's a concerted effort to deny equal rights to all citizens, especially women.
As India has relatively good relations with other countries, its foreign policy often talks about democracy. While it champions it abroad, there has been a dangerous trend of Hindu nationalism. Indrajit Roy, a senior lecturer, wrote on this interplay. He compared India championing democracy to western countries fighting wars in the name of freedom while hollowing it out domestically by denying those rights to racial and ethnic minorities.
What's your opinion on this?
(Only subscribers can participate in polls)
a) After 75 years of independence, India's democracy is strong and stable.
b) After 75 years of independence, India's democracy is weak and unstable.
---
🕵️ BEYOND ECHO CHAMBERS
For the Right:
BJP 2.0: State Leaders Are Near Invisible
For the Left:
Time To Recognise Unparalleled Bravery And Sacrifices Of RSS' Swayamsevaks During Partition
---
🇮🇳 STATE OF THE STATES
Business Blasters Programme (Delhi) – The Delhi government wants to extend the Business Blasters Programme to private schools. Deputy Chief Minister Manish Sisodia met with Class 11 and 12 students and was a chief guest at a programme by Springdales School for Independence Day. Students presented various business ideas like solar smart school bags, organic plants, etc. Sisodia said India should be number 1 in the world and must concentrate on research.
Why it matters: The Business Blasters Programme is an initiative of the Delhi government's Entrepreneurship Mindset Curriculum. It's part of the government's push to inculcate an entrepreneurial spirit among school students. In March, the government organised an investment summit where more than 100 business ideas were presented by students.
Pension for freedom fighters (Karnataka) – The state is currently paying ₹10,000 to 4,475 freedom fighters. However, only a few hundred of them may be alive, according to authorities. Most of the payments are being received by their family members. Belagavi has the highest number of freedom fighters with 870, while Bengaluru urban has 472. Officials said only 98 are alive, and for three of them, their addresses couldn't be found.
Why it matters: Recently, the pensions for freedom fighters were transferred from the Department of Personnel & Administrative Reforms (DPAR) to the Revenue Department. The rules state that the husband or wife or dependent children can get the pension. This pension dates back to 1969 when the Mysore government released the Mysore State Freedom Fighters Welfare Rules.
Drinking water policy (Jharkhand) – The state government has prepared a ₹2,300 crore plan to provide drinking water to 10 lakh people living under 18 urban local bodies. The project will be funded by the World Bank, Asian Development Bank and the Centre's Atal Mission for Rejuvenation and Urban Transformation (AMRUT) scheme. It'll be implemented by the Jharkhand Urban Infrastructure Development Company (JUIDCO).
Why it matters: Recently, the state government said it's working towards providing tap water connection for every rural household by 2024 under the Jal Jeevan Mission. Last year, the state began providing free water connections to all households as part of the Jharkhand urban water supply improvement project. It was part of the Water Policy 2020 that has come into effect from January 2021.
Blackbuck memorial (Rajasthan) – At the Kankani village of Rajasthan's Jodhpur district, the Bishnoi community is building a memorial to honour the blackbuck killed by actor Salman Khan 24 years ago. At the site, a monument and an animal rescue centre are also being built. A 3-feet statue of the deer weighing 800 kg will be erected made of cement and iron bars. It's being financed by collecting money from residents.
Why it matters: The village residents consider the deer part of their identity and want to preserve the species. The monument is being built to raise awareness about protecting animals. According to some residents, since the killing of the deer, residents have been demanding a site to help educate people on the importance of animal conservation.
Curbing maternal deaths (Meghalaya) – To prevent maternal deaths, the state government has set up transit homes for pregnant women across 80 public health centres (PHCs). They've been set up under the Chief Minister's Safe Motherhood Scheme. These homes will help promote institutional deliveries to keep a check on maternal mortality rates. Chief Minister Conrad K. Sangma said the maternal mortality rate has come down by 35% in the last six months.
Why it matters: The state health policy identified maternal mortality as an area of concern. In 2020-21, the state recorded 248 maternal deaths. The maternal mortality rate of the state is 197 per one lakh deliveries. Institutional deliveries in the state are low at 51.4%. Infant mortality was 30 per 1000 live births. For comparison, the number for Kerala is six.
---
🔢 KEY NUMBER
300 million – The number of Indians lifted out of poverty between 2006 and 2019, according to RBI Deputy Governor Michael Patra. It's estimated to be the highest rate of poverty reduction anywhere in the world, he said.