August 14, 2022
Good morning. Every Sunday, we publish the results of polls from feature stories that were published the past week. We also give a brief overview of the topics that were discussed.
---
🗳️ POLL RESULTS – Week 86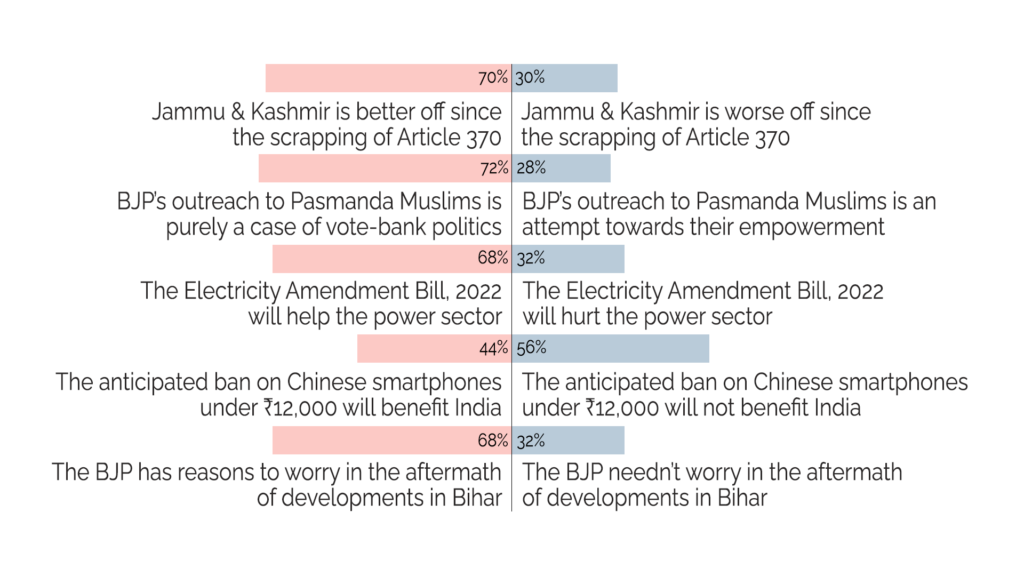 ---
🗓️ THE WEEK THAT WAS
Three Years Since Article 370 Got Scrapped – Are Things Better Off For J&K?
Daily | 8 August 2022
The Union government scrapped Article 370 three years ago. What followed was chaos – local political leaders were put under house arrest, internet and mobile services were curtailed, and Section 144 was imposed. Three years on, has the state and region benefitted? Are things stable? Or was it a mistake? Read more on this here.
Is BJP's Outreach To Pasmanda Muslims Vote-Bank Politics?
Daily | 9 August 2022
PM Narendra Modi called for an outreach programme to support minority communities, specifically the Pasmanda Muslims. Given the current political landscape, many Muslim leaders are apprehensive of the BJP's intentions and are demanding action to back Modi's words. Is this a strategic move by the BJP to win the Pasmanda Muslims' vote bank? Follow this story here.
Power Crisis – Can The Electricity Amendment Bill Help?
Daily | 10 August 2022
The Electricity (Amendment) Bill, 2022 was tabled in Parliament amid strong opposition. Part of the government's efforts is to allow private players in the power distribution landscape. They want to make it pro-consumer by reforming the power sector. However, the Bill has come under criticism from unions, employees, and distribution companies (discoms). We unpack the issue here.
Anticipated Ban On Chinese Phones – A Step Forward?
Daily | 11 August 2022
While India is on track to being the largest smartphone market in the world, most companies that dominate this market in the country are Chinese. In light of this, is it the best decision for India to ban Chinese-made smartphones? Read more on this here.
Bihar Political Drama – Should The BJP Worry About 2024?
Daily | 12 August 2022
Janata Dal (United) leader Nitish Kumar ended his alliance with the BJP. For him and his former alliance partners, the BJP, there's a lot of political calculus that will probably happen from now till 2024. The question is, who comes out of this saga on top? Read more on this here.
Rights Of Whistleblowers
Know Your Rights | 13 August 2022
The contemporary Indian political, societal, and business landscape needs whistleblowers to strengthen democracy. Every patriotic citizen should feel the need to protect whistleblowers and recognise their importance. So what kind of protections do whistleblowers have in India? Read more here.