March 17, 2023
Good morning. In today's either/view, we discuss whether India's aid to Afghanistan is a signal towards the revival of old ties. We also look at the horticulture entrepreneurship project in Punjab, among other news.
---
📰

FEATURE STORY
India's aid to Afghanistan: A revival of old ties?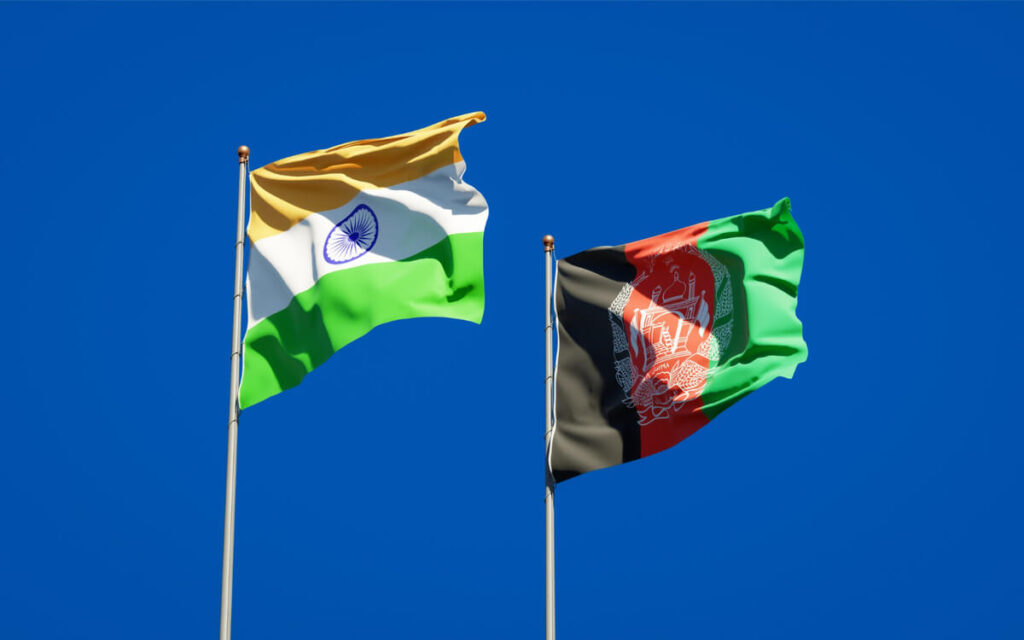 Diplomacy often dovetails conflicts and mutual interests. Give and take, often hailed as the cornerstone of successful relationships, is also a key instrument of foreign policy. When it fails, things turn sour. For India and Afghanistan, some of the sharpest drawn lines are against the Taliban's affiliation with terrorist outfits and India's steadfast support for the Islamic Republic of Afghanistan.
So when the Taliban came to power, one expected more peril than promise between the two countries. Recent events paint a different picture. On March 7, India announced it would provide 20,000 metric tonnes (MT) of wheat to Afghanistan in partnership with the United Nations World Food Programme (UNWFP). Some view these developments as reviving old ties, while others are more sceptical.
Context
During the Taliban's first stint in power from 1996 to 2001, India remained decisively against it. The only countries to recognise the Taliban government were Pakistan, Saudi Arabia, and the United Arab Emirates (UAE). India joined other countries like the United States (US) in supporting the Northern Alliance, a resistance movement against the Taliban regime.
Many events sharpened the faultlines between New Delhi and the previous Taliban regime. In March 2001, following Mullah Omar's decree, the Taliban destroyed the Buddhas of Bamiyan. The same year, the Taliban announced their rule for Hindus to wear identification patches. History also suggests that a Taliban-led Afghanistan led to greater militant violence in Kashmir.
India shored up its efforts to oust the T-regime. It provided intelligence in the US-led invasion of Afghanistan. After the Taliban's ouster, India became one of its largest regional development partners. During Hamid Karzai's rule in Afghanistan, New Delhi and Kabul remained friendly and involved in several partnership agreements.
At the same time, however, Afghanistan's tensions with Pakistan continued to boil until 2014, when Ashraf Ghani came to power. Those tensions surfaced again after Imran Khan's ouster.
Since coming to power again, no country has recognised the Taliban-led government yet. A few days after their accession, India shut down its embassy in Kabul. Under Operation Devi Shakti, it evacuated several Indian and foreign nationals from the region. Half a million people were displaced that year, and many sought refuge in India.
Adding to this humanitarian crisis was the region's growing food insecurity. Over 90% of Afghans are suffering from food insecurity, women are pushed out of education and employment, and the economy is on the verge of collapse.
Amidst this, India has been steadily providing food aid to the country. In October 2021, it proposed to send 50,000 MT of wheat by road via Pakistan but could only send 40,000 MT in the stipulated time. At the first India-Central Asia working group meeting, India announced another 20,000 MT of wheat for Afghanistan. This time through Iran's Chabahar port.
At the same meeting, officials from India, Kazakhstan, Kyrgyz Republic, Tajikistan, Turkmenistan, and Uzbekistan announced their respect for Afghanistan's sovereignty, unity, territorial integrity, and non-interference in its internal affairs.
In the same breath, they emphasised the importance of a "truly inclusive and representative" political structure that "ensures equal rights of women, girls and members of minority groups, including access to education". A final development bearing on their relationship is Afghanistan's possible participation in the Indian Technical and Economic Cooperation (ITEC) program organised by IIM Kozhikode.
VIEW: Stepping stones toward full-fledged diplomacy
Diplomacy is hardly ever a straight shooter. In May 2022, National Security Advisor Ajit Doval emphasised India and Afghanistan's historically special relationship and how regime changes can't expunge that. India reopening its embassy in Kabul and the Islamic Emirate of Afghanistan vowing to protect it suggests a mutual inclination to develop a working relationship.
Arguably, many recent public overtures are subtle and packaged with implicit messaging. India currently has a technical team of officials deployed in Kabul. Last year, it also made a diplomatic outreach to the country and discussed resuming infrastructure projects, diplomatic ties, and issuing visas for Afghan students and patients. It might have downplayed the participation of Taliban diplomats in the ITEC training program, but the event still displays cautious engagement.
The Afghanistan embassy publicly appreciated India's wheat consignment last year. Since India is a stable government amidst political and economic instability in south Asia, it is an important ally for Afghanistan. In the Union Budget 2023-24, Finance Minister Nirmala Sitharaman allocated ₹200 crore for grants and loans expenditure to Afghanistan. Paired with India's latest aid announcement, it appears to be continuing its previous relief and capacity-building efforts in the region.
COUNTERVIEW: Looking out for its own interests
India has not officially recognised the Taliban-led Islamic Emirate of Afghanistan. Last December, India also criticised the Afghan government's ban on women in universities. It has consistently downplayed its relationship with Afghanistan, the ITEC training program being the latest example. People familiar with the matter revealed that the Taliban officials' participation does not change India's stance against the Taliban government and its push for an inclusive setup.
India's aid to Afghanistan corresponds with its Humanitarian aid diplomacy, requiring it to prioritise the humanitarian crisis in Afghanistan over its differences with the present regime. It also corroborates India's capacity to help other countries, thus establishing a geopolitical upmanship and soft power. There are reputational costs involved for the incumbent government associating with the Taliban-led government. It is unlikely that New Delhi will send an ambassador to its embassy in Kabul, at least in the near future.
Maintaining a cautiously working relationship with Afghanistan signals India's pragmatism. There's no inclination to rejuvenate an impossible relationship. The recent India-Central Asia meeting demonstrated that India's national interests lie in ensuring the region's security and stability. It has opened up dialogue to prevent radicalisation and terrorism, which is only possible through some kind of diplomatic tango with Kabul.
Reference Links:
What is your opinion on this?
(Only subscribers can participate in polls)
a) India is reviving its relationship with Afghanistan through diplomacy.
b) India is looking out for its own interests through diplomacy.
---
🕵️ BEYOND ECHO CHAMBERS
For the Right:
More than a referee? Jagdeep Dhankhar prying on House committees
For the Left:
Indian journalists should be grateful BBC lost the 'impartiality' battle
---
🇮🇳 STATE OF THE STATES
Horticulture entrepreneurship project (Punjab) – An initiative called "Punjab Horticulture Advancement and Sustainable Entrepreneurship" (PHASE) is being started in Punjab with the goal of expanding the gardening industry. 8 horticulture commodities, including silk, peas, potatoes, litchi, guava, and peas, have been initially selected for particular crop value chain development efforts through project PHASE. On March 17, the initiative will be introduced at a district-level gathering in Ferozepur.
Why it matters: Project PHASE's overall goal is to close gaps and overcome obstacles in the various horticulture value chains while also putting prospective horticulture commodities on the global horticulture map. The initiative will be launched with an initial funding allotment of ₹40 crore for the integrated development of value chains unique to horticulture crops by Speaker of the Punjab Vidhan Sabha Kultar Singh Sandhwan, Horticulture Minister Chetan Singh Jouramajra, and Chairman of PUNSEED Mohinder Singh Sidhu.
Breakfast at schools boosts attendance (Tamil Nadu) – According to a survey by the Tamil Nadu government, student attendance has improved in nearly 90% of the schools that are presently implementing the innovative breakfast program, which provides children from classes one through five with wholesome food. According to a survey by the State Planning Commission, more students attended 1,319 out of 1,543 schools where food is offered starting on September 15, 2022, in January and February of this year compared to June through July of the previous year.
Why it matters: The Chief Minister's Free Breakfast Scheme, seen as an expansion of the mid-day meals that are now being implemented throughout India and overseas, aims to address childhood malnutrition and ensure students' presence in the school. The programme will now be expanded statewide by the administration. Up to 1.14 lakh students in 1,545 government-run schools in cities, towns, villages, and remote locations will profit from the programme in its initial period. Out of the 1,545 schools, 417 are located in urban areas, 163 in small villages or district centres, 728 in rural areas, and 237 in remote or mountainous regions.
Bihar to get its first literary fest (Bihar) – Bihar's first-ever literature event, 'Ahad Anhad — A feast of words and performances,' will begin on Friday at the Bihar Museum. Over two dozen writers, poets, scientists, and artists, including Jatin Das, Raghu Rai, Lord Meghnad Desai, Alok Dhanwa, Arun Kamal, Usha Kiran Khan, Tripurari Sharan, Alakh N Sharma, and Ajit Pradhan, will take part in the three-day event.
Why it matters: Along with different literary genres, the event would also cover topics like social cohesion, the economics of growth, and migration. Sujata Prasad, festival head and author of "Idea of Revolution, A biography of Jayaprakash Narayan," said: "Ahad Anhad is more than a literary event. It is an effort to challenge the distinctions between the cosmopolitan and the provincial and to stand up for the creative mind in a world that is becoming more and more jaded." A large number of English and Hindi authors will be present.
Advocates Protection Bill tabled (Rajasthan) – The Advocates Protection Bill was presented in the parliamentary assembly on Thursday by the state administration of Rajasthan. Acts like attack, severe bodily harm, criminal force, and criminal coercion in connection with the performance of an advocate's responsibilities on the grounds of a court have been made illegal under this law, and all such crimes will be cognisable. The measure calls for a maximum seven-year prison sentence and a fee of ₹50,000 in the event that an advocate is seriously injured.
Why it matters: The bill states that in suitable circumstances, the offender shall also be liable to pay damages for loss or harm caused to an advocate's property, as decided by the court, and he shall also be liable to reimburse such advocate for any out-of-pocket medical costs. If an advocate reports a crime to the police that was done against him, the police may, if they think it is appropriate, give him security for the time period and in the way stated by the rules. Anyone who abuses the act's advocacy provisions or files a false report with the intent to harm another person will be punished with up to three years in jail.
Manipur People's Party delisted from ECI records (Manipur) – The Manipur People's Party (MPP), the second-oldest regional party in India, is no longer listed in the Election Commission of India (ECI) record because there are currently no approved MPP employees listed there. The event was revealed as a result of an RTI response from the ECI senior secretary dated February 22. One Saratkumar Maimom submitted the RTI report that requested information regarding the current president and office holders of the MPP.
Why it matters: Since its founding in 1968, the MPP has established three distinct governments in the state: in 1972–1973 and in 1974 and 1990–1992. A group of former MPP officials addressed the media on the RTI report on Wednesday at the Manipur Press Club in Imphal. The leaders of the party made a plea to everyone who was worried to refrain from using the MPP name formally until ECI gave approval because the party is in a critical state and does not even have the opportunity to run in the forthcoming local body elections or even the general election of 2024.
---
🔢 KEY NUMBER
1 – Telangana is number one in the country for deceased organ donations and transplants.