February 11, 2022
Good morning. In today's either/view, we discuss whether India-China trade relations can exist in isolation, considering the border issues. We also look at why Andhra police are gathering the biometrics of night commuters, among other news.
---
📰

FEATURE STORY
Indo-China Relations: Can trade exist in isolation?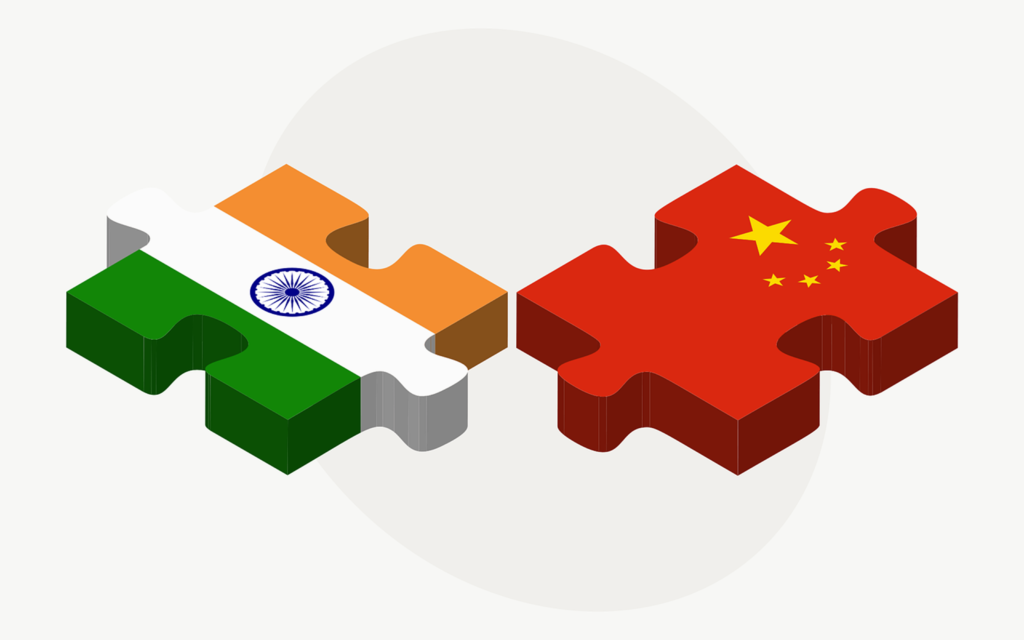 When it comes to India and China, things remain rather hot and cold between the two Asian juggernauts. Over the years, the nations have demonstrated exceptional control over their two-handed dealings with each other. While one hand draws us into a firm business handshake, the other gets busy sharpening its sword. Both are still constantly working and constantly scheming against each other.
While this insecure policy-making might, theoretically, be working out for us right now, the ability to keep economics and defence completely separate is quite a tall task. Going against the very nature of bilateral relations while still trying to engage in the same is simply not a sustainable state… or is it? Well, that is what we are trying to figure out today.
Welcome to the complicated, convoluted and completely codependent relationship between India and China!
Context
Like most issues of post-colonial countries, the border tensions between India and China go all the way back to the British. In 1914, Tibet and British India agreed to the McMahon Line as the legal border between India and China. The line now forms the basis of the Line of Actual Control (LAC) and is seen as the northern border of Arunachal Pradesh. This was never accepted by China.
Over three decades later, India got its independence with Nehru as PM, looking forward to Sino-Indian cooperation. But after a quick tryst with destiny, failed peace negotiations and China's dismissal of Tibet's independence prompted quite the cold shoulder from our side. In 1962 and again in 1967, full-fledged war broke out between the two over their conflicting understanding of the LAC's location.
Conflicts in that region have been alive ever since. In 2017, the Doklam Plateau, on the border of China and Bhutan, got involved when China started building a road on it. India sees the plateau as a buffer zone as it's located really close to our other disputed areas. And this news led to another gun-free standoff between the two nations' soldiers. Soon after, the countries withdrew from the plateau, and China stopped construction on Doklam.
Things really escalated in May 2020, when troops from both sides engaged in multiple deadly melees above the Galwan Valley. Considering guns aren't allowed in the disputed areas to avoid official wars, several soldiers on both sides either drowned or died in hand-to-hand combat. It was the worst violence the border has seen in 45 years.
Yet, somehow our trade relations have been better than they ever were. Through all these conflicts, the two nations have maintained strong economic ties. So much so that China still happens to be one of our largest trade partners. In 2021, India-China trade grew to a record $125 billion, with no practical indication of stopping this ascent anytime soon.
Our need to break free
As per the Constitution, the government is set up by the people, of the people and for the people. This makes the people's perception of them rather significant if they want to continue being the government. And the people's sentiment is usually wrapped up in our army and the soldiers over at Galwan. In fact, after news of the Galwan skirmish broke, the people were quick to retaliate with violent calls to boycott Chinese goods in the Indian market, something our government was quick to pick up on. They soon pledged to increase tariffs and block investments for China.
But this doesn't simply stop at optics. You see, our market is our most precious commodity. Our military, while one of the largest in the world, lacks in modernity and has failed to stay competitive. Despite our strategic location in the Indian Ocean Region (IOR), even our navy fails to compare with China's ocean forces. Given their interest in the IOR island-nations and the South China Sea, this is clearly a major setback for India. Considering we don't really have much to retaliate within this aspect, reducing our market's dependence on Chinese goods automatically becomes a decent place to start.
Over the years, the current administration has been pushing for a more self-sufficient India anyway. With the PM's "Make in India" rhetoric slowly creeping into market sentiments and the Production-Linked Incentive (PLI) scheme to boost manufacturing, China's constant bullying by the border is going to get harder to ignore. And it doesn't just end there! China has managed to maintain some form of relations with most of our neighbours and their political leaders. Given our significant stature in South Asia, not having to engage with China economically could save a lot of our skin.
As nice as it would be to focus on individual aspects of bilateral relations at a time, practically speaking, it is impossible to do so. India's steady moves towards the West by increasing cooperation with the US, UK and even Australia regarding both trade and defence, show clear biases in our psyche.
Our only option is to engage
Listen, we all understand that standing up to a bully can feel exhilarating and when it comes to China, India would like to do that too. Alas, the writing's already on the wall. Both India and China have invested so much in each other that turning away with territory-shaped blinkers does not make sense. After the Galwan clash, the Confederation of All India Traders (CAIT) finalised a list of 3,000 products that can be manufactured in India instead of relying on Chinese imports. That list covered less than 20% of the imports from China. This becomes even worse when we bring up cross-border investments.
According to think tank Gateway House, there is a lot of Chinese money in the Indian tech sector. Companies like Alibaba and Tencent regularly pump billions of dollars into Indian startups. As of March 2020, 18 of our unicorns (startups valued over $1 billion) have been backed by over $4 billion by Chinese investors. While this doesn't seem like a lot in terms of foreign direct investment, it is important to note that from 2016-19, Chinese investment in India has increased by 12 times. Closing the market up right now would simply be an act of hubris.
What's even scarier to consider is what happens if China retaliates. As of now, China is the second-largest exporting market for India as it imports over $16 billion worth of goods from us. If China chooses to boycott Indian goods all of a sudden, around 67% of our drug imports and 60% of our economic imports will immediately get affected. Even when, in the recent months, India tried to lure the 1,000+ companies that were trying to shift out of China, not a lot of them seemed too keen on India. Most of them went to Thailand, Malaysia or Vietnam. This is because India's policies still teeter more towards the protectionist side.
Frankly, saying that we're simply stuck here, forced to be China's friend despite attacks on our sovereign territory, is too plain a statement. With enough policy changes and skill training over the next decade, we could wean ourselves off Chinese products. But rushing into this monumental change because of "Make in India" will only serve short term goals.
What's your opinion on this?
(Only subscribers can participate in polls)
a) India can afford to take territorial disputes into account when it comes to Indo-China trade.
b) India cannot afford to take territorial disputes into account when it comes to Indo-China trade.
---
🕵️ BEYOND ECHO CHAMBERS
For the Right:
Modi's Parliament Address: When a PM Behaves Like a Political Campaigner
For the Left:
Want to grasp the Leftist manual of targeting opponents? Just look at Sampath-Sanyal saga
---
🏴 STATE OF THE STATES
Sainik school delays (Uttarakhand) – Residents of Thatti-Badma village of Jakholi block have threatened to boycott the upcoming elections feeling betrayed by the BJP and the previous Congress governments. In 2013, a proposal to set up a Sainik school was approved. Since then, there's been no activity on it despite several chief ministers conducting Bhoomi pujas. Residents of the several villages in the Badma region donated their land for free in hopes of the school being built.
Why it matters: In 2012-13, the then Congress-led UPA government approved the school. The project was proposed by then Military Welfare Minister Harak Singh Rawat. Then Chief Minister Harish Rawat put the project on hold. The project was allocated ₹10 crores. ₹9 crores had already been spent on levelling the land and building a wall. Two years ago, Chief Minister Trivendra Singh Rawat assured that work would start, but it hasn't panned out yet. The plan was to have accommodation for teachers and staff, seminar halls, and a sports ground.
Collecting biometrics of commuters (Andhra Pradesh) – The state police have been forcibly taking fingerprints and iris scans of night commuters using an app. The police say it's being done for security purposes to find out if anyone has a criminal background. These are checked with a database of known criminals. Activists say this is a breach of privacy and fundamental rights, similar to what they've been doing for the past several months in conducting surprise checks on people to verify their identification.
Why it matters: The state has been accused of building a Police state with several initiatives that have privacy rights activists concerned. The personal details of millions of Andhra residents are available to the government through the e-Pragati initiative, launched in 2018. It's a platform that integrates all information held by every government department. The state also has 14,000 IP cameras across 13 districts that use AI and facial recognition to highlight potential threats.
Wagon makers happy (West Bengal) – Rail wagon manufacturers in the state are happy with this year's union budget. The budget stated that the government wants to increase the railways' share in goods transport from 27% to 45% in the coming years. As a result, more wagons will need to be made. This will help in better capacity utilisation. According to Umesh Chowdhary, MD, and Vice Chairman of Titagarh Group, the railways will have to double their fleet.
Why it matters: West Bengal is home to the biggest electrical locomotive factory in the world. The Chittaranjan Locomotive Works at Asansol produced a record 402 locomotives in FY2018-19. In 2019-20, it made more than 350. The state has become something of a destination for railway coach and wagon manufacturing. In November, the Indian railways announced plans for a coach factory on the Bengal-Assam border. In 2018, the Indian Railways proposed a ₹20,000 crore Kanchrapara facility to manufacture coaches.
Task force for economic push (Gujarat) – The Gujarat government has formed a high-level task force to help achieve the Prime Minister's goal of making India a $5 trillion economy by 2024. The group, under former Union finance secretary Hasmukh Adhia, will work to enhance Gujarat's contribution to this goal. Among the group's mandates is to help the state achieve a gross state domestic product (GSDP) of ₹27.5 lakh crores by 2024. Additionally, it will also provide recommendations on how to maximise the state's contribution. The suggestions will be considered for the 2023-24 state budget.
Why it matters: Even after the pandemic set in, Modi said he was optimistic about India being a $5 trillion economy by 2024. He has some support from former RBI Governor C Rangarajan, who echoed similar sentiments. For Gujarat to achieve its goals as a contribution, it will need to grow 25% annually to meet its GSDP target. This might require revising budgetary projections. Some officials aren't confident about the task force as it doesn't include suggestions made by the Adhia committee on post-pandemic economic revival.
Darlong tribe recognition (Tripura) – The Darlong community in Tripura will be formally recognised as a sub-group of the Kuki group. It comes in the wake of Union Tribal Welfare Minister Arjun Munda introducing a Bill in parliament. Even though people of the Darlong community were receiving all benefits a tribe would, they so far have not been recognised as a separate sub-group. Recently, the state government sent a proposal to the Centre asking them to include Darlong as a part of the Kuki community.
Why it matters: The state currently has 19 tribal communities. The Darlong group has been demanding recognition since the 1990s. They reside mainly in the hilly areas of Shalai and the northern parts of the state. About 11,000 people of the Darlong group currently reside in Tripura. They have representatives at the top levels of the state administration. In 2016, the Centre decided to include the Darlong in the Scheduled Tribes list. It meant they were entitled to reservations in jobs and education.
---
🔢 KEY NUMBER
3548 – The number of deaths by suicide due to unemployment in 2020. The data was presented by Minister of State (Home) Nityanand Rai, citing information from the National Crime Records Bureau (NCRB).