June 13, 2023
Good morning. In today's either/view, we discuss whether free public transport is a silver bullet. We also look at the increase in pension for disabled persons in Telangana, among other news.
---
📰

FEATURE STORY
Is free public transport a silver bullet?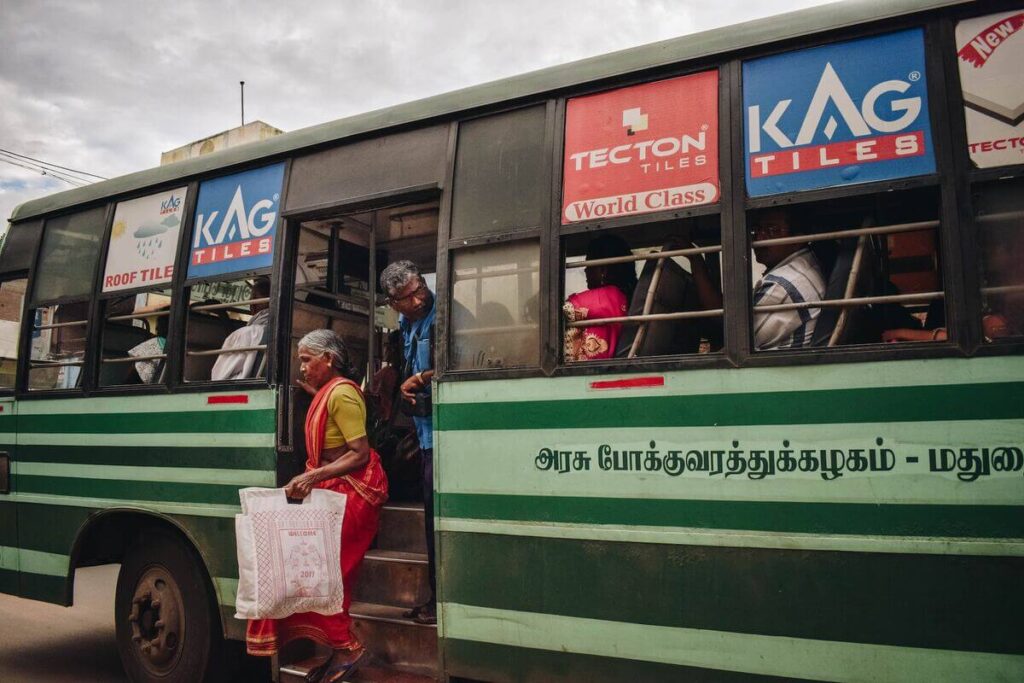 At the heart of any bustling metropolis is public transportation. In India, where cities are filled with lakhs of people, public transportation is all the more important. Policymakers and experts have long-debated and discussed the best way to promote public transport. As cities look to reduce their carbon footprint, the environment is an obvious incentive here.
That being said, can free public transport be the answer to all this? For example, if cities make travelling by bus free, would that solve the headache of getting people on board? Would that make people look at public transport differently? Would it make it safer? Would that work in India?
Context
The Indian public transport system is among the most heavily used transportation system globally. Some estimates say about 18% of the population depends on public modes of transportation for their daily commute.
Take the road network as an example. India has about 5.5 million km of roads, perhaps more. It's the second-largest in the world. Over 85% of passenger traffic is by road transport. Then there are buses. India has about 1.6 million registered buses owned by the government and private operators. We then have the railway network, particularly suburban railways, that ferries lakhs of people every day.
According to the World Bank, India's road density is 0.66 km/km2, higher than China and the USA. One difference here is the quality. Indian roads aren't known to be the safest or most spacious. Part of the reasons are higher private car ownership in urban India and poor urban planning policies.
So what's the government's plan? For 2023-23, they allocated more than ₹76,000 crore to develop urban areas. A third of this money is set aside for metro rail networks across several cities. The bottom line is this – if you want to bring people in on public transport, part of the strategy should be to pull them away from private transportation.
The issue is there are just too many people for India's public transportation to keep pace with. The infrastructure struggles to bear the load. In December, the Delhi High Court observed the issue of overcrowding of public transport. We've all seen or maybe even experienced the overcrowded Mumbai suburban trains. Jostling for space on a crowded bus is ubiquitous.
So who uses public transport? The Delhi court also observed that if a healthy adult finds taking public transportation a hassle, think about how it is for women, senior citizens, and people with disabilities. This touches on two pertinent points concerning public transportation – accessibility and safety.
Men and women experience cities differently, according to World Bank India Director Auguste T. Kouamé. Some governments, like Delhi, Tamil Nadu and Karnataka, offer free transport for women in buses. In other cities and states, there's an increased focus on buses, given how they're often the city's lifeblood. Earlier this year, Greenpeace India urged the Delhi government to spend more on free public transportation and increase the number of buses.
The concept of free public transport isn't new. But can making public transportation free be the answer to all our problems? Will it make it safer and more accessible? Or are we looking at this the wrong way? Are we ignoring the economics of it all and buying into populist rhetoric?
VIEW: All aboard
Given how vital public transportation is for millions of Indians, making it free isn't an egregious option. Look at it this way, if public transport is made free, the message here is you've got the right to move around regardless of your income status. Several countries have experimented with fare-free policies. Spain offered free train travel on select routes for a few months. Ireland slashed fares for the first time in decades. Luxembourg and Estonia have been ahead of the curve and scrapped fares for commuters. These boosted ridership.
Back to India, we're among the lowest-ranked countries on women's participation in the labour force. If the Indian economy is to truly take off, then redesigning public transport to include women's travel preferences is necessary. Some responses to the Delhi government's 2019 proposal for free public transportation were positive. As Shilpa Phadke, co-author of Why Loiter, put it, a space that has a larger number of women is safer for women.
There's reason to believe people want free public transportation. Last year, The Bengaluru Metropolitan Transport Corporation (BMTC) offered free bus rides for everyone on Independence Day. The response was overwhelming – 6.15 million passengers. The daily average was 2.8 million. Understandably, there's an economic side to such a policy, as some might question its viability. In Luxembourg, the loss in revenue resulting from free public transport is factored into the national budget. Obviously, someone's paying for it. In this case, it was shouldered by those better off. They also looked at it as a social measure. It wasn't just something to reduce traffic congestion.
COUNTERVIEW: How practical is it?
Here's something basic, when something becomes free, a lot more people begin to use it. Sure, that's not a bad thing on the surface. Concerning public transport in India, assuming it becomes free, imagine the number of people using it now and multiply that two or threefold. If more people use buses, we'll need more buses. That's an additional expenditure, and they'll all need to be electric if we don't want to increase pollution levels.
If the objective is to reduce the number of cars on the road, it's unlikely that people used to travelling by car would switch to public transport. It'll probably be those who walk or cycle for their daily commute. This was the result of the fare-free policies in the aforementioned European examples. The results were mixed. In Copenhagen, car usage initially dropped, but people eventually reverted back.
On the economic side of things, civic bodies in India aren't known for their fiscal and financial prowess. Some states and the Centre don't see eye to eye on revenue sharing. So, where's the money going to come from? On paper, it's easy to say that the rich will carry this burden, but how does this look in practice? Also, free public transport doesn't guarantee it's safer or more accessible. India's public transportation network suffers from several issues, like quality and frequency. Let's not put the cart before the horse.
Reference Links:
What is your opinion on this?
(Only subscribers can participate in polls)
a) Free public transport can be a silver bullet.
b) Free public transport can't be a silver bullet.
---
🕵️ BEYOND ECHO CHAMBERS
For the Right:
What would the politics of Hindutva do without Aurangzeb?
For the Left:
While the Modi government's performance in terms of GDP growth has been somewhat subdued, it has succeeded in taming inflation
---
🇮🇳 STATE OF THE STATES
Sewage treatment plants in poor health (Delhi) – Data collected by the Delhi Pollution Control Committee (DPCC) showed that 22 sewage treatment plants (STPs) in Delhi, out of 35, are substandard. New STPs aren't exempt from this observation. For instance, the Keshopur or Kondli plants more often than not breach multiple parameters like total chemical oxygen demand and biological oxygen demand.
Why it matters: Delhi's sewage treatment capacity is already shot. It generates 792 million gallons per day (MGD), but its 35 STPs possess the capacity to treat only 632 MGD. Added to this 160 MGD capacity deficit is the burden of dysfunctional STPs. Since much of the treated water from the plants goes back into the Yamuna, it means the pollution is re-entering the much-polluted waters.
Increased pension for disabled persons (Telangana) – On Friday, in a public meeting at Mancherial district headquarters, Chief Minister K Chandrashekar Rao declared an increase of ₹1,100 in the monthly pension for persons with disabilities. The change will bring the pension to ₹4,116 per month. In the same breath, CM KCR also announced that the bonus of Singareni Collieries Company Limited (SCCL) employees would see an increment.
Why it matters: The KCR-led government has spent ₹10,310.36 crore in social security pensions to 5,16,890 people with disabilities. Around 5 lakh people are to benefit from the latest announcements. KCR said that amidst the looming power shortage struggle, SCCL had worked hard. They have flourished under the BRS party's rule in the state.
Centre rejects new AIIMS site (Bihar) – The Union Ministry of Health and Family Welfare rejected the new site for Bihar's second All India Institute of Medical Sciences (AIIMS) university proposed by the Nitish Kumar-led state government. The Centre deemed the proposed site in Darbhanga unsuitable due to many reasons dug out by its technical experts, including its unsuitability for construction and location in a low-lying area. The ministry asked the state government to propose another alternative.
Why it matters: Things haven't gotten off to a smooth start for the second AIIMS university. The new site became contentious when CM Kumar announced the site will change after the centre had already nodded to its previous proposal. At this point, the state government had already allocated 81 acres of land for the university on the Darbhanga Medical College and Hospital (DMCH) campus.
5 children to undergo proton beam therapy (Maharashtra) – The Tata Memorial Centre in Kharghar will begin its proton beam therapy in the next 2-3 weeks once it receives approval from the Atomic Energy Regulatory Board. For the treatment, five children suffering from Chondrosarcoma or malignant pelvic bone tumours have been chosen. Preparation for the treatment should take 2-3 days. If approved, it'll make the Tata Memorial Centre the only hospital in India to provide this treatment.
Why it matters: Conventional radiation therapy weakens the pelvic bone structure of those with Chondrosarcoma and exacerbates the chances of pelvic insufficiency fractures. Proton beam therapy is one of the most sophisticated cancer treatments. It delivers a beam of protons rather than X-rays to disrupt the tumour's DNA and destroy tumour cells. It's proven to be less invasive and less harmful.
MHRC requests internet restoration (Manipur) – On Wednesday, the Manipur Human Rights Commission (MHRC) requested the state government to restore internet services so that the right to freedom of expression is not lost amidst Manipur's security preparations. Justice UB Saha and member KK Singh said this in their three-page order in response to a petition by Kammingthang Hangshing from Aizwal, Mizoram.
Why it matters: Ever since violence broke out on May 3, internet services have been shut down in the state. The government deemed it a security measure meant to curb the spread of misinformation. The MHRC agreed with the petitioner's argument that the internet has become key in everyday tasks, and a shutdown may add to the Manipuris' burden.
---
🔢 KEY NUMBER
₹1,18,280 crore – The third instalment of tax devolution by the Centre to the States, against the conventional ₹59,140 crore.