October 27, 2023
Good morning. In today's either/view, we discuss whether India's 'Aatmanirbhar' self-employment is good for the economy. We also look at the Folk Tea Festival in Assam, among other news.
---
📰 FEATURE STORY
Is India's 'Aatmanirbhar' self-employment good for the economy?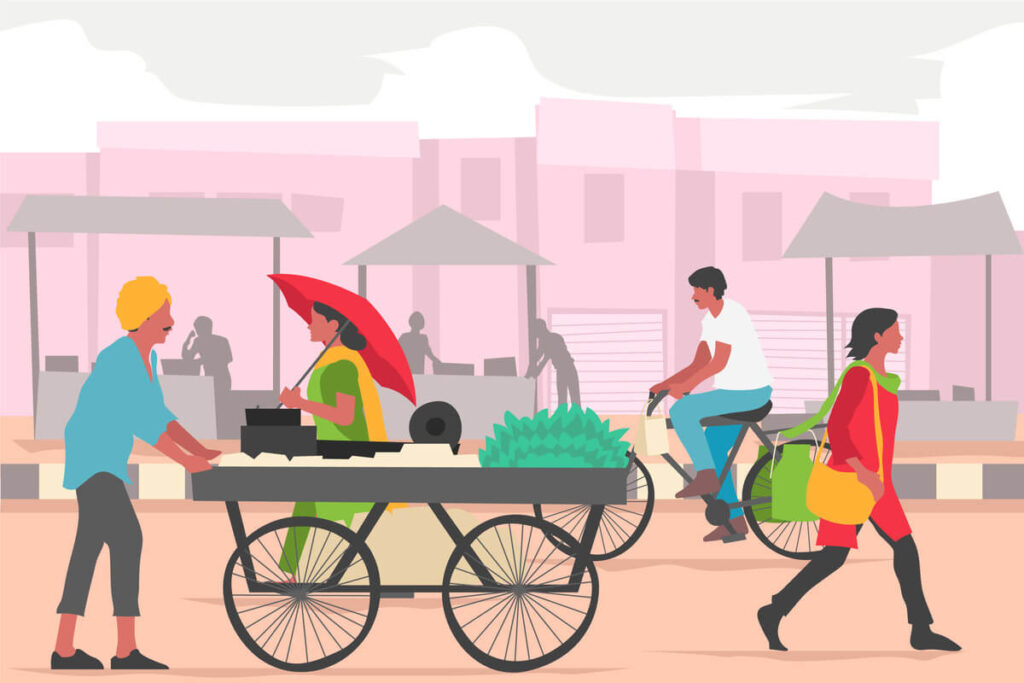 Prime Minister Narendra Modi has often encouraged the nation's youth to become job creators rather than job seekers. Defending India's job losses, former Finance Minister Piyush Goyal even claimed them to be a good sign as today's youth preferred to be job creators instead of becoming someone else's employees.
Aatmanirbhar Bharat, or a self-reliant India, is among the most prominent stated goals of the incumbent government. The idea is that the country will achieve self-reliance in a whole host of economic activities. Its citizens too, are then encouraged to be self-reliant and seek a living independent of traditional employment means.
However, self-employment is more than just flashy start-up evaluations and IPOs. Can the Prime Minister's exhorted 'pakora' sellers be the self-employed who'll be a solution to India's employment challenge?
Context
In the January-April period this year, the number of self-employed individuals in the total national workforce stood at 83.8%. In the same period in 2016, the rate was 55% with entrepreneurs, businessmen, and qualified professionals dominating the segment.
A largely agrarian economy, India has always been mostly self-employed. Self-employment is not only start-ups working from a cafe but also small businesses, street vendors, insurance agents, and several other odd jobs.
Of the ~83% of self-employed workers in India, most are from the rural parts and are women. While it is presumed that self-employment is higher in rural areas due to small-scale agriculture, nearly half of them are engaged in non-agricultural work.
Furthermore, while almost half of the country's labour force is engaged in agriculture, they contribute to only 14% of the GDP. Rural earnings from self-employment are also significantly lower than that of urban self-employment by about 40%, with women being a further (45% lesser than men) disadvantaged group.
Despite the Centre's efforts to promote self-employment with facilitating schemes and attractive taglines like 'Stand Up India, Start-Up India', the self-employed are reeling with difficulties. This is because their work is typically difficult, risky, and low-paid. Self-employed workers bear all the risks of production, including relative price movements and changes in market conditions and are also responsible for their own safety at work. They have to deal with a generally oppressive state at different levels and often pay extra to local officials simply to function. Small and micro enterprises usually find it hard to access credit and have to procure inputs on less favourable terms from loan sharks.
Despite self-employment being projected as the panacea to India's unemployment, incomes of the self-employed are still below pre-pandemic levels although economic activity has recovered in other sectors. Such realities paint a different picture from that envisioned and cast doubt on the efficacy of India's strategy to tackle unemployment.
VIEW: Self-employed people, self-reliant people
The central government launched the Make in India initiative in 2014 and the Start-up India scheme in 2016 to promote manufacturing and entrepreneurship in India. Several National Skill Development Corporation Training Centres have also been opened across the country to promote self-employment. Many economists, policymakers, and even the government claim that self-employment is the answer to India's unemployment challenges.
The government's efforts have also borne fruits with Indian startups contributing well over $11 billion to the economy showing tremendous job-generation capacity. Flipkart valued at over $37 billion has been one of India's greatest start-up stories leading the government to facilitate self-employment via policy benefits to entrepreneurs like tax benefits, simplified business set-up, financial support, tinkering labs, a fund of ₹10,000 crore, and improvement in the ease of doing business.
Nearly a third of India's workforce believes entrepreneurship to be the most attractive career option today. However, things have improved even apart from the start-up scene. Since 2012, there has been a rise in the share of 'own-account workers' and employers among the self-employed and a fall in the share of unpaid helpers. Cab drivers have also emerged among the better-paid workers within the self-employed category with a median reported earnings of ₹10,000 per month.
Similar to any aspiring global powerhouse, India requires a rising number of entrepreneurs, as the private sector actively contributes to the economy and entrepreneurs hold the potential to serve as vital engines of economic growth. With heavily publicised government schemes like the 'MUDRA Yojana', 'Skill India' programme, "Start-up India" and 'Stand-up India' focused on incentivising self-employment, India is expected to create many small and formal enterprises over the next decade. And while some of them will stay small, not all becoming unicorns, they will still grow to offer the productive wage employment that India's youth needs.
COUNTERVIEW: Formal jobs better on a macro level
Of the small segment of self-employment that entrepreneurship represents, not all of it is viable. Our massive self-employment is not some overweight entrepreneurial gene among Indians but rather stems from a lack of choice. Reflecting the absence of good quality paid employment, or in extreme situations, the lack of any paid employment at all, self-employment is the result of people being unable to afford to be unemployed.
Earnings of the self-employed have not only stagnated but rather declined over the past several years. As it also became evident during the pandemic-induced lockdown, the self-employed lack any form of social protection either.
Furthermore, the cost of one job generation is estimated to be around ₹5.1 lakh, which is why it is difficult for small enterprises to create additional jobs. 70% of the self-employed are own-account workers who do not hire any other worker while 26% are unpaid helpers who assist their family members. Only 4% are employers who employ paid workers.
It is also a worrying matter that only 10% of the self-employed earn upwards of ₹20,000 per month and only 1% of them earn above ₹50,000. Almost 95% of the self-employed belong to the informal unorganised sector and generally lack any form of savings. Thus, it comes as little surprise that a significant proportion of the world's impoverished population are self-employed.
While sharp increases in economic inequality may conceal the tendencies in the aggregate macroeconomic data for a while, eventually the deterioration of workers' incomes, which necessarily implies lower mass consumption demand, will also affect economic activity and investment.
An economy cannot be booming if the majority of its recognised workers are facing lower wages and worse conditions. With the nature of employment changing globally, there is also such a thing as 'bad self-employment'. Indian policymakers need to recognise this and prioritise increasing formal wage employment.
Reference Links:
What is your opinion on this?
(Only subscribers can participate in polls)
a) Increasing self-employment is good for the Indian economy.
b) Increasing self-employment is not good for the Indian economy.
---
🕵️ BEYOND ECHO CHAMBERS
For the Right:
As internal democracy takes root, Congress appears to be thriving
For the Left:
Why West lecturing India on Canadian diplomats smacks of hypocrisy
---
🇮🇳 STATE OF THE STATES
Demanding better rail connectivity (Himachal Pradesh) – Hoteliers in the state have asked the government to increase rail connectivity to help boost tourism. The Hotel and Tourism Stakeholders Association, Shimla has asked the Chief Minister to take up the issue with the Centre. They've asked for a Vande Bharat train from Mumbai to Chandigarh. They also want increased connectivity to other cities like Chennai, Ahmedabad, and Bengaluru.
Why it matters: A large number of tourists come to the state from Maharashtra, Gujarat, and South India. Due to poor rail connectivity, the number of tourists from South India is relatively less. With daily train services, the state's tourism sector will benefit. The state is already working to improve air connectivity with flights between Ambala and Shimla.
Cumbersome train travel (Kerala) – The introduction of Vande Bharat trains on several routes has affected other trains that need to be rescheduled. Delays and reschedules of trains in the Malabar region have made commuting to workplaces and educational institutions difficult. For example, the long halt time along the Ernakulam-Kayamkulam route, a single lane, is very high. This affects other local trains. Another issue is that the number of general compartments has been reduced.
Why it matters: Delays by Vande Bharat trains also affect the timings of local trains used by thousands daily. With an increase in the number of AC coaches and running passenger trains as express trains, authorities have ignored ordinary passengers. In some places, there have been instances of overcrowding on trains and passengers fainting. However, there seems to be no solution in sight.
World Cup attendance hopes (West Bengal) – As the Eden Gardens gears up to host Bangladesh and the Netherlands on Saturday for the ICC Cricket World Cup match, organisers are hopeful for a good attendance at the stadium. Both teams are in the bottom half of the table and haven't performed well so far. Tickets have been on sale online and at the Mohammedan Sporting Ground.
Why it matters: There's some discontent among the Cricket Association of Bengal (CAB) since only 3,000 tickets for all five matches combined were reserved for them. The Eden Gardens has a capacity of 65,000. The number of complimentary tickets has also been reduced based on directives from the International Cricket Council (ICC).
Continuing stray cattle menace (Gujarat) – The Gujarat High Court warned local authorities over the persistent stray cattle menace in the state. They threatened to frame charges of contempt of court against officials in charge of managing the cattle menace. They described the situation as a sorry state of affairs. The court cited ground reports and an investigation by the Gujarat State Legal Services Authority (GSLSA).
Why it matters: The GSLSA's report stated that the stray cattle menace continues to be a danger to humans. The report showed a decline in stray cattle in two zones in Ahmedabad but continued to persist in three other zones. In several places, stray cattle were found in bus lanes and bus stops, posing a threat to passengers.
Folk Tea Festival (Assam) – The Folk Tea Festival is a vibrant event that pays tribute to the state's rich and historic tea culture. It's held annually in November at the Hatipoti tea estate and is a blend of culture, cuisine, and adventure. The festival has several activities and attractions, like musical and folk evenings, an immersive camping experience, and an education on Assam tea – its history, how it's plucked and how to brew your own tea.
Why it matters: The Folk Tea Festival is an important event in a state where the tea industry has faced its set of challenges. The festival hopes to offer an alternate narrative on the state's rich history with tea plantations and production and to bridge the urban world with the state's tranquil countryside.
---
🔢 KEY NUMBER
₹10,000 – Rajasthan Chief Minister Ashok Gehlot promised every woman head of a family ₹10,000 a year in instalments if the Congress is re-elected in the upcoming elections.