October 26, 2023
Good morning. In today's either/view, we discuss whether regional rapid rail is the future of inter-city travel. We also look at the smallest polling booth in Chhattisgarh, among other news.
---
📰 FEATURE STORY
Can regional rapid rail be the future of inter-city travel?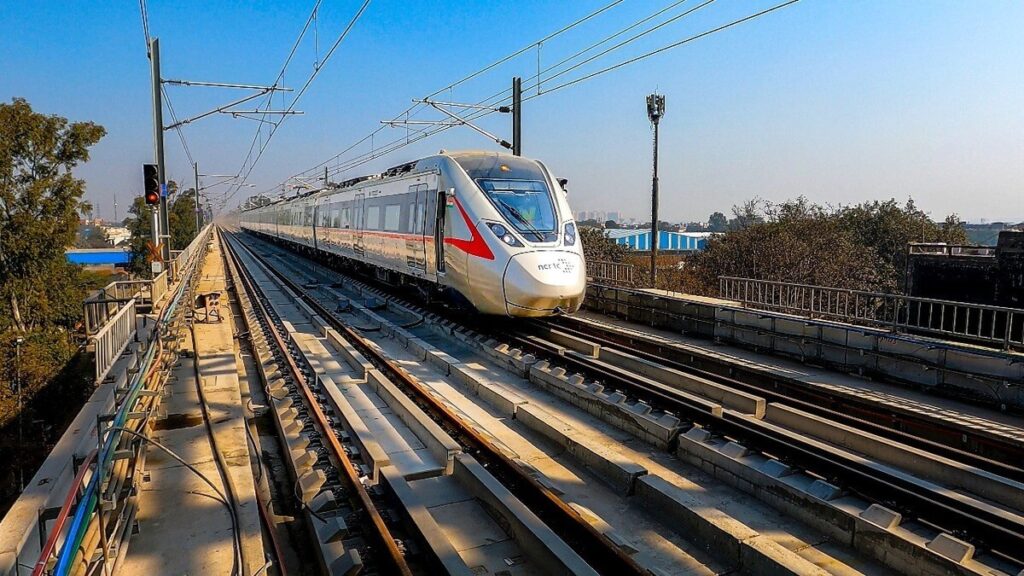 We've got many options now to travel. Whether within a city or between two cities, the railways, metros, and suburban trains have been a reliable transport option. These will only continue to expand in the years ahead as India looks for ways to get people from one place to another efficiently and quickly.
On that note, the latest addition to India's growing public transport options is the Regional Rapid Transit System (RRTS). The first route, a 17-km stretch connecting Sahibabad and Duhai Depot stations, was recently inaugurated by Prime Minister Narendra Modi. Named 'Namo Bharat', it's part of the larger Delhi-Ghaziabad-Meerut network. Is this the future of high-speed rail travel for the masses?
Context
Trains and buses are the default choices for intercity travel in India. Some estimates state that they contribute over 95% of intercity mobility. There's no doubt that the Indian railways have widespread connectivity, and buses have emerged as a popular choice thanks to last-mile connectivity options. While the railways ferry lakhs of passengers daily, for a country with such a large population, it still falls short sometimes.
Simultaneously, infrastructure development and improvement have resulted in an expansion of the country's intercity bus networks. This is most prominent in South India, which relies more on intercity buses catering to millions daily. They're usually used for short-distance travel. One thing that policymakers have realised is that in India, there needs to be a multimodal approach. There is no one-size-fits-all.
Cities worldwide, including at home, are constantly trying to encourage people to use more public transport. Why else would states spend thousands of crores on public transport networks and infrastructure? Take the metro, for example. While Delhi leads the way, other cities like Bengaluru and Chennai are catching up. As people become more environmentally conscious, cities are introducing electric buses to keep things green.
In 2019, there was something new. Another large-scale public transport project was on the horizon. The Centre approved a massive 82-km RRTS network to connect Delhi and Meerut. It would be a first-of-its-kind, rail-based, high-speed regional transit system in India. Once fully completed, it's being pegged as the fastest, most comfortable and safest way to commute in the National Capital Region (NCR).
In fact, an RRTS network was first proposed by the Indian Railways in 1998 as an option for Delhi-NCR. The plan was to build it along existing railway corridors, but it never materialised. In 2009, the project was revived with the Functional Plan on Transport of NCR-2032. This time, the proposal was for eight RRTS corridors with a combined length of 520 km. It would take a decade for this to come to fruition in its first phase.
The RRTS is developed by the National Capital Region Transport Corporation (NCRTC). It's a joint venture of the Government of India and the governments of Delhi, Haryana, Rajasthan, and Uttar Pradesh. First up is the Delhi-Ghaziabad-Meerut corridor. This will be followed by the Delhi-Gurugram-SNB-Alwar and the Delhi-Panipat corridors.
The trains, from Alstom, come equipped with overhead luggage racks, CCTV cameras, exterior cameras, dynamic route map displays, Wi-Fi, and laptop/mobile charging stations. The trains will also have a standard, and one premium or business car per train and a coach reserved for women. In the initial stages, the RRTS will run six-coach trains with 5-15 minute frequencies.
All this sounds quite nice and convenient. But does it represent the future of inter-city travel in India?
VIEW: A sign of things to come
It bears repeating that a multimodal approach is necessary for public transportation in India. We can't just have a big bus or rail network. Things need to work in concert with each other to achieve the maximum possible coverage. The RRTS will only boost that effort. Bus and metro networks will also be connected by the RRTS in keeping with the multimodal approach.
For commuters, it's all about convenience. With a top speed of 180 kmph, the RRTS is transformational and opens up new avenues of economic, education, healthcare, and employment development opportunities across borders. The other goal is to ensure more people opt for the RRTS. When the project was launched, the goal was to take over a lakh polluting private vehicles off the roads and have people use this service.
The RRTS represents the new era of transformation for Indian railways. South India is especially ripe for new inter-city transport options that are faster and more comfortable than bus travel. Cities like Chennai, Hyderabad, and Kochi would benefit greatly from an RRTS network.
COUNTERVIEW: Still a long way to go
While a multimodal approach is no doubt necessary, it doesn't work unless everything fits into place and is already there for people to use. If we want an RRTS system in cities like Chennai and Kochi, a vast metro and bus network should already be up and running along the proposed routes. In Chennai, last-mile connectivity continues to be an issue even within the city at several stations.
Designing and building an RRTS network is expensive. The first 82-km stretch is expected to cost over ₹30,000 crore. While it may set a new benchmark for inter-city travel, the real challenge remains its commercial viability. Given how price-sensitive commuters are, there's always going to be scepticism about a fancy new public transport option. Some officials said that passenger numbers in the initial stages will be low. It remains to be seen if this venture becomes popular.
While an RRTS sounds like a good idea, its long-term viability remains an unanswered question. Building such networks needs a lot of money and there's the issue of whether states should fund all of it, some, or none at all. When the Delhi-Meerut RRTS network was under construction, the Delhi government said it couldn't contribute money. The matter went to the Supreme Court. Who's to say there won't be similar disputes in other states?
Reference Links:
What is your opinion on this?
(Only subscribers can participate in polls)
a) A regional rapid rail network is the future of inter-city travel.
b) A regional rapid rail network isn't the future of inter-city travel.
---
🕵️ BEYOND ECHO CHAMBERS
For the Right:
The West, China, a world in flux — and where India stands
For the Left:
Rahul Gandhi needs to know – Mandal 2.0 has limited appeal
---
🇮🇳 STATE OF THE STATES
Rivers reunite (Punjab) – On November 2, a historic event will take place as waters from the five rivers of Punjab, separated by national boundaries, will be united in Lahore. This initiative, titled "Vichrae Panj Paaniyan Da Mael" (Separated waters of five rivers meet), is led by peace activists from both India and Pakistan. Waters from the Sutlej and Beas rivers in East Punjab (India) and the Jhelum, Chenab, and Ravi rivers in West Punjab (Pakistan) will be brought together for this symbolic reunion.
Why it matters: The event will be held at "Ucha Burj Lahore Da" in Lahore, followed by a gathering at Darbar Madho Lal Hussain, culminating with the merging of the waters on the banks of the Ravi River. This unique initiative aims to reconnect the people of East and West Punjab, emphasizing their shared cultural and historical ties despite national borders.
Hyderabad's cold nights (Telangana) – Hyderabad has experienced a sudden drop in nighttime temperatures over the past three days, with the India Meteorological Department (IMD) attributing this change to dry northerly winds affecting the region. Data from the Telangana State Development Planning Society revealed that Serilingampally mandal was the coldest area in the city, recording 13.4°C near the University of Hyderabad. Moulali and BHEL Factory followed with temperatures of 13.5°C and 14.2°C, respectively.
Why it matters: The IMD forecasts that the cold spell will continue for the next five days, with temperatures ranging between 18°C and 32°C. Despite the cold mornings, the days remain hot. Residents are adjusting to the colder nights by using extra blankets and warm clothing. The contrasting cold mornings and hot days can affect health and daily routines.
Smallest polling booth (Chhattisgarh) – In the remote Bharatpur-Sonha (ST) assembly constituency, Chhattisgarh's smallest polling booth, and the second smallest in India, is set to serve only five electors in Koriya district. This unique booth is located in a region where two other polling stations have 12 and 23 voters, respectively.
Why it matters: These stations are situated in challenging terrains, requiring polling parties to navigate via tractors. The booth in the Sheradand region, with the lowest voter count, will be accessed by polling parties crossing several canals and rivers. The five voters belong to the Cherva tribe. Another booth, Kanto, with twelve voters, has recently been in the news due to a proposed poll boycott by its residents, citing a lack of basic amenities.
Aguad Interactive Museum (Goa) – Tourism minister Rohan Khaunte inaugurated the Aguad Interactive Museum titled "Goa – The Land, The Struggle, The People" at the historic 400-year-old Aguada fort in Calangute. Open since August, the museum combines technology and storytelling to depict Goa's culture, history, and its people's pursuit of freedom.
Why it matters: The museum showcases interactive exhibits in three prison cells, detailing various facets of Goa's heritage. Naveen Chopra, group CEO of Waterfront Experiences, which manages Aguad, emphasized the museum's blend of entertainment and education, using innovative storytelling techniques.
Ancient stone idol recovered (Tripura) – An ancient stone idol was discovered near the Gomati river at Dashamighat in Udaipur, located in Tripura's Gomati district. The police have taken the idol into custody, and the administration will decide its future course of action. The specifics of the idol are still unknown.
Why it matters: This isn't the first time such an artefact has been found in the region; last year, two idols representing Lord Vishnu and goddess Santoshi were unearthed in Udaipur. Additionally, in October 2018, a 2.5-ft idol of a Hindu goddess was found near Jagannath Dighi in Udaipur. Despite public demands to place the idol in a government museum, it was kept in a temple.
---
🔢 KEY NUMBER
₹22,303 crore – The Union Cabinet approved a subsidy of ₹22,303 crore for Phosphatic & Potassic (P&K) fertilisers for the Rabi season due to rising international prices.