July 20, 2023
Good morning. In today's either/view, we discuss whether the CUET system is flawed. We also look at the world's largest office building in Gujarat, among other news.
---
📰

FEATURE STORY
Is the CUET system flawed?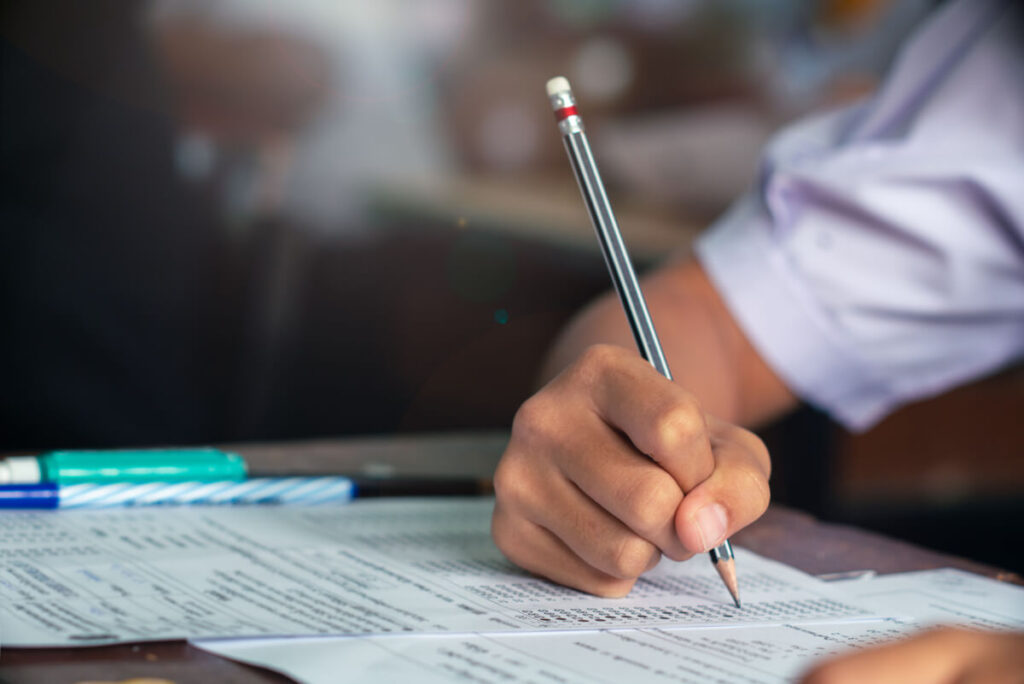 One nation. One test. Several socio-economic backgrounds. Multiple school models. Diverse levels of education. The result? An uncanny ability to spur doubt on its fairness every test cycle. A single test for the nation sounds like a good idea at first hearing. Simple, convenient.
When the Common University Entrance Test's (CUET) UG 2023 results were released this time around in July 2023, criticism of its fairness resounded across the nation. Complaints over its current errors have resurrected ghosts of its errors past. But it may just be teething troubles, which would explain the confidence of the National Testing Agency (NTA).
Context
Previous governments have undertaken several reforms focused on enhancing access to primary education and improving school curricula. Of them, the Sarva Shiksha Abhiyan (SSA), the New Curricular Framework (NCF) 2005, and the passing of the Right of Children to Free and Compulsory Education (the RTE Act) 2009 were probably the most notable. But that doesn't mean all was well.
Before 2022, there was a time when Delhi University had cut-offs set at 100% for enrollment into its undergraduate courses. Science, commerce, and social sciences students from across India aspire to get into the central university. About 3.5 lakh students applied for 70,000 seats in DU colleges in 2020. But they were kept out of the top colleges because of so-called grade inflation.
There were several problems with this, not the least of which was thousands of students being incredibly out of reach of their preferred courses. In 2021, 7 DU colleges had a 100% cutoff. And the fact that these were being met too made clear what many experts already knew. That the Indian grading and education system had grown incredibly meaningless.
Indian schools fail to foster curiosity and learning due to the obsession with high marks. Grade inflation also highlighted the vast inequality in higher education, leaving many from lower socio-economical strata with a subpar learning experience. A 95% score was 21 times more prevalent in 2017 than in 2004.
So the government decided to intervene by passing the New Education Policy, 2020, of which a common, national-level entrance test was a core tenet. It became a part of the admission process to several Central and other Universities.
This is DU's second year adopting the CUET score-based admission, ditching the cut-off system. In phase one, students filled out applications with personal details, Class XII exam scores, and CUET-UG 2023 application number. They paid the registration fee. In phase two, they use the CSAS portal to match Class XII subjects with CUET-UG subjects. They select their preferred program and college. NTA's normalised scores will calculate merit scores.
VIEW: A powerful antidote
With the CUET, the thinking was for a level playing field. Aman Mittal from Lovely Professional University said there'll be equal opportunities for students and universities to end, once and for all, any subjective biases due to different state-level board exam patterns. With centralisation, students can assess their merit across a curriculum of their choice. They don't need to go from one university to another.
CUET has made great progress since last year, with fewer technical glitches and a shorter exam period, running from May 21 to July 5 this year. Even better, the results were out by July 15, bringing the dream of starting university classes in July closer to reality. Improved communication between UGC, NTA, students, teachers, and schools added to the pleasant exam experience.
In a way, the previous cut-off system rewarded not merit but cracking the system to get the perfect score. A competitive exam changes that, and tests learning. Many students were kept out of enrolling in courses of their choice when, for instance, arts and commerce colleges in DU marked a cut-off of 99% around 80 courses. The CUET ensures that children aren't reduced to their mark sheets.
COUNTERVIEW: Making things worse
Centralising tests and examinations give an unfair advantage to the elite, who can afford expensive coaching and better teachers, furthering the disadvantage of underprivileged classes. While the wealthy benefit from this, they may not contribute back to the country and choose to settle abroad. Not a level playing field indeed.
Students are left in a tough spot as board exams lose their significance with the introduction of a common entrance. The use of the NCERT syllabus might burden state board students. The question is – could high cut-offs be better resolved by increasing universities and seats? Does replacing one high-cut-off system with a common entrance truly foster holistic learning? School teachers fear it escalates student anxiety. The normalisation process, in particular, has sparked outrage among students for reducing actual marks to normalised scores by a wide margin.
Consider the decision to award five marks for a correct answer and minus one for a wrong answer. If each question has four answer choices, the negative mark for a wrong answer should logically be n/k-1 (n=1, k=4). In CUET-UG, with n=5 and k=4, it should be —1.66 instead of -1. Moreover, questions without a correct answer or with multiple correct answers should grant full marks to all "attempted" candidates. Penalising smart moves, like skipping a flawed question, seems unfair.
Reference Links
What is your opinion on this?
(Only subscribers can participate in polls)
a) The CUET system is flawed.
b) The CUET system isn't flawed.
---
🕵️ BEYOND ECHO CHAMBERS
For the Right:
Decoding Prime Minister's strategic silence on Manipur
For the Left:
Right decision on taxing online gaming
---
🇮🇳 STATE OF THE STATES
Warning over Pahari quota (Jammu & Kashmir) – The All Reserved Categories Joint Action Committee (ARCJAC) representing tribal communities has warned the government of protests if a bill introducing the Pahari quota is introduced in Parliament. The ARCJAC said the bill is illegal and unconstitutional. The issue is that Paharis don't meet the criteria to be considered a Scheduled Tribe (ST). One of the group's advocates said the Pahari population is higher than Gujjars.
Why it matters: Last October, Home Minister Amit Shah said Prime Minister Modi was in favour of introducing reservations for Paharis. While addressing a rally, Shah cited Justice Sharma's recommendation that Paharis should be granted ST status. This comes in conflict with the ARCJAC's argument that Gujjars and Bakerwals, the third-largest community in the state, would have their rights taken away.
AMPC Bill controversy (Karnataka) – The combined opposition of the BJP and JD(S) blocked the state government's Agricultural Produce Marketing (Regulation and Development) (Amendment) Bill, 2023, that aims to bring back restrictions on agricultural trading. It passed the Legislative Assembly amid uproar from the opposition, who labelled it anti-farmer. The government argued that farmers weren't earning a profit since they traded outside AMPCs.
Why it matters: In 2020, the BJP government amended the AMPC law to allow farmers to sell wherever they wanted compared to the previous version where they could only trade in notified markets. They removed the penalties which the current government wants to reintroduce. The BJP government felt the previous system was better since it freed farmers from the AMPC's bureaucratic system.
Elephant corridor surveys (Odisha) – The state government will conduct a new survey of elephant corridors to ensure uninterrupted movement between habitats without human disruption. The Forest Department has asked Project Elephant for their support. Recommendations on what constitutes a corridor were based on a 2017 assessment that showed 10 of the 14 corridors were non-functional.
Why it matters: Odisha has elephant reserves in Mayurbhanj, Mahanadi, and Sambalpur. It has nearly 2,000 pachyderms that represent 72% of Eastern India's elephant population. By surveying the corridors, experts say the animals can move freely for the foreseeable future. It'll also help reduce any human-elephant conflicts.
World's largest office building (Gujarat) – Surat, regarded as India's gem capital, now has the world's largest office building. The recently completed Surat Diamond Bourse is billed as a one-stop destination for over 65,000 diamond professionals, including cutters, traders, and polishers. The building has a floor space of 7.1 million square feet, making it the largest office building surpassing the Pentagon in the US. It has a 15-story complex spread over 35 acres.
Why it matters: The new building is tipped to help those involved in the diamond trade and business. According to the project's CEO, Mahesh Gadhavi, it'll save thousands of people from travelling daily to Mumbai by train for their business. Surat is seen as a better option for those involved in the trade.
Bru voters removed (Mizoram) – Officials in the state said the names of over 6,000 Bru voters were deleted from the state's voter list. The reason cited was their settlement in Tripura following a 2020 agreement. The voters belonged to nine assembly constituencies in the Mamit, Kolasib, and Lunglei districts. The final number of Bru voters will be known when the draft electoral roll gets published on August 2. The final electoral roll will be released on October 4.
Why it matters: In 1997, thousands of Bru residents fled to Tripura due to ethnic tension in the wake of the murder of a forest official by Bru militants. For over two decades they've been living in transit camps. Between 2009 and 2019, the Centre and the Mizoram and Tripura governments attempted to repatriate them at least nine times. In 2020, an agreement was reached where 35,000 displaced Bru tribals were allowed to re-settle in Tripura.
---
🔢 KEY NUMBER
₹3 crore – A farmer in Pune struck gold as he earned ₹3 crore in just over a month thanks to rising tomato prices. Despite some setbacks, the farmer from Pachghar village worked tirelessly on his 12-acre farm.