March 2, 2022
Good morning. In today's either/view, we discuss the pros and cons of interlinking rivers in India. We also look at why the Tripura High Court has asked the administration to ban the sale of meat in public places, among other news.
---
📰

FEATURE STORY
Is the interlinking of rivers necessary for India?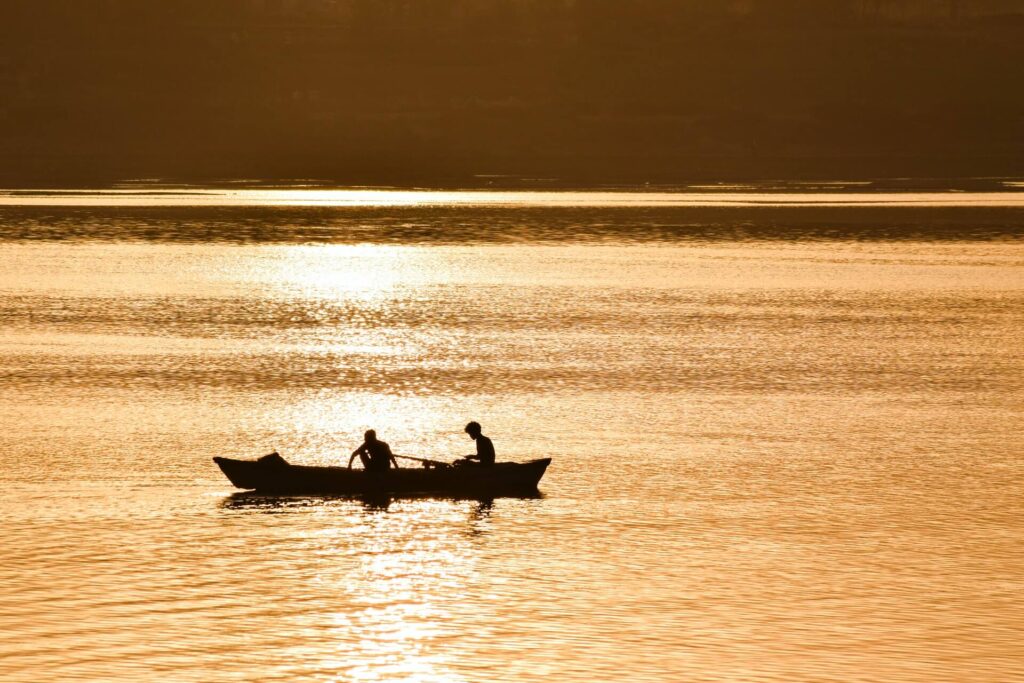 India is blessed to have several important rivers that run across the country. They're the lifeblood and a source of livelihood for millions, be it transport, power generation, or irrigation. There's been a long-standing debate on how these rivers and their surrounding land should be used.
Given how ambitious India's economic goals are, topics like development, investment, and infrastructure are timely and frequent talking points from the government. The controversial issue of interlinking rivers involves these three components. While the government is keen on such initiatives and projects, others have spoken about its detrimental effects on the environment.
Context
The concept of interlinking rivers in India isn't new. It goes back to British colonial rule. Engineer Arthur Cotton proposed a plan to interlink the major Indian rivers to facilitate accelerated import and export of goods from British colonies in South Asia. He also wanted to address water shortages and droughts in certain parts.
In the post-independence era, engineer KL Rao proposed the National Water Grid in 1972. Rao, a former irrigation minister, was concerned about water shortages in the South and repetitive flooding in the North. His plan was to divert surplus water to areas with a deficit.
In 1980, the Ministry of Water Resources released a report titled "National Perspectives for Water Resources Development". It outlined splitting water development projects into two. They were the Himalayan and Peninsular components. In 1982, things moved forward. A committee was set up through the National Water Development Agency (NWDA) to complete surveys and studies of reservoirs and canals to determine the feasibility of interlinking Peninsular rivers. Despite several reports from the NWDA in the years ahead, nothing came to fruition.
The basic concept of the interlinking river (IRL) project is a dam-canal system connecting fast-flowing Himalayan-source rivers with the seasonal rivers of Peninsular India. It was categorised this way because the Brahmaputra and Ganga are primary sources of "surplus" water.
The interlinking project was popular with the NDA government. In 2002, then Prime Minister Atal Bihari Vajpayee formed a task force to study the modalities of the project. As the UPA came into power in 2004, they were consistent in their opposition. Till 2013, they rejected several reports and feasibility studies. However, in 2012, the Supreme Court allowed the interlinking project to go ahead, citing water scarcity in some areas. Despite Congress voicing its concerns, the court said the Centre and states should work together to implement the project under a high-powered committee.
A couple of things complicated matters. First, interstate water disputes like the one between Karnataka and Tamil Nadu concerning Cauvery, which in many ways is still ongoing. Also, the project necessitated water-sharing arrangements with Bhutan, Nepal, and Bangladesh.
Now, the interlinking of rivers has gotten a fresh boost thanks to the recent Union Budget. Finance Minister Nirmala Sitharaman announced ₹46,000 crores for the Ken-Batwa river interlinking project. She also said five other interlinking projects were finalised, including the Daman-Ganga Pinjar, Krishna-Godavari, and Pennar-Cauvery.
While the government is going full steam ahead on this, it's not just political opposition they have to deal with. Activists and environmentalists have spoken out against interlinking rivers. Are such projects necessary? Do they help people deal with water shortages? Or is the environmental impact just being brushed aside in the name of development?
Interlinking necessary to address the issues
Given the worsening effects of climate change and global warming, the weather is becoming increasingly extreme, with more intense rainfall and floods and droughts. Last year, the Standing Committee on Water Resources urged the government to put more effort into implementing the IRL project. In its report, it cited losses due to floods every year.
A characteristic of the Gangetic rivers is flooding during the monsoon that affects Uttar Pradesh and Bihar. On the other hand, other regions don't receive as much and even face a deficit that leads to droughts. This disparity and flood-drought cycles necessitate water management. Interlinking of rivers is a way to address this.
Water supply is another component of this disparity. Water supply isn't restricted to just drinking water, it's also for irrigation. Excess water can be transferred from regions that receive surplus rainfall to places where farming has been affected due to droughts. The national river interlinking project, for example, can provide additional irrigation to 35 million hectares in the water-scarce western and peninsular regions.
There's an undeniable power demand in India. In keeping with India's renewable energy push, hydroelectricity will play a part in this and help achieve India's targets under the Glasgow Climate agreements. For example, the national river interlinking project can generate 34,000 MW of power, with 4,000 MW from the Peninsular component and the remaining from the Himalayan one.
Risks outweigh benefits
Interlinking rivers is a complicated undertaking that will take years to complete. These projects also aren't cheap. For example, the National River Interlinking Project is estimated to cost ₹5.6 lakh crores at 2002 price levels. Assuming the cost is fine, a question that needs to be asked is whether interlinking rivers is even the best or right approach to solve some of the outlined issues.
To solve the water scarcity issues, there are other cheaper and environmentally-benign options available. As Parineeta Dandekar from the South Asia Network on Dams, Rivers & People (SANDRP) stated, these include increasing irrigation, rational cropping patterns, and putting to use current under-performing projects. She cited Maharashtra as an example. It has the highest concentration of large dams with the least irrigation potential.
Let's take the Ken Betwa project as an example. People of the Bundelkhand region do require better water access and management. For this, a hydrological assessment of the river basin needs to be done to show that it has a surplus. This assessment then needs to be independently reviewed. For the Ken Betwa project, none of this has happened. A part of the project also involved clearing forest areas, most of which fall in the Panna Tiger Reserve.
Even for the Godavari-Krishna-Pennar-Cauvery link projects, there's no consensus that the Godavari has surplus water to transfer. Groundwater will likely remain India's lifeline for the foreseeable future. Such a project will not help in sustaining that water. The implementation of such projects could have diplomatic consequences also. As independent journalist Sudha Ramachandran stated, the ILR's Himalayan component could impact Nepal and Bhutan, where the Ganga and Brahmaputra originate. Overall, the interlinking option isn't viable and will set India back in terms of conservation. As Himanshu Thakkar of SANDRP wrote, such projects will ultimately reduce India's capacity to adapt to climate change.
What's your opinion on this?
(Only subscribers can participate in polls)
a) Interlinking of rivers is necessary for India.
b) Interlinking of rivers is not necessary for India.
---
🕵️ BEYOND ECHO CHAMBERS
For the Right:
India's Abstention On Ukraine Resolution Risks Its Democratic Stature Before The World
For the Left:
The Congress Must Transform To Rebuild The Opposition
---
🏴 STATE OF THE STATES
Discounts on MRP of liquor (Delhi) – The Delhi government announced that they will discontinue discounts on the maximum retail price (MRP) of liquor sold at stores. Several stores, to increase sales, offered discounts and saw a rush of customers. Some stores offered discounts of up to 35% on Indian-made foreign liquor. The excise department said this might pose a law and order problem and inconvenience locals. The government said further discounts might lead to unhealthy market practices.
Why it matters: Delhi's excise policy allowed liquor vendors to adopt a competitive pricing policy. It has resulted in shops offering big discounts on Indian and imported liquor. Under the new policy, the Delhi government fixed the prices of 166 brands of whiskey, 154 wines, 65 beer, and 55 vodkas. In November, Delhi made way for new private liquor shops with licenses given to applicants in all 32 zones.
Tourism campaign (Kerala) – Kerala tourism is preparing to roll out a promotional campaign across India to woo tourists. The aim is to attract a diverse group ranging from families to working professionals. Some of its components are Long Stays, Homestays, and Drive Holidays. Supplementing this will be network activities like participating in trade fairs, roadshows, and advertisements on print, radio, and TV. Tourism Minister P.A. Mohamed Riyas said the sector is slowly recovering, and the new initiatives will help attract tourists.
Why it matters: Due to the pandemic, the state's tourism sector suffered losses. During the second and third waves, more than 1,000 small, medium and large tour operators stopped functioning. More than 60% of the homestays remained closed, and others that are functioning have struggled to meet their expenses. The sector contributes approximately 10% of the state's GDP and more than 23% of the state's employment. Due to a fall in tourist numbers from India and abroad, the sector lost ₹35,207 crore in 2020.
BJD sweep rural polls (Odisha) – The ruling Biju Janata Dal swept the state's rural polls winning over 90% of the Zilla Parishad Zone (ZPZ) seats. The BJP and Congress only managed 31 and 29 seats, respectively. Despite more than two decades of BJD rule, anti-incumbency wasn't a factor. In October, the party launched its campaign when Chief Minister Naveen Patnaik visited several districts, especially in the western part of the state. Here, he distributed smart health cards and announced various schemes to help people recover from the pandemic.
Why it matters: This was subbed as an electoral test for the party ahead of the 2024 assembly polls. The BJD improved on its 2017 performance when it won 473 ZPZ seats. The BJP and Congress won 297 and 60 respectively then. In eight western districts, the BJP won 169 out of the total 212 ZPZ seats in 2017. In the 2019 Lok Sabha elections, the BJP won all four seats in the western region.
Real estate hopes (Goa) – The real estate players in Goa are cautious about this year's outlook for the sector. In a survey conducted by Credai, just 24% of the state's developers say they are bullish about 2022. Despite the caution, 95% of developers said they will undertake new projects this year. Most of these are residential and commercial, with only 6% being retail. The demand for housing in Goa is high, so the focus on residential is understandable. The state has also gained prominence as a retirement destination. In light of this, 43% said they are mulling the idea of venturing into housing for senior citizens.
Why it matters: As the pandemic set in, Goa emerged as a destination for people to buy second homes away from crowded cities. Much of this demand has been driven by salaried service sector employees from Bengaluru, Hyderabad, Pune, and Mumbai. The rental market has also changed as landlords aren't keen on long leases. last year, Credai stated that property prices in the state will increase by 10-15% as construction costs increased.
Ban meat in public places (Tripura) – The Tripura High Court ordered the Agartala Municipal Corporation to not allow the open sale of meat on streets and in public places. It also asked the corporation to have a long-term plan to set up a slaughterhouse. The court was hearing a PIL filed by advocate Ankan Tilak Paul. The court said meat should only be sold at the proposed abattoir or slaughterhouse. Till then, it can be sold at locations designated by the municipality.
Why it matters: The court asked Pollution Control Board to work with the AMC to maintain hygiene at all meat selling locations. A tender has been floated for the construction of a slaughterhouse. Also, 139 people were given trade licenses by the AMC to sell meat. The reasoning here differs from other states that have banned the display of non-vegetarian food in public places, like in Gujarat, for example. The impetus behind the decision is to maintain a standard of hygiene at public locations.
---
🔢 KEY NUMBER
8.9% – India's GDP forecast for 2021-22 according to data released by the National Statistical Office. It comes as the economy grew 5.4% in the October-December quarter.