June 6, 2022
Good morning. In today's either/view, we discuss whether TN's demand to retrieve Katchatheevu from Sri Lanka is justified. We also look at the newly voted state butterfly of Sikkim, among other news.
---
📰

FEATURE STORY
Is TN's demand to retrieve Katchatheevu from Sri Lanka justified?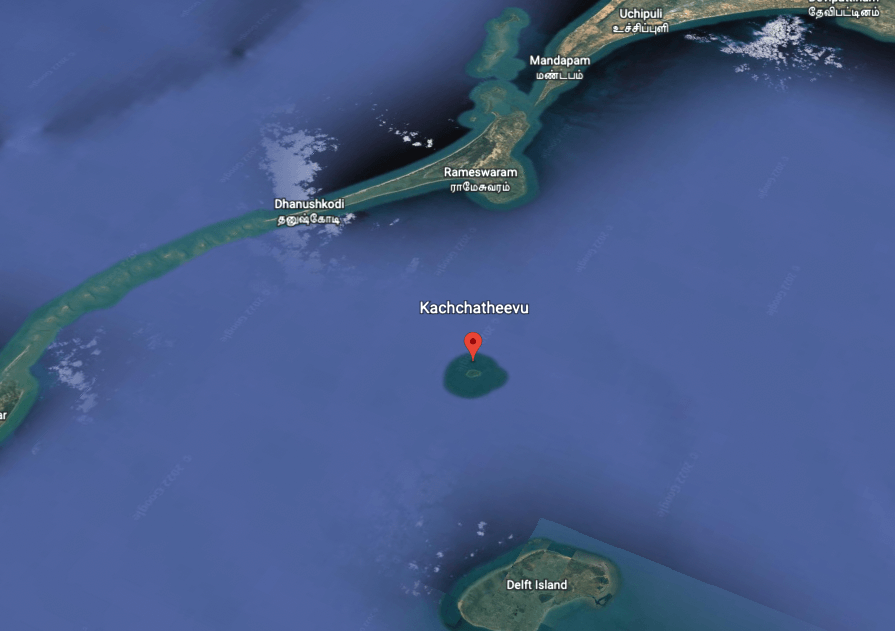 American lawyer and politician James Buchanan once described diplomacy as something that should be "direct and frank, neither seeking to obtain more nor accepting less than is our due." For India and Sri Lanka, diplomacy has sometimes been rocky but otherwise relatively stable. What has been a thorn for the two sides is maritime waters and respecting the boundaries.
Sri Lanka's closest Indian neighbour, Tamil Nadu, has arguably been the state the island nation has dealt with the most. With all the disputes over fishermen being captured over alleged illegal crossings, there's a small space of land called Katchatheevu. Tamil Nadu wants to bring it back to India. Is this a wise call?
Context
The headline writes itself – a big issue over a small island. Katchatheevu is a 160-odd acre piece of land situated in the Palk Strait on the Sri Lankan side of the maritime boundary. Even a magnifying glass might not be enough to spot this tiny island on a regular map or atlas.
The history of this island dates back to the early 20th century. Sri Lanka claimed territorial ownership over it. During British rule, it became part of the Madras Presidency. In 1921, both Indian and Sri Lankan territories of Britain claimed Katchatheevu. They both wanted to determine fishing boundaries. While a survey showed Katchatheevu as part of Sri Lanka, a British delegation challenged this.
Cut to 1974, India ceded the island to Sri Lanka through a joint agreement. A couple of years later, India gave up its fishing rights in the region in the wake of the emergency. The agreement stated India won't engage in fishing activities in the Exclusive Economic Zone of Sri Lanka. Because this agreement wasn't recognised by the Indian Parliament, its legality was questioned.
The issue flared up in 1991. The Tamil Nadu assembly wanted the island back and to restore fishing rights. With Sri Lanka occupied with its war against the Tamil Tigers, Indian fishermen routinely entered Sri Lankan waters. In 2003, Sri Lanka said it would consider letting licensed fishing by Indian boats. However, Tamil Nadu nor the Centre submitted a proposal.
Things changed when the war ended in 2009. Sri Lanka began enforcing strict maritime restrictions and arrested fishermen who crossed over. This only bolstered Tamil Nadu's calls to retrieve Katchatheevu. The issue has gone all the way to the Supreme Court. In 2008, AIADMK leader Jayalalithaa filed a petition stating it couldn't be ceded to another country without a constitutional amendment. In 2012, after becoming Chief Minister, she went back to the court, wanting her petition to be expedited.
Where do the other parties stand? Congress has been defensive about Indira Gandhi's role in handling the issue. Before the Lok Sabha polls in 2014, the BJP aligned with the Tamil parties who wanted the island back.
With all the complications of Tamil Nadu's history with Sri Lanka, is this the right time to try and retrieve Katchatheevu? Is it even a good idea?
VIEW: Back to where it belongs
Tamil Nadu has been at the forefront of this issue as various ruling governments have called for the retrieving of Katchatheevu. This is an important region for Indian fishermen, and Sri Lanka's frequent arrests have irked the fishing community. A Sri Lanka court recently announced a ₹1 crore bail for 30 fishermen arrested who come from economically weak backgrounds. As Fisheries Minister informed State Legislative Assembly, retrieving Katchatheevu was the only solution.
At a recent function, Tamil Nadu Chief Minister MK Stalin demanded the return of Katchatheevu so that Indian fishermen's rights aren't jeopardised. This is a traditional fishing zone. Kasinathan, president of Rameswaram fishermen association, said Katchatheevu and the Indian coast fall between 6 nautical miles. The fishermen are vulnerable to attacks from the Sri Lankan navy. He said the threats began only after the land was transferred to Sri Lanka. For India, it would also help keep an eye on China, given its increasing closeness with Colombo.
There is a way for India to retrieve Katchatheevu. At the same time, there are a bunch of petitions in the Supreme Court on this issue. There's precedence based on the apex court's ruling on the Perubari case. It was located between East Pakistan and India and later ceded to East Pakistan. When questioned by the West Bengal government, the apex court said in the future, the Centre should get a state's approval first. The agreement signed in the 1970s could be a violation of Article 368 of the Indian constitution.
COUNTERVIEW: Diplomatic and timing issues
Many Sri Lankan leaders are battle-worn and have comprehensive knowledge of the ground realities. While present-day Sri Lanka is going through an economic and political crisis, it's wary of other countries trying to invade its territory. From their point of view, putting aside the occasional allegations of being overly aggressive, it would be unwise for them to not keep an eye on the disputed waters.
The 1974 agreement between the two countries is one that the Centre has always held onto. Given how long it has been, one country can't unilaterally back out. One unique aspect of the agreement is it rules out third-party interventions. Given the current crisis in the island nation, India wouldn't want any diplomatic hurdles as it seeks to help Sri Lanka get back on its feet. Maintaining trade and diplomatic relations with Sri Lanka is crucial for the maritime security of the region.
For Sri Lankan fishermen, calls for retrieval haven't gone down well. They're concerned that their government might give in. NM Alam of the Mannar District Fishermen's Association said, Sri Lanka shouldn't give away Katchatheevu to India as it would affect local fishermen. They've complained of Indian trawlers and boats coming into their waters and taking away their fish.
What's your opinion on this?
(Only subscribers can participate in polls)
a) Tamil Nadu's demand to retrieve Katchatheevu from Sri Lanka is justified.
b) Tamil Nadu's demand to retrieve Katchatheevu from Sri Lanka is not justified.
---
🕵️ BEYOND ECHO CHAMBERS
For the Right:
More Tourists Doesn't Mean Kashmir Is 'Normal'. Naya Kashmir Is Still Not In Sight
For the Left:
India's Jaishankar Mounts an Unsparing Attack on Western Hypocrisy Once Again
---
🇮🇳 STATE OF THE STATES
Pandits exodus (Jammu) – For 6,000 workers from the Kashmiri pandit and non-Muslim groups, they're looking to leave the valley as targeted killings continue. However, the J&K government rejected their demand to leave. Instead, they decided to shift them from the interiors to safe locations. Some are sceptical as they can't be completely isolated for a long time. Many of those who returned live in government-built settlements across the valley.
Why it matters: So far, 177 Kashmiri pandit teachers have been transferred from Srinagar. Many Kashmiri pandits who were employed under the prime minister's special package in 2012 have staged protests threatening a mass exodus since the killing of Rahul Bhat who was shot dead on May 12. More recently, a bank employee and brick kiln labourer were killed in Kashmir, and another labourer was injured in separate incidents.
Spilt milk (Tamil Nadu) – Aavin milk packets are leaking, and customers aren't happy. T Sadagopan from Tamil Nadu Progressive Consumer Centre said on average, 25 to 30ml of milk is lost from a 500ml sachet. The problem could be the thickness of the plastic. In 2019, the thickness of half-litre sachets increased from 53 to 63 microns. However, to cut costs, Aavin reduced them to 55 microns, as recommended by the Bureau of Indian Standards (BIS). Handling and transporting the sachets could be another reason for the leaks.
Why it matters: The Tamil Nadu Co-operative Milk Producers' Federation Limited (TNCMPF) has called for new tenders for sachets with 60 microns thickness. Pre-pandemic, demand for Aavin milk was increasing. Sales decreased even when there wasn't any change in procurement levels. An audit showed no transparency in the selection of clearing and forwarding agents.
Big-ticket projects (Bihar) – Bihar now has several big-ticket projects that have gotten off the ground in a state that has seen many false starts. Over a fortnight in April, Chief Minister Nitish Kumar inaugurated two private ventures – a ₹500 crore Pepsico bottling plant and a ₹105 crore ethanol plant. It's a key milestone as it's the first time such big-budget projects have begun under his government. Previously, the state had only a single-line Coca-Cola bottling plant near Patna.
Why it matters: The benefits of the plants are employment opportunities for the local youngsters and investment for the state. Bihar's Industry Minister Syed Shahnawaz Hussain said the government has relaxed norms and a single-window system for promoting industries is in place. He said in the next couple of years, dozens of similar industrial units will come up.
MoU to save soil (Rajasthan) – Rajasthan is now the second state in India to sign an MoU to save soil by reversing the desertification of fertile land. As part of the save the soil initiative, Lalchand Kataria, state agriculture minister, and Sadhguru, Founder of Isha Foundation spoke about the need to save agricultural land from becoming barren. Sadhguru launched a global movement to save soil from erosion. The objective is to ensure at least 3-6% of organic matter is included in agricultural land.
Why it matters: In India, the average organic content in soil is 0.68%. It puts the country at high risk of desertification. Sadhguru said about 30% of the country's fertile soil has already become barren. Soil erosion could lead to desertification of about 90% of the earth's agricultural soil by 2050. Previously, Gujarat became the first Indian state to sign an MoU to save soil from erosion.
State butterfly (Sikkim) – Sikkim marked World Environment Day by announcing the Blue Duke as the state butterfly. The selection was done through a recent online poll in which the Blue Duke secured 57% of the votes. First discovered in 1858, the particular species is unique to Sikkim and the Eastern Himalayas. The idea for a state butterfly came from butterfly enthusiast Nosang M Limboo in 2018 as part of The Butterfly Society of Sikkim (TPCF).
Why it matters: The Blue Duke comes under Schedule 2 of the Wildlife Protection Act, 1972. It's a protected butterfly species in the region. It's usually found at an altitude below 1,500 metres in the Himalayas. Sikkim has seen a surge in butterfly diversity, home to more than 700 species. Indigenous farming systems haven't affected their numbers.
---
🔢 KEY NUMBER
₹94,116 crores – The losses of LIC shareholders in the past 14 trading sessions. It comes as the shares hit a new low in a highly volatile market. Per Friday closing, its market capitalisation fell to ₹5.06 lakh crores.