June 5, 2022
Good morning. Every Sunday, we publish the results of polls from feature stories that were published the past week. We also give a brief overview of the topics that were discussed.
---
🗳️ POLL RESULTS – Week 76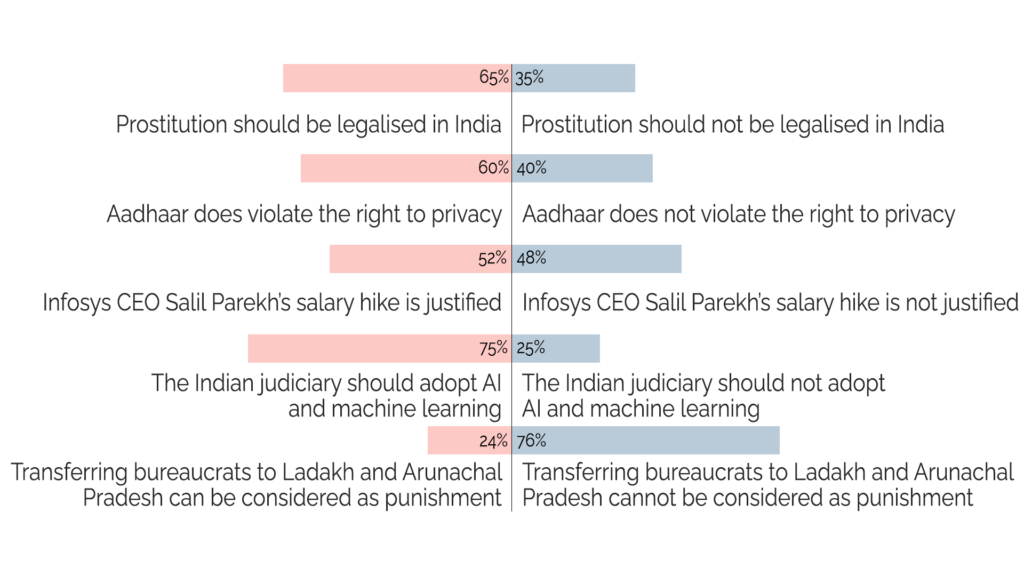 ---
🗓️ THE WEEK THAT WAS
Should Prostitution Be Legalised In India?
Daily | 30 May 2022
The Supreme Court said prostitution is a profession, and sex workers are entitled to dignity and equal protection under the law. It added criminal law must apply equally in all cases based on age and consent. Is this a good decision? Or is legalising prostitution a road to worse outcomes for some women? Read more on this here.
Aadhaar – Is It A Threat To Privacy?
Daily | 31 May 2022
The government caused a stir when it withdrew its recent press release advising people to not share a photocopy of their Aadhaar cards with any organisation. This has once again brought to the forefront the issue of Aadhaar and privacy. Follow this story here.
Infosys CEO Salil Parekh's Pay Hike – Is It Justified?
Daily | 1 June 2022
Infosys CEO Salil Parekh recently got a 88% pay hike as his compensation increased to ₹79.8 crores. Is such a hike justified? We unpack the debate here.
Can AI help the Indian judiciary's functioning?
Daily | 2 June 2022
Four crore – that's the number of cases pending in lower courts, according to Chief Justice NV Ramana. What type of technology can be used and where? Can Artificial Intelligence (AI) help? Or is this a step too far? Read more on this here.
Punishment Posting For Dog-Walking IAS Officers
Daily | 3 June 2022
An IAS couple in Delhi made it their evening routine to walk their dog at the Thyagaraj stadium. Athletes were forced to wrap up their training early to facilitate this dog walk. As 'punishment', the couple has been transferred to Ladakh and Arunachal Pradesh. Should we consider such transfers as punishment? Find the details here.
Rights of Sex Workers in India
Know Your Rights | 4 June 2022
In India, prostitution does have legal status, but with a massive asterisk right next to it. Basically, our legal framework gives several rights to those willingly practising sex work within the country. But, any form of pimping, soliciting services in public areas, running a brothel, pandering and obviously, underage solicitation are all strictly prohibited. We discuss this here.