June 2, 2022
Good morning. In today's either/view, we discuss the transfer of a bureaucrat couple to a "hard place" and punishment postings. We also look at the Hydrogen-powered car in Kerala, among other news.
---
📰

FEATURE STORY
Punishment Posting For Dog-Walking IAS Officers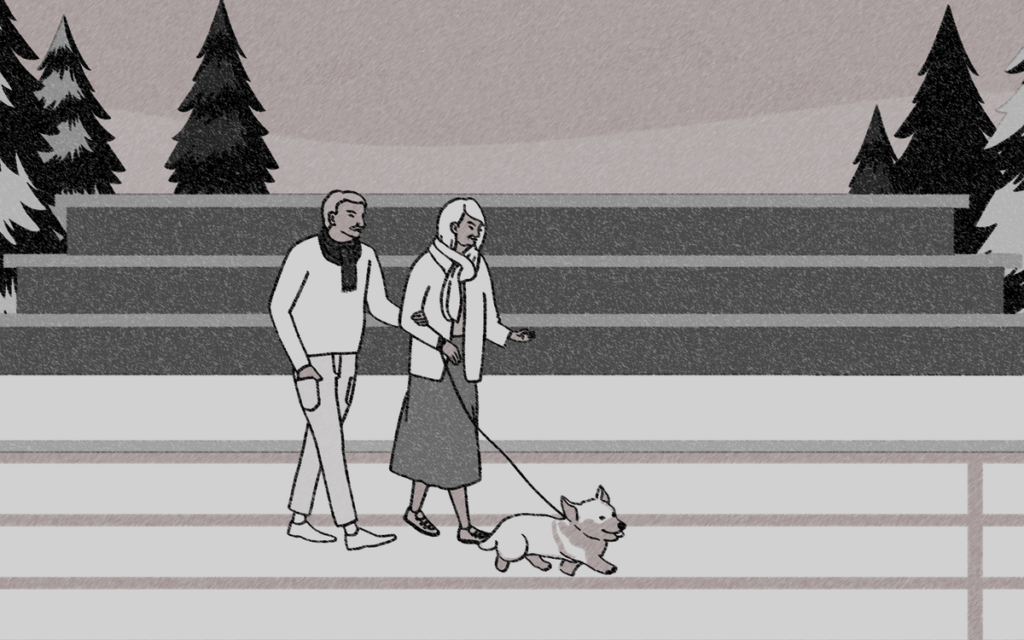 Indian bureaucracy is famous or, depending on how one views it, infamous. There's probably been a time when we've used the privileges of being who we are or knowing someone to use it to our advantage. Bureaucrats enjoy certain privileges in India, and sometimes they get called out on it.
The latest episode involves a Delhi couple who allegedly made it their evening routine to walk their dog at the Thyagaraj stadium. Athletes were forced to wrap up their training early to facilitate this dog walk. As 'punishment', the couple has been transferred to Ladakh and Arunachal Pradesh. Was this the right call, and what's the deal with it being a punishment posting?
Context
Sanjeev Khirwar and his wife Rinku Dugga, both 1994-batch Arunachal Pradesh, Goa, Mizoram, and Union Territories (AGMUT) cadre IAS officers, made headlines when walking their dog at the Thyagaraj stadium and curtailing the training times of athletes. They've now been transferred to separate stations.
Khirwar was Delhi's principal secretary of revenue. He was transferred to Ladakh. His wife Rinku was secretary of lands and buildings. She was posted to Arunachal Pradesh. But no word about the dog though!
The Union Home Ministry received a report from the Delhi Chief secretary concerning the misuse of facilities by the couple. The AGMUT is controlled by the Home Ministry, and they took issue with the conduct. They were relieved of their duties after the department of personnel and training (DoPT) reviewed the case.
The three All India Services, i.e., Indian Administrative Service (IAS), Indian Police Service (IPS), and Indian Forest Service (IFS), are governed by the All-India Service Conduct Rules, 1968. There are 23 rules in total, and they've been amended 37 times. Other civil services are governed by the Central Civil Services (CCS) Conduct Rules, 1964 which has 25 rules.
What entails an officer's conduct? A 2014 amendment included several points on the official conduct of all members of the Service. The basics of it are that every officer should uphold the values of the constitution and not take decisions to get some personal or financial benefit. Then comes the usual talk of fairness and impartiality.
Despite all this, violations are commonplace, and actions are seldom taken. Take a recent example of Rajiv Bansal, secretary of the Ministry of Civil Aviation, and his wife getting special treatment. Their Air India tickets were upgraded to business class at a cheaper rate for a personal trip to the US. Disciplinary action against an errant official can include demotion, suspension, or transfer. Article 311 of the constitution protects civil servants from arbitrary dismissal and transfers.
Areas under AGMUT are divided into two categories. Category A, called Regular Areas, includes Delhi, Chandigarh, Goa, Puducherry, and others. Category B, called Hard Areas, includes Arunachal Pradesh and Mizoram, Jammu & Kashmir, and Ladakh. Jammu and Kashmir and Ladakh were included in January. They were referred to as "Hard Areas" given their topography.
A 'punishment posting' happens when an officer is transferred to a place that isn't politically or administratively lively. So, getting transferred to a place like Delhi wouldn't be considered a punishment, but one to a remote region or state might.
VIEW: All states & UTs deserve good administrators
What constitutes a punishment posting is just perception. Being posted in a place like Ladakh or Arunachal Pradesh shouldn't be seen as a burden, downgrade, or punishment. It goes against the thinking in Delhi that these places are beyond the comfort zones of many Indians. For IAS officers of a certain seniority, as in this case, comforts are basically guaranteed.
The reason it's looked at as a punishment posting has partly to do with the way the IAS is structured. It's also a feature of the service's Union Territory cadre. As journalist and author Samrat Choudhury stated, both the places in this case, unfortunately, meet the notion of exile. They're looked at as exotic places ideal for a holiday or getaway, but not one for living or working. Tipraha Indigenous Progressive Regional Alliance (TIPRA) Chairman Pradyot Manikya noted that mindsets about the Northeast never change. EastMojo Editor-in-chief called for merit-based postings to Arunachal Pradesh.
This is a case of the Indian bureaucracy's own prejudices that outline what constitutes a punishment posting. It's part of a larger issue concerning transfers and postings in the Indian bureaucracy being problematic. Over the decades, there have been reports of money being paid to ministers and bureaucrats for lucrative postings. It's a sad state of affairs that such incidents as dog walking or any special treatment are considered common.
COUNTERVIEW: It's a matter of perception and a larger issue
The overarching rule for civil servants is to maintain integrity and devotion to duty and not undertake activities unbecoming of a member of the Service. The two people in question here failed to uphold this. The bigger problem is the VIP culture that has so often been talked about. Bureaucracy often seems to be the wing of the government. They rarely stand up to their masters on matters of principle.
Transfers are quite common for IAS officers, and the biggest benefit is that they can learn from different departments. If we're looking at it from the perspective of an IAS officer's own career, they're likely to get more opportunities in a more "happening" place. Their career prospects will likely increase if they were posted in a metropolitan district or city.
There's also some contention about whether these places should be called hard areas. That definition is solely based on the accessibility. Categorising them as hard areas could help boost IAS and IPS recruitment in these regions and territories. That was the reason given for including Jammu & Kashmir and Ladakh.
What's your opinion on this?
(Only subscribers can participate in polls)
a) Transferring bureaucrats to places like Ladakh and Arunachal Pradesh can be considered as punishment.
b) Transferring bureaucrats to places like Ladakh and Arunachal Pradesh cannot be considered as punishment.
---
🕵️ BEYOND ECHO CHAMBERS
For the Right:
JNU's VC Is Celebrating 'Herstory' With Men, A 'Civilisation State' With No Rights
For the Left:
DU Prof Shivling Case Shows Why Academic Freedom Can't Be Cover For Distasteful Remarks
---
🇮🇳 STATE OF THE STATES
New smog tower (Delhi) – The Delhi High Court imposed a ₹12.5 crore fine on a company which withheld information about its blacklisting in a tender issue. The court said the money will be used to build a new smog tower. Acting Chief Justice Vipin Sanghi and Justice Jasmeet Singh said the money should be put back into the city and a smog tower is necessary as the city suffers from poor air quality. The court asked the company to deposit the entire amount with the registrar general in two weeks.
Why it matters: For the first time in more than a month, the city's air quality index (AQI) was at 322, considered poor. The last time Delhi recorded a higher AQI was in February when it was 346. Delhi has two smog towers, one in Connaught Place and the other in Anand Vihar, which became functional in September. Delhi Environment Minister Gopal Rai said they filter out 80% of particulate matter in the air.
Hydrogen-powered car (Kerala) – Kerala now has the country's first Hydrogen-powered car which was registered in April. It's one of only a few states that allow the registration of such cars. Its entry and registration are part of an MoU between the International Centre for Automotive Technology (iCAT) and Toyota to study fuel-cell electric vehicles. The Toyota Mirai won't ply on roads and will be kept for research purposes.
Why it matters: The Kerala government has proposed a policy to promote green fuels and the Mirai fits the bill. For hydrogen-fuel vehicles, the target is expected to be the heavy-duty vehicle segment. The Kerala State Road Transport Corporation (KSRTC) also has plans to introduce green fuel-based buses. It's the first state to include hydrogen-powered mobility in its zero-emissions policy.
Electric buses in Kolkata (West Bengal) – The West Bengal government will introduce 1,200 electric buses in Kolkata over the next three years to help reduce carbon emissions. It already has 80 buses. A total of 125 will be operational by July. The hope is to have all government buses in the city either electric or CNG. The state government announced exemption of registration fees and other taxes for two and four-wheeler electric vehicles and all CNG-operated vehicles.
Why it matters: Kolkata still has diesel-operated buses and state transport minister Firhad Hakim wants all private bus operators to switch and promote clean energy. The acquisition of additional electric buses for the state will be under the centre's second phase of the Faster Adopting and Manufacturing of Hybrid and Electric Vehicles (FAME).
Adopt an Anganwadi scheme (Madhya Pradesh) – More than 100 centres in Gwalior have been adopted as part of the state's Adopt an Anganwadi scheme. Gwalior district collector Kaushlendra Vikram Singh adopted two centres and encouraged others to do so as well. In Panna district, a group of transgender persons adopted a centre. The local administration is launching an app for real-time tracking of the children and their activities. Currently, 19 centres are active while others will soon get a facelift.
Why it matters: Officials said that more than 60,000 volunteers came forward to improve Anganwadis under the campaign. It's being monitored by the Women and Child Development Department. In his Republic Day speech, Chief Minister Shivraj Singh Chouhan urged people to adopt Anganwadi centres to ensure systematic distribution of food to combat malnutrition.
TB detection (Assam) – The state needs to accelerate TB testing by 200% more than the current rate to achieve the Centre's goal of testing 1,500 per one lakh population. Densely populated minority inhabited and tea garden areas are vulnerable to TB. To battle TB, a community-based approach is needed, said Avijit Basu, the state TB officer. High TB cases have been recorded in the Kamrup district due to a large-scale arrival of workers in Guwahati.
Why it matters: The current rate of 400 tests per one lakh people might not give an accurate picture of TB in the state. In September, the state government announced plans to reduce the TB infection rate from 217 per lakh to 44 per lakh by 2025 under the National Tuberculosis Elimination Programme (NTEP). The NTEP has the vision to make India TB-free using its strategy of preventing, detecting, treating, and building pillars of universal coverage.
---
🔢 KEY NUMBER
₹14,113 crores – The revenue earned by Indian Railways in May. It's a 22% increase compared to the corresponding period last year. The growth is driven by demand for coal and cement.