June 2, 2022
Good morning. In today's either/view, we discuss whether Artificial Intelligence can help the Indian judiciary's functioning. We also look at the Indo-Bangla waterway project in Tripura, among other news.
---
📰

FEATURE STORY
Can AI help the Indian judiciary's functioning?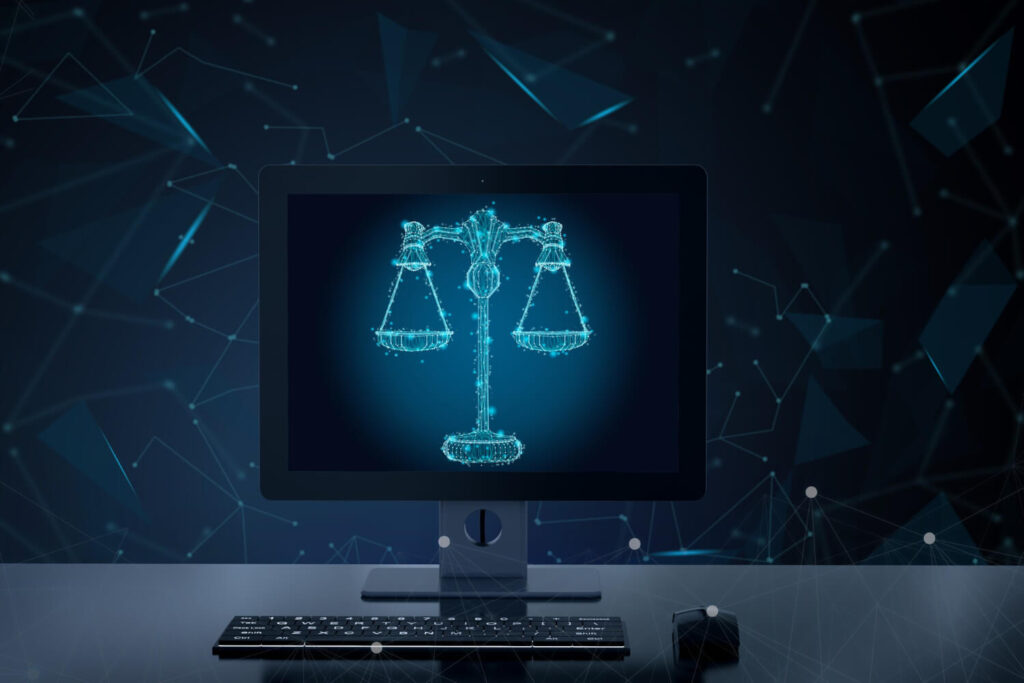 The Indian judiciary is a complex machinery of courts at various levels. At the top sits the Supreme Court. While courts interpret laws that are sometimes decades old, there's an interesting question on whether the judiciary is up to date on how it functions. Can technology be of help?
Four crore – that's the number of cases pending in lower courts, according to Chief Justice NV Ramana. What type of technology can be used and where? Can Artificial Intelligence (AI) help? Or is this a step too far?
Context
The Indian judiciary is a clogged machine. Given the crores of cases pending across the system, more than 70,000 in the Supreme Court alone, it's an uphill battle concerning pendency. Law Minister Kiren Rijiju spoke in Parliament about this very issue. He said it depends on the availability of judges, judicial officers, staff, and physical infrastructure.
As of December 2021, the government estimated more than 4.6 crore cases pending across the country. The pandemic made things worse. Courts weren't functioning at full capacity. During a public health crisis, district courts are worse off. Sandhya PR, a research consultant, wrote about how the pandemic was a wake-up call for Indian courts and why technology was desperately needed.
It would be unfair to say the Indian judiciary has been tech-averse. In the wake of the pandemic, courts began using facilities like e-filings. LIMBS, a web-based application for monitoring cases concerning the central government, was introduced. It was an initiative of the Department of Legal Affairs (DoLA), Ministry of Law and Justice. It aimed to digitise the legal process and monitor the entire life cycle of a case. These are just a couple of examples.
Given the separation of powers, the judiciary has to bring about change by itself. A decade ago, the role of Information and Communication Technology (ICT) was discussed. At a seminar, CP Gurnanai, CEO of Tech Mahindra, said ICT could reduce India's case backlog in three years. Among the options were video hearings, RFID-based file tracking, and an easily accessible e-library.
As the government continues its Digital India Mission for various schemes and policy initiatives, technology has never been this prominent in Indian policymaking. With the legislature and executive being tech-forward, where does this leave the judiciary? In 2018, the World Economic Forum emphasised the role of IT across various fields, including the judiciary. It also discusses the need for greater investment in AI.
This issue isn't unique to India, given AI's prevalence worldwide. The European Commission for the Efficiency of Justice (CEPEJ) adopted the first European text outlining ethical principles on using AI in judicial systems. In China, the Supreme People's Court (SPC) promoted "similar judgments for similar cases" for the efficiency of trial activities by using AI technology.
Can AI and machine learning be the silver bullet for the Indian judiciary or is there too much at stake to leave things up to technology?
VIEW: Opportunity to make things efficient
When the Indian judiciary gets discussed, the topic often turns to efficiency. Why are there so many pending cases? The pandemic has provided an opportunity to reimagine processes and workflows across several areas. This is where technology can come in and help. With AI, the judiciary can build on already established virtual hearings and e-filing. Tools derived from AI can help expedite case-flow management.
As Amitabh Kant & Desh Gaurav Sekhri from NITI Aayog stated, using AI and machine learning won't replace judges. We're not about to have robots or computers rule on cases. The Supreme Court Portal for Assistance in Court's Efficiency (SUPACE) is a positive step in requiring AI to assist by aiding access to materials and remaining non-intrusive. The keyword here is to assist.
Any concerns about unemployment or redundancy are unfounded. Former Chief Justice SA Bobde said SUPACE follows the launch of the Supreme Court Vidhik Anuvaad Software (SUVAS) to translate judgments into vernacular languages. Speed is another point. For example, by extracting information from a legal document, a programme can learn from experience and make predictions as we provide more data.
As AI systems evolve, they can automate and complement tasks performed by legal professionals. This gives them more time to focus on creatively solving complex legal issues and develop better legal reasoning. It can also help judges conduct trials faster, returning to the problem of pendency.
COUNTERVIEW: Concerns about justice, ethics, and privacy
Stephen Hawking once said the development of full AI could spell the end of the human race. In the 2002 film Minority Report, AI-mediated predictive policing took centre stage. If judges in crime risk assessment use AI, then there's the worry that presumption of innocence will go out the window or, at the very least, be reduced.
The paradox is that while technology might increase access to the judicial system, it could undermine the concept of a fair trial. Concerning systems like SUVAS and SUPACE, they're shrouded in secrecy. Their rules and regulations aren't public. With no transparency, it's disturbing, given they impact the efficiency and accessibility of the justice system.
A report from research centre DAKSH outlined how algorithms affect the judicial system. Algorithms are the building blocks of digital technology. It's also the basis for any technology considered to be an AI. One of the concerns is how it would affect social categories like caste, religion, and economic backgrounds. Access to the judiciary is dependent upon this. AI could further alienate and marginalise these categories.
Currently, there aren't any guidelines available concerning the control and management of AI tools in the judiciary. It also remains to be seen how the public thinks about AI and its applications. A 2020 study on AI and the Indian public presented a mixed bag. While 43% were able to identify AI as an emerging technology, younger respondents (40 years and below) were less comfortable with AI in facial recognition and armed forces.
What's your opinion on this?
(Only subscribers can participate in polls)
a) The Indian judiciary should adopt AI and machine learning.
b) The Indian judiciary should not adopt AI and machine learning.
---
🕵️ BEYOND ECHO CHAMBERS
For the Right:
The Government's Advice To Exercise 'Normal Prudence' With Aadhaar Is Confusing And Dangerous
For the Left:
Infighting, Kothari Culture, RS Seat Gamble: Rajasthan Congress Could Pay A Heavy Price In 2023
---
🇮🇳 STATE OF THE STATES
Investments beyond Noida (Uttar Pradesh) – The cliche of investments in the state not going beyond Noida could soon be a thing of the past. A region-wise survey has shown that investment projects are coming up in Bundelkhand and in the eastern and central parts of the state. Out of the more than 1,400 projects, 541 are in places other than Noida. Cabinet minister for industries and infrastructure development, Gopal Gupta Nandi, said the projects represent the state being open to different types of investments.
Why it matters: Post the third groundbreaking ceremony, more than one-third of the total investments are expected. In other parts of the state, total investments cross ₹21,552 crores. The state will see investment projects worth more than ₹80,000 crores. 29 companies are making investments of at least ₹500 crores. Projects beyond the western part had the maximum number of MSMEs, agriculture, and allied activities.
Protesting saffronisation of education (Karnataka) – Several scholars and educationists resigned from state government bodies and committees in protest against the alleged saffronisation of education by the ruling BJP government. The revision committee constituted in 2020 has revised social science, Kannada, and history textbooks. Among the revisions was the inclusion of a speech by RSS founder Keshav Baliram Hedgewar in the Class 10 Kannada textbook. Student groups have also protested the revisions.
Why it matters: Previously, author G.S. Mudambadithya led a campaign to rewrite textbooks based on the National Curriculum Framework of 2005. A committee formed by the then Siddaramaiah government-appointed Baragaru Ramachandrappa as the textbook committee chairperson. It made changes to the science and Kannada textbooks which the BJP and Hindutva groups objected to.
Abandoning villages pre-monsoon (Bihar) – Over 50 households have dismantled their homes and abandoned their villages, given the threat of river erosion. With the monsoon two weeks away, residents are afraid of the rivers getting flooded as the government has failed to implement any anti-erosion solutions. In the Katihar district near the banks of Ganga, residents are concerned as despite repeated demands, there's been no response from the local administration.
Why it matters: Last year, 80 families were forced to migrate due to river erosion as their agricultural land was flooded. Over the past few years, not just houses but a government primary school, two mosques, and farmland were washed away by the Ganga. In this flood-prone region, there's the threat of erosion by four major rivers – Ganga, Mahananda, Koshi, and Barandi.
Nuclear power unit delayed (Gujarat) – The construction of Nuclear Power Corp of India Ltd's (NPCIL) Kakrapara plant's fourth unit hasn't been completed. It was scheduled to begin operations this year. It is likely to be completed by March 2024. It's a setback for India's goal to limit emissions as coal power plants have increased output in recent years due to high power demand. A power ministry memo said the NPCIL was asked to complete the unit quickly while keeping in mind all safety considerations.
Why it matters: Nuclear power contributes only about 3% of India's electricity capacity. The sector has been hampered by a lack of foreign investment and opposition to nuclear energy citing safety concerns. Coal-fired capacity has increased 4% and hydropower by 5% over the past five years. The heavy water reactors of the third and fourth units of the plant were developed by scientists working for the government.
Indo-Bangla waterway project (Tripura) – The state government will begin a process to study a 54-km stretch of the Gomati river as part of an India-Bangladesh waterway project. The study will look to identify areas where dredging will be needed to facilitate the movement of vessels. Per the Inland Waterway Authority of India (IWAI), the river must have a 1.80-metre water level so that small vessels can move.
Why it matters: In February, the Centre sanctioned ₹24 crores for dredging in the Gomati river to set up 10 jetties for a waterway project. The Centre set a goal to bring vessels with a carrying capacity of 200-300 tonnes from Daudkandi to Sonamura. A trial on the waterway from Bangladesh to Tripura was carried out in September 2020.
---
🔢 KEY NUMBER
50,000 – The number of electric buses the Union government wants to introduce in the next 5-7 years. It comes in the wake of Convergence Energy Services Ltd's (CESL) successful tender for 5,450 electric buses last month that received an enthusiastic response.