November 11, 2022
Good morning. In today's either/view, we discuss the impact of Justice DY Chandrachud's previous judgements before he became the CJI. We also look at the efforts of Uttar Pradesh to attract the IT and ITES sector, among other news.
---
📰

FEATURE STORY
Justice DY Chandrachud's Judgements Before Becoming CJI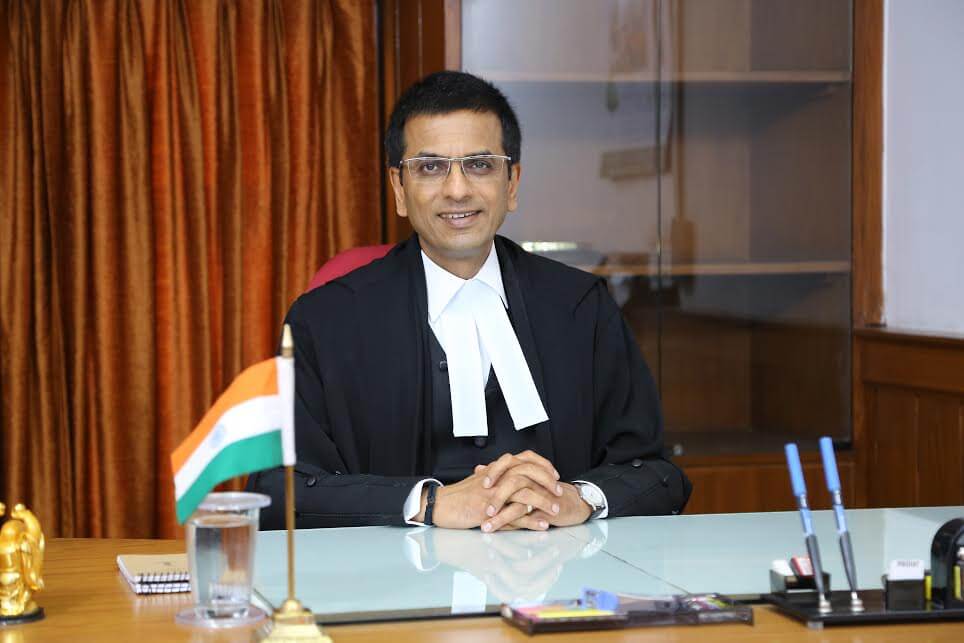 Justice DY Chandrachud, the now new Chief Justice of India, succeeded outgoing CJI UU Lalit on November 8. He was sworn in as the new Chief Justice on November 9. While his predecessor got a brief tenure of only seventy-four days, the new CJI will serve the post for a tenure of two years. With both illustrious qualifications and a remarkable career, his unique approach to justice has many anxiously anticipating the judgements he will make in his tenure.
Justice DY Chandrachud has big shoes to fill as Justice UU Lalit's successor. The good work initiated by Justice Lalit involved setting up stones for the current Justice to build on, and many look to Justice DY Chandrachud as being capable of this role. However, before looking at how he will affect the future of the justice system in India, it is imperative that we assess his contributions and the role he has already played.
Context
After graduating from St Stephen's College, New Delhi, with an honours BA in economics and a PhD from Harvard Law School, Justice Chandrachud has practised in the Bombay High Court and Supreme Court.
DYC, as he is known in legal circles, was elevated to the Supreme Court in May 2016. In the past few years, he has been handpicked by three successive Chief Justices — Thakur, J.S. Khehar and Dipak Misra — to sit with them in Court with barely a few days in between. He was a part of all the big cases even before his promotion to the apex court.
He is known for his entirely Libertarian and non-conformist approach. Justice DY has been a part of landmark judgements concerning privacy, euthanasia, decriminalisation of homosexuality, adultery, entry of women into Sabarimala, the Hadiya case, the medical college cases and the PIL on mandatorily playing the national anthem in cinema halls. As compared to other judges, he has provided a new face of justice that has strayed far from conservative ideals and thought.
Since he has a tenure of two years- the longest for a CJI in over a decade, he has been given adequate time to combat the institutional challenges that have been presented to the judiciary in recent times. Recent remarks by Union Minister for Law and Justice Kiren Rijiju on the collegium system of appointing judges and the lack of its validity hint at the losing respect and accountability that the judiciary has been facing recently. Furthermore, these remarks come at a time when the collegium that the current Chief Justice was a part of failed to recommend judges to the Supreme Court. Safeguarding the judiciary from criticisms that may lead to a loss of its independence and power is a tedious and paramount task for the CJI.
In the face of these institutional challenges, his contributions need to be vigorously assessed to make sure he can fit the role adequately.
VIEW: Justice Chandrachud's judgements were good
Through his liberal approach, DY Chandrachud has taken various landmark judgements that have pushed forth values of equality and liberty to all sections of Indian society, especially the marginalised. One of the significant judgements includes providing permanent commission to women in Armed Forces. In February 2020, a bench led by Justice Chandrachud gave a verdict in favour of women officers in the Army, which resulted in them getting permanent commissions and command postings.
He took a completely different stance than the government by refuting their stance on women's physical limitations and gender stereotypes. A member of the judiciary taking such a strong stance on a women's issue will hopefully break the existing societal stigma present on the ground.
On a similar matter, as a part of a five-judge constitutional bench, Chandrachud decriminalised a section of the archaic colonial law under section 377 of the IPC, which had previously criminalised consensual 'unnatural' sex between two consenting adults of the same sex. This landmark judgement stated to the general public that every person, irrespective of sexual orientation, deserved equal rights.
In 2012, retired Justice K S Puttaswamy filed a writ petition challenging the constitutional validity of the scheme. The current CJI then wrote the lead judgement for the nine-judge bench, and it was unequivocally held that the right to privacy should be assured as a fundamental right under the constitution. This judgement helped shift the narrative of privacy only being a guarantee to the rich and made privacy a fundamental right for all,
The current CJI clearly stands for issues pertaining to human rights concerns and pushes for an egalitarian definition of justice through the upliftment of minorities. Looking at his current trajectory, CJI Chandrachud holding such a high position in the judiciary, will prove to be a voice for the masses.
COUNTERVIEW: Judgements were controversial
While various members of the libertarian cesspool put CJI Chandrachud on a pedestal for his judgements, he is not without controversy and invites judgements in two key cases – the death of Judge BH Loya and the ruling that involved banning liquor vendors on highways.
Judge Loya died while attending a wedding with fellow judges in Nagpur. Coincidentally, he was the special judge in the trial for the alleged fake encounter of Sohrabuddin Sheikh, where then BJP President Amit Shah was an accused. After a thorough probe into Judge Loya's death, the court consisting of current CJI Chandrachud dismissed pleas into a fresh probe of his death and also questioned the validity of those pushing for the probe. The strong remarks made by the court regarding the petitioners sensationalising the case led to various criticisms from the masses.
CJI Chandrachud has also been accused of benefiting his son in court in an extortion case. The sources claimed that CJI Chandrachud helped exert pressure from the top upon the other petitioners and the high court. By ruling in favour of his son's client, many questioned the validity of CJI Chandrachud's overall judgements. Furthermore, many question the growing nepotistic nature of the judiciary, since both the father and son of the CJI DY Chandrachud have been a part of the current judiciary system.
References Links:
What is your opinion on this?
(Only subscribers can participate in polls)
a) CJI DY Chandrachud's contributions are good.
b) CJI DY Chandrachud's contributions are controversial.
---
🕵️ BEYOND ECHO CHAMBERS
For the Right:
EWS Verdict Shows Merit Matters Only When It's 'Their' Children, Not 'Our' Kids
For the Left:
Currency Politics: AAP Wants To Project Itself As More Hindu Than BJP, But This May Not Help Party In Gujarat
---
🇮🇳 STATE OF THE STATES
Govt to increase IT sector's contribution in 5 years (Uttar Pradesh) – The state government of Uttar Pradesh, led by Chief Minister Yogi Adityanath, set a lofty goal to increase the contribution of the information technology (IT) and information technology-enabled services (ITES) sector to the gross state domestic product (GSDP) from $6.93 billion to $74 billion over the next five years. This goal gave momentum to the state's plans to become a $1 trillion economy.
Why it matters: Four IT cities, 18 IT parks, and three Centers of Excellence will be built in the state through private developers under the new ITES Policy-2022. In this regard, the government will invite significant IT firms to the Global Investors Summit (GIS-2023), which will be held in February of the following year. These firms include IBM, Exchanger, and Tata Consultancy.
Mass cleanliness programme commences (Mizoram) – The Public Health Engineering department and the Central Young Mizo Association (CYMA) jointly organised a mass cleanliness campaign in Aizawl on Tuesday, which was launched by Health and Family Welfare Minister Dr R Lalthangliana. The health minister claimed that cleanliness leads to health and that getting healthy requires effort.
Why it matters: In 2012, the PHE department and CYMA signed a contract to work together to develop a programme to promote cleanliness and protect water sources (such as rivers, streams, lakes, and reservoirs). The health minister also iterated that cleanliness and health are an integral part of nationalism.
Economic and social growth observed in the state (Odisha) – The state's fiscal stability was attained by strict austerity measures, including hiring workers on a contract basis at extremely low pay and freezing employment for decades. However, Naveen Patnaik, the Chief Minister of Odisha, declared on October 16, 2022, that all contractual employees in the State would be regularised after abolishing contractual employment.
Why it matters: Odisha has experienced significant changes in both its growth rates and financial situation. Odisha used to record overdrafts for close to 300 days a year before the adoption of the Fiscal Responsibility and Budget Management (FRBM) Act at the national and state levels. However, Odisha has been reporting a revenue surplus and a fiscal deficit of less than 3% since 2004–2005.
IRONMAN 70.3 Goa race to boost tourism (Goa) – The second edition of IRONMAN 70.3 Goa race, which is slated to take place in Panaji on Sunday, would promote tourism in the state, according to Goa Tourism Minister Rohan Khaunte. 1,450 triathletes from 33 countries are expected to take part in the race.
Why it matters: The IRONMAN 70.3 race requires triathletes to finish a gruelling 1.9 km open sea swim, 90 km bike ride, and 21 km run in the allotted eight and a half hours. For the race, there are up to 700 volunteers, eight aid stations, and a fully stocked medical station.
Govt assures survival of translocated trees (Telangana) – The Telangana government on Tuesday clarified that it took all necessary precautions to translocate about 200 trees and that their survival rate is 100% in response to social media protests against the removal of trees from the NTR Marg stretch next to Hyderabad's famous Hussainsagar lake for a race track to hold a Formula E event on February 11.
Why it matters: Hyderabad was selected as the location among 12 cities globally to host the races in 2023, marking the first time that a Formula E event will take place in India. Gen 3 EVs from 11 teams that can accelerate from 0 to 100 kmph in 2.8 seconds and reach a top speed of 300 kmph will be permitted on a stretch of the NTR Marg from the Indira Gandhi statue rotary to Lumbini Park.
---
🔢 KEY NUMBER
89% – According to the 2023 Global Digital Trust Insights-India edition, 89% of Indian business executives are planning to increase their cybersecurity budgets in 2023.