November 12, 2022
Good morning. Every Saturday, we publish the results of polls from feature stories that were published the past week. We also give a brief overview of the topics that were discussed.
---
🗳️ POLL RESULTS – Week 99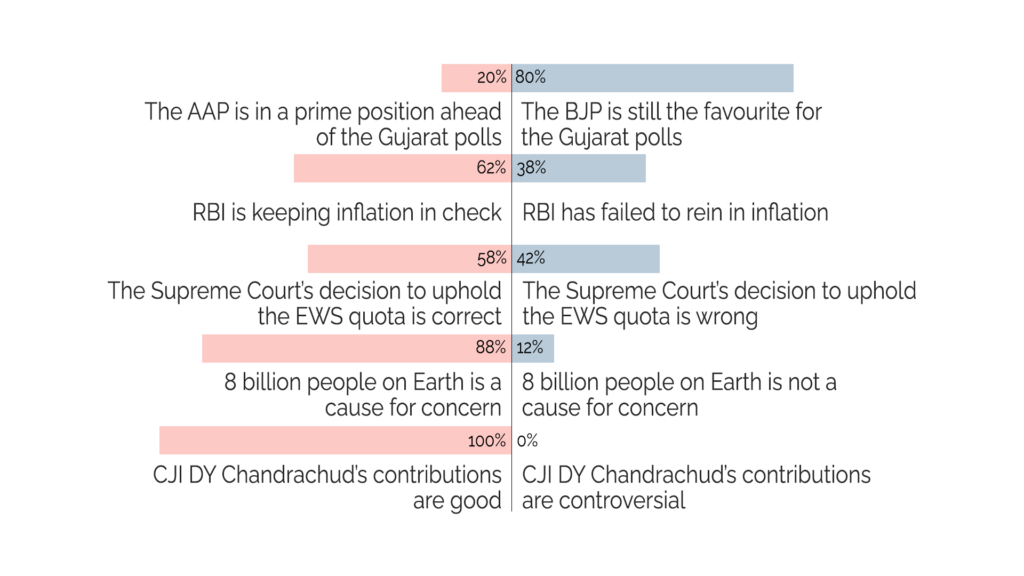 ---
🗓️ THE WEEK THAT WAS
Gujarat Polls – Can AAP Dethrone BJP?
Daily | 7 November 2022
The Election Commission (EC) announced the state would go to the polls in the first week of December. The political landscape in the state has been constant for the past several years, with the BJP dominating. Is that about to change? Will the AAP give them a run for their money? Read more on this here.
What Has The RBI Done To Tackle Inflation?
Daily | 8 November 2022
As currencies continue to depreciate with a potential recession looming in different parts of the world, inflation has been at an all-time high in India. The Reserve Bank of India (RBI), the central bank of the nation, has been grappling with keeping inflation in check amid global economic chaos. While other countries are still grappling with the issue, how is the RBI faring so far? We discuss it here.
Supreme Court Decision On EWS Quota – Was It Right?
Daily | 9 November 2022
India's Supreme Court upheld a 10% quota in government jobs and educational institutions for people from economically weak sections (EWS). In a 3-2 verdict, the court's argument was that it didn't violate the basic structure of the Constitution. Will this reshape caste and socio-economic politics and policies for the better? Or is the ruling incomplete? We unpack the debate here.
Earth's Population to Hit 8 Billion – Cause for Concern?
Daily | 10 November 2022
The UN Population Division has estimated that the number of humans on Earth will reach a milestone of 8 billion on November 15, triple the global population of 2.5 billion recorded in 1950. It also noted that the population would continue to grow, albeit at a slower pace. Amid multiple issues ravaging the planet, does this milestone pose an additional threat? Find the debate here.
Justice DY Chandrachud's Judgements Before Becoming CJI
Daily | 11 November 2022
Justice DY Chandrachud has big shoes to fill as Justice UU Lalit's successor. The good work initiated by Justice Lalit involved setting up stones for the current Justice to build on, and many look to Justice DY Chandrachud as being capable of this role. However, before looking at how he will affect the future of the justice system in India, it is imperative that we assess his contributions and the role he has already played. More on this here.