May 8, 2023
Good morning. In today's either/view, we discuss whether Manipur's Meitei groups deserve ST status. We also look at Bihar's poor waste management, among other news.
---
📰

FEATURE STORY
Manipur's Meitei groups demand ST status, but does it hold any water?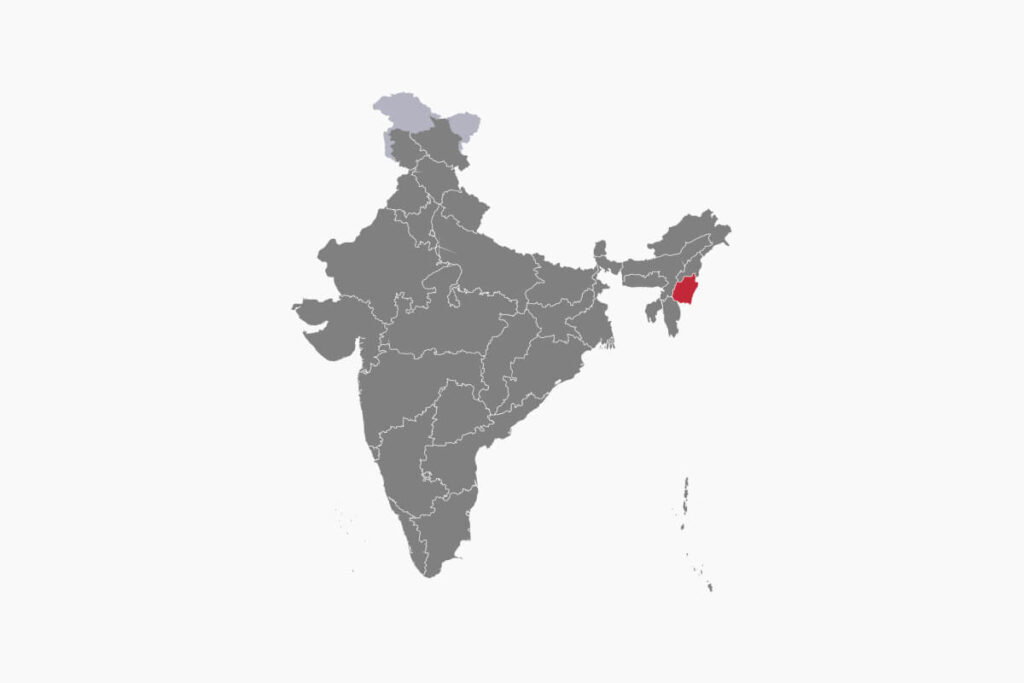 In pluralistic democracies, ethnic conflicts aren't unnatural. They are expected to be addressed through institutionalised channels like parliaments and assemblies. But certain causes can push these conflicts toward violence. In Manipur, for the first time in three decades, two communities are in a violent confrontation with each other.
On May 3, violence erupted when a "Tribal Solidarity March" organised by the All Tribal Students' Union of Manipur (ATSUM) in Churachandpur was wrapping up. The ATSUM was protesting the Meitei community's inclusion in the list of the state's Scheduled Tribes (ST). It's a flashpoint in the relationship between Meiteis, the majority community, and the Kukis, a minority hill tribe.

In today's either/view, we ask you to be empathetic to both sides of the argument. Often, in violent ethnic conflicts, it's not just logic but emotions like fear and mistrust too, that have a central role to play.
Context
The Meitei demands and Kuki's opposition to them form a crucial piece of the puzzle of Manipur's current conflict. Meiteis, Kukis, and Nagas are some of the largest social groups in Manipur. Several Kuki and Naga tribes are recognised as STs, while 90% of Meiteis have the Other Backward Classes (OBC) status.
Earlier, Meiteis were recognised as 'General and others' since most members had converted to Hinduism centuries ago. They have wielded more administrative and political authority in the state than any other group. The Meitei Ningthouja dynasty, which ruled the Manipur Kingdom for centuries, had much influence over the valley.
But in 1992, after the Mandal Commission Report came into force, Meiteis could be classified as Other Backward Classes (OBC) under Article 342A of the Constitution and avail 27% reservation in higher education and public sector employment.
Due to administrative measures taken during colonial rule, the majority community is restricted to the valley region, which forms 10% of Manipur's total area. The Christian-majority Kukis and other hill tribes occupy the hilly regions, which make up 90% of the state.
For Meiteis, the asymmetric land distribution and the absence of ST status became the most significant bones of contention.
The issue was fomented when the state government, headed by BJP's N Biren Singh – again, a Meitei leader – sent eviction notices to Kuki groups for encroaching on forest lands. The government also demolished three churches, which the minorities saw as an affront to their identity. In March, the state government withdrew from the tripartite peace talks with two Kuki and Zomi insurgent outfits.

The nail in the coffin was when Manipur's High Court assented to granting ST status to Meiteis last month. With ethnic differences and power disparities already hardened between the groups, the court's decision intensified the minorities' fear of losing constitutional safeguards that protected them from being exploited.
Let's have a look at both sides of the argument.
VIEW: It's a reasonable demand
While Kukis can buy land in the Imphal valley, Meiteis can't do so in the hills. Meiteis fear their geographical restriction will turn them into minorities in a state where they constitute the majority. An ST status will help pave the way for Meiteis to be able to own land in the hilly regions.

Meitei leaders argue that they're unfairly excluded from the ST category. Before India's Independence and Manipur's accession to the Union, the British government considered Meiteis a tribal community. Though the community follows other religions currently, Meitei leaders say they still follow the old tribal system.
Besides, it's been a long-standing demand for Meiteis. It was first raised in the Manipur Assembly in 1981. In 2012, when the Scheduled Tribe Demand Committee wrote a series of memorandums for their demand, the Union tribal ministry considered it. Doesn't this imply some kind of legitimacy of the Meitei's demand? Even last month, in court, the state government couldn't adequately explain why it hadn't granted Meiteis an ST status.
COUNTERVIEW: Shaky grounds
Meiteis have a larger population and are wealthier than all tribes combined in Manipur. In the state's Legislative Assembly, 40 members out of 60 are Meitei. It already skews the benefit of legislative action and socio-development programs in the majority group's favour. Most universities, medical colleges, state-level hospitals, and infrastructure straddle the Imphal Valley region dominated by Meiteis. Kukis believe it unreasonable that Meiteis want ST status despite having the political and socio-economic upper hand.
If the Meiteis are granted an ST status, almost all the communities in Manipur would have the ST designation. Do the tribal groups, originally identified as requiring these entitlements, have any safeguards if they have to compete with the well-off Meiteis for ST-reserved posts in the State? There's also the fact that having the hills cordoned off to themselves granted the minority the illusion of being protected from any intrusion from the state or the majority groups.
Lastly, Kuki organisations argue that when Manipur acceded to India, most of the Meiteis opposed having an ST tag on the community, for they prided themselves on being chaste Hindus. As for the argument that the group was considered tribal before joining India, they haven't remained so. Most Meiteis are Hindus, and over 8% are Muslims, or more appropriately, Pangals.
Reference Links:
---
🕵️ BEYOND ECHO CHAMBERS
For the Right:
Does Media Magnify Terrorism? Look at Amritpal Singh's Coverage and Beyond
For the Left:
Why Modi critics need not fear India's stand on regional free trade arrangements, failure of PLI scheme
---
🇮🇳 STATE OF THE STATES
Police trying to stop SKM support (New Delhi) – On May 7, security was increased at Jantar Mantar in New Delhi after the Samyukta Kisan Morcha (SKM) stated that it would organise nationwide rallies in support of the protesting wrestlers, including in Delhi. Wrestlers have been protesting at Jantar Mantar for more than ten days, seeking the arrest and dismissal of Wrestling Federation of India (WFI) president and BJP MP Brij Bhushan Singh, following charges of sexual harassment by wrestlers.
Why it matters: The protesting wrestlers were allegedly assaulted by the Delhi police at midnight when the city was engulfed in an unseasonal fog. Both male and female wrestlers were hit, and a tight perimeter was created by the police in the area in order to prevent either entry or escape. After this, the wrestlers called out to everyone to come and support them at Delhi. During the farmers' protest, the SKM also received support in a similar manner when Rakesh Tikait was backed into a corner by the government.
Unemployed youth to learn piloting drones (Andhra Pradesh) – The Agriculture Department of Andhra Pradesh intends to train jobless youngsters as Kisan Drone pilots prior to introducing Kisan Drones for agricultural activities in the state. To protect farmers' interests, the State government has agreed to introduce 2,000 Kisan Drones in phases at a cost of ₹200 crore. In the initial phase, around 300 drones will be introduced, most likely in June-July, when the Kharif season will begin.
Why it matters: Initially, it was suggested to train passionate farmers as Kisan Drone pilots and 100 farmers were taught with the assistance of Acharya NG Ranga Agricultural University (ANGRAU). ANGRAU has the facilities to educate Kisan Drone pilots and was officially designated as a drone pilot training facility by the DGCA. However, this proved to be an offhand task as the role proved to be too technical to be readily picked up by farmers. As a solution, it was later decided to train unemployed youngsters to pilot the drones. This innovation will greatly benefit the farmers and will also increase agricultural output, along with providing employment to several people.
NGT fines Bihar for poor waste management (Bihar) – The National Green Tribunal (NGT) levied an environmental compensation or punishment of ₹4,000 crore on the government of Bihar for failing to scientifically manage and process either solid or wet waste. In its hearing on Thursday, the principal bench, led by NGT chairperson Justice AK Goel, ruled that the sum be deposited in two months in a "ring-fenced account" to be administered for waste management in the state in accordance with the chief secretary's orders.
Why it matters: According to the order sheet, Bihar generates around 5,437 tonnes of solid waste per day (TPD), of which only approximately 1,365 TPD is processed, leaving a massive shortfall of 4,072 TPD. The NGT court noted during the Thursday session that Bihar has a legacy waste exceeding 11.7 lakh metric tonnes, as well as untreated urban garbage of 4,072 metric tonnes per day, and a gap in wet waste creation and treatment of 2,193 million litres per day. The NGT had also issued a similar fine of ₹3,500 crore last year in September on the government of West Bengal.
New lithium deposits to cut Chinese dependency (Rajasthan) – According to Rajasthan government officials, a huge amount of lithium deposits have been discovered near Degana (Nagaur) in Rajasthan. The Geological Survey of India (GSI) and mining authorities believe that the capacity of lithium deposits discovered here is more than the volume of lithium reserves discovered lately in Jammu and Kashmir. It has been claimed that there is a huge abundance of lithium here and that it can meet 80% of India's total consumption needs.
Why it matters: Until now, India has relied on China for lithium. It is now believed that China's monopoly grip will disappear, and Rajasthan's fortunes will climb alongside those of the Gulf nations. Lithium is a non-ferrous metal that is used to create mobile phones, laptop computers, electric cars, and other rechargeable batteries. Currently, India is fully reliant on pricey lithium imports. While India has luckily discovered another huge deposit of lithium, it still lacks the required technology to properly make use of it.
Sikkim holds maiden Literature Fest (Sikkim) – The first edition of the Sikkim Arts and Literature Festival (SALF) began in the calm Yuksom hamlet, surrounded by undulating hills at the beginning of the Khangchendzonga National Park, with appeals for world peace and promotion of the state's culture. The festival, organised by the state government and Teamwork Arts, will feature discussions on a variety of topics, such as climate change, wildlife conservation, history, culture and ethnicity, poetry, architecture, folklore, mental health, and writings from the northeast.
Why it matters: Authors such as Chuden Kabimo, Ankush Saikia, Hoihnu Hauzel, Anand Neelakantan, and Anuja Chauhan will take part in the three-day event. The festival's goal is to bring Sikkim's traditional arts and culture to the rest of the country. Currently, the neighbouring sister state of Manipur is facing extreme destruction owing to ethnic clashes in the state. The leaders of all states are trying to rescue their people from the riot-torn area. A message professing world peace as well as peace at home is really the need of the hour.
---
🔢 KEY NUMBER
41,621 – According to NCRB data, 41,621 women have gone missing in Gujarat in the last five years.