December 13, 2022
Good morning. In today's either/view, we discuss whether metro rail networks are the future of urban public transport in India. We also look at the Literary Meet in Jharkhand, among other news.
---
📰

FEATURE STORY
Metro Rail Networks: Are they the future of urban public transport in India?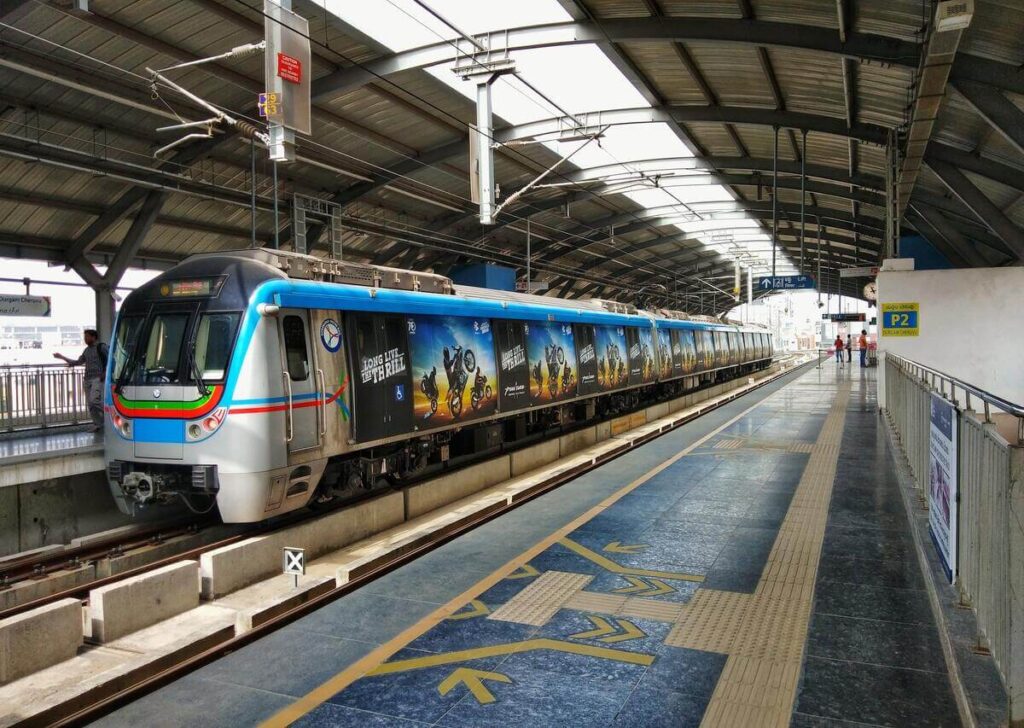 Getting from point A to B has never been as easy as it is now. While private transportation has grown exponentially in the last several decades, public transport has sometimes lagged behind. Mobility has become an important tenet in the rapid urbanisation process of Indian cities. While options are present, complications and issues remain regarding cost, time, and accessibility.
Just recently, Prime Minister Narendra Modi inaugurated the first phase of the Nagpur Metro. Other cities will soon follow. There's no shortage of traffic congestion issues in India, but can a Metro system be the solution? Are they essential for large urban sprawls and their population?
Context
To talk about public transportation is to talk about rapid urbanisation. They often go hand-in-hand. In 1951, there were only 5 Indian cities with a population of more than a million. Most of India lived in villages. Cut to 2011, there were more than 53 cities with a population of more than a million. Between 2001 and 2011, India's urban population increased from 286 million to 377.
The trend is expected to continue. People are moving from rural to urban areas. India's urban population is projected to be about 600 million by 2031. This means large cities will be dominant drivers of economic growth. This will be driven by the movement of labour, and transportation is the basis of that.
Since 2001, the number of vehicles per 1,000 people in Indian metropolitan cities has grown. Between 1991 and 2009, the annual growth rate of registered vehicles was 9.8%. Per 2011 data, 22 Indian cities recorded an 8.7% growth in total vehicle registrations. Delhi, Chennai, Bengaluru, and Hyderabad led the way. Slowly, people began to realise that the levels of motorisation are unsustainable. The path forward is to balance demand across different transport models.
Coming to non-motorised transport, Indian cities aren't the most walkable. Neighbourhoods are devoid of basic footpaths, and some are poorly constructed and maintained.
In 1984, India had its first rapid transit system with the Kolkata metro. When it comes to a modern metro, Delhi was the starting point in 2002. In the two decades since, several Indian cities have had their own Metro networks. From the government's perspective, rapid urbanisation is an opportunity for more cities to get Metro networks.
Given the rapid changes in mobility and ever-expanding urban cityscapes, can a metro network be the silver bullet? Are there better alternatives that already exist but just need to be improved or revamped?
VIEW: Metro is a unique proposition
For Indian cities to project a sense of development, a metro network is often the most desirable infrastructure project to undertake. The 2017 National Metro Rail Policy stated that all cities with a population of more than 20 lakh could look at Mass Rapid Transit Systems (MRTS). Among the different forms of MRTS, the metro is seen as the most popular.
Take the Delhi Metro as an example. It handles 50 lakh passengers a day on average. Chennai's metro network, a relatively new one, has seen its ridership increase over the past year. If the projections of the increased population across Indian cities are to come true, they need Metro networks to ensure millions of people can commute. In many cities, other forms of public transport like buses and autos might not be up to the task with such passenger numbers.
Apart from a metro network's reach, an important point is that it helps cut down emissions. Policymakers want people to use more public transport and cut down on private transportation for the sake of the environment. The metro offers the best solution for this. While constructing a metro system is expensive and time-consuming, the Chennai Metro Rail Limited's (CMRL) slogan comes to mind – "inconvenience today for a better tomorrow".
COUNTERVIEW: Better alternatives
The Indian government has an ambition for 100 cities to have metro rail networks by 2047 to mark 100 years of independence. While that's a lofty goal, it's necessary to stop and think if it's the way to go. For starters, they're expensive to build. Some estimates put it at about ₹250 crores per km. While finding that kind of money is one thing, there's getting the land to build it on. As we know, acquiring land in India in urban spaces for such a large-scale project is no easy task.
Given the costs and economics involved, these metro systems should have consistently high ridership numbers daily. However, that's not been the case for many. The pandemic halted the progress of metro systems as people became a little wary of using public transport. Speaking of 100 Indian cities with a metro network, NVS Reddy, Managing Director of Hyderabad Metro Rail Limited, thinks a metro isn't the only solution and has become something of a fashion statement. The thrust of his argument is the economics at play. The Metro systems need to repay the money since loans are sanctioned for construction.
There are better approaches to all this. One is having an integrated public transportation model. For many, a daily commute on the metro is still out of reach, whether it's cost or accessibility. A reliable and affordable bus system can generate revenue if implemented well. The formula is mixing frequency and affordability.
Reference Links:
What is your opinion on this?
(Only subscribers can participate in polls)
a) Metro rail systems will be beneficial for Indian cities.
b) Metro rail systems won't be beneficial for Indian cities.
---
🕵️ BEYOND ECHO CHAMBERS
For the Right:
Modi's chaiwallah to powerhouse journey no longer unique. Others charting the same script
For the Left:
State Elections Offer Big Lessons On How To Counter BJP
---
🇮🇳 STATE OF THE STATES
Families to get unique IDs (Jammu and Kashmir) – The Jammu and Kashmir administration intends to build a genuine database of all families in the union territory, each with their own alphanumeric code, with the goal of making it easy to identify those who qualify for various social welfare programmes.
Why it matters: The Jammu and Kashmir government intends to work on an information security policy and also envisions the construction of a suitable cyber security framework in order to prevent risks and secure sensitive and important data.
Award for operationalizing health & wellness centres (Meghalaya) – Meghalaya was recognised nationally for completing the Ayushman Bharat Comprehensive Primary Health Coverage program's goal of operationalizing 448 health and wellness centres (AB-HWCs). In addition to providing care for mothers and children, these HWCs are expected to provide care for non-communicable diseases, palliative and rehabilitative care, oral, eye, and ENT care, mental health services, and first-level care for emergencies and trauma, including free essential drugs and diagnostic services.
Why it matters: Under the program, 18 urban health centres, 114 public health centres and 318 sub-centres have been upgraded to AB-HWCs in Meghalaya. The state's health and wellness facilities have offered over 60,000 teleconsultations in a year, the second-highest number among Northeast states.
Literary Meet focuses on tribal life (Jharkhand) – Jharkhand Literary Meet, sponsored by Tata Steel and a local publication, was introduced by Game Plan in 2017. The fifth Tata Steel Jharkhand Literary Meet, which ended in Ranchi on Sunday, addressed concerns and hopes regarding literature and language in a variety of sessions.
Why it matters: Anuj Lugun, Chandramohan Kushku, and Jyoti Lakra, local poets who write in tribal languages, were panellists in a variety of literary sessions on Saturday. Puroshattam Kumar, Niranjan Kujur, and Anurag Lugun discussed the related topics in a special session on tribal and regional movies.
All India Institute of Ayurveda inaugurated (Goa) – On December 11, Prime Minister Narendra Modi inaugurated the All India Institute of Ayurveda in Dhargal, Goa. He spoke at the closing ceremony of the Ninth World Ayurveda Congress and Arogya Expo. The Ayurveda Congress featured participants from more than 50 nations.
Why it matters: It is an admirable effort to spread awareness of Indian traditions. More than 30 countries have embraced Ayurveda as a kind of traditional medicine, according to Modi. Ayurveda has gained popularity and has been extended to additional nations thanks to India.
Largest Business Jet Terminal inaugurated (Kerala) – Kerala Chief Minister Pinarayi Vijayan inaugurated the new Business Jet Terminal at Cochin International Airport Limited (CIAL). With the opening of the new facility, CIAL has formally entered the exclusive group of four airports in the nation that operate specialized terminals for business jet operations.
Why it matters: It is the country's largest Business Jet Terminal. This 40,000-square-foot terminal is notable because it can accommodate both domestic and international business jet operations and offers first-rate "safe house" facilities for those having security exemptions.
---
🔢 KEY NUMBER
84% – A report by World Bank stated that 84% of women's trips in India were estimated to be by public transport, making women amongst the biggest users of public transport.