March 23, 2022
Good morning. In today's either/view, we debate whether the National Land Monetisation Corporation is going to be beneficial. We also look at Jammu & Kashmir's efforts in bringing foreign investments to the Union Territory, among other news.
---
📰

FEATURE STORY
National Land Monetisation Corporation: Astute or Unnecessary?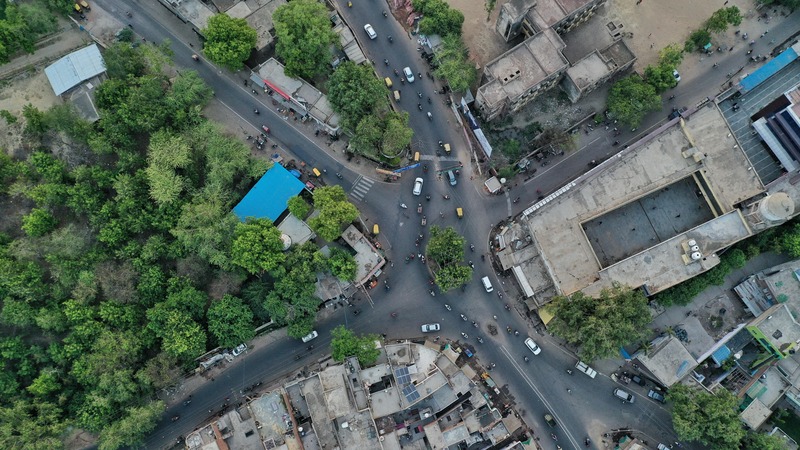 Capitalism is strange. The theory-turned-way-of-life has such a stronghold over us that most people tend to conflate it with human nature. The situation has gotten so dire that, at this point, even joining them cannot help you beat them. The system is omnipresent, and we have to make it work within its structures. This is what the Centre's new National Land Monetisation Corporation is set up to do.
The government-owned company is expected to build the Union's assets by monetising surplus land. All while keeping public interest in mind. Some see this "strategic disinvestment" as an astute way to wring any monetary value out of unused land. And the rest, well, they believe that this can lead to the end of affordable living.
Is this capitalistic apocalypse manifesting itself, or are we stepping into an untouched land of opportunity?
Context
On 9 March, the Union Cabinet approved the creation of a National Land Monetisation Corporation (NLMC). The government-run company will be in charge of monetising and holding all the surplus land and government buildings that are not in active use, i.e. non-core assets.
According to an official statement, "At present, CPSEs (Central Public Sector Enterprises) hold considerable surplus, unused and under-used non-core assets in the nature of land and buildings." For example, the Ministry of Defence owns around 16.38 lakh acres that are not under cantonments. Out of that, almost 18,000 acres are currently proposed for deletion. And that's just one department of the government.
Like this, unused public land is estimated to cover over 5,00,000 hectares. In fact, many expert committees were set up to deal with this under-utilisation. In 2012, the Committee on Roadmap for Fiscal Consolidation submitted a report recommending the government to monetise all unused lands to finance infrastructure projects. Due to a lack of proper inventory, this didn't happen.
Soon, the Ministry of Electronics and Information Technology came through with a centralised database on public land. The Government Land Information System (GLIS) was created, and the monetisation of these assets was headed by the Department of Investment and Public Asset Management (DIPAM).
The Economic Survey for 2021-22 clearly went over the government's limits in the skill set required for non-core asset management. Right after, Finance Minister Nirmala Sitharaman announced the creation of a Special Purpose Vehicle (SPV) for the same purpose in her Budget speech. Turns out she was talking about the NLMC this whole time.
VIEW: Putting assets to good use
It is widely believed that the scarcity of land has proven to be the biggest hindrance to India's development. Urban development in the country has been hit especially hard by this lack of availability of affordable land. Even where land is available, the long, arduous land acquisition process poses another challenge to our developmental journey. According to the Centre, introducing a separate body to directly deal with asset management in terms of land and buildings will cut through all these complexities. Leaving us a clear path towards growth.
And it isn't like we're the first ones to try this. Let's look at China, for example. A significant contributor to China's development is its monetisation of public land. Estimates from researchers state that, in 2010, 1,38,267 hectares of land, i.e. 20% of public land, was allocated to infrastructure. Had the State bought that land at market prices, it would have cost them a whopping ¥1,292.8 billion, i.e. 31.8% of their total revenue that year. India could benefit from a similar model too.
Canada, too, has an SPV that works on identifying and managing surplus properties. The Canada Lands Company buys up any recognised surplus land, including government-owned ones, at market prices. It then resells those properties to private entities. The money earned from that goes into several development projects like affordable housing. According to reports, over 2,000 affordable housing projects have been developed because of this since 1995. In India, especially in cities like Mumbai, the land scarcity and housing crisis can be addressed by the NLMC.
At this time, the government has hit a wall regarding generating different revenue streams. This land monetisation can actually help with that. It will not only bring in more money, but it will also snowball into boosting employment, tourism and planned urban development.
COUNTERVIEW: Well-intentioned but lacking
It is easy to see why this change has been lauded by many, but that doesn't make it devoid of problems. According to Saurabh Mehrotra, National Director of Knight Frank, the biggest issue that the SPV will face is identification. Any land-monetisation requires clarity on the title and purpose of the land. This then needs to be ratified by the local development authorities (LDAs). In the past, several public-private partnerships have either failed or have been delayed for over 15-16 years. Having a national body might iron out some of these hicks, but there is no guarantee of a smooth transition.
Given that governmental bodies in India tend to function in a world of their own, some believe that the proposed NLMC can end up in a turf war with DIPAM. The latter's work mostly covers four areas – strategic disinvestment, minority stake sales, asset monetisation, and capital restructuring. If the last two categories sound familiar, congratulations on paying attention! As it turns out, the NLMC is being set up to handle exactly that. This overlap of functions could cause serious problems and further push the privatisation process that, until recently, was sitting dormant.
There are also understandable concerns about the narrative that the Centre is building around the NLMC. A quick Google search will show you that the government has been pushing the corporation's monetising duties far more than the ones regarding public interest. Based on this, if the NLMC sees itself as a body put in place to blatantly capitalise on public land, we could witness the end of liveable cities. Since so much of the success of private projects are based on consumer satisfaction, both the environment and social security usually gets neglected.
Some are even questioning this model of state-run privatisation. According to Prime Minister Narendra Modi himself, "the business of government is not business". So this model of having a CPSE shut down other CPSEs makes little sense when put up against the administration's general privatisation-friendly front.
What's your opinion on this?
(Only subscribers can participate in polls)
a) The Centre setting up the National Land Monetisation Corporation is a welcome move.
b) The Centre setting up the National Land Monetisation Corporation is not the best way forward.
---
🕵️ BEYOND ECHO CHAMBERS
For the Right:
The Questions On Russia – And India's Oil Buy – That Won't Go Away
For the Left:
Mann, Kejriwal, Modi: Why New Punjab CM Will Have A Tough Time Juggling Conflicting Interests
---
🏴 STATE OF THE STATES
Investment opportunities (Jammu & Kashmir) – A 36-member delegation from the UAE and Saudi Arabia arrived in the state on a four-day visit to explore investment and business opportunities. They'll visit tourist destinations, including the ski resort in Gulmarg, to explore business opportunities in the tourism and hospitality sector. They will also attend an event where they'll interact with local businessmen and meet with J&K Lt Governor Manoj Sinha.  
Why it matters: The J&K government is hoping to attract ₹70,000 crores worth of investment in the next six months. Sinha said the government has already sanctioned industrial development proposals worth over ₹26,000 crores. The visit is a follow-up to the J&K government signing MoUs with several UAE-based companies at the Dubai Expo 2020 this January.
Women firefighters (Tamil Nadu) – The state's Fire and Rescue services department will soon begin to induct women as a proposal has already been sent to the government. The Fire and Rescue services have 22 women officers but no firefighters. The news comes as a new academy of the Fire and Rescue services will come up in Tambaram near Chennai. Here, the police will also be trained to protect and rescue people and animals during a disaster.
Why it matters: Women firefighters aren't common in India, but there are a few. Harshini Kanhekar, the first woman firefighter in India was stationed at the New Delhi fire station. In Chennai, Remya Sreekanta became the first woman firefighter at the Chennai International Airport in 2019. She was also the first woman firefighter for an Airports Authority of India (AAI) airport in the southern region.
Farmers' social security (West Bengal) – West Bengal Agriculture Minister Sovandeb Chattopadhyay said schemes introduced by the Mamata Banerjee government have helped farmers gain social security. He said more than 77 lakh beneficiaries have received ₹4000-10,000 under the Krishak Bandhu scheme. Eligible farmers have received more than ₹1,800 crores for the previous Kharif season and more than ₹2,200 crores for the ongoing Rabi season.
Why it matters: In June, the state government hiked the financial assistance for farmers as it relaunched the Krishak Bandhu scheme, which was first introduced in 2018. During last year's assembly elections, schemes for farmers were a flashpoint between Banerjee and the BJP. The latter attacked her for not allowing the PM Kisan Yojana of ₹6,000 per year. She said the central scheme benefitted fewer people as there was nothing for sharecroppers and farm labourers.
Land for bullet train project (Gujarat) – As India's first bullet train project forges ahead, 99.3% of the land needed has been acquired. According to the National High-Speed Rail Corporation Limited (NHSRCL), the land has been acquired in five districts totalling 358.33 hectares of the required 360.75 hectares. Compensation of more than ₹2,900 crores has already been paid. Vadodara saw the highest share of land acquired.
Why it matters: Per the NHSRCL, the corridor construction in Gujarat is progressing in all eight districts. Since December 2020, civil works for the 342-km long Mumbai-Ahmedabad High-Speed Rail (MAHSR) project have begun in phases. The project is being done with financial and technical assistance from the Japanese government. There is also a proposal to build a second bullet train route connecting Ahmedabad and Delhi.
First FDI (Nagaland) – NagaED, a digital education company, became the first company in the state to get Foreign Direct Investment (FDI). It recently got foreign funds from Australia and Singapore, becoming one of only a handful of companies in the Northeast to do so. Co-founder Kevisato Sanyu said the company is a reflection of the region being investment-ready and has enormous growth potential. He also said digital education is the future as technology is increasingly used in today's classrooms.
Why it matters: According to the Department for Promotion of Industry and Internal Trade, India is one of the largest recipients of FDI inflows in the world. In 2020, India received more than ₹4.9 lakh crores of FDI. However, only about 0.1% of that comes to the northeast and almost nothing to Nagaland specifically. Last April, a delegation of Korean investors led by the Korean Trade Investment Promotion Agency (KOTRA) toured Sikkim to seek out investment opportunities. The northeast region has potential in the hydropower sector and is rich in natural resources.
---
🔢 KEY NUMBER
₹12,000 crores – Donations by India's super-rich in FY2021 according to the 'Indian Philanthropy Report 2022', published by global Bain and Co and strategic philanthropy foundation Dasra.