March 22, 2022
Good morning. In today's either/view, we debate whether saffronisation of education in India should be looked at favourably or not. We also look at Tamil Nadu's efforts to increase the proportion of girls in higher education, among other news.
---
📰

FEATURE STORY
Saffronisation of Education – Necessary or Jingoistic?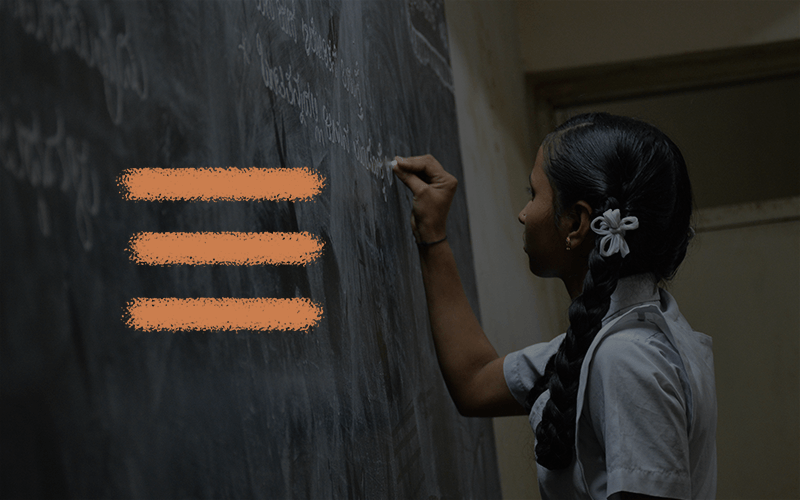 One wonders if the number of times people googling the words 'saffron' or 'saffronisation' increased, ever since the Modi-led Bharatiya Janata Party (BJP) government came to power in 2014. All governments have their agendas, and the BJP is no different, whether it be the economy, healthcare, or education. The party wears its Hindu-forward mentality on its sleeve, for better or worse.
Speaking of education, here's where saffronisation has come up recently. Vice President Venkaiah Naidu rhetorically asked, "What's wrong with saffron?" No, he wasn't speaking about the spice. He pushed back against the idea that the BJP is trying to indoctrinate students with a skewed view of Indian history and implored people to give up their colonial mindset. Is there something wrong with teaching Indian ethos, culture, and heritage? Or is it disingenuous to create an education system skewed so heavily towards one religion and culture?
Context
For the uninitiated, saffronisation is the common term attributed to something done by the BJP or the Sangh Parivar. It's a way of looking at things from a traditional Hindu point of view – history, culture, education, etc.
Over the past century, Indian history has been partly defined by British rule. After independence, there was a push by the newly-independent Indian Parliament to put forward a more accurate representation of India's history and story from an Indian point of view and not a colonial one. They wanted textbooks to teach about India before the British occupation.
In 1961, the National Council of Education Research and Training (NCERT) was established. The government's goal was simple – all Indian citizens receive a unified Indian history education. This was in contrast to the Macaulayism education system present in many British colonies. Derived from the name of British politician Thomas Babington Macaulay, this system was instrumental in making English the language of instruction for higher education in India. Part of Macaulay's work in India was establishing an education system similar to the British model.
Macaulay's work in Indian education involved propagating ideas from the Renaissance, the Scientific Revolution, and the Enlightenment. He saw these as more forward-looking than Indian culture and systems. For Indian nationalists, Macaulay's system was the wrong approach. They claim it has shunned traditional Indian modes of thought and marginalised inherited learning.
Vice President Venkaiah Naidu's comments came just as there have been suggestions by some Indian politicians to introduce the Bhagavad Gita in schools. Union Minister Pralhad Joshi said every state should consider this, citing the Gujarat government's decision for classes 6 to 12. Siddaramaiah, the opposition leader in Karnataka, said there was nothing wrong with it after Chief Minister Basavaraj Bommai announced the introduction of the Indian scripture in schools.
Religious education varies from country to country. In Italy, catholic religious education is a curriculum subject for students in primary and secondary school but is optional. In France, the state recognises no religion and doesn't fund religious education. Under US law, religious education is forbidden in public schools, except from a neutral and academic perspective.
In India, education is just the latest battlefield where the two sides have staked their claim to proclaim what and how children should learn in school. It's the age-old struggle between secularism and communalism.
VIEW: Beneficial with no harm done
The word saffronisation is often used in a negative connotation to anything that the media or liberals see as improper or disagreeable. It's become distorted in the absence of definition or context. It gives the false impression that people are up to no good. It simply means drawing from the Hindu religion or involves aspects of Hinduism. Even Congress and AAP have welcomed the introduction of the Bhagavad Gita. They're hardly the Hindu right-wing.
Saffronisation in education is about ensuring that children are taught history that's more accurate and representative from an Indian point of view. Letting go of the colonial mindset is not a crime. It would only help India and its citizens get a clearer picture of history.
Macaulay's views on Indian culture were regressive, and continuing with his Western-forward way of teaching is not the right way to go. His approach has weighed down Indian education as reforms haven't been based on ancient Indian literature. Therefore, it has failed to play a role for the Indian masses.
After all, there's enough evidence in the fields of Ayurveda, mathematics, and science that makes further research from an Indian perspective worthwhile. Professor Kapil Kapoor of JNU, during his 2001 talk "Decolonizing the Indian Mind", said Indian academia is often subordinate to the West. He mentioned that Indians are largely treated as test subjects and data points.
COUNTERVIEW: Secular principles important
Education is obviously an important issue that's nowhere near perfect in India. Education is one of those areas which many believe shouldn't be politicised. Leaving education independent allows students more room to grow, think and formulate thoughts on their own. Not to be missed in this discussion is the current debate around religious attire in educational institutions, particularly the Hijab, and how Muslim students have been discriminated against.
The highly-touted New Education Policy (NEP) was supposed to bring in an education revolution. However, it hasn't addressed the underlying issues plaguing the education system. In fact, secularism has no place in the NEP, but "nishkam karma", or selfless action based on the Bhagavad Gita, does. The draft NEP policy rejected by the Centre included "secularism" and "socialism." Some arguments for saffronisation often exclude mentions of caste. If the goal is to teach Indian history and culture and go back to our roots, caste should be a part of it.
For the BJP government, it seems having a hand in the syllabus is more important. One example is the Uttar Pradesh Board removing the works of Rabindranath Tagore and former President S. Radhakrishnan from the academic session for class 10 and 12 students. Many of these changes by the current disposition can have long-term effects. By emphasising a singular religious perspective, there's the risk of alienating people of other cultures and faiths. While advocating for Hindi or Sanskrit in schools may provide some sense of unification or patriotism, we shouldn't forget India is a land of diversities.
What's your opinion on this?
(Only subscribers can participate in polls)
a) Saffronisation of education is the right approach.
b) Saffronisation of education is the wrong approach.
---
🕵️ BEYOND ECHO CHAMBERS
For the Right:
AAP Adds To Punjab's Happiness Index
For the Left:
Kicking Out The Gandhis Is Not A Panacea For The Congress As Experts Seem To Suggest
---
🏴 STATE OF THE STATES
Discussion on animal corridors (Assam) – Recently, the state assembly was informed of 9 animal corridors that connect Kaziranga National Park with Karbi Anglong across National Highway 37. Thus, on Sunday, CM Himanta Biswa Sarma held a meeting with several top-level officials about "structural corridors" for the smooth and safe movement of the animals.
Why it matters: Out of the 9 corridors, 2 fall in the Bokakhat revenue circle of Golaghat district while the remaining are in the Koliabor revenue circle in Nagaon district. To ensure the animals' safe movement across the national highway, the state budget included a proposal of a 35 km elevated corridor. The corridor will have a 4 lane road and tunnels for their movement. Yet, these corridors call for no construction activities.
A requiem for Urdu journalism (Uttar Pradesh) – Around 150 years ago Awadh Akhbar, the first Urdu newspaper from Lucknow, was published. Now, the state of Urdu journalism in modern-day India has been abysmal. According to local journalist Asad Rizvi, "With no revenue model and dwindling readership, Urdu newspapers are dying here. Also, the GenNext can hardly read or write the language."
Why it matters: Contrary to popular belief, Urdu has managed to remain more dominant in the South than the North of India. According to the 2011 census, Maharashtra, Andhra Pradesh, Telangana and Karnataka have more than 2.15 crore Urdu speakers. This nearly doubles that of Uttar Pradesh. No wonder Hyderabad still has a number of Urdu newspapers that have quite a stronghold over their readership.
Employment policy protest (Jharkhand) – The residents of Dhanbad and Bokaro have once again taken to the streets to demand the 1932 Khatiyan (domicile) based employment policy. More than 10,000 locals, including former ministers Geetashree Oraon and Amit Mahto, took part in a 45 km run called "Run for 1932 Khatiyan" on Sunday. The demand goes along with the protests against Magahi and Bhojpuri gaining an official tag.
Why it matters: The Khatiyan policy basically makes being a local resident absolutely necessary for official or governmental jobs in Jharkhand. This includes anybody with their or their family name in land records of the state, as per the last survey that was conducted by the British in 1932. Those that have finished their education in the state, or those who have lived there for the past 30 years.
Financial literacy classes (Goa) – The Goa Board of Secondary and Higher Secondary Education, with the National Stock Exchange (NSE) Academy, said that they will keep giving financial literacy classes to students. The students will have to pay a fee of ₹450 each. ₹150 will be given to the NSE for certification and teacher training. Another ₹150 will go to the education board for exams and study material. And the rest will stay with the schools.
Why it matters: Students of class 9 will learn about money management in terms of the stock exchange, financial markets and statement analysis. Those of class 12 will learn about trading, market index, securities, regulatory framework, etc. Despite India having a literacy rate of around 80%, only 27% of Indians are considered financially literate according to a recent report by SEBI.
Girls in higher education (Tamil Nadu) – On 18 March, the state government announced that girl students from classes 6 to 12 in government schools will receive ₹1,000 every month. This money should be used to ensure that the girl continues with their higher education and finishes their undergraduate degree. According to state finance minister Palanivel Thiaga Rajan (PTR), this is expected to help around 6 lakh girls of the state.
Why it matters: According to the data of 2019-20, while 52% of boys from the state went to college, only 49% of girls continued with their higher education. The Centre for Women's Development and Research pointed out that several girls were forced to drop out during the pandemic. Some were even forced to get married. This new announcement is expected to result in some positive changes.
---
🔢 KEY NUMBER
29 – Australia has repatriated 29 antiquities from several time periods to India, with the oldest one dating back to the 9-10 century CE.