March 25, 2022
Good morning. In today's either/view, we debate whether the European Union's compromise on patent waiver of Covid-19 vaccines is a step in the right direction or not. We also look at the setting up of digital de-addiction centres for children in Kerala, among other news.
---
📰

FEATURE STORY
Patents vs People: The EU's Vaccine Compromise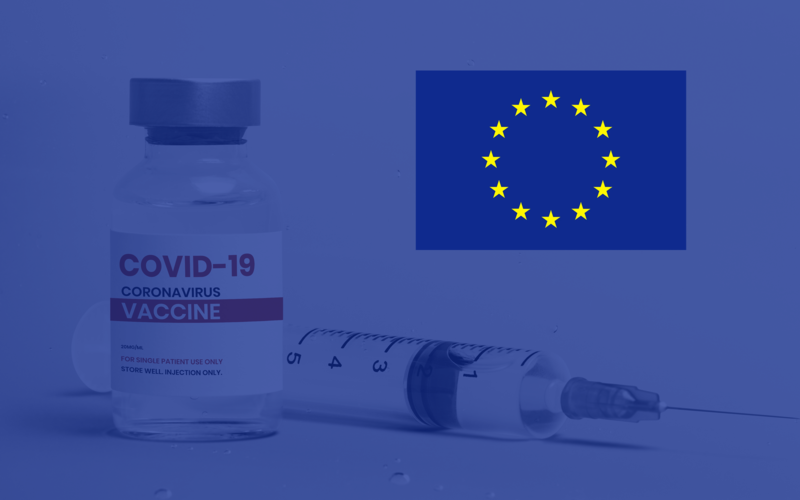 The fun thing about chronoception, or the perception of time, is that we always get surprised when it's pointed out to us. Think about it; it has been two years since the pandemic started. Let that sink in. Think about everything you've done with that time, and once your mini-crisis ends, think about what world organisations have been doing.
After two years, the European Union has agreed to adopt a patent waiver for vaccines against Covid-19. Something India and South Africa have been pitching since the middle of 2020 as, logically, the best way to deal with a pandemic is to end the pandemic. And a great place to start is making sure everybody has access to proper medical equipment to combat the spread of the virus.
After years of hearing the EU strongly oppose such waivers, this turnaround should be heartily welcomed, right? Well, some think that the EU's new compromise is too short-sighted and protectionist to actually do any good. So here we have it, the perpetual struggle between the haves and have-nots, and our options to deal with it.
Context
On 15 March, Politico reported that the EU, South Africa, India and the US had finally reached a compromise on the intellectual property rights (IPR) of Covid products. While nothing has been officially announced by the stakeholders, a leaked document from the EU points to this compromise agreed to by the EU and the US.
In October 2020, India and South Africa proposed a waiver of intellectual property rights at the World Trade Organisation (WTO), known as the TRIPS waiver. The waiver would be on medical products that help curb the spread of Covid-19. Basically, making vaccine blueprints free and available to every country.
After all the hue and cry from patent holders in developed nations, the proposal was amended in May 2021. Now, the waiver proposal stipulated a period. Instead of waiving intellectual property rights forever, it would be overlooked for 3-5 years. After which, the pharmaceutical giants like Pfizer-BioNTech, Moderna or AstraZeneca could reclaim their rights.
During all of this, the G7 nations, i.e. the UK, Canada, France, Germany, Italy, Japan and the US, came out all guns blazing against the TRIPS waiver. While the US said that it supported this waiver for the good of humanity, they still didn't say much when it came to actual discussions on it. The loudest voice against the IPR waiver was the EU.
In June 2021, the EU even presented a counter-proposal at the WTO. According to them, the current regulations under the TRIPS (Trade-Related Aspects of Intellectual Property Rights) agreement are flexible enough to help developing countries deal with the pandemic. After all this, claims, reports and certain leaked documents say that the EU is finally on board with an IPR waiver. Well, a version of it.
VIEW: Short-sighted and shallow
Once all the jubilation around a possible resolution died down, the first thing people noticed was the shallowness of the new compromise. If the leaked document is what we follow, all we get is a 5-year waiver of IPR on vaccines alone. Along with this, only developing nations in the WTO that have exported less than 10% of vaccines can benefit from it. Basically, this new compromise is just the husk of the original TRIPS waiver proposed in 2020. So, let's break it down.
First, we have the "only vaccines" clause. Here's what Shailly Gupta from Doctors Without Borders tweeted about this: "What about therapeutics that are or will be needed for those who will continue to fall sick due to #COVID19 in low and middle-income countries?" And this sentiment is echoed by many health care professionals across the world, usually expressed in quite the same exasperation as well.
You see, a vaccine isn't the only thing one needs to combat an illness. As pointed out several times before, all the vaccine does is reduce the severity of the virus once infected. You're still likely to get Covid even after your vaccinations. It's just that your chances of surviving the virus gets boosted. This means that therapeutics, equipment and, most importantly, testing kits are of utmost importance. So, obviously, they are left out of the EU's compromise.
We then come to the new draft's "illusion of access". First of all, this "less than 10%" export clause only helps the vaccine makers of developed countries. Not only does this tighten the market for manufacturers from smaller countries, but the waiver also excludes several nations that need help as it applies to WTO nations alone. When it comes to India, we really take a hit as we are a developing country that regularly exports vaccines.
Finally, we come to the actual barriers that this waiver was supposed to help reduce. The draft document shows that it actually ends up adding more. Vaccine patents are known to be unnecessarily complicated, and the EU says that, for this waiver to work, all patents related to a vaccine need to be listed. Now, countries like India don't require any patent listing by law. In fact, doing so would slow down the manufacturing process tenfold.
According to James Love, director of Knowledge Ecology International, in case of an emergency or a pandemic, countries are already allowed to use patented technology without consent from the patent-holder. This draft only protects "American and European vaccine manufacturers from competition from developing country suppliers."
COUNTERVIEW: At least we're talking about it
Here's the thing, nobody, including the WTO Director-General, sees this as the end of the negotiations. But we can all agree that after two whole years of baby steps, the fact that the discussion is moving forward is an impeccable improvement. For all these years, the EU has mostly denied their invitation to the table as a whole. They made that clear by presenting their counter-proposal without consulting any of the other nations at the WTO. Simply including the nations unwilling to talk shows the sudden change in attitude and leaves us hopeful for a fruitful future.
As WTO Director-General Ngozi Okonjo-Iweala said in a statement on 16 March, "This is a major step forward and this compromise is the result of many long and difficult hours of negotiations. But we are not there yet. We have more work to do to ensure that we have the support of the entire WTO membership." She even pointed out that a lot of the details of this compromise hasn't been ironed out yet. Thus, simply jumping to conclusions without any proper consensus or even a statement doesn't help further the conversation.
After being gridlocked for several months, a possible waiver on vaccines has been more or less agreed upon. It must be noted that this comes as big pharma continues to protest and lobby against these waivers with everything they've got. According to some reports, a decision on therapeutics and medical equipment, including testing kits, will be taken within the next six months. Clearly, this isn't the end of the road. In fact, several are describing this as a breakthrough and complete turnaround for the EU.
Another important point is that, as Okonjo-Iweala stated, no change takes place in the WTO unless all of its 164 members agree to it. And at this point, we know the EU has widened its horizons a bit. What might hurt the agreement, later on, is Switzerland. Home to many large pharmaceutical companies, Switzerland has also been a staunch rival of this waiver. And unlike the EU, it has shown no indication of budging.
What's your opinion on this?
(Only subscribers can participate in polls)
a) The EU's compromise on waiving the Covid-19 vaccines is a positive step forward.
b) The EU's compromise on waiving the Covid-19 vaccines is a concerning development.
---
🕵️ BEYOND ECHO CHAMBERS
For the Right:
Ayurveda To Unani — Traditional Medicine Systems Can't Run On Anecdotal Evidence. Need Research
For the Left:
Not Ordinary Hypocrisy: How To Recognise Anti-India Lobbying
---
🏴 STATE OF THE STATES
Model ponds (Delhi) – 119 water bodies in villages of Delhi's eight districts have been identified to develop as model ponds. These will have aquatic life, dissolved oxygen levels of more than 3 micrograms per cubic metre, and no foul smell. The Wetland Authority of Delhi has prepared benchmarks and sent them to district magistrates for the restoration and creation of model ponds. At these locations, the village panchayat will form a committee to maintain the ponds. South West Delhi will have the most ponds with 68.
Why it matters: Model ponds aren't a concept restricted to Delhi. In 2020, it was announced that four Karnal villages of Haryana at Padha, Gonder, Kachwa, and Sagga will get model ponds costing ₹5 crores. Similar to the Haryana water ponds, certain restrictions will be placed on the Delhi ones to ensure their conservation. They will be filled with recycled treated wastewater and not groundwater.
Digital de-addiction centres (Kerala) – To combat compulsive internet usage among children, the Kerala police have planned to set up a digital de-addiction centre called D-Dad. It will be headed by psychologists, counsellors, and kid-friendly toolkits focussing on education, device-free retreats, and diversion tactics. Additional director general of police (ADGP) Manoj Abraham said they have been getting calls from parents seeking help for their child's digital addiction.
Why it matters: Data from the Internet and Mobile Association of India stated almost 46% of Indians actively use the internet. Kerala ranks second at 59%, behind Maharashtra at 61%. According to cyber experts, children spending more time online are vulnerable to abuse and other privacy-related crimes. According to the National Crime Records Bureau, there was a 12% increase in cybercrimes during 2020-21.
Reunification of old Janata Dal (Bihar) – The reunification of the Janata Dal in the state might become a reality. Devendra Prasad Yadav returned to the old Janata Dal family in the wake of former Union minister Sharad Yadav merging his Loktantrik Janata Dal with Lalu Prasad's Rashtriya Janata Dal (RJD). Devendra Prasad said it's time for all secular forces to join and fight against the BJP. One RJD leader said Devendra's arrival will bolster the morale of the party cadre.
Why it matters: Devendra Yadav floated the party in 2010 after a falling out with RJD Chief Lalu Prasad Yadav. In 2014, he joined the Nitish Kumar-led Janata Dal (United) (JDU). Lalu Prasad quit the Janata Dal in 1997 following differences with its leadership as he was one of the accused in a fodder scam. Sharad Yadav's daughter fought the 2020 assembly polls but lost.
No to MSRTC merger with state (Maharashtra) – The Maharashtra cabinet accepted a three-member committee's finding that the Maharashtra State Road Transport Corporation (MSRTC) cannot be merged with the state government. It said a merger isn't possible on legal grounds and due to provisions in the Road Transport Act. MSRTC employees have been on strike since last year demanding the merger. Experts have said the state should allocate funds for salaries for the next four years. The issue is being heard at the Bombay High court.
Why it matters: In November, Maharashtra transport minister Anil Parab announced discussions on a possible merger. Since October 28, a section of the MSRTC workforce has been on strike demanding a merger of the cash-strapped corporation with the state. A majority of the workers returned to work after the government accepted most of their demands including a hike in salaries, but the merger remained unresolved.
Pension scheme for state journalists (Mizoram) – Chief Minister Zoramthanga announced his government will soon introduce a new pension scheme for working journalists in the state. Speaking on the occasion of the golden jubilee celebrations of the Mizoram Journalists' Association (MJA), he said the scheme will not be a burden on the government and spoke of the importance of a free press in the state.
Why it matters: The MJA is the umbrella body of all journalists in the state. It was established on March 23rd, 1972, and celebrates its 50th year. Its founding president was Lal Thanhawla, former chief minister of the state. Currently, it has more than 200 journalists registered. In January, the Indian Journalists Union (IJU) called on the government to introduce a Working Journalists' Pension Scheme (WJPS). Andhra Pradesh gives ₹25,000 as a pension. Karnataka and Assam give ₹10,000 each.
---
🔢 KEY NUMBER
₹5,674 crores – The amount spent by the Centre for the computerisation of panchayats in Bihar. Under the Rashtriya Gram Swaraj Abhiyan (RGSA), computers for 531 gram panchayats were approved for Bihar.