April 14, 2023
Good morning. In today's either/view, we discuss whether the row between Sachin Pilot and Ashok Gehlot will harm the electoral prospects of the Congress party. We also look at the setting up of new de-addiction centres in Manipur, among other news.
---
📰

FEATURE STORY
Pilot vs Gehlot: Will the recent row harm the Congress' electoral prospects?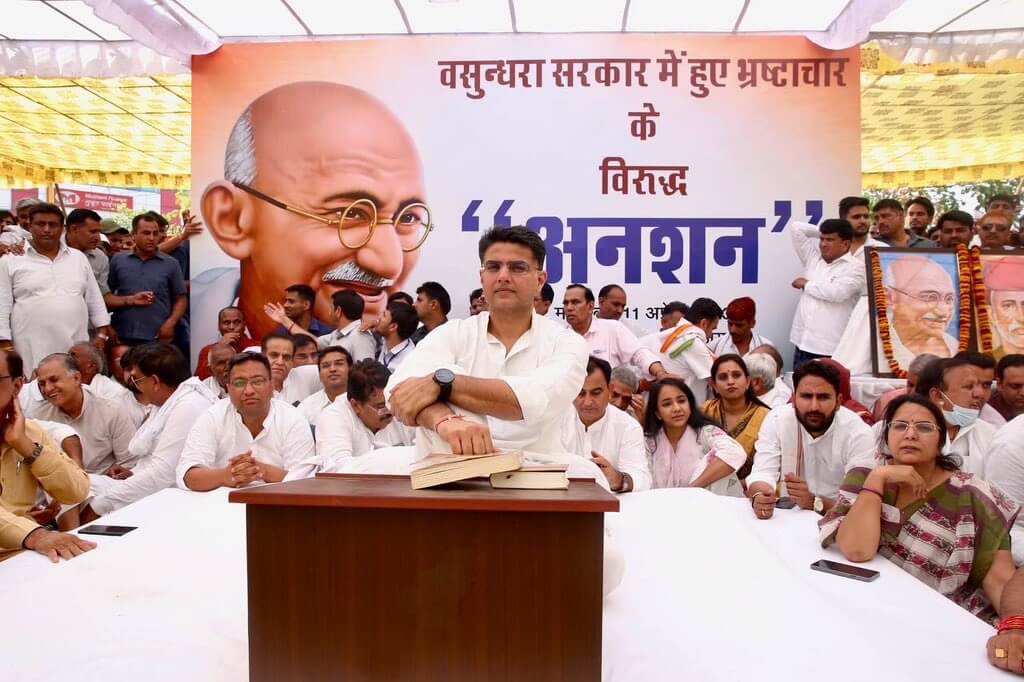 After a short lull in the Ashok Gehlot and Sachin Pilot tu-tu main-main, Congress leader Pilot has once again taken aim at the Chief Minister of Rajasthan. And it seems like the BJP is keenly watching the drama unfold, with an arm propped up behind its neck and a popcorn tub in its lap.
The Congress scheduled a meeting on April 13 to settle the ongoing dispute between Gehlot and Pilot. Despite a warning from the party leadership, Pilot held a dharna on Tuesday against Gehlot to push the government to act against corruption in the state. Prime Minister Narendra Modi referred to the incident as a 'political crisis' in a recent speech, and a crisis it may well be for the Congress's electoral prospects in Rajasthan.
Context
The recent ruckus began when Sachin Pilot addressed a press conference in his home and accused Gehlot of dilly-dallying on corruption cases against the previous Vasundhara Raje-led BJP government. He was quite creative with his criticism while playing clips of Gehlot's statements about the BJP's corrupt practices.
According to Pilot, Congress came to power by questioning the BJP's credibility and corruption. He said he finds it "bizarre" that after being voted to power, the Gehlot government hasn't acted against the previous government's wrongs.
The rest of the Congress party hasn't taken this well, with Sukhjinder Randhawa, Rajasthan Congress in-charge, calling the fast an anti-party activity. But this isn't the first time that Pilot has fired a salvo against Gehlot. Only this year, Pilot took a veiled dig at the Chief Minister for using harsh words against him earlier.
Trouble between the two began brewing in 2020 when Pilot launched a "rebellion" against the Gehlot government with several MLAs. Since then, the two have frequently verbally sparred against one other. Gehlot had used the pejorative nikamma for Pilot and said he hadn't trained hard enough to be a political leader.
When the Bharat Jodo Yatra reached Rajasthan in December last year, the Pilot-Gehlot issue was already flared up. It was an untimely scuffle then too. In an interview, Ashok Gehlot commented that the Congress high command would not offer the Chief Minister's office to Pilot because he is a traitor.
The corruption fracas ensued just months before Rajasthan's Assembly polls. The party has expressed concern over its timing, and political commentators are waiting with bated breath to see what the high command decides. If the conflict doesn't die down quickly, it might spell trouble for the party's electoral prospects in the 2023 assembly elections in a state where anti-incumbency is the norm.
VIEW: It could snowball
For the Congress, there couldn't be a worse time for infighting. The party is already in a tussle with the Union Government with Rahul Gandhi's disqualification. It's also seeing a dash of infighting and defections in Karnataka, which is due for polls next month. Randhawa has called Pilot's press conference and fast inappropriate. The Rajasthan chief has also undermined some of Pilot's allegations, saying that contrary to his statements, Pilot hadn't confided in the chief.
Many see Pilot's press conference and dharna as a last-ditch effort to secure a Chief Ministerial candidacy. If the high command doesn't resolve the dispute favourably, it could mean Pilot switching tracks in the upcoming months to either the BJP or the AAP. Pilot's defection would be a major blow to the Congress' performance in the assembly elections. He's one of the youngest and most popular faces in the Rajasthan cohort and is supported by the Gujjar community.
COUNTERVIEW: It's no biggie
There's a chance the Congress party might not be open to a change of guard in the upcoming elections. It's often recited the adage of the party being bigger than the people in it. If Pilot defects, nothing is stopping the Congress from playing the same tunes again. It would help portray the party as an undivided front, with Pilot as the ingrate son who left.
However, the Congress might not have much to worry about. It's unlikely that Pilot is in a hurry to leave. There's nothing to suggest that he'll fare better in other parties or secure the Chief Minister's office. While the BJP might welcome him, it'll refrain from awarding him such a key position so soon after joining. Since there's very little chance that the high command will dispense of the leader on its own, Pilot and his grievances with Gehlot might be here to stay.
Reference Links:
What is your opinion on this?
(Only subscribers can participate in polls)
a) The Pilot vs Gehlot row will hurt the electoral prospects of Congress.
b) The Pilot vs Gehlot row will not hurt the electoral prospects of Congress.
---
🕵️ BEYOND ECHO CHAMBERS
For the Right:
The story of khayal shows how attempts to remove the imprint of Muslim rule will impoverish Indian culture
For the Left:
How Modi has changed Commanders' Conference—from military lip service to image-building tool
---
🇮🇳 STATE OF THE STATES
Government to aid widows to build houses (Himachal Pradesh) – Mukhyamantri Vidhwa Evam Ekal Nari Awas Yojna, a new initiative launched by the Himachal Pradesh government, would give financial support to widows and single women for the construction of residences. On Wednesday, Chief Minister Sukhvinder Sukhu announced that the government would grant ₹1.5 lakh in financial help to over 7,000 women during the current fiscal year. To be eligible for benefits, qualified women must earn less than ₹2 lakh per year. The Women and Child Development Department are finalising the scheme's details.
Why it matters: With the financial aid provided by this plan, the women will be able to build their own homes, providing them with not only a safe and secure place to live but also a sense of ownership and empowerment to them. The houses built under this project will have basic utilities like electricity, water, and other necessities, ensuring that the women have access to critical resources for their everyday life. Widows, especially the ones who were completely dependent on their husbands for survival, will be greatly benefited from this move.
Natural farming beats synthetic inputs: study (Andhra Pradesh) – According to a recent study conducted by the state's natural farming program, Zero Budget Natural Farming (ZBNF) has resulted in considerably greater crop output in Andhra Pradesh when compared with organic or conventional (synthetic fertilisers and pesticides) cropping. Since its inception in 2016, the Andhra Pradesh Community Managed Natural Farming (APCNF) initiative has advocated for chemical-free farming. During the previous six years, it has focused on natural farming with 0.63 million farmers out of a total estimated six million farmers in the state.
Why it matters: This is a significant conclusion since farmers take a lot of financial risks when buying synthetic pesticides and fertilisers. These fertilisers also pose dangers to human health, lead to biodiversity loss, as well as environmental damage. Reduced use of bought inputs and participation in agri-business may also result in financial advantages while yields remain unaffected. If properly applied, this technique can alleviate both the problem of high agricultural expenses as well as the problem of soil and groundwater pollution.
Powerhouse partnership for health research (Odisha) – AIIMS and IIT have joined forces in a first-of-its-kind effort in the country to encourage academic and research cooperation in many areas of health and technology. The collaboration is a result of the union cabinet's desire to institute a dual degree program. AIIMS Bhubaneswar has partnered with IIT Bhubaneswar to integrate medical sciences and technology in order to provide better and more equipped healthcare services.
Why it matters: Both national institutes have partnered to expand cooperation in advanced research for healthcare applications such as early identification of illnesses and outbreaks, artificial intelligence (AI) and data analytics, biomedical engineering and technology, disease prediction modelling, digital health, and the development of diagnostic and therapeutic tools, equipment, and strategies. This will not only enhance the medical arsenal of the country but also expose doctors to new and varied methods which will help mitigate choking of healthcare services.
Maha retains top spot in GST collection (Maharashtra) – Maharashtra continues to report the highest GST collection in the country, accounting for over 15% of the national total in 2022-23. Its GST fund is also rising the quickest, with a compound annual growth rate (CAGR) that outpaces all other states between 2018-19 and 2022-23. According to the most recent statistics, Maharashtra's GST revenue for the fiscal year 2022-23 was ₹2.7 lakh crore. This is more than double the amount collected by Karnataka, which recorded a total collection of ₹1.2 lakh crore and stood second. The state CAGR between 2018-19 and 2022-23 was 12.3%, significantly higher than the national CAGR of 11.3%.
Why it matters: GST is a state's primary revenue generator, accounting for about 60% of total state revenues. Senior authorities stated that the influx of investments into the state was a major cause for the state's increased economic activity and greater GST receipts. According to a top government official, Maharashtra is an important state for both domestic and foreign investment. Last year, the state collected ₹2.2 lakh crore in GST. This indicates that revenue has increased by ₹52,353 crore, or 24%, from 2021-22. The economic performance of Maharashtra showcases that despite the topsy-turvy political landscape of the state, the economy remains fairly immune.
Five new de-addiction centres soon (Manipur) – Chief Minister N Biren Singh has stated that the state will soon have approximately five government-run de-addiction centres. The process is underway, he stated on Wednesday at a book launch ceremony in Imphal. Biren emphasised the government's attempts to reintegrate drug users into society, citing 1.3 lakh drug abusers in the state according to Social Welfare data.
Why it matters: Informing that the state's one de-addiction centre is performing successfully, he emphasised the necessity to establish more such centres since adequate treatment of addicts is essential to bring them back into the mainstream. Apart from this, the CM also voiced dissatisfaction with several private de-addiction centres because reports have revealed that they were operating on a business model. While drug abuse is not a very menacing issue in Manipur, having efficient de-addiction centres in the state would nip any developing hazard in the bud.
---
🔢 KEY NUMBER
36.9% – India's employment rate increased to 36.9% in March 2023. It was 36.6% in December 2022.