April 13, 2023
Good morning. In today's either/view, we discuss whether George Soros is a danger to Indian democracy. We also look at the dying suburb of Kochi in Kerala, among other news.
---
📰

FEATURE STORY
Is George Soros a danger to Indian democracy?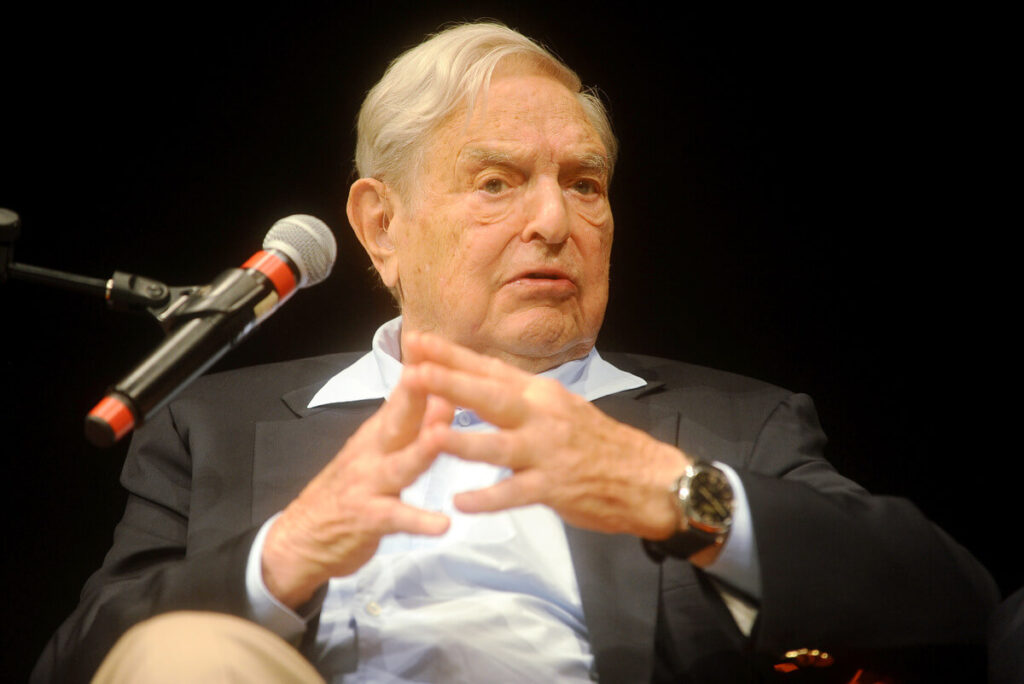 There has been a lot of debate on the state of Indian democracy. Rahul Gandhi has spoken about it in interviews. Various columns and op-eds have opined about the current government undermining democracy through its ideology, actions, and policies. The government usually wastes no time refuting "Western interests" against India.
Among them is a man named George Soros. If you've gone down the online conspiracy theory rabbit hole, you probably have some idea who he is. The billionaire philanthropist has irked the Indian right wing and the current ruling government with his criticisms. Can a man halfway around the world be a danger to or undermine Indian democracy? Some certainly think so. For others, he's merely a boogeyman.
Context
George Soros was born in 1932 to a prosperous Jewish family in Budapest, Hungary. He was born György Schwartz, but his father changed the family name to Soros in 1936 to avoid persecution during the Nazi invasion. His early life was disrupted by the arrival of the Nazis in Hungary in 1944. While many families at the time were torn apart as some were sent to concentration camps, Soros' family escaped and split up using false papers.
While Hungary came to be ruled by a new communist regime, Soros, 17 at the time, left to study at the London School of Economics (LSE) in the United Kingdom. There, he learned about Austrian-born philosopher Karl Popper and his work. This would become a big influence on Soros and his philanthropic work in the future. Popper's book 'The Open Society and Its Enemies' distinguishes between open and free societies and closed ones where people submit to authority, religious or political.
After graduating, Soros went to work on Wall Street for a decade. In the late 1960s, he had his own hedge fund, the Quantum Fund. As it tasted success, Soros gained a reputation as a successful financier. In 1979, Soros concluded he had enough money and moved into philanthropy. He established the Open Society Foundations, now spread across 120 locations worldwide. Per its website, the Open Society Foundations work toward creating "vibrant and inclusive democracies whose governments are accountable" to their people.
In 1984, he founded Europe's first Open Society in Hungary, where he established the Central European University. Across Africa and Europe, over the decades, he has donated billions of dollars of his personal wealth to set up theatres, libraries, scholarships, grants, etc.
He hasn't been afraid to get political. He directed funds to create open societies in Central and Eastern Europe where he felt communist countries fit Popper's definition of closed societies. In his 2004 book, 'The Bubble of American Supremacy,' he said leaders like George W Bush wanted to propagate the idea that force was the only way to survive.
Of late, India, particularly the ruling BJP government, has been on his radar. At February's Munich Security Conference, he said Narendra Modi would have to answer to foreign investors and in parliament on the Adani scandal. He said it could weaken his stranglehold on India's federal government. It's not the first time he has taken aim at Modi. At the 2020 World Economic Forum, he said the most frightening setback to democracy is Modi creating a Hindu nationalist state.
The Modi government and its allies haven't been shy about their feelings toward Soros and his remarks. They've been quick to dismiss them. While some, like Smriti Irani, call him an economic war criminal, others have noted why India has been silent on the issues Soros talks about.
VIEW: Using money and rhetoric to undermine India
For many on the right, Soros represents the kind of anti-India, anti-Bharat thinking that has seemingly taken hold in the West. They see him as an agent provocateur trying to undermine Indian democracy. The argument is the West views a dominant, growing, and powerful India as a threat. The broader effort to undermine India needs funds, and according to many, that's Soros.
When Soros cited the Adani controversy, critics pointed out that the investigation is still ongoing. There have been no reports of the government trying to quell any scrutiny of the conglomerate. To some, Soros was hurling accusations with no evidence. External Affairs Minister S Jaishankar said Soros is an outsider and labelled him an "old, rich, opinionated person sitting in New York" and called him dangerous.
Soros' critics allege that his Open Society foundations back misinformation peddlers. He has also invested in the International Fact-Checking Network of the Poynter Institute, which some allege is a biased fact-checking group that silences dissent. Others have cited his foundation bank rolling anti-CAA and farm laws protests.
Soros isn't a clean operator, and some of his past work is proof. He was fined $2.8 million in 2002 for insider trading. In 2018, he was convicted in Hong Kong for short selling. Soros is making a bet by funding media, NGOs, and think tanks with a clear anti-Modi agenda. However, given Modi's high approval ratings and India's economic growth, it's a bet he may well lose.
COUNTERVIEW: Nothing more than a boogeyman
On the surface, Soros' worldview and politics don't match Modi's and the current government's. That much is evident. So it should come as no surprise that he criticises Modi or anyone for that matter that he's ideologically opposed. India has a right to respond. But much of the commentary has been hyperbolic.
The accusation that he uses his money to overthrow or undermine governments is far-fetched. It's no surprise that wealthy people use their money to create the kind of society they want, given their political worldview. It's not as if the BJP isn't bankrolled by wealthy individuals and companies. What differentiates Soros is that he's transparent about it. The same can't be said for corporate India's expenditure on electoral bonds and our opaque political funding landscape, which the BJP largely benefits from.
It was Soros' remarks on the Adani saga and its possible political fallout that really riled up the BJP. However, it's not the first time a 'foreign' body has commented on the Adani Group after the Hindenburg report. Wealth funds, rating agencies, regulators, and bankers have weighed in.
There's also an interesting contradiction to the government's views on Soros. India and the US were the lead proponents of the UN Democracy Fund (UNDEF) in 2005. The fund provides grants to NGOs funded by Soros. India has contributed millions of dollars to it. The government's diplomacy and domestic political ideology interestingly diverge. In the UNDEF, India shares more common ground with Soros than it cares to admit.
Reference Links:
What is your opinion on this?
(Only subscribers can participate in polls)
a) George Soros poses a threat to Indian democracy.
b) George Soros doesn't pose a threat to Indian democracy.
---
🕵️ BEYOND ECHO CHAMBERS
For the Right:
Why India's border standoff with China reveals Modi weakness. It's the economy, stupid
For the Left:
Urdu literature has ignored Dalit Muslims. Pasmandas must own the language
---
🇮🇳 STATE OF THE STATES
Farmers to get full compensation for wheat (Punjab) – Punjab Chief Minister Bhagwant Mann declared that the state government would absorb the value cut for wheat harvests imposed by the Centre the day before, and farmers would receive full payment for their crops. After this declaration, farmers will now receive ₹2,125 per quintal as the minimum support price for wheat. On April 11, the Union Ministry of Consumer Affairs, Food, and Public Distribution announced a relaxation of quality standards for wheat procurement, with a reduction in output value based on the number of shrivelled grains and lustre loss.
Why it matters: Farm organisations and commission agents in Punjab reacted angrily to the Centre's previous decision, calling it a "double whammy" for farmers and threatening a large protest if the decision was not reversed immediately. Reversing their decision, the Centre stated that while there would be no value reduction for wheat with shrivelled and fractured grains up to 6%, farmers will lose ₹5.31 per quintal if such grains reach 6% to 8%. Crops across the country have suffered severe losses during the rabi season owing to unseasonal rainfall this year.
The dying, stinking suburb of Kochi (Kerala) – The Eloor neighbourhood in Kochi, Kerala, smells like it's dying. It was formerly a lush farming island on the Periyar River, 17 kilometres (10.5 miles) from the Arabian Sea and abounding with fish. The air is now filled with the stink of rotting flesh. The majority of the fish in the area have vanished. Locals claim that very few folks living near the river have children. Some 300 chemical plants emit intense smells, effectively alerting people to keep away. The water has taken on a dark colour.
Why it matters: Several petrochemical factories in Eloor have been in operation for more than five decades. These factories are involved in the production of pesticides, rare earth elements, rubber processing chemicals, fertilisers, zinc-chrome compounds, and leather treatments. Some of the factories in the area are, in fact, government-owned. According to residents, the companies suck in significant volumes of freshwater from the Periyar and release concentrated effluents with little to no treatment back into the river. This is not just violating several laws but also smothering the lives of people in the area and the environment.
The failure of birth and population control (Bihar) – Health workers in Bihar are fighting a losing battle against birth control in the state, especially in the district of Kishangarh. Despite the state handing out free birth control measures like condoms and birth control pills and actively advising all young couples that two children are enough, almost no impact is visible. While India is very close to overtaking China in terms of population, the birth rates are mostly controlled in all Indian states, but Bihar is a bad exception.
Why it matters: Aside from providing free condoms and birth control tablets, the state pays ₹3,000 to women and ₹4,000 to men who get sterilised. Health personnel who perform sterilisations are paid ₹500 for each successful operation. Nonetheless, the outcomes have been dismal. Men straightaway reject the idea of sterilisation as they believe that it will impact their masculinity, and women fear that their kids will not get adequate care if something happens to them. Besides this, the reasons for such a high birth rate are the desire for a male child and the notion that more kids would mean more breadwinners.
Mumbai-Goa train to get second Vistadome (Goa) – The Mumbai-Goa Tejas Express became the first train in India on Tuesday that featured glass-covered Vistadome carriages on both ends. So, regardless of which end of the train engine is linked to, one Vistadome will always be available, providing a stunning view of the passing lines along the entire ride. Vistadome carriages are in very high demand and have been working on all trains at full capacity ever since their introduction.
Why it matters: Apart from the glass roof, the Vistadome coaches have an abundance of unique features such as large windows, LED lights, rotating seats, pushback seats, a GPS-based info system, several Television Screens, Electrically Run Automatic Sliding carriage doors, wide side sliding doors for Divyangs, restrooms with ceramic tile flooring, and so on. Lastly, there is the viewing gallery. Mumbai and Goa already receive very hefty tourist traffic every year. An additional Vistadome carriage would allow more people to check another item off their checklist without feeling left out.
Govt halts midday meals in venture schools (Assam) – Midday meals have been discontinued in around 5,000 primary schools in the state that fall under the "venture" category after the state government's decision to delink these schools from the "government-aided" category. The distribution of rice to thousands of kids at these institutions has already ceased since April 1, following an order from the office of the state nodal officer, PM POSHAN, Assam. However, education department sources said these pupils would continue to get free textbooks.
Why it matters: Pupils in these schools received free textbooks and midday meals up to Class VIII owing to the services provided by the venture schools and their participation in the UDISE (Unified District Information System for Education). These schools have been set up one after another in the state and are mostly run by local residents. Suddenly discontinuing the midday meal scheme, which is a scheme employed all across the nation to help poor kids and their families, will significantly impact their rates of attendance and enrolment, as well as their performance.
---
🔢 KEY NUMBER
1 – Andhra Pradesh ranks first in the State Energy Efficiency Index-2022