April 12, 2023
Good morning. In today's either/view, we discuss whether Amul's entry into Karnataka will affect Nandini adversely. We also look at the reopening of historic temples in Andhra Pradesh, among other news.
---
📰

FEATURE STORY
Will Amul's entry into Karnataka affect Nandini adversely?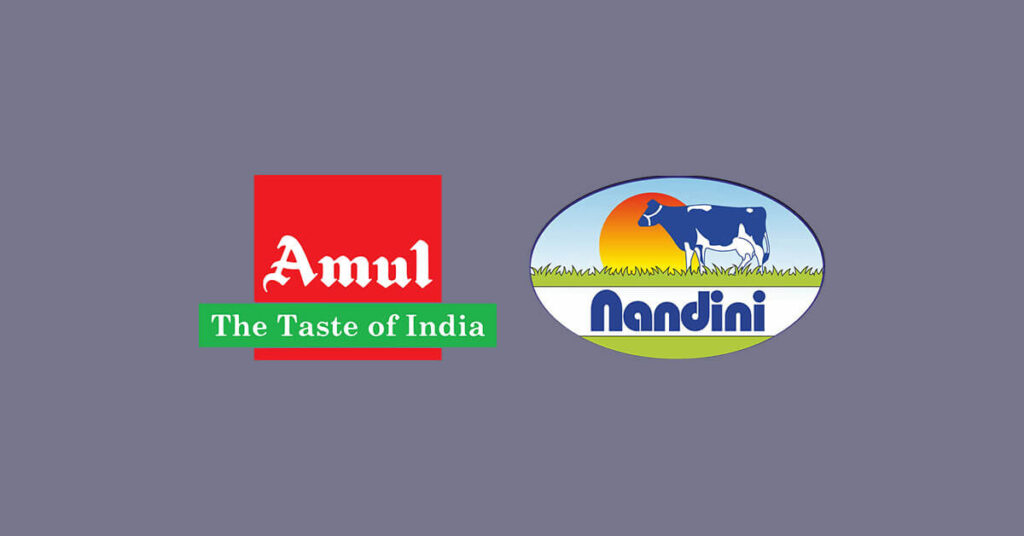 When even milk becomes controversial, you know elections are around the corner. But the Amul vs Nandini row is much more than the political mudslinging around it. It's a tussle over market monopoly and a protest over broken, unsaid rules of state-owned cooperatives and business behemoths. For some, it's also become an assertion of Kannadiga identity.
When the Gujarat government-owned Anand Milk Union Limited (Amul) tweeted about entering the Karnataka market, it set off a wave of protests. Several sections of Kannadigas were concerned that Amul would overpower the homegrown dairy brand Nandini and eat into its market share. Amul's top brass, though, wants to quell such fears.
Context
Karnataka's dairy sector is propped up on a self-sustaining rural economy that practices cooperative dairying. The state's story of transforming dairying from an auxiliary occupation into an industry is worth noting.
In 1975, the Karnataka Dairy Development Corporation (KDDC) became India's first World Bank-funded dairy development program. In 1983, the corporate brand name 'Nandini' came into existence. KDDC was renamed the Karnataka Milk Federation (KMF) or Kahama in 1984. Since then, it has considerably expanded its business.
With many village-level dairy cooperatives and 16 milk unions covering all state districts, the KMF follows the Amul business model. Here, every dairy farmer in the village is a member of the Primary Dairy Cooperative Society. The elected representatives from these cooperative societies jointly operate the District Milk Unions. As of 2022-23, 15,311 Dairy Cooperative Societies are functioning in the state.
KMF is India's second-largest dairy cooperative. It's technically the strongest rival to the milk behemoth, Amul, India's largest dairy cooperative. However, if we were to consider only India's southern states, the KMF ranks first in sales and procurement. The Kahama's annual turnover is between ₹15,000 and ₹25,000 crore.
Given the KMF's success, when last year Union Home Minister Amit Shah proposed a collaboration between Nandini and Amul to bring primary dairy units to all villages across the country, there was some backlash. KMF already has a presence in all but four states in the country. Their exports in Singapore have earned enough success for the cooperative organisation to expand its footprint to Pakistan, Bangladesh, and the United Arab Emirates (UAE).
Recently, on Twitter, Amul announced it was bringing milk and curd to Bengalureans. The announcement snowballed into its present state of befuddlement and brouhaha. Several netizens opposed the move, and Opposition parties Congress and JD(S) leaders pegged it as the BJP's effort to dismantle the local brand.
VIEW: It's a valid concern
Currently, KMF's Nandini has a market monopoly over milk and dairy products in Karnataka. With the milk behemoth Amul throwing its hat in the ring, Nandini stands to lose its dominance. Even with lower prices than Amul, it might lose a section of its consumers due to Amul's historical and national credibility.
The current protests aren't simply about Amul threatening to take a chunk of Nandini's market share. It's an emotive issue for many who believe that Nandini represents the Kannadiga identity. Political leaders like Karnataka Congress chief DK Shivakumar, too, are milking the narrative of an emotive connection between the brand and the Kannadigas.
There's also been a longstanding concern that allowing Amul to operate in Karnataka or initiating any collaboration between the two will weaken KMF. Its resounding success in India and the export markets should not be compromised for the sake of growing Amul's footprint. Some political leaders suggest that the move will allow the government to privatise the dairy market, which currently provides a livelihood to 28 lakh farmers and 2.5 lakh employees.
COUNTERVIEW: It's not a threat
Amul's top brass have emphasised the unspoken norms between dairy cooperatives and the camaraderie between Amul and KMF. Managing Director Jayen Mehta said that Amul's fresh milk and curd would be sold through e-commerce networks rather than a mass distribution network. The incumbent state government also has assured Karnataka's dairy farmers that the new development will not harm them.
Amul has been selling its products in northern Karnataka since around 2015 – without inviting any qualms from the region or affecting Nandini and the local dairy sector. In fact, a fair amount of competition often benefits consumers because of the enhancement of quality and service that follows.
It's also unlikely that Amul will eat into Nandini's market monopoly. While Amul's toned milk is sold at ₹54 per litre in Delhi and ₹52 per litre in Gujarat, KMF's toned milk is sold at ₹39 per litre. Operating at very different prices, if Amul does make a mark in Karnataka's market, it will do so through a niche section of consumers. Successive governments in Karnataka have ensured that KMF can sell its products at low prices by providing them with enough subsidies.
Reference Links:
What is your opinion on this?
(Only subscribers can participate in polls)
a) Amul's entry into Karnataka threatens the local brand, Nandini.
b) Amul's entry into Karnataka doesn't threaten the local brand, Nandini.
---
🕵️ BEYOND ECHO CHAMBERS
For the Right:
Constitution of GST tribunal goes against several rulings of Supreme Court
For the Left:
Sachin Pilot vs Ashok Gehlot: Has Rajasthan leadership issue, simmering for years, come to a head?
---
🇮🇳 STATE OF THE STATES
Forest Department not to cut trees (Chandigarh) – The UT Forest and Wildlife Department has denied a request by the Rail Land Development Authority (RLDA) to cut at least 1,300 trees on railway land as part of a project to reconstruct Chandigarh railway station in order to make it "world-class." According to facts, the rail land authority had previously requested and secured time-bound approval from the forest department to cut down the trees in the years 2019, 2020, and 2021. Despite receiving approval at the time, RLDA never cut any of the trees in question throughout all three years.
Why it matters: According to plans, the trees will be cut down to make way for station outlets, parking lot expansion, and the building of public utility centres. According to organisers, the goal is to make Chandigarh station "World Class," with passenger amenities equivalent to those available at international airports. So far, the RLDA has planted at least 6,100 seedlings, which is over five times the amount of trees that are to be cut down in accordance with regulations. The top brass, however, still hasn't gone forward with the order of clearance.
Old temples to reopen soon (Andhra Pradesh) – The historic Lakshmi Narasimha Swamy temple, which has been in disrepair for several years, will soon be reopened to worshippers as the State government's development work is due to be finished. The Lakshmi Narasimha Swamy temple and Shiva temple built on the summit during the reign of the Reddy Rajas were well-known in medieval history. However, after centuries, the temples had become decrepit.
Why it matters: In 2010, the State government issued orders to renovate both temples as part of the Kondaveedu development project. However, because of a lack of adequate transit to the summit, the work did not begin until 2017, with the completion of the Ghat road. The works were further delayed because of the Covid-19 epidemic. Endowments and forest department officials have worked hard in recent months to expedite the work, and it is expected to be done shortly. The renovation of old temples not only saves the cost of starting afresh but also rekindles businesses in an existing area.
Sports Science India to aid Women's Ice Hockey team (Odisha) – Sports Science India (SSI), a sports research and rehabilitation centre situated in Bhubaneswar, has been named the official partner of the Indian Women's Ice Hockey team, which will compete in the upcoming 2023 IIHF Ice Hockey Women's Asia and Oceania Championship. The institute, founded by sports science specialist and sports surgeon Dr Sharthak Patnaik, offers elite-level players at the professional and international levels with sports science, medicine, and rehabilitation facilities to improve their chances of winning medals.
Why it matters: From April 30 through May 7, the championship will be contested in Bangkok. According to Dr Patnaik, this is the first time that an Odisha-based sports science centre has been picked for an international tournament. It is a proud occasion for the state since Sports Science India is Odisha's contribution to the country's athletic community. The Odisha-based centre also works with the National Strength and Conditioning Association, the world's authority in strength and conditioning. Sports for women are recently seeing a boost in the country, with women's cricket at the helm of everything. Giving such importance to other sports is really the need of the hour.
Alcohol taking more lives than road accidents (Goa) – Even though alcoholism is an acknowledged issue in Goa, the magnitude of the problem is alarming, according to medical specialists. Every year, about 300 people die as a result of alcoholic liver cirrhosis at Goa Medical College (GMC), the state's leading healthcare facility, a figure equivalent to road traffic accidents. GMC recorded 318 fatalities from alcoholic liver disease in 2022 and 356 in 2021. There were 271 traffic accident fatalities last year.
Why it matters: According to hospital data, up to 5,500 people are admitted to GMC each month, with 25% of them having alcohol-related disorders. The average patient's profile is also shifting. Patients in their mid-forties and fifties usually developed the problem of liver cirrhosis a few years ago, but it is not uncommon now to find males in their early twenties with this illness as well. Doctors say that the decrease in the legal age limit for drinking in the state is directly responsible for this issue.
New frog species detected (Meghalaya) – A new species of cascade ranid frog has been found deep beneath the Siju cave system in the South Garo Hills region by researchers from the Zoological Survey of India. This is the second time a frog has been discovered within a cave in the nation, the first being the finding of the Micrixalus spelunca in a cave in Tamil Nadu in 2014.
Why it matters: The new species was called Amolops siju after the cave where it was discovered, and its description was published in the most recent edition of the international scientific journal, Journal of Animal Diversity, published by Iran-based Lorestan University. According to a ZSI official, because the frog is morphologically enigmatic, tissue samples from the animals were submitted to DNA research to determine their unique identification from other known species of cascade Amolops frogs. The northeast has recently become a hotbed for the discovery of new wildlife species, be it butterflies, birds, bats, or amphibians.
---
🔢 KEY NUMBER
350 – 350 students have been chosen from across the country for ISRO's YUVIKA program.