September 29, 2022
Good morning. In today's either/view, we discuss whether the Production-Linked Incentive scheme is achieving its goals. We also look at how Maharashtra is making the lives of transgender persons easier, among other news.
---
📰

FEATURE STORY
PLI Scheme For Manufacturing – Is It Working?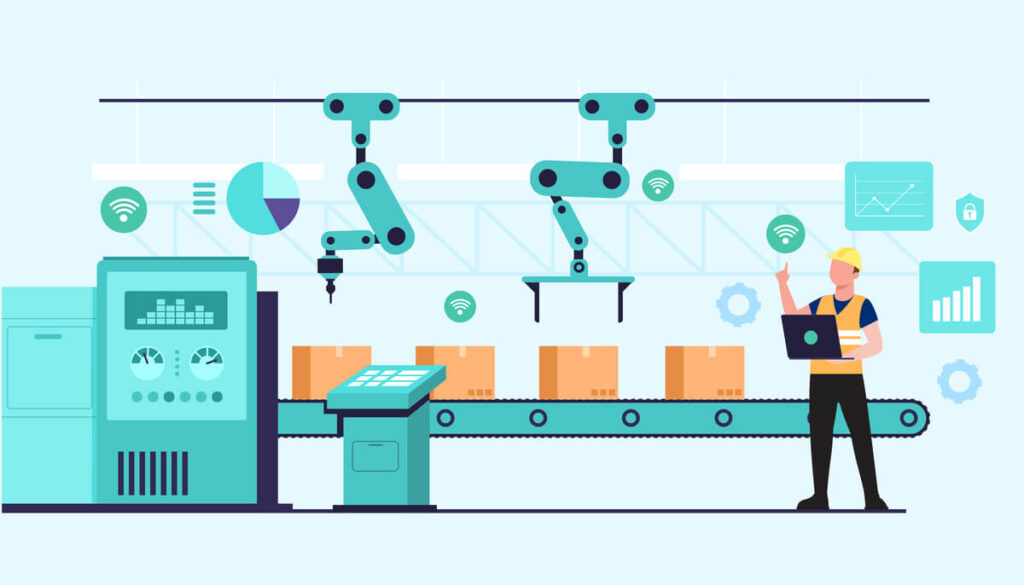 The production-linked incentive scheme (PLI scheme) in India is a fiscal subsidy scheme that aims to push the 'Atma Nirbhar Bharat' project. The overall aim of this project is to make India a self-reliant nation. The project has diversified into various sectors. Educational drives, vocational training and economic packages for various industries are one part of this project. Another way the aims of this project are being achieved, are through PLI schemes that focus on making domestic manufacturing 'globally competitive'.
In addition to a subsidy for additional investments, PLI schemes offer a subsidy for incremental sales and a subsidy for value additions. First introduced in 2020, the scheme started with mobile manufacturing and IT hardware. These included funding for assembly, marking, testing and packaging (ATMP) units. Later, various sectors like pharmaceutical ingredients, drug intermediaries and food products were added. Currently, there are over 20 sectors where PLI schemes are available.
Context
While the PLI scheme has been started only recently, its growth has staggered due to the impact of the pandemic. This global crisis has been a splash of cold water for countries that rely extensively on Chinese suppliers. Post-pandemic, various countries have amplified their efforts to diversify their supply chains and not place all their trust on one source. India has followed suit, placing importance on implementing policies like the PLI scheme that facilitates investment and builds domestic manufacturing capabilities.
The introduction of the PLI scheme had been received with excitement by domestic and foreign investors, due to its noteworthy budget outlay and incentives. In a statement given by Mr Amitabh Kant, the former CEO of Niti Aayog, the PLI had been estimated to add US$520 billion worth of manufacturing value to the economy. While central and state initiatives already exist, prior to the make in India initiative of 2014, a focused centre-specific approach to incentives has not existed before. The Indian PLI schemes have been introduced keeping in mind a direct correlation between the upscaling and manufacturing capacities. This focused approach is applied to attract foreign investors, and yield greater returns.
In recent news, a landmark decision in September 2021 involved adding drones and drone components as a sector, and it was claimed that this sector alone would create 10,000 jobs.
Furthermore, during the 2022 budget, Nirmala Sitaraman made a sweeping statement that the scheme had the potential to "create 60 lakh new jobs, and an additional production of ₹30 lakh crore during the next 5 years."
While in theory, the PLI scheme sounds like an attractive idea to boost domestic manufacturing and investment, analysing the implementation of this scheme through its various facets is important to understand its effectiveness.
VIEW: The PLI scheme for manufacturing is a success
Incentives under the scheme have already been applied to a variety of sectors. During the first three quarters of FY22, electronic goods exports increased by 49% to $11 billion. More than 250 firms were approved under the scheme in the last two fiscal years of 2021 and 2022 led by mobile phones, pharmaceuticals, IT hardware, etc.
Around 20 applicants have been approved under the PLI scheme for the automobile industry, boosting exports for this growing industry. Further, 55 companies have qualified for the PLI scheme in the pharmaceutical sector. The widespread adoption of this scheme across industries will lead to an increase of 1.3 times in industrial CAPEX through the years 2022–2024 compared with 2018–2020, generating ₹2.2 lakh crore in CAPEX.
In 2022–23, the World Bank expects India's economy to grow by 7.5%. The growth rate is significantly higher than that of emerging peers, such as China (5.1%), Indonesia (5.2%) and Bangladesh (6.4%). A $150 billion increase in sales is expected through the scheme to contribute 1.7% to India's GDP by 2027.
The various companies that have been approved will lead to an incremental production of ₹81,254 crores in the next five years. Furthermore, government investment in solar and electric vehicle capabilities is also a push in the right direction as it increases innovation and also India's place as a country that is committing to sustainable development goals.
Also, countries around the world are looking to recreate a new supply chain. One of the key differences between this and the previous government-led Indian schemes is the mandate that they are opting out of import-substitution models this time. Instead, the scheme is looking at export-led growth. From a macro-perspective, this provides India with a competitive advantage especially against China, as it pushes for domestic manufacturing.
COUNTERVIEW: The PLI scheme has not yielded results
The primary issue with the PLI scheme is the lack of information present regarding the scheme. In her 2022 budget speech, Nirmala Sitaraman said the PLI scheme had the potential "to create 60 lakh new jobs." The basis of this estimate was not revealed. There was also a claim made that the first 14 sectors will produce an additional 30 lakh crore over the next five years. The official report produced by NITI Aayog reproduced it without verifying or supporting it or indicating its progress. Government official data was published in public without any supporting evidence or data.
The report also declared that Niti Aayog was introducing a PLI dashboard to monitor all PLI schemes. There is no sign of the PLI dashboard yet and that's why little progress has been recorded to indicate concrete progress of the achievements of the PLI scheme.
Furthermore, since the PLI scheme was one that was released quickly, very little background information or reviewing was done before implementing such a scheme. To review the effects of the scheme,  the Department for Promotion of Industry and Internal Trade (DPIIT) has flagged two key concerns: (i) no common parameters to understand value additions by companies under the scheme, and (ii) no centralised database to understand the various deliverables like the number of jobs created, rise in exports and quality improvement.
There is also a growing fear among many citizens that foreign investment will reduce with the PLI scheme. Many also believe that it is unrealistic to argue that PLI-induced production will be able to compete with global standards of price and other parameters. Manufacturing growth has stagnated at 16% in this country for several years, and many believe that taking a policy shortcut like the PLI will not lead to immediate growth in the nation's GDP.
Reference Links:
What's your opinion on this?
(Only subscribers can participate in polls)
a) Production-Linked Incentive scheme for manufacturing is a success.
b) Production-Linked Incentive scheme has not yielded results.
---
🕵️ BEYOND ECHO CHAMBERS
For the Right:
Border Crisis, No NSS, No Reforms. But Modi Government Is Going After Imagined Colonial Demons
For the Left:
Poles Apart: UK's Monarchy And India's Democracy
---
🇮🇳 STATE OF THE STATES
Grievance committees reconstituted (Haryana) – The Haryana government has decided to reconstitute the Grievance Committees and District Public Relations for all districts in the state. The monthly meeting of the Grievance Committee will be presided over by the Chief Minister Manohar Lal Khattar in Faridabad.
Why it matters: Many ministers of the state government have been allotted different locations for the Grievance Committee meetings across the state. The Deputy chief minister Dushyant Chautala will preside over the meeting in Rohtak while Home Minister Anil Vij will preside over the meeting in Hisar. Many such changes have been made.
1,000-MW solar power project to be set up (Assam) – Chief Minister Himanta Biswa Sarma announced that a 1,000-MW solar power project will be set up in the Dima Hasao district. Skilled labour for the same will be provided by the Skill Development Centre. He also expressed the seriousness of the government to transform Dima Hasao into one of the most progressive regions on all parameters.
Why it matters: Regarding the solar power project, the Assam government stressed the importance of the Integrated Skill Development Centre. The CM iterated that it would play a prominent role in imparting skill training to the youth of the district.
Hefty fines for rear seat belt (Odisha) – The Odisha government will take steps to mandate the wearing of seat belts even for passengers sitting in the rear seats of four-wheelers. Failing to do so will result in hefty fines up to ₹1,000. The transport department joint secretary also specified that seat covers in vehicles should not obstruct the locking and unlocking of seat belts.
Why it matters: The Ministry of Road Transport and Highways is enforcing the rear seat belt rule as a precautionary measure following the death of former Tata Sons chairperson Cyrus Mistry in a car accident earlier this month. The State Commerce and Transport Department sent a letter to the transport commissioner directing them to provide necessary instructions regarding the new rule.
Ration cards for transgender persons (Maharashtra) – In a move that benefits transgender people in the state, the Maharashtra government has released a new order stating that if a transgender person is registered with the State AIDS Control Committee, their application for a ration card will be considered in terms of residency verification and identity proof.
Why it matters: Since transgender people need to face many difficulties to obtain written proof of their identity in order to apply for ration cards, the state government has relaxed the rules. They can utilise the service provided they possess a certificate for the third gender.
Kerala doubles financial assistance to startups (Kerala) – In an attempt to provide a conducive environment for startups to thrive, the Kerala government has doubled the financial assistance to industries and startups, pushing funds from ₹5 million to ₹10 million.
Why it matters: While inaugurating the Kerala State Industrial Development Corporation Ltd (KSIDC) Scale Up 2022, State Industries Minister P. Rajeev stated that startups need to be provided with an atmosphere to grow. He also said that 30% of startups have shut down and the government aims to reduce this number through this initiative.
---
🔢 KEY NUMBER
26 – The recent Archaeological Survey of India rediscovered 26 ancient caves and temples belonging to the Buddhist religion from the 2nd century in Bandhavgarh Tiger Reserve.