October 1, 2022
Good morning. Every Saturday, we publish the results of polls from feature stories that were published the past week. We also give a brief overview of the topics that were discussed.
FYI: Our team will take a break on Sunday (Gandhi Jayanti) and Tuesday (Ayudha Pooja). So, we won't be sending this newsletter on Monday and Wednesday next week. Enjoy the festivities!
---
🗳️ POLL RESULTS – Week 93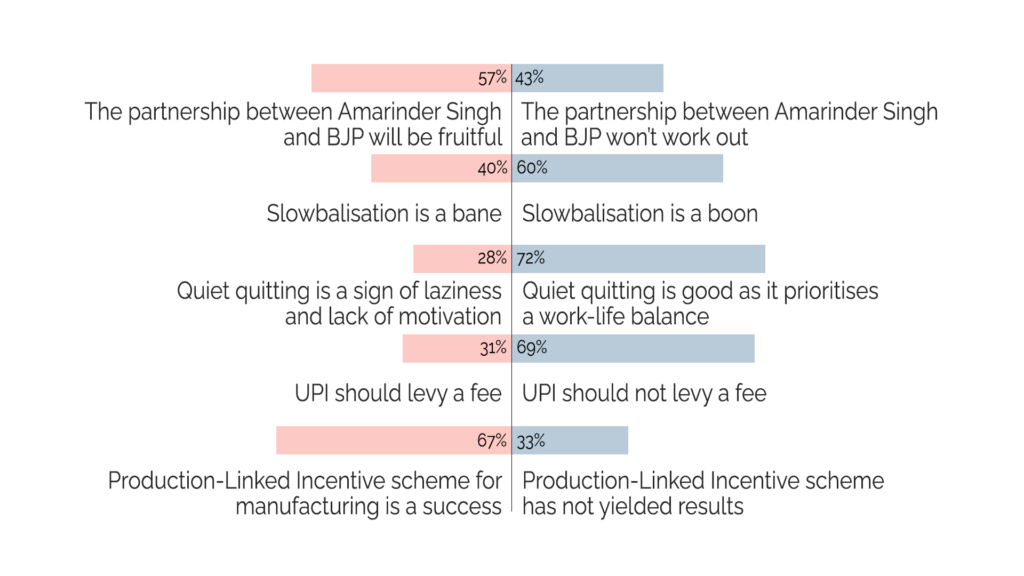 ---
🗓️ THE WEEK THAT WAS
Amarinder Singh & BJP – Will it be a fruitful partnership?
Daily | 26 September 2022
The political landscape in Punjab has changed quite a bit over the past six months. The AAP is now in charge. Amarinder Singh, formerly with Congress, is now with the BJP. Will this unlikely alliance bear any fruit? Or are we underestimating their combined powers? Read more on this here.
Slowbalisation – A Boon or a Bane?
Daily | 27 September 2022
International trade and investment relative to gross domestic product (GDP) have started to decline, multinational companies have witnessed a dip in their share of global profits, and the pace of the world's economic integration has waned. While this may seem like a phenomenon that would negatively impact the economy, slowbalisation could be exactly what the world needs right now. We discuss it here.
Quiet Quitting – Laziness or Rejection of Hustle Culture?
Daily | 28 September 2022
There's a new trend – quiet quitting. It's not exactly what it sounds like. It's not mass resignations. It's the trend of employees strictly following work guidelines, logging off at a certain time, and not taking on extra responsibilities to maintain a healthy work-life balance. Some say this should be the norm, while others think it's lazy for a certain generation. We unpack the debate here.
Should UPI Charge a Fee?
Daily | 29 September 2022
The Reserve Bank of India (RBI) published a discussion paper early last month seeking views on charges in payment systems. In response to this, the Finance Ministry clarified that the government will not levy any charges for UPI transactions. Who should bear the cost of UPI transactions? Read more on this here.
PLI Scheme For Manufacturing – Is It Working?
Daily | 30 September 2022
While in theory, the PLI scheme sounds like an attractive idea to boost domestic manufacturing and investment, analysing the implementation of this scheme through its various facets is important to understand its effectiveness. Read more here.