April 17, 2022
Good morning. Every Sunday, we publish the results of polls from feature stories that were published the past week. We also give a brief overview of the topics that were discussed.
---
🗳️ POLL RESULTS – Week 69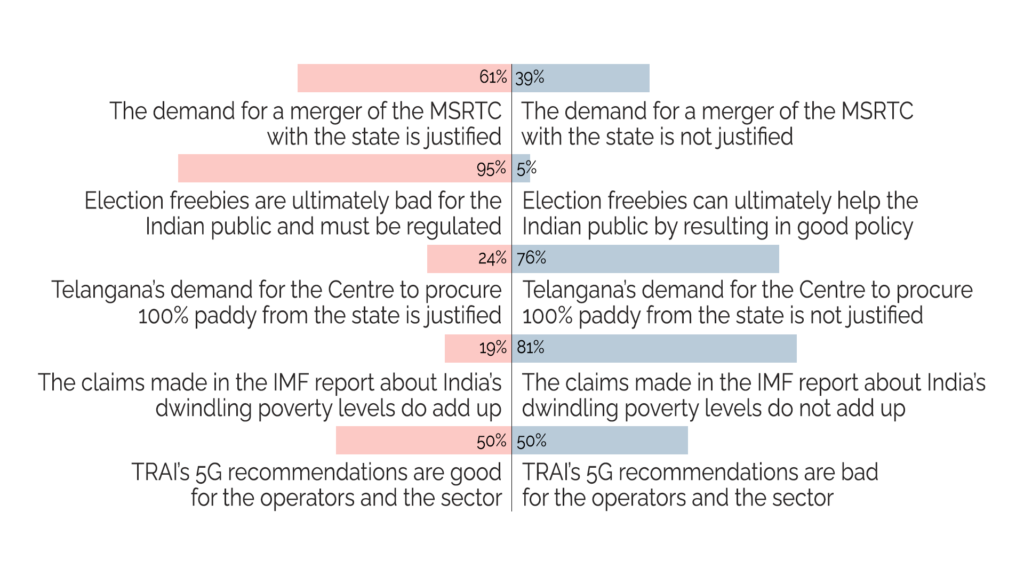 ---
🗓️ THE WEEK THAT WAS
MSRTC Protests – Workers versus Government
Daily | 11 April 2022
MSRTC workers have been demanding the corporation be merged with the state government of Maharashtra, entailing them the requisite benefits of a government employee. However, there are challenges to such a demand which don't seem practical. We look into this here.
Election Freebies: Are they just about policy?
Daily | 12 April 2022
Earlier this year, a petition filed in the Supreme Court called for deregistering political parties that give out "irrational freebies". The court then sent a notice to the Centre and the Election Commission of India (ECI) regarding these handouts, calling them a "serious issue". But the ECI begs to differ. According to them, a freebie is nothing more than a policy decision. Follow this debate here.
Paddy Procurement: Telangana versus the Centre
Daily | 13 April 2022
In the never-ending saga of states against the BJP-led union government, the latest episode has the Centre clashing with the Telangana government, led by K Chandrashekar Rao (KCR) and his Telangana Rashtra Samiti (TRS). This time, the narrative has some familiar beats – farm policies and procurement of crops. We decode this here.
India's Dwindling Poverty Levels: Fact or Fiction?
Daily | 14 April 2022
The IMF recently published a report that went over India's economic successes during the pandemic. What is this success, you ask? Well, that we've managed to practically wipe the country clean of extreme poverty. But critics have found fault with the report. Find both sides to the story here.
TRAI's 5G Recommendations – Impact on the Telecom Sector
Daily | 15 April 2022
India's long-awaited journey of 5G seems to be picking up steam. Telecom Regulatory Authority of India (TRAI) has recently announced some recommendations on the upcoming 5G auctions. While they've done so in the interest of the process and end-users, everyone isn't on board. Read more here.
Rights of Prisoners of War (PoWs)
Know Your Rights | 16 April 2022
Under International Humanitarian Law, an individual has the primary status of either civilian or combatant. Their secondary status is dependent on whether they're captured. Then, combatants become PoWs, and civilians become protected persons. Based on this, their legal rights and privileges are accorded under the laws of war. Read all about this here.