January 9, 2023
Good morning. In today's either/view, we discuss whether India should go ahead with its plans to introduce remote electronic voting machines. We also look at the upcoming maiden cruise service in Rajasthan, among other news.
---
📰

FEATURE STORY
Remote Electronic Voting Machines: Yay or Nay?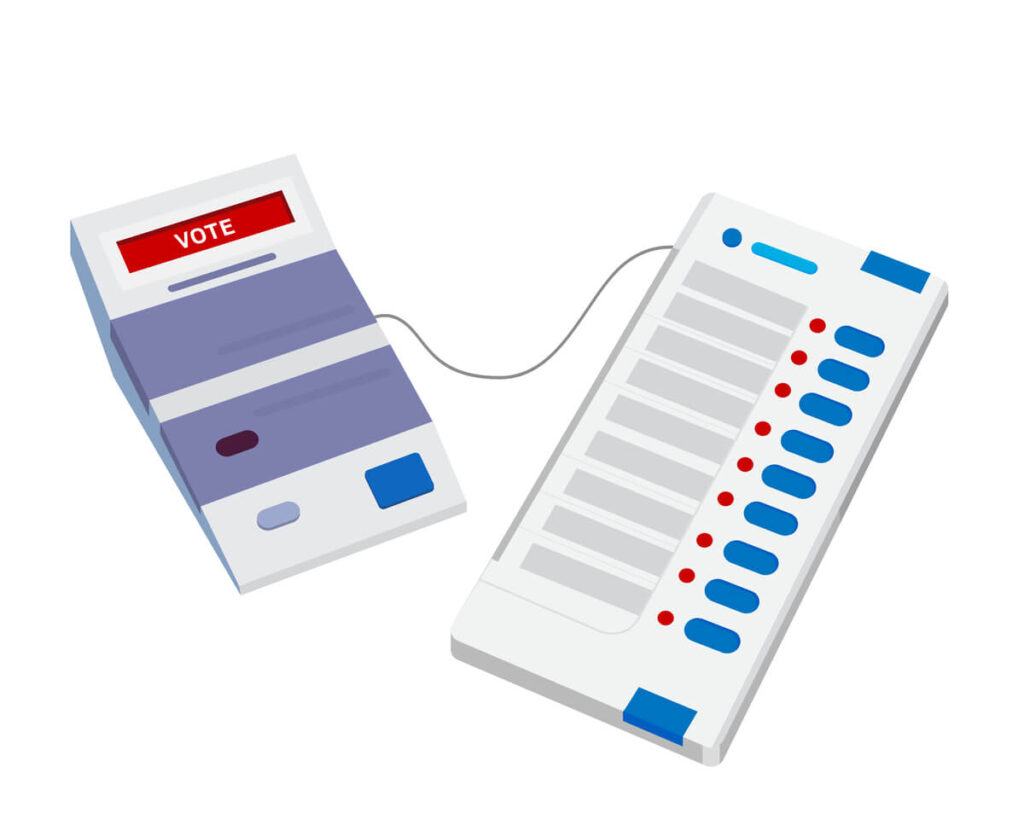 "We can't overestimate the value of computers. Yes, they are great for playing games and forwarding funny emails, but real business is done on paper." Was Michael Scott on to something when he criticized the use of machines for real business in the real world? Was he actually prophesizing the present discourse on India's electoral voting system?
The Election Commission of India (ECI) believes that Remote Electronic Voting Machines could lead to a "social transformation" for migrants who do not register to vote in the area of their work. Opposition leaders, however, allege that these are tamperable devices that undermine India's and the ECI's ethics of free and fair elections. All of the 8 recognized national parties and 57 of the State political parties are invited to the RVM's pilot on January 16th, with the Congress, Trinamool Congress, and Dravida Munnetra Kazhagam having already RSVP'ed no to the RVM's pilot.
Context
On 29 December 2022, the Election Commission of India announced that it was ready to furnish its prototype of Multi Constituency RVMs to tackle the issue of migrant disenfranchisement. This iteration of e-voting allows one to cast a vote remotely on a device that can handle 72 constituencies from a single polling booth.
Elections in India have transitioned from paper ballots to relying almost exclusively on Electronic Voting Machines (EVMs). The former harboured a host of problems, such as vote rigging, forgery, and time consumption, that the automation of EVMs was expected to solve. After their introduction in Kerala in 1982, the ECI experimented with the EVMs by phasing them in select constituencies – just like it plans to do now with RVMs, in the upcoming Assembly elections in 2023. Pilot trials in Switzerland and France have demonstrated that remote e-voting is feasible if designed and implemented well.
So it was that ballot paper was binned, and e-voting became the norm for state and general elections. Yet still, the ECI could not stop the white hand of governments in power and criminally empowered politicians – and electoral tampering persisted. To counter this, the poll watchdog introduced Voter Verifiable Paper Audit Trail (VVPAT), which provides a paper trail of recording immediately to the voter. All state polls conducted since 2015 have used these printing machines effectively, with VVPAT slips reflecting the votes cast to the T.
Today, the ECI expects e-voting to solve yet another problem afflicting the rate of voter turnout. According to their estimates, approximately 30% of the electorate do not exercise their franchise due to a host of reasons, among which migration stands out prominently. Migrants account for more than 38% of India's population. Due to work-related exigencies, this population often ends up foregoing their right to vote. Even if they travel to their home constituency to vote, the effort and costs of travelling are preventable as per the ECI.
The ECI argues that RVMs will make voting easier for migrants and improve voter turnout. For the ECI, voting technology is imperative in designing and implementing free and fair elections. As an elections regulator, it is responsible for setting up electoral voting that fosters India's democratic ethics of equality of votes and free and fair elections.
VIEW: RVMs will strengthen the right to vote
E-voting mechanisms have a proven track record of empowering marginalized populations with accessible voting technology. The staggering number of India's illiterate population, which includes marginalized groups like women, Muslims, Dalits, SCs, STs, OBCs, and the elderly, can exercise their franchise due to the simplicity of EVMs.
Research has found that most Indians trust e-voting processes and view them as contributing to a fair representation of people's choices. While opposition parties are doubtful about voter confidence in the RVMs, this study shows a positive outlook for its acceptance within the electorate.
A Brookings study shows that EVMs and electoral competitiveness are positively correlated. EVMs brought about an increase in the vote share of smaller parties and a decline in the vote share of incumbent parties. Thus, RVMs are likely to bolster the requirements of a procedural democracy wherein all recognized parties have a shot at winning seats in the election.
Simply saying everyone has an equal right to vote does not make it happen. RVMs are a part of the ECI's project to actualize a complete voter franchise in India. The ECI has noted legal, administrative, and technological challenges that could stymie the implementation of RVMs and their use by migrants. Thus, the commission has asked political parties to solicit their opinion on the potential problems of the new system. The devices are to be rolled out in phases to test them experimentally rather than effecting a blanket imposition.
COUNTERVIEW: Okay, but let's fix EVMs first
A pressing concern about the RVMs is that they will inherit the problems afflicting our present EVMs. Security analysis of India's EVMs has revealed that they are sufficiently vulnerable to hardware and software tampering along with spyware attacks.
Despite elaborate safeguards like wax seals and keeping the source code of EVMs secret, these machines are prone to a number of manipulations that can be executed by source code compilers, chipmakers, dishonest electoral officers, and skilled criminals acquainted with the voting set-up.
The introduction of EVMs has increased the scale at which vote tampering can be carried out. Arguments about EVMs circumventing the booth capture tactic of electoral fraud are inexpedient because the scale at which privacy and authenticity of votes can be attacked is larger in EVMs and RVMs than stuffing a ballot box during booth captures. The electromechanical nature of the abetting VVPAT machines leaves them more susceptible to malfunctioning, which according to some, can be entirely prevented by going back to paper ballots.
A robust examination of India's EVMs should precede the extension of the EVM model to RVMs. While the prospect of RVMs cannot be fully rejected, instituting them without addressing the security concerns of EVMs first will only proliferate the existing problems with India's e-voting software and machinery.
In 2007, to discern tampering-associated security risks in California's e-voting system, the Secretary of State commissioned a comprehensive review of the machines' code, machinery design, and operations. In the same year, state officers also discovered serious security risks in Ohio's EVMs.
Reference Links:
What is your opinion on this?
(Only subscribers can participate in polls)
a) Introducing remote electronic voting machines is a good idea.
b) Introducing remote electronic voting machines is a bad idea.
---
🕵️ BEYOND ECHO CHAMBERS
For the Right:
How India's rulers have dashed the hopes of its younger citizens
For the Left:
Raja Rammohun Roy's Pioneering Role in Reviving Interest in Vedanta
---
🇮🇳 STATE OF THE STATES
Turning a drain into a river (Delhi) – The Najafgarh drain, which was once known as the Sahibi River, enters the nation's capital close to Dhansa in Southwest Delhi and travels through portions of West, Central, and North Delhi until joining the Yamuna close to Wazirabad. The length of the drain, 57 kilometres, is more than twice as long as Delhi's Yamuna, 22 kilometres. The Najafgarh jheel, a transboundary wetland that spans the Haryana-Delhi border, is close to where the drain enters Delhi.
Why it matters: The Najafgarh drain is intersected by 126 drains, and along the roughly 12-km stretch between Timarpur and Basai Darapur, where construction is taking place, there are around 52 smaller drains. Around 452 MGD is the flow or discharge rate of the Najafgarh drain (million gallons per day). According to information with the DJB, of this, about 252 MGD is treated effluent from STPs, and 105 MGD is dumped from Haryana through two drains, including the Badshahpur drain. This highlights how crucial this outflow is to the city.
Fortifying Karnataka's coastline (Karnataka) -The Indian Coast Guard (ICG) is installing two new radar stations to increase security along the Karnataka Coast at Kundapura in the Udupi district and Belekeri in the Uttara Kannada district. Currently, radar stations at Surathkal and Bhatkal are being used to monitor Karnataka's 320-km-long coastline. Each radar station has a range of up to 30 nautical miles and the radar camera covers a distance of five to seven nautical miles.
Why it matters: Fishing vessels longer than 20 metres will benefit from Automatic Identification System (AIS) transponders, which will make it easier for the Coast Guard to locate distressed fishermen. The Fisheries Department had requested that AIS be installed on vessels when renewing licences. The radar stations were installed as part of the coastal monitoring network following the Mumbai terrorist attack of 2008.
Bengal receives platinum award (West Bengal) – President Droupadi Murmu presented the West Bengal administration with the "platinum award" at the "Digital India Awards" on Saturday. The awards were established by the Centre's Ministry of Electronics & IT. The highest category of honour is platinum. On behalf of the state government, Chandrima Bhattacharya, Minister of State for Finance (Independent Charge), accepted the honour.
Why it matters: Camps are built around the state as part of this programme, which was launched after the Trinamool Congress secured a third term in office in 2021. The general public visits the camps to take advantage of the schemes launched by the state government. There were 3.6 lakh camps, and 6.6 crore individuals took use of a variety of government services under one roof. Additionally, Mamata Banerjee, the state's chief minister, initiated a special "door-to-door government" campaign and mobile camps for residents of the state's marginalised and tribally predominant districts.
Maiden cruise service in Rajasthan (Rajasthan) – The newest attraction in Ajmer, Rajasthan, which is known for the Brahma temple at Pushkar and the shrine of Sufi saint Khwaja Moinuddin Chisti, would be a double-decker cruise with a 150-person capacity. The boat will travel across the city's Ana Sagar lake. The cruise service is anticipated to begin in the first week of March.
Why it matters: The cruise service will be the first of its kind for the state. Rajasthan is one of India's hottest tourist hotspots. Tourists flock here to experience the rich culture and visit the magnificent forts of the state, especially the ones in the capital city of Jaipur. The Municipal Corporation of Ajmer expects to earn a total of ₹66.5 lakhs every year as revenue from the cruise service.
The Saharsh Programme (Tripura) – The Tripura government on Saturday introduced a special education programme titled 'Saharsh' in an effort to encourage social and emotional learning. Saharsh was pilot-tested in 40 state-run schools in August of last year. It will be extended to all government and aided schools in Tripura from the second week of January. A similar programme that Harvard and Columbia Universities discovered to be beneficial in social and economic development is also being contextualised with the country's unique conditions before being implemented in Tripura.
Why it matters: Considering how poorly India is faring in terms of mental health, this step is a very valuable one. The department of education for schools has implemented 36 changes in the last five years, while the department of higher education has implemented 19, which is the highest in the nation.
---
🔢 KEY NUMBER
3rd – India surpasses Japan and becomes the 3rd largest automobile market in the world.