January 10, 2023
Good morning. In today's either/view, we discuss whether setting up the Village Defence Guards in Jammu and Kashmir is an effective counterinsurgency strategy. We also look at the updates regarding the disaster-prone Joshimath in Uttarakhand, among other news.
---
📰

FEATURE STORY
Village Defence Guards: An effective counterinsurgency strategy?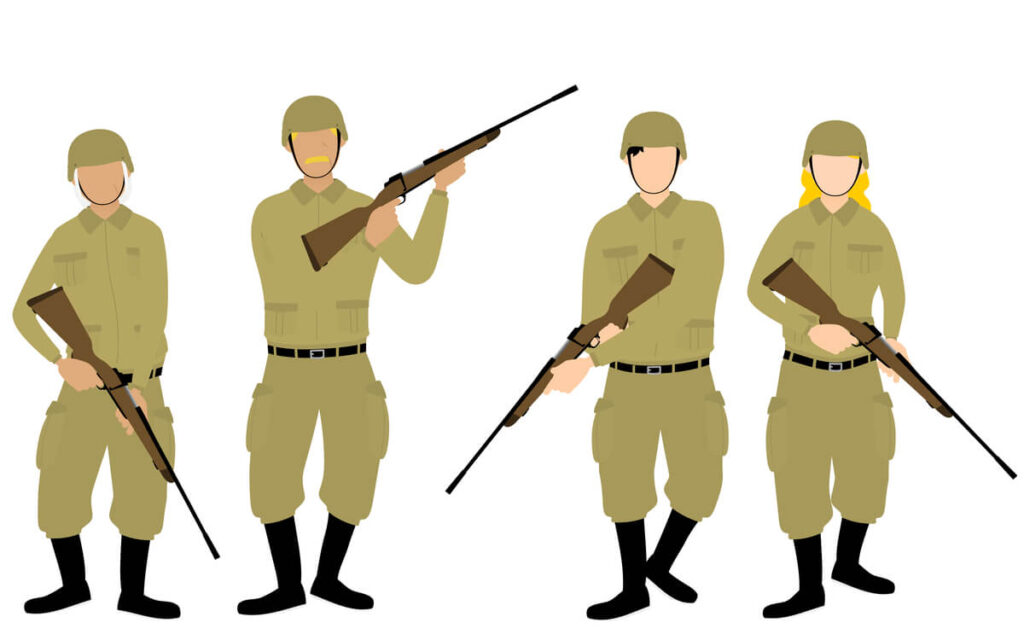 In the aftermath of violence in Jammu and Kashmir's Rajouri district, authorities are distributing weapons to members of Village Defence Guards (VDG), formerly Village Defence Committees (VDC), in the district's Bal Jallaran village. For people in Rajouri, the new year commenced with two consecutive insurgent attacks killing six civilians and injuring 15 others.
During the first attack, an ex-VDC member Bal Krishnan, opened two rounds of fire at the insurgents, thereby preventing further casualties. Locals in the area demanded that VDGs be revived in the district and that they should be supplied with arms, a demand the authorities delivered on.
Context
Let us begin by demystifying violence in Kashmir. Despite multiple claims of a diminished conflict by ministers from the incumbent union government, J&K is witnessing both new and old patterns of violence. In December 2022, Anurag Thakur produced some dubious numbers to argue that violence in the area had decreased during the two terms of the BJP rule in the Centre. The additional director-general of police (ADGP), Vijay Kumar too, claimed that the insurgency was primarily fomented by foreign militants and fewer local insurgents.
This is despite evidence from conflict researchers about the emerging trend of targeted killings of minorities in the area that has revived after decades since December 2020. The government prophesized that abrogation of Article 370 would effectively end militancy and engender normalcy. The Ministry of Home Affairs (MHA) has regularly defined violence in Kashmir as a threat from "across the border".
Available data, however, paints a different picture. Since 2019, newer and seemingly non-religious armed outfits have consolidated their underground bases and emerged at the forefront of targeted killings. Insurgent recruitment, too, suggests a homegrown insurgency galvanizing in J&K. Local, educated youth with no previous criminal record or links to militants have claimed responsibility for the recent wave of attacks.
Amidst this furore of resistance, in 2022, the MHA sanctioned the creation of VDGs to strengthen the government's intelligence and counterinsurgency grid against "terrorist acts inspired and supported from across the border". The previous VDCs, too, were constituted in the mid-nineties in response to the spread of homegrown militancy since 1989. VDCs and VDGs are voluntary pro-government groups of civilians armed by the state to fend off militant attacks.
Typically, VDGs are set up in remote areas where poor roads and infrastructure prevent an expedient response from security forces (SF). VDG members are trained by the SF to maintain security in their neighbourhoods through routine patrolling and the use of arms. Besides this, they also function as valuable informants for the state.
There are more than 4,248 VDGs across the UT. Presently, the VDGs are receiving majoritarian public sanction from the Hindu community in the Jammu district. In 2019, Senior PDP leader and former MLC Firdous Tak alleged that the project of revamping VDCs was focused on communally-sensitive areas and saw participation from BJP and RSS workers to fuel communal antagonism. In the same year, a Kishtwar SSP also revealed that Hindus from Jammu constituted a major chunk of the cumulative demands for VDCs.
VIEW: Trust the process
From a conflict resolution perspective, VDGs possess the benefits of arms training minus the risks associated with autonomous militias. The structure of these groups as voluntary vigilante coalitions with a degree of weapons and defence training ensures that they provide enough of a threat to potential insurgent attacks without compromising the safety of their neighbourhoods. Rather than contributing to factionalizing the conflict, these groups bolster the state's security net at a grassroots level.
VDGs will be constituted in government-identified "more vulnerable areas" to effect a controlled dispersion of weapons and arms training to civilians. This means that the state saves operational costs of the counterinsurgency while instilling a sense of empowerment among civilians caught in the crossfire. In recent years, the VDC has received widespread approval from the Hindu community in J&K. After the Dangri violence, women from the area admitted that being part of VDGs would help them feel more secure.
Trained vigilante groups can also improve counterinsurgency intelligence, making violence more selective. The state can potentially overcome asymmetries in its information by training VDG members in the basics of information gathering, as it proposes to do. Put simply, this means that VDGs help minimizes the problem of differentiating insurgents from civilians that plagues homegrown insurgencies. Theoretically, a vast intelligence net composed of local informants should lead to the selective use of violence as opposed to indiscriminate.
COUNTERVIEW: Can't ignore history
The trajectory of VDGs in Kashmir's conflict is not promising. Since their inception, the people of J&K have routinely protested against the groups because of their criminal engagements. The fact that successive governments have denied these groups remuneration suggests a lack of faith in the capacity of vigilante groups. To equip civilians with guns implies a state sanction over the locals' possibly misguided sense of justice. Think America.
VDGs have a history of creating new faultlines and ossifying existing communal differences. The last time the state empowered VDGs, most volunteering members were Hindus and Gujjars. In 2013, Hindus comprised 96.56% of the VDC in the Kishtwar district. Their operations contributed largely to polarizing the conflict around religious and ethnic faultlines. Members of the former VDCs primarily targeted Muslims based on prejudicial forethought.
Legalizing vigilantism is a counterproductive solution for deterring violence. Empowering civilians to supplement security forces during their absence authorizes a high degree of unchecked violence. VDCs have a notorious history of perpetrating torture, extra-judicial killings, and illegal detention. Data from 2016 reveals that there are 221 FIRs against former members. The nature of their reported crime ranges from murders and rape to rioting and other cases.
It is also worth considering whether the world's most militarized zone will benefit from vigilante groups. And if so, will the state's counterinsurgency strategy initiate any form of demilitarization?
Reference Links:
What is your opinion on this?
(Only subscribers can participate in polls)
a) Village Defence Guards are an effective counterinsurgency strategy.
b) Village Defence Guards are not an effective counterinsurgency strategy.
---
🕵️ BEYOND ECHO CHAMBERS
For the Right:
Why is BJP fearing the caste-based census in Bihar?
For the Left:
Is the opposition facing ideological bankruptcy?
---
🇮🇳 STATE OF THE STATES
Joshimath declared disaster-prone (Uttarakhand) – Joshimath has been designated as a disaster-prone area, according to Chamoli District Magistrate Himanshu Khurana, and two central teams will soon arrive to examine the situation. Officials claim that 68 households have temporarily been displaced due to fractures developed in the houses and roads of the town. According to the local government, impacted individuals have been relocated to relief camps with basic provisions.
Why it matters: Joshimath, a "sinking" town in Uttarakhand, has been deemed disaster-prone after officials were forced to evacuate a large number of residents as a result of cracks appearing in buildings and on the roadways. The worrying scenario has been attributed by experts to unplanned infrastructure growth, notably hydropower projects. A hydropower project being built nearby, according to DM Banerjee, a scientist at the Indian National Science Academy, contributed to the problem.
Centre Awards Kerala For MSME Boom (Kerala) -The "Best Practices" award from the Central government was given to the Kerala Industries Department's "Entrepreneurship Year," which resulted in the formation of one lakh MSMEs in 2022. According to a press release, the Centre praised Kerala's commitment to foster entrepreneurship and chose the state's "Entrepreneurship Year" programme during a national summit of state chief secretaries presided over by Prime Minister Narendra Modi in New Delhi.
Why it matters: The goal of Chief Minister Pinarayi Vijayan's "Entrepreneurship Year" campaign, which he introduced on March 30 with the intention of creating one lakh MSMEs in the fiscal year 2022–2023, was met in November. The programme also broke records for the shortest time to launch an MSME, the creation of basic infrastructure, and the proportion of women who applied to launch an MSME, according to Industries Minister P Rajeeve, who also noted that the effort resulted in the creation of two lakh new jobs.
Porter Teaches Unprivileged Kids (Odisha) -With the emergence of Covid-19 and the ensuing Lockdown, 31-year-old Ch Nageshu Patro of Odisha's Ganjam district lost his source of income, like millions of other people throughout the nation. Nevertheless, Patro, a postgraduate, continued instructing the disadvantaged tenth-graders from his neighbourhood during the lockdown. Patro has returned to his former vocation as normalcy has gradually returned to the nation. He still teaches, though; he has now built a coaching centre for these students and has even recruited teachers to work there. During the day, he serves as a guest professor in a private college, and at night, he works as a porter.
Why it matters: While education is a right of every citizen, it is not uncommon for destitute kids to remain uneducated. Due to their financial situation, Patro's parents were unable to cover the cost of his high school exams. He quit school and moved to Surat to work at a mill, where he remained for two years. Later, he travelled to Hyderabad to work at a shopping centre. He finished his graduate studies during this period.
Rajat Chauhan Mentors Young Archers (Rajasthan) – Arjuna Awardee Rajat Chauhan has been teaching archery to several young archers since his playing days. He has mentored approximately 25 young archers while practising at Sawai Man Singh Stadium for more than two decades, and he still does so. He captured the attention of the media and India's archery community for the first time in 2015 by placing second in the individual division at the World Championship in Copenhagen.
Why it matters: Two of his pupils, Swati Dudhwal and Priya Gurjar, have already attained the level required by other countries. Swati has already won the Asian Championship's silver medal. She even won Rajasthan's top sporting honour, the Maharana Pratap award. She won gold at the World University Games as well. Priya Gurjar won silver in the women's team events at the World Championship that was held in the USA last year while also winning gold in the cadet women's and mixed team competitions.
'Illegal' Settlers Flee Forests (Assam) – On Monday, a large number of "illegal squatters" were spotted carrying away their things as the authorities finished making preparations for an eviction campaign to clear 500 hectares of forest land in Assam's Lakhimpur district. While some people trudged out with their luggage piled on their bicycles. others were spotted carrying their possessions onto trucks. Along with their parents, children could be seen leaving the house holding packages on their heads. The majority of people impacted were Bengali Muslims.
Why it matters: The leaders and locals assert that prior land ownership documentation had been provided to them. They said that the Assam government, which is currently run by the BJP, rejected the documents. According to Anwarul, the All Assam Minority Students' Union district secretary for Lakhimpur (AAMSU), these locations have been home to the locals for many years. Roads and Anganwadi centres were established by the government, houses were constructed via the PMAY programme and were also provided with electricity. He questioned how these people were receiving government assistance if they were residing there illegally.
---
🔢 KEY NUMBER
100% – Jyotiraditya Scindia, the Union Civil Aviation Minister, said on Saturday that the number of airports in the nation increased by 100%, from 74 in 2014 to 148 in only eight years.