December 25, 2021
either/view ⚖️
To those who save lives
To: either/view subscribers
---
KNOW YOUR RIGHTS – EDITION 20
Rights of Medical Practitioners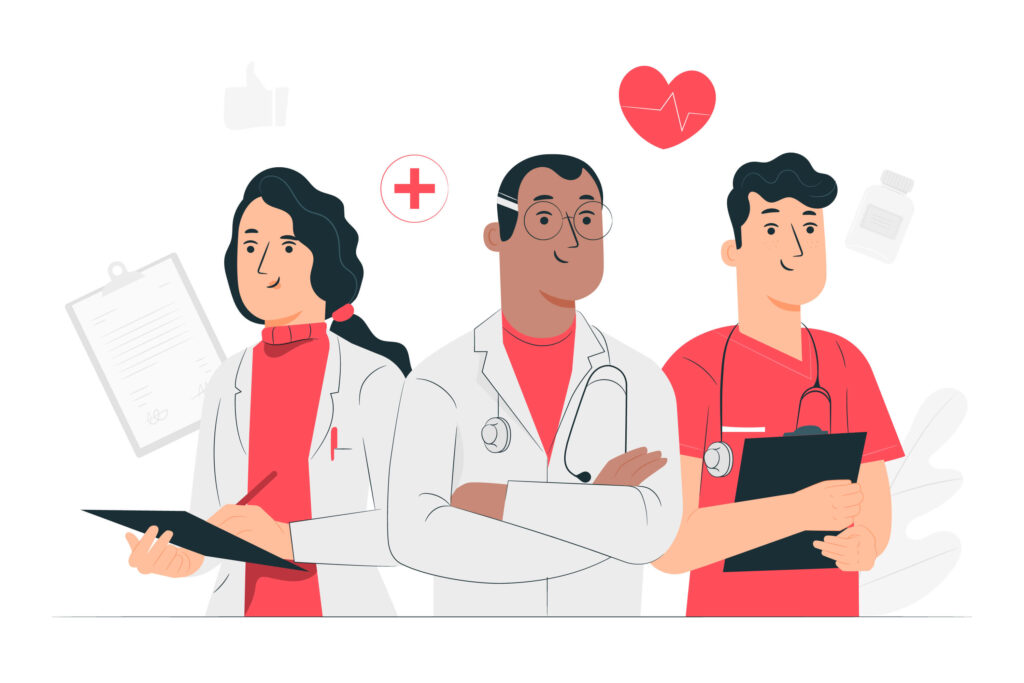 Good morning. We wish you a Merry Christmas!
If one thing has become clear over the past year and a half, doctors and healthcare workers are invaluable to society. They have risked their lives on the front lines of the coronavirus pandemic. It is no secret that India's healthcare infrastructure is often shoddy. It only makes their jobs that much harder. 
India is a party to the International Covenant on Civil and Political Rights and the International Covenant on Economic, Social, and Cultural Rights. The Indian constitution has provisions that guarantee the right to the highest attainable standard of physical and mental health. Given the importance of their profession, they have many of the same rights as workers in other sectors.
Workers' rights for medical professionals
Starting on a general note, in India, the law relating to labour and employment comes under Industrial Law. It was developed to grant greater protections for workers and their rights. Broadly, it encompasses the connections between the workers, employers, and government. It deals with terms of employment and conditions of labour.
For the medical profession specifically, one question is whether the type of work a doctor undertakes is manual unskilled, skilled, technical, operational, or supervisory? To be clear, 'healthcare professional' is a broad term. It includes physicians, dentists, nurses, pharmacists, therapists, psychologists, physical therapists, optometrists, paramedics, etc. It also includes other individuals regulated or licensed to provide some form of healthcare.
The judiciary has weighed in on this issue. In Bengal United Tea Co. v. Ram Labhaya, the court stated that a medical officer's work is of a technical nature. However, in another case, a division bench of the Kerala High court said a consultant physician employed by a hospital does not fall within the definition of a workman, as defined by the Industrial Disputes Act, 1947.
Roles and Obligations
Doctors and healthcare workers have the same fundamental personal rights as everyone else. However, as medical practitioners, they also have responsibilities, given the nature of their job.
Article 21 of the constitution imposes an obligation on the State to safeguard the right to life of every person. With this context, medical professionals have some roles and responsibilities:
The primary responsibility of a medical professional is to provide the highest quality care available to a person and ensure that their wellbeing is paramount. They should make sure that the patient is safeguarded from risks and complications.
Every medical professional should maintain medical records from the beginning of treatment as laid down by the Medical Council of India. They should also maintain a Register of Medical Certificates.
Every medical professional should display their registration number accorded to them by the State Medical Council / Medical Council of India.
A medical professional should abide by the laws and regulations concerning their job. They should be aware of and obey laws like the State Acts like Drugs and Cosmetics Act, 1940; Pharmacy Act, 1948; Narcotic Drugs and Psychotropic substances Act, 1985, to name a few.
Confidentiality should be maintained concerning the patient's treatment, medical, personal, and family history. This information can only be divulged with consent in extraordinary circumstances.
Negligence and criminal liability
If a doctor fails to do their profession properly or any lapses occur in their work, they are open to criminal liability. They can be tried and prosecuted in a court of law. Criminal law for doctors is different than it is for others. Because, given their nature of work, they can cause injury while trying to prevent more harm.
Under the Consumer Protection Act, 1986, patients have rights concerning negligence by a medical professional. There was an initial debate on whether the medical profession should be included in this Act. The Supreme Court said it should.
Criminal liabilities in medical care come under different sections of the Indian Penal Code and the Code for Criminal Procedure. However, criminal law offers doctors some protection with three defences – informed consent, necessity, and good faith.
Protection in the workplace
During the course of the pandemic, there have been multiple reports of doctors and nurses being abused and harassed while carrying out their duties. It led to protests and strikes by doctors in various states and cities demanding better protection. Before the pandemic, one example was in Pune in 2019, where doctors refused to treat patients who physically or verbally harassed them. As per the Medical Council of India rules 2.1.1, doctors have a right to refuse or choose a patient.
Some laws provide medical professionals protection from abuse and harassment:
Protection Of Medicare Service Persons And Medicare Service Institutions (Prevention Of Violence And Damage To Property) Act
At least 19 states have passed this legislation. It covers doctors working in institutions and independent practitioners. Anyone prosecuted under this law can receive a jail sentence of up to three years and a fine of ₹50,000.
The law does have shortcomings. It is not as effective as it doesn't have the Indian Penal Code (IPC) or the Code of Criminal Procedure (CrPC). Hence, doctors and healthcare workers find it cumbersome to approach the police and file complaints. Dr Rajan Sharma of the Indian Medical Association said requests for a central law for years have fallen on deaf ears.
Delhi Medicare Service Personnel and Medicare Service Institutions (Prevention of Violence and Damage to Property) Act, 2008
The National Capital Territory of Delhi does have a law to protect doctors. Here are some of its important components:
It prohibits acts of violence against medical professionals or damage to property of a medical care institution.
It defines violence as activities or actions that cause harm, injury, intimidation, obstruction, hindrance, or endangerment to the life of a medical professional.
The Act defines medicare service professionals that include registered medical practitioners, nurses, nursing aides, midwives, paramedical workers, ambulance service providers, among others.
Those prosecuted and punished under this law face imprisonment of up to three years and/or a fine of ₹10,000.
Health Services Personnel and Clinical Establishments (Prohibition of Violence and Damage of Property) Bill
In 2019, the Ministry of Health proposed passing this piece of legislation. Here were its components:
The definition of healthcare personnel was fairly wide and included doctors, dentists, nurses, paramedical staff, medical students, diagnostic service providers, and ambulance drivers.
Those found guilty of causing harm to a medical professional could face imprisonment for up to 10 years.
Those who assault a healthcare professional can be fined as much as ₹10 lakh.
It was supposed to be tabled in the 2019 Winter session. However, the Ministry of Home Affairs rejected it. The reason given was there was no need for a separate law to check violence against healthcare professionals. The Ministry said the IPC and CrPC have enough provisions to deal with cases.
Epidemic Diseases (Amendment) Ordinance 2020
The law, passed in September 2020, is an amendment to the Epidemic Diseases Act, 1897. It punishes those who attack health workers or doctors on the frontlines of the pandemic. Per the Health Ministry, the law is meant to introduce a zero-tolerance policy on violence against those in the healthcare sector. It included a penalty ranging from 50,000 to ₹2 lakh.
However, some opposition leaders criticised the legislation saying it allows the Centre to interfere with how Chief Ministers run their state. The ordinance is inadequate as it only covers acts of violence during an epidemic. It doesn't address the fact that these instances are structural and systematic.
When it comes to the pandemic specifically, there is no central database on positive cases and deaths of medical professionals. Safety and protection go beyond dealing with unruly patients and family members. Healthcare workers have spoken about the lack of Personal Protective Equipment (PPE), safe and hygienic quarantine facilities, mental support. As Shreya Shrivastava, Research Fellow, Vidhi Centre for Legal Policy, wrote, current laws and frameworks should be updated, and occupational safety should be paramount. It would help move the healthcare sector towards a more resilient post-Covid future.