September 13, 2023
Good morning. In today's either/view, we discuss whether AI should be part of the education sector. We also look at the anxiety of apple growers in J&K, among other news.
---
📰 FEATURE STORY
Should AI be part of the education sector?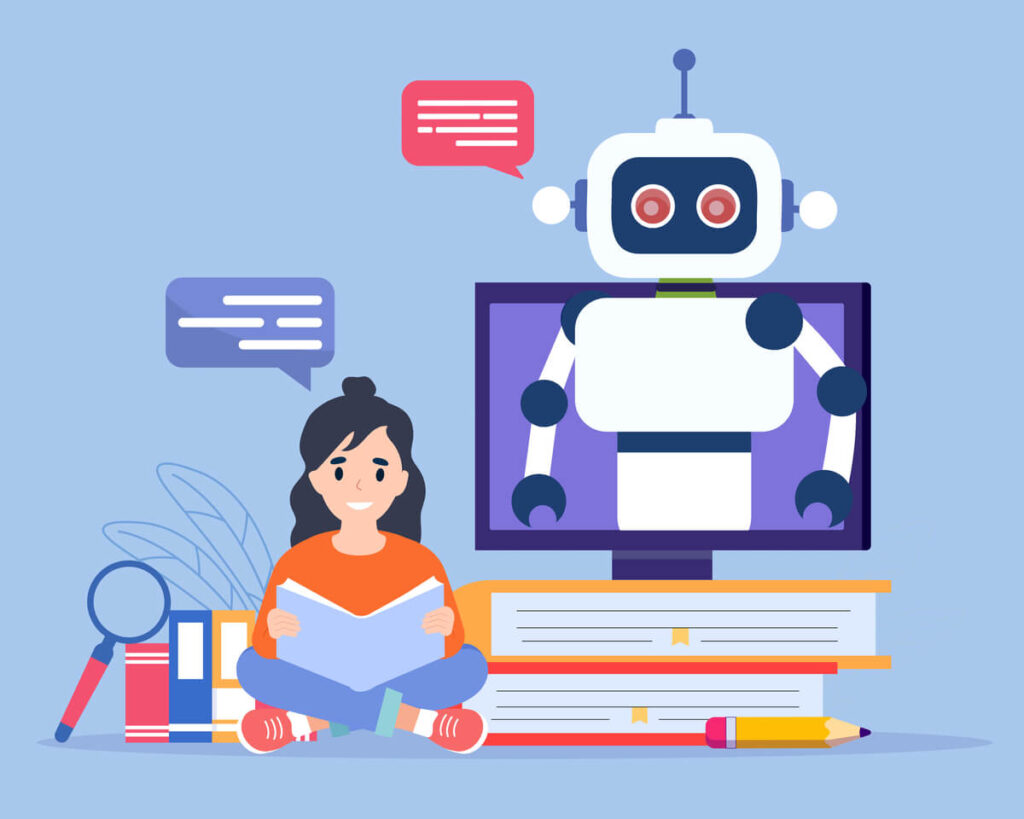 While 'my dog ate my homework' can no longer be an acceptable response as things move online with platforms like Google Classroom, 'my AI gained sentience instead of doing my homework' can be the next big thing.
Since the advent of ChatGPT, Artificial Intelligence (AI) has become integral to our daily lives impacting industries one might never have thought possible before. As such, its natural progression has also got to be in the education sector. While numerous college students deputise their pending essays to AI tools as you read this, threats of AI have also emerged necessitating a thorough consideration of AI's inclusion in education. Apart from scientists par excellence such as Stephen Hawking advocating against the creation of AI, our understanding of a threatening malevolent AI majorly comes from science-fiction works… but what else is there in AI for humanity's benefit?
Context
The 30th of November, 2022 marks the date when the wider world got swept in the AI tide. With the release of ChatGPT and its several iterations since, we have realized the potential AI has to change our lives, so far for the better. ChatGPT, which is only one (although the most popular) representative of AI's potential, is in essence an AI chatbot that operates on a 'Generative Pre-trained Transformer' model. Simply put, it provides responses to a user's input in a 'natural language' based on the tomes of information it has been (and continues to be) trained on.
With ChatGPT being just the proverbial tip of the 'AIceberg', EdTech companies have started personalizing learning experiences, identifying knowledge gaps, and providing targeted feedback through eLearning solutions, combining AI with Knowledge Space theories (something that helps formulate mathematical models for the progression of a learner). AI has also been helping make learning experiences interactive and engaging for students to grasp concepts and retain information. In addition to e-proctoring software, the AI education market is predicted to cross $20 billion by 2027.
As of now, AI tools mostly comply with three basic principles – Learning, Self-correction, and Reasoning. The tools themselves can be broadly divided into four categories of which two remain well-developed and popularly used now: Assisted Intelligence ('Assist' in making decisions) and Automation (of routine tasks).
Thus, these tools merely support the experts by improving the teaching-learning process for individuals and are a far cry from the mass replacement of human labour.
Education platforms like Coursera and Duolingo have long been in the process of implementing AI (via adaptive learning paths) in their services. Firms such as Content Technologies and Carnegie Learning are also in the process of developing more AI tools for the education sector. Countries such as Oman have already begun the process of developing a K-12 AI curriculum.
AI's contribution to education has been deemed necessary by organizations such as the United Nations, which considers it contributing toward realizing Sustainable Developmental Goal 4 (SDG4). The SDG4 relates to access to quality education. The Beijing Consensus has generated a shared understanding of the opportunities and challenges that AI offers for education, as well as its implications for the core competencies needed in the AI era. However, as we keep goals like 'AI for All', less than 10% of the schools worldwide have 'formal guidance' on AI.
VIEW: AI supplements the existing education sector
Before one enters into the specific impacts and positives of AI for the education sector, it needs to be acknowledged that AI is transforming the job market. With increasing demand for professionals skilled in AI and related fields, it would be criminal to take away an important employable skill from students.
AI solutions for education, upon analyzing enormous data sets and using sophisticated algorithms, have been able to come up with personalized and adaptable learning experiences. As each individual has different learning needs and styles, AI tools can do justice where traditional en masse classroom models may not be effective. Conversational AI with natural language processing, like chatbots and virtual tutors, offer quick assistance, promoting independent learning and 24/7 support even to kids who would generally be shy in asking doubts.
AI also helps produce 'Smart Content' based on rigorous research with lingual translations and audio/visual impaired adaptations in real-time. Data-based feedback systems would remove teachers' bias from the learning process (we all have that one teacher we hated) while also identifying early signs of struggle via Predictive Analytics. These early interventions could mean that students who may have otherwise failed or struggled have the opportunity to become 'successful students'.
In addition, AI tools help automate grading and several administrative tasks that teachers are often roped in for, giving them time to enrich their teaching.
A basic understanding of AI systems would also enable students to engage and ideate with AI technologies safely, responsibly and ethically in a protected environment. However if students are restricted from AI access citing economic feasibility as a concern, we might also risk AI systems perpetuating their biases due to a lack of exposure to diverse perspectives.
COUNTERVIEW: Concerns aplenty with AI
Before one can talk about implementing AI across the educational sector, checking the progress of implementing older digital initiatives is enough to humble oneself. In India, only a third (35.3%) of government schools have "functional computers" (to say nothing of their usage and operators yet). If AI education is not to be made only an elitist facility, with our current levels of technological and accessibility gap we'll have to be mindful of widening the schism of 'No Child Left Behind'.
Several teachers who have already struggled to keep up with the digital advancements since the pandemic (especially in government schools which cater to the larger population) will find it difficult to integrate with these technologies. In addition to their training, dole-dependent educational institutes will also find the purchase of these technologies to be draining.
In addition to these logistical issues, the much-hyped AI tech has proved short in several aspects such as basic arithmetic. Its dependence on user-generated training data has also led to its "dumbing-down" in several key aspects. AI models have also been infamous for their Euro-centric bias emanating from the skewed data sets they have been trained on. Potential reinforcements of such biases or stereotypes can have severe negative impacts on a developing child's psyche.
'Personalization' has been touted to be a key positive of AI's integration with education. However, such personalized lesson plans also have the potential of becoming hyperfocused on certain topics and might impact the overall holistic development of a child.
The Revised Bloom's Taxonomy (which categorises different stages of learning) places 'creation' to be the final stage. However, the nature of these 'generative' AI interventions appears to kill the 'raw thinking' process necessary to be developed in one's formative years. Thus, we might not be providing our children with critical thinking and problem-solving skills in this way which are a necessity for today's world.
Reference Links:
What is your opinion on this?
(Only subscribers can participate in polls)
a) AI should be introduced immediately in the education sector.
b) AI's introduction in the education sector can wait.
---
🕵️ BEYOND ECHO CHAMBERS
For the Right:
No Real Gain: G20 Delhi Declaration Offers Mere Lip Service to Pressing Global Issues
For the Left:
Why have Dalits embraced the BJP, a Hindutva party they once derided as 'Manuvadi'?
---
🇮🇳 STATE OF THE STATES
Apple growers anxious (Jammu & Kashmir) – Apple growers in the Kashmir valley are worried about the recent decision to relax the 20% import duty on apples from the US. Farmers in the valley have always wanted a 100% import duty to ensure they get better returns. Majid Aslam Wafai, Chairperson of the All Kashmir Fruit Growers Dealers, said they'll keep insisting on higher duties. Opposition parties, including Congress, have asked the government to reverse the decision.
Why it matters: The apple industry in the valley has been going through a rough time with a dip in apple prices. Apple growers in the valley have been experiencing losses since 2019. J&K produces 73% of the total apples grown in the country. In 2022, apple production in J&K was over 20 lakh tonne. It's likely to reach 23 lakh tonne this year.
Improving water availability (Telangana) – The redesign of the Palamuru-Rangareddy Lift Irrigation Scheme (PRLIS) has helped improve Telangana's water availability. It enables the state to lift 2.4 TMC of water per day from the Krishna River. This is more than the proposed 0.5 TMC in the erstwhile Andhra Pradesh. In the Jurala project, for example, the total allocated capacity is 17.84 TMC. With the changes, the state will reach 75.94 TMCs as it can now lift around 2 TMCs per day.
Why it matters: Telangana primarily relied on the Krishna and Godavari River Basins for water supply. This meant it was vulnerable to droughts during periods of low rainfall. Water projects in Andhra had a total capacity of 1,232 TMC, while Telangana's share was only 302 TMC. With a capacity of 147 TMC, there's also the Kaleshwaram project that helps serve the state's diverse water needs.
Congress poll panels (Chhattisgarh) – The All India Congress Committee (AICC) set up various committees of the Chhattisgarh Congress in preparation for the upcoming elections. Assembly Speaker Charan Das Mahant was appointed the Election Campaign Committee chairperson. He is seen as a neutral face accepted by the different factions in the state.
Why it matters: 29 of the 90 assembly seats in the state are reserved for Scheduled Tribes (STs), and 10 seats are reserved for the Scheduled Castes (SCs). The party hopes the blend of new younger faces and veteran tribal leaders like former MLAs Ganga Potai and Pushpa Devi Singh will help its prospects. A few weeks back, the party set up four panels, including an election manifesto committee.
Cases against quota protestors dropped (Maharashtra) – Chief Minister Eknath Shinde announced the state will drop the cases against those who protested in Jalna demanding reservations for Marathas. In the aftermath of the protests, the police arrested 40 people and registered cases against 600 people in connection with the violence. Shinde said the state government will prove that the Maratha community is backward on social and educational grounds.
Why it matters: Earlier this month, clashes erupted in Jalna between the police and protestors, leaving dozens injured. The leader of all parties in a meeting urged Maratha leader Manoj Jarange-Patil to call off his hunger strike began on August 29. In 2018, the BJP-led government approved a 16% reservation for Marathas in jobs and education following statewide protests. The Supreme Court stayed the decision in 2020. The following year, a larger bench called it unconstitutional.
BJP's manifesto (Mizoram) – The BJP introduced an ambitious election manifesto at its party headquarters in the state. It included a proposal to provide every citizen ₹5 lakh. State BJP President Vanlalhmuaka said it's important for the BJP to come to power to ensure the development of the state. He cited the example of the state's poorly maintained roads. He blamed the current government and the electorate for allowing other neighbouring states to have better infrastructure.
Why it matters: As the state gears up for elections, the BJP is looking to dethrone the Mizo National Front (MNF), which has been in power since 2018. At the time, the BJP managed to win only one seat while the Zoram People's Movement (ZPM) won eight. Given the significant Christian population in the state, the BJP will have its work cut out, considering church leaders have expressed concern over attacks on their academic institutions.
---
🔢 KEY NUMBER
59% – The ANAROCK Consumer Sentiment Survey showed that 59% of respondents prefer mid-range and premium homes. This is a 10% increase from the corresponding period in the survey's 2020 edition.