August 4, 2022
Good morning. In today's either/view, we discuss whether India should legally mandate hybrid workspaces. We also look at the fear of famine in West Bengal, among other news.
---
📰

FEATURE STORY
Should Hybrid Workspaces Be Legally Mandated?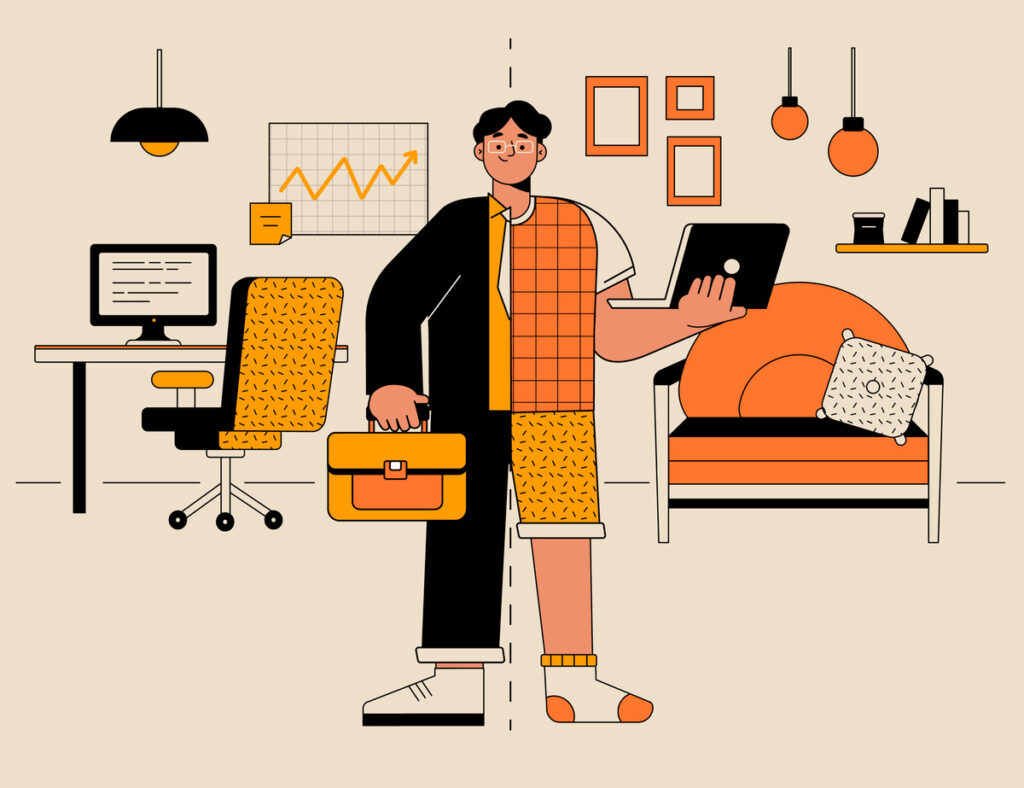 Against the backdrop of the lockdowns imposed due to the Covid-19 pandemic, the definition of a workspace changed drastically. Although this model has been debated in the past, many companies were forced to transition into hybrid or remote working conditions. As the pandemic is entering its endemic stage, many sectors are aware of the merit of continuing with hybrid workspaces while other sectors have encountered some obvious drawbacks.
While some countries are considering making the hybrid model permanent by imposing laws for the same, Indian employers are still hesitant. Should hybrid workspaces be legally mandated in our country?
Context
Currently, the laws that govern Indian employment are primarily framed around a physical workspace. While some companies are open to adopting a hybrid working model, others highlight the many challenges that may come with it. Some of these are inadequate working infrastructure at home, exercising control over employees, lack of exposure to the employer's work culture, and many others.
While there are no laws regulating remote work in India, the government has taken a few steps toward encouraging remote work through some initiatives.
While these legislations promote hybrid working models for specific working populations, is there any merit in increasing the scope of remote workspaces in India?
VIEW: Work-from-home should be a legal right
The Netherlands was the first country to take the initiative to allow Dutch people to work remotely. In 2018, 14% of the employed population was working from home, making it the highest rate in Europe. Two politicians, Steven van Weyenberg and Senna Matoug drafted a proposal to make working from home a permanent legal right, and they received overwhelming support. Additionally, countries such as Belgium, Mexico, Germany, Russia, and others have provided legal frameworks for remote work.
Should India follow in these footsteps? A recent survey conducted by CBRE South Asia Pvt Ltd revealed that 73% of firms in India are considering a hybrid workspace model. Another survey conducted by People at Work in 2022 stated that 76% of the global younger workforce (aged between 25 and 34 years) would quit their jobs if they were forced to return to physical workspaces. 75% of Indian workers are reluctant to return to full-time in-office work as they felt that they collaborated with their teams better while working remotely.
Additionally, a study conducted by Deloitte revealed that 66% of GenZ and 67% of millennials in India prefer hybrid arrangements for work, viewing flexible working as a channel for improving work/life balance. Popular Edutech firm WhiteHat Jr recently accepted 800 voluntary resignations as their employees did not want to return to the office.
In light of these studies, it is evident that Indian employees would prefer a hybrid working model over in-office workspaces. Since some workers will also go to the extent of changing jobs, for this reason, the Indian government should strongly consider legislation that enables the workforce to choose their preferred mode of work.
COUNTERVIEW: Legal right is unnecessary
While numerous surveys have revealed that employees would prefer to work in hybrid spaces, there exists a population of workers who prefer quite the opposite. A global study conducted by Barco revealed that 77% of Indian white-collar workers found working from home less enjoyable and they were ready to return to offices.
While it was acknowledged that working remotely saved traffic time, the burnout and pressure that burdened employees were overlooked. A study launched by LinkedIn in 2021 revealed that 35% of Indian employees felt they experienced an increased workload while working from home. 34% of the respondents said their stress levels had been heightened while working remotely.
Apart from this, it was noticed that power demand increased exponentially once companies resumed hybrid work. Daytime demand for power was at its peak amid a heatwave in May 2022, leading to the worst blackouts the country has seen. People were using air conditioners both in homes and offices due to the hybrid work model. As a result, power grids were strained despite peak solar power supply periods. India, the world's third largest power market, is now forced to draw larger-than-usual amounts from coal inventories, leaving the country under-stocked for the hottest season.
What's your opinion on this?
(Only subscribers can participate in polls)
a) Hybrid workspaces should be legally mandated.
b) Hybrid workspaces should not be legally mandated.
---
🕵️ BEYOND ECHO CHAMBERS
For the Right:
BJP's Zero Tolerance For Corruption Among Opponents (Only)
For the Left:
Hindu Emotions Also Matter
---
🇮🇳 STATE OF THE STATES
MCD plans to start digital correspondence (Delhi) – The Municipal Corporation of Delhi (MCD) has decided to correspond digitally with citizens in order to ensure transparency and quick delivery. Starting this week, a senior official stated that the move aims to ensure a corruption-free ecosystem with the help of an efficient digital system.
Why it matters: MCD officials noticed that many taxpayers had mentioned incorrect phone numbers and email addresses linked to their Unique Property Identification Code (UPIC). The civic body released a press statement requesting citizens to cooperate in order to promote the smooth flow of communication and help the city prosper.
First-ever virtual training for doctors (Tripura) – On Tuesday, Tripura saw the first-ever virtual training of doctors for palliative care. Since cases of cancer are rampant in the state, where 150 people of every 3,000 are diagnosed with the disease, the training aims to provide better care for terminally-ill patients. Additionally, the training by the National Health Mission also seeks to treat those suffering from strokes, cardiovascular diseases, and brain strokes.
Why it matters: As the state director of NHM, Dr Subhasis Das states, palliative care is crucial as it provides some relief to terminally ill patients. The training initiative by NHM is set to expose doctors to the insights of national-level experts, allowing them to improve their caregiving abilities.
Fear of famine (West Bengal) – The state's Agricultural Department reported that if August does not bring sufficient rainfall, West Bengal could be facing some dire consequences in terms of food shortage. It was recorded that the state experienced a deficit of 45% in rainfall in the months of June and July, making this one of the worst rainfall shortages in the state.
Why it matters: Aman paddy seeds are usually sowed between mid-July and mid-August in West Bengal. The seed beds require sufficient rainfall to be suitable for sowing seeds, and if this does not happen on time, there could be a major delay in the sowing period, impacting production. Experts have said that apart from the uncertainty of production in this farming season, sharecroppers could be affected as they will become jobless.
Inspection of hotels for industry status eligibility (Maharasthra) – The directorate of tourism in Maharasthra begins physical inspections of hotels that have applied for industry status eligibility. The process has begun in Pune where 181 hotels have applied since registrations opened in June 2021. An agency has been appointed by the directorate to carry out inspections along with establishing an inspection committee.
Why it matters: The DoT has received about 446 applications from hotels across Maharastra, pushing them to ascertain the eligibility of applicants. If the criteria are fulfilled by the hotels, they will receive an industrial status, making electricity charges, water bills, property taxes, and non-agricultural taxes available as per industrial rates.
IUML leader reacts to gender-neutral uniforms (Kerala) – Senior IUML leader and MLA M K Muneer spoke out against the move to introduce gender-neutral uniforms in state schools. Trousers and shirts for both boys and girls triggered a harsh statement from the MLA, stating that it was a "Left tactic to promote denial of religion and male dominance."
Why it matters: Usually a progressive face of Muslim politics in Kerala, Muneer belongs to the IUML which has been a long-term ally of the Congress. Since BJP has been pushing to enter the state, the IUML has endured conflict within the community over the party's approach toward Congress. Leader of the Opposition was also in support of Muneer's statement, saying that no dress should be forcibly imposed under the guise of a uniform.
---
🔢 KEY NUMBER
83% – A survey conducted by Mylo to mark World Breastfeeding Week revealed that 83% of Indian mothers face major challenges while breastfeeding.