March 28, 2022
Good morning. In today's either/view, we debate whether India should change its no-first-use nuclear doctrine. We also look at the setting up of gender-neutral campus space in NALSAR, Telangana, among other news.
---
📰

FEATURE STORY
Should India change its no-first-use nuclear doctrine?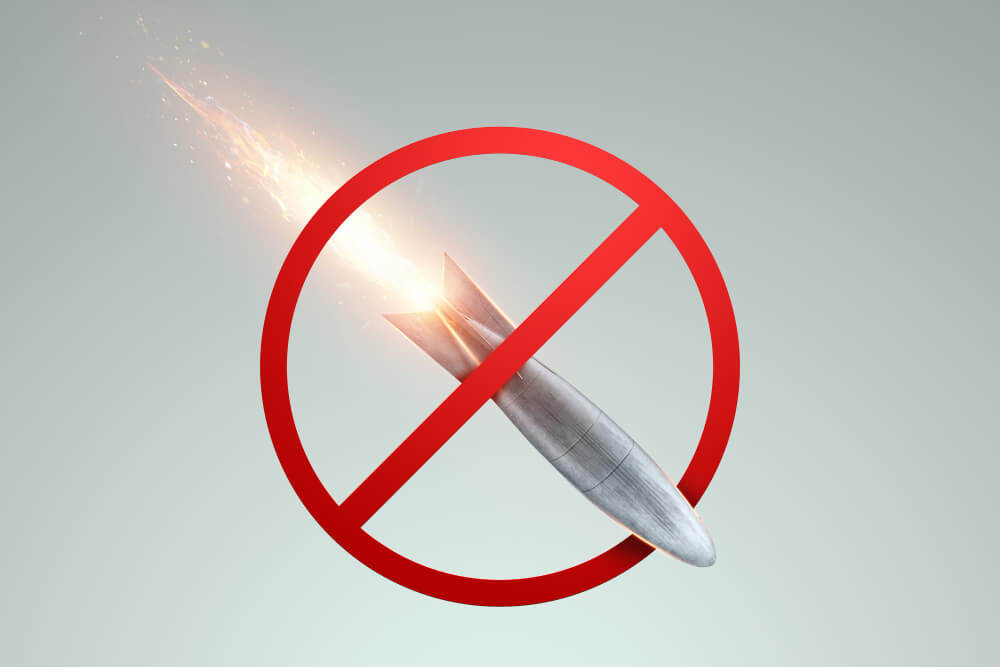 "Basic Principles of State Policy of the Russian Federation on Nuclear Deterrence" is a document that outlines how a Russian President can use nuclear weapons. It's been a topic of discussion ever since Vladimir Putin said he put his country's nuclear forces on high alert. It's a nightmare scenario that no one wants.
So what does this mean for India? India's current nuclear doctrine is "no first use". Given its tensions with Pakistan and China, is it time for India to ditch this? In the event of a conflict, shouldn't India have the right to defend itself? Or has the current doctrine served it well, and there's no need for change?
Context
A "nuclear doctrine" states how a nuclear weapon state would employ its nuclear weapons during a war. It helps establish the rules for deterrence and engagement with an adversary. If India does engage militarily with another country, India can clearly state its position concerning its nuclear arsenal.
There's no official count on how many nuclear weapons India has. However, some estimates put that number at 160. The US has the largest with more than 5,400. More importantly, from India's point of view, China has an estimated 350 and Pakistan 165.
Let's trace India's nuclear journey. In a 1946 speech, Prime Minister Jawaharlal Nehru said in part, "If India is threatened, she will inevitably try to defend herself by all means at her disposal." While he did forgo nuclear weapons, he simultaneously wanted a civil nuclear energy program, which would pave the way for a nuclear bomb. India's loss to China in a brief conflict at the Himalayan border war in October 1962 gave it an impetus.
The first research reactor came up in 1956, and its first plutonium reprocessing plant by 1964. At the time, Prime Minister Lal Bahadur Shastri was opposed to developing nuclear weapons. However, due to political pressure, he said India will pursue capabilities for peaceful nuclear explosions. In 1974, India tested its first nuclear device, code-named Smiling Buddha. In the 1970s and 1980s, Indira Gandhi, Morarji Desai, and Rajiv Gandhi were opposed to weaponising the nuclear program.
This changed in 1987 as Pakistan began its nuclear weapons program. Two years later, Prime Minister Rajiv Gandhi gave the green light to make a nuclear weapon. Defense Secretary Naresh Chandra started and continued this program in the 1990s. In 1998, India performed more nuclear tests under Atal Bihari Vajpayee. It resulted in sanctions from Japan and the USA, later lifted by President Bush.
Concerning India's nuclear program, the 2005 nuclear agreement with the USA is significant. India agreed to two things. One, separate its civil and military nuclear facilities, and the other was to place its civil nuclear facilities under the International Atomic Energy Agency (IAEA) safeguards. India isn't a signatory to the Non-Proliferation Treaty (NPT) or the Comprehensive Nuclear-Test-Ban Treaty (CTBT). However, in 1963, it did agree to the Partial Nuclear Test Ban Treaty.
In 1999, India released its Draft Nuclear Doctrine (DND) as prepared by the National Security Advisory Board (NSAB). However, it was rejected by the government. In 2003, New Delhi released its official nuclear doctrine. India's official position is one of no-first-use. It means India will not use nuclear weapons until attacked first and won't use nuclear weapons against a non-nuclear-weapon state. In 2010, National Security Advisor Shivshankar Menon said this doctrine reflected India's culture of minimal deterrence.
VIEW: Needed for regional peace
While some who are more hawkish might decry the no-first-use doctrine, the truth is the policy has worked so far. India's current nuclear doctrine has broad consensus. Nuclear deterrence optimists are confident that achieving deterrence is somewhat easy as long as nuclear weapons capability exists. As long as the other side perceives survivable nuclear capabilities, deterrence is the right approach.
A no-first-use doctrine puts the onus of escalation on the other side in a military conflict. It also doesn't prevent India from defending itself. There's a certain sense of liberation that comes with this policy as India will not be on the chopping block in the eyes of the international community. Having a nuclear-forward posture for engagement is also a risk. It could prompt non-nuclear states to arm themselves with nuclear weapons, despite the long-term costs and investments. This leaves little room for de-escalation in the event of a conflict.
The current doctrine hasn't forced Pakistan to significantly escalate its nuclear weapons capabilities or threaten their use. Even with Pakistan's vague nuclear defence policy, India and Pakistan maintain similar nuclear deployment styles in peacetime. From a broader perspective, the current no-first-use policy is in keeping with India's stance and commitment to nuclear disarmament. Despite some calls for a change to a "first-use" policy, the status quo has paid dividends.
COUNTERVIEW: Outdated policy for the times
In our region, India, Pakistan, and China have nuclear weapons. Each country knows the other has nuclear weapons. Then there's Russia, which is currently conducting an invasion of Ukraine. For them, keeping Ukraine out of NATO has warranted making threats of using nuclear weapons. China's aggression in Eastern Ladakh and in the South China Sea shows how a nuclear weapon state can mount a military offensive without fearing nuclear retaliation by nuclear allies. It provides absolute security.
The main reason why nuclear weapons are sought is protection. India's national security is key to its long-term development. It can give a smaller, weaker country the protection it needs and further its interests. This applies to India as well. A potential military conflict with China might not bode well for India. Its conventional military forces might not be on par with China's People's Liberation Army (PLA).
Nuclear weapons should be seen as more than just symbols of power. Given China's moves in Ladakh and other border regions, India should abandon its no-first-use policy for China at least, given the severity and proximity of the threat. Rounds of talks and negotiations have resulted in scant progress. China isn't likely to stop anytime soon despite outside pressure. Any attempts to counter China shouldn't be on its terms. Some reports suggest Pakistan has a no-first-use policy. However, its policy on first use against nuclear weapon states, like India, remains vague.
What's your opinion on this?
(Only subscribers can participate in polls)
a) India should abandon its no-first-use nuclear doctrine.
b) India should not abandon its no-first-use nuclear doctrine.
---
🕵️ BEYOND ECHO CHAMBERS
For the Right:
What the RSS could learn about nationalism from freedom fighter Usha Mehta
For the Left:
Dalit Women, Pasmanda in Yogi Cabinet: This is Sabka Saath, Sabka Vishwas in Action
---
🏴 STATE OF THE STATES
False implications (Punjab) – A report from the Commission of Inquiry has stated that 437 innocent people were named in false cases due to political considerations during the 10 years of the Akali regime. Among the false offences were cheating, forgery and rape. The panel looking into the cases was initially headed by Justice Mehtab Singh Gill, who resigned last March. Sessions Judge BS Mehandiratta submitted the final report.
Why it matters: The commission was looking into cases where people have been wrongly implicated on false and/or baseless claims over the past decade. It was also tasked with providing recommendations to the state government to prevent such occurrences. The report did state that compensation was awarded in 33 cases, and action was taken against officers for false FIRs in 17.
Gender-neutral campus space (Telangana) – Hyderabad-based National Academy of Legal Studies and Research (NALSAR) has announced it will allow a gender-neutral space for rooms for students who identify as LGBTQI+. The university said this will pave the way for gender-neutral hostels. It will also make common public spaces gender-neutral, like a gender-neutral washroom. Vice-Chancellor Faizan Mustafa said the university believes in inclusion, and students have helped shape policies like this.
Why it matters: Other universities have implemented similar policies. In 2018, the Tata Institute of Social Sciences (TISS), Mumbai, introduced gender-neutral hostels for transgender, non-binary, or gender non-conforming students. It's also one of the few universities to have gender-denoting titles, which NALSAR also introduced in 2015. For many LGBTQI+ students, universities continue to be a challenging place to gain acceptance and pursue their education. Such policies are a step in the right direction.
Warning to coal mines (Jharkhand) – Chief Minister Hemant Soren warned of blocking coal supplies if central coal mining companies don't pay their dues of ₹1.36 lakh crores owed to the state. He made public a letter to the Coal Ministry citing consultations with NITI Aayog have yielded no progress. He said the money owed rightfully belongs to the state. In the letter, he shared details about outstanding dues against the subsidiaries of Coal India.
Why it matters: Over the past couple of years, the Centre has deducted around ₹3,000 crores from the state consolidated fund with the RBI. It has been used to settle dues to the state-owned central power sector PSU, Damodar Valley Corporation (DVC). Last July, the Jharkhand-based Coal India arm CCL sought reconciliation of claims in the wake of the state putting a demand of ₹56,000 crores in lieu of land allotted to it for mining.
New Raj Bhavan (Goa) – The state government has identified land to build a new Raj Bhavan. The final decision will be taken by the government and a file will be sent to them containing designs and estimates. In October, Governor P S Sreedharan Pillai accepted the state government's proposal for a new Raj Bhavan. It came after he went through the objections that were raised in the initial proposal.
Why it matters: In July 2020, Chief Minister Pramod Sawant said the state government will build a new Raj Bhavan. The decision came in the wake of a PWD report on difficulties in maintaining and repairing the existing structure. The Cabo, which houses the Raj Bhavan, was the seat of power during the Portuguese era. After the new building is constructed, the existing one will be preserved and maintained as a heritage monument, according to Sawant.
Few women journalists (Mizoram) – As the Mizoram Journalist Association celebrated its golden jubilee, one striking detail came up – out of its 193 members, only 9 were women. The first female member was Lalsangluaii Sailo. She took over the paper Tawrhbawm after her husband, L Rinoma, passed away in 1995. To date, she's also the only woman to be the group's executive member. According to her, most women in the state aren't interested in the field of journalism.
Why it matters: The Mizoram Journalist Association was formed on March 23, 1973, when a small group of journalists gathered at Rinoma's house. According to a study by the Global Media Monitoring Project, the highest proportion of women as journalists is on TV in India. The study stated 52% of women worked as reporters, announcers, and presenters on TV than in print media or radio.
---
🔢 KEY NUMBER
₹432 crores – The real estate firm Supertech's debt amount which it did not pay since July 2019. The company was declared bankrupt by the National Company Law Tribunal (NCLT).