June 21, 2023
Good morning. In today's either/view, we discuss whether the Bruhat Bengaluru Mahanagara Palike (BBMP) should be split up. We also look at the flood situation in Assam, among other news.
---
📰

FEATURE STORY
Should the Bruhat Bengaluru Mahanagara Palike (BBMP) be split up?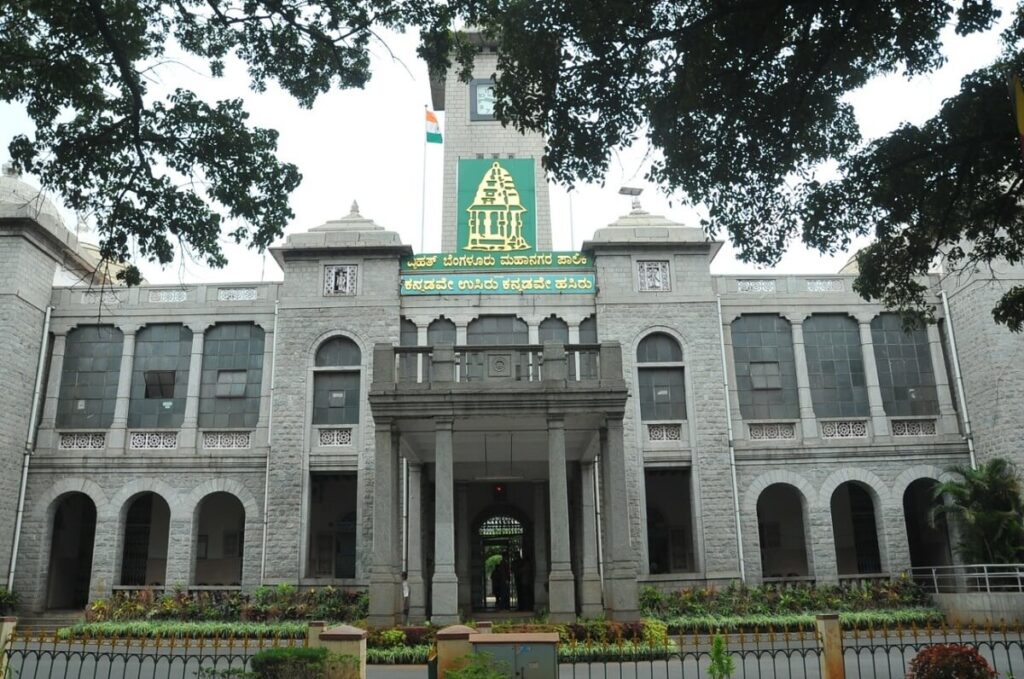 Civic governance is at the heart of how well cities are run. An effective civic body ensures it's available for the needs of the citizens it serves. For any task, big or small, people need to know that the local governing bodies have their backs. It's a tall order considering how packed metropolitan cities in India are.
Take Bengaluru, the IT capital of India, as an example. While that moniker is certainly a feather in its cap, the city's governance has been lacklustre. The Bruhat Bengaluru Mahanagara Palike (BBMP) looks after the city's needs. The newly-elected Congress government wants to split the BBMP into smaller parts to ensure better governance. Is this a good idea?
Context
Urban local governance dates back to the colonial era. The company administration, as it was called then, was responsible for the construction and maintenance of roads and irrigation, among other things. James II passed the Charter Act that paved the way for the first municipal body, the Chennai Corporation, in 1687.
The model was similar to institutions in Britain, where they had the power to levy taxes. The Corporation had a Mayor, 12 Aldermen, and 60 Burgesses. They were all European and could levy taxes. They had the authority to build a guildhall, a jail, and a school.
This model was replicated in other provinces like Bombay, Punjab, and Uttar Pradesh. However, things didn't exactly go as planned. Lord Mayo's 1870 resolution called for financial and administrative decentralisation to strengthen municipal governments. Nothing much came of it.
Then came Lord Ripon. He sought to transform local governance and called for local boards across India. He wanted each to be small enough to help with governance and local knowledge. While his resolution was well thought out, it wasn't implemented well. Financial and bureaucratic difficulties came in the way. Ripon's successors also weren't interested in delegating power to local bodies.
A couple of noteworthy pieces of legislation accelerated the development of urban local governance in India. First came the Government of India Act in 1919 and the Government of India Act in 1935.
Coming to Bangalore, the British shifted their cantonment to the city in 1809. As a city developed around it, it was governed as part of British India. Under the 1850 Improvement of Towns Act, a Municipal Board was formed for Bangalore. The same thing happened for the cantonment later. Both were legalised in 1881.
These two urban settlements in Bangalore, the city and the cantonment, developed independently. In 1949, they merged into one. Post-independence, Bangalore became the capital of the Mysore state and remained until the state of Karnataka was formed in 1956. The Bangalore City Corporation consisted of 70 elected representatives and 50 electoral divisions.
Needless to say, the number of electoral divisions has significantly increased in the decades since. As the city's population ballooned, the BBMP, which got its name in 2007, and its infrastructure have had to keep pace, and the results have been mixed.
The Indian government has tried its best to improve municipal governance. Some reforms included the delivery of online services for various things like birth and death certificates and building permits. The thinking was urban local bodies would be more efficient with modern technology. In the decades since independence, local bodies didn't have much room to function independently. The states were in charge. In fact, the Constitution stated urban development as a state subject.
Successive governments have proposed several solutions to improve the BBMP's functioning and governance. The Congress government that recently came to power has proposed splitting the BBMP into smaller bodies. Opinion on this method is, well, split.
VIEW: It's all for better governance
When there's a lot of work ahead, a common approach is to divide and conquer. That's the basic thought process here. The BBMP has its fair share of critics and detractors. It has faced a barrage of issues, including corruption allegations. For some, the BBMP is too big and ungovernable. It's also unable to govern a large metropolitan city like Bengaluru. The question has to be asked – how can a Commissioner look after over 200 wards?
The proposal by the current Congress government to split the BBMP isn't new. In 2018, an expert committee was formed to look into how the BBMP could be restructured. Among the suggestions was for the city to have 400 wards and five decentralised Municipal Corporations. Here's the rationale – splitting the city into smaller parts with fewer citizens makes it easier to administer. Municipal officers and administrators will be closer and more accessible to citizens. It will also help increase citizen participation in local governance.
Going back to the 2018 committee recommendations, the proposal for special commissioners, each getting two zones, will ensure they have enough breathing room. If there's an issue pertaining to a particular zone, it'll be resolved faster at the zonal level. It won't have to go through layers of unnecessary bureaucracy. Just look at some of the best-managed cities like Tokyo, London, and Paris. They all have multi-municipal structures.
COUNTERVIEW: Ill-advised strategy
If there's one thing both sides can agree on, it's that the BBMP has fallen woefully short in its governance duties. Given the pace of development and urbanisation, something has to give. Cutting the BBMP into smaller pieces isn't the solution, not even in the short term. Without tackling underlying issues like financial accountability and decision-making, there's a chance we could end up at square one.
Critics of this strategy point out the Delhi example. The three bodies of the Municipal Corporation of Delhi (MCD) joined into one after a financial crisis. The uneven split led to some regions being treated better than others. Take Mumbai, for example. It's not a small city by any measure, and its municipal body isn't divided into smaller parts.
Instead of breaking up the BBMP, there could be an alternative system. While participating in a forum on Governing Bangalore Metropolis, retired IAS officer V Balasubramanian suggested a Bangalore Metropolitan Council (BMC) in place of the BBMP. If the point is that issues faced by peripheral areas are one of political distance from the centre, then the alternative restructuring of the BBMP won't help either. Without any realignment in governance and political devolution, the underlying problems will persist, this time only on a smaller scale.
Reference Links:
What is your opinion on this?
(Only subscribers can participate in polls)
a) The BBMP should be split into multiple bodies.
b) The BBMP shouldn't be split into multiple bodies.
---
🕵️ BEYOND ECHO CHAMBERS
For the Right:
Swallowing Gandhi and Peace in One Prize
For the Left:
The Washington Consensus: Embracing the Indian decade
---
🇮🇳 STATE OF THE STATES
Shimla development plan (Himachal Pradesh) – The Himachal Pradesh cabinet, headed by Chief Minister Sukhvinder Singh Sukhu, approved the final draft of the Shimla Development Plan, which introduces new regulations for building construction. The plan permits one floor plus an attic in green areas and two floors plus an attic in core areas. Different parameters apply to various regions. The ball is now in the National Green Tribunal's (NGT) court to decide whether it's a permissible plan.
Why it matters: In April 2022, the state government introduced a draft of the development plan for Shimla. However, a month later, the NGT stayed it, citing disastrous ecological ramifications and potential safety concerns. In May 2023, the Supreme Court asked the government to consider the environment watchdog's objections before coming up with a final plan.
Financial aid scheme hassles (Telangana) – The government's initiative to provide financial aid of ₹1 lakh to the most Backward Classes is facing teething troubles in rural areas. Thousands of people are struggling to obtain caste and income certificates, enduring long queues and multiple visits to the MeeSeva centres and the Mandal Revenue Offices in severe heat.
Why it matters: The scheme has received a whopping 2.78 lakh applications so far. It covers professionals like washermen, Viswabrahmanas, potters, and nayee brahmins who don't have access to bank accounts. With an allocated budget of ₹300 crore, the government has already released ₹100 crore for the scheme. The income limits for eligibility are ₹1.50 lakh for rural areas and ₹2 lakh for urban areas.
Millet farmers' challenges (Jharkhand) – A survey conducted by the NGO SwitchOn Foundation, in collaboration with Empowering Energy-Water-Agriculture nexus, examined the challenges faced by marginal farmers in Jharkhand's Santhal Pargana region during millet cultivation and sales. The survey covered 488 farmers in Dumka, Pakur, and Sahibganj between September 2022 and March 2023. Findings revealed issues like low income, small landholding size, high input costs, etc. It indicated that 66% of farmers grew prime millet, while 34% did not.
Why it matters: The high rate of millet consumption and cultivation is an encouraging factor for the Millet revolution. Most of the farmers are aware of the benefits and low water requirements of millet cultivation. However, the study also found that almost half the farmers earned between ₹1,000 and ₹3,000 monthly. Many farmers hope the government subsidy on certified millet seeds will help them earn more.
Human trafficking and abduction of labourers (Maharashtra) – Police in the Osmanabad district rescued 11 labourers from two work sites tied in shackles to deter them from escaping. Three contractors, Krishna Shinde, Santosh Jadhav, and Ranjit Sable, along with a minor, have been arrested and charged with abduction, human trafficking, and other offences. The rescued workers endured the chains for varying periods, from 15 days to 4 months. They were forced to drink sedatives.
Why it matters: According to District SP Atul Kulkarni, the case appears to involve an organised network of criminals who target unemployed men at railway stations and bus stands. They entice them with promises of well-paying jobs at digging sites, mostly on farms. The agents hand over the workers to the contractors in exchange for money. The incident was exposed when one worker, Sandeep Gukse, broke free and escaped on June 16.
31,000 affected in floods (Assam) – Around 31,000 people are still suffering under the deluge in ten districts, including Chirang, Darrang, Dhemaji, Dhubri, Dibrugarh, Kokrajhar, Lakhimpur, Nalbari, Sonitpur and Udalguri districts. Lakhimpur is the worst hit, with over 22,000 people affected. The India Meteorological Department (IMD) issued a red alert and forecasted "very heavy to extremely heavy" rainfall in several districts until Thursday.
Why it matters: While relief camps are currently not operational, Assam has set up 25 relief distribution centres in seven districts. The Assam State Disaster Management Authority (ASDMA) reports that approximately 4,741.23 hectares of cropland have been devastated, 444 villages are submerged, and the Kopili tributary of the Brahmaputra River is flowing above the danger mark. Several districts have experienced massive erosion, landslides, and significant infrastructural damage.
---
🔢 KEY NUMBER
500 – The number of Airbus aircraft ordered by InterGlobe Aviation, IndiGo's parent company. The companies have signed the world's largest-ever single-tranche aircraft acquisition pact.