August 22, 2022
Good morning. In today's either/view, we discuss whether the Indian government's Smart Cities Mission is a smart policy. We also look at the amendments to the Motor Vehicle Act in Tamil Nadu, among other news.
---
📰

FEATURE STORY
Smart Cities Mission – Is It Smart Policy?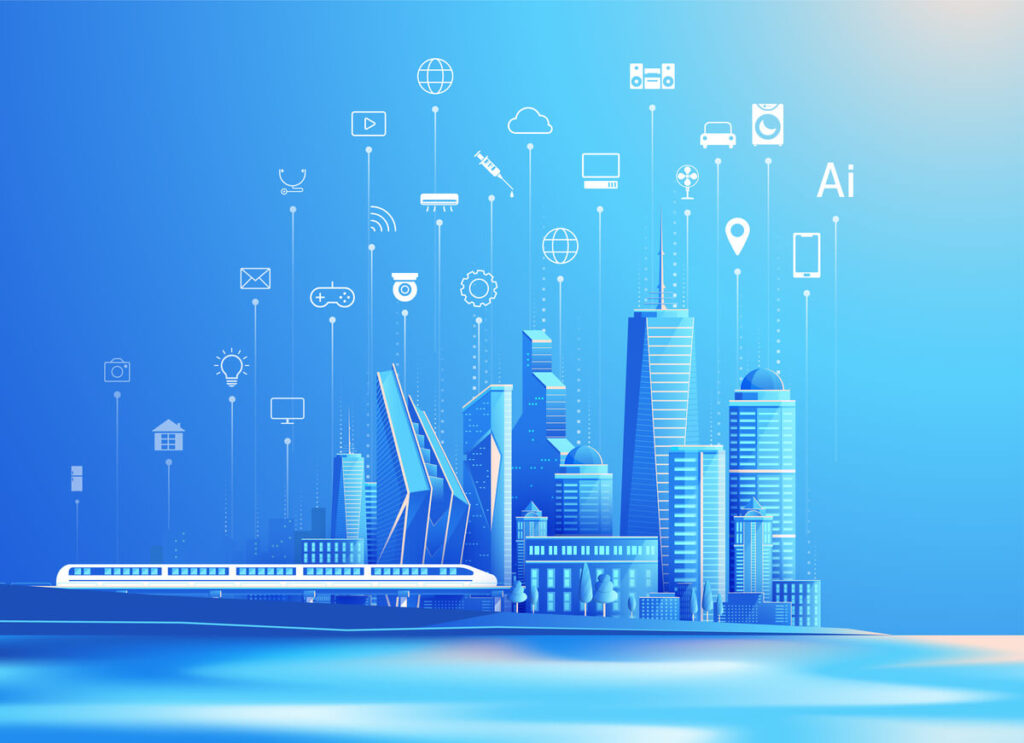 William Shakespeare once said, "What is the city but the people?" Governments want to make cities modern, more accessible, convenient, and liveable for their citizens. A worthy cause. This endeavour has taken on a name in the past decade or so – Smart Cities.
In India, we have the government's Smart Cities Mission. The goal is to renew and develop cities across the country to make them sustainable and citizen-friendly. Is this a pursuit worthy of the time and money being spent? Or is there something inherently wrong with this approach?
Context
What is a smart city? A smart city uses information and communication technology (ICT) to improve its operational efficiency to better provide services to citizens. If that sounds complicated and jargony, well, a smart city is just a city that uses technology and other means to ensure that people can go about their day smoothly without much interruption. Ultimately, it helps improve the quality of life for its citizens.
How does this happen? Technology is the basis for this. So, think about a citizen's average day out and about in the city and how technology can ensure that they can get from A to B smoothly, keep them safe, etc. One example is parking. What if smart parking can help drivers find a parking space that also allows for digital payments? Another is traffic management. Many Indian cities have a nightmare with this. Using technology, officials can manage traffic flow and optimise traffic lights.
In June 2015, Prime Minister Narendra Modi launched the Smart Cities Mission. In his address, he stressed the need to recognise urbanisation and stated that 40% of the population lives in cities. It was part of a broader urbanisation development plan that included the Housing for All by 2022 and the Atal Mission for Rejuvenation and Urban Transformation (AMRUT) schemes.
Why have a smart city mission? According to the 2011 census, nearly 31% of the population lives in urban areas and contributes 63% of India's GDP. That number is projected to increase to 75% of India's GDP by 2030. The Smart Cities Mission outlines its goals to focus on sustainable and inclusive development of the entire urban ecosystem. It has four pillars of development – institutional, physical, social, and economic infrastructure.
Smart cities exist worldwide and are way ahead of what India is doing. In Asia, one example is Singapore. Its Smart Nation Program was launched in 2014 by Prime Minister Lee Hsien Loong. The country deployed sensors and cameras across the city to ensure cleanliness and the movement of people and traffic. Another example is Oslo. Norway, in many ways, leads the way in smart cities. It has a national roadmap for this.
The question for India is whether the Smart Cities Mission is a policy that's worth all the time and money needed. Do they have tangible effects on people in their everyday lives?
VIEW: Development is key to economic growth
There's no doubt that developing smart cities isn't cheap. According to data from the Lok Sabha, the projected expenditure of the project is expected to be ₹2.11 lakh crores. With the pandemic, that number has probably increased. However, it has to be seen as an investment. Cities will be the drivers of economic growth, even more so going forward. Governments must invest in them.
The entire mission is a work in progress. While there have been delays, it doesn't mean they haven't yielded positive results. One example is the Indian Urban Data Exchange (IUDX). It came from the need to enable data exchange between city departments, government agencies, the private sector, and citizens. In many cities, public spaces have been transformed with cycle tracks, LED lights, and smart signages.
What the pandemic has done has changed the way we work and travel. That doesn't mean we don't need smart cities. Digital transformation makes cities smart, which makes them viable. For example, perhaps digitally induced transparency could ensure revenue increases from taxes and utilities. Anil Nair, a Senior Fellow from the Portulans Institute, wrote on the need for smart cities as they have social and environmental benefits while also advocating for smart villages.
COUNTERVIEW: They aren't equitable
Let's tackle the financial aspect first. In the current economy, things are relatively unstable. The pandemic has impacted state and Central finances. The rupee is quite weak. From where are the lakhs of crores coming from? The government is focussing on a Public-Private Partnerships (PPP) model. 21% of the funding is through this. However, it's not been smooth sailing. For example, Telangana Rashtra Samithi leaders questioned the non-issue of funds under the mission for Warangal and Karimnagar from 2020-21 to 2022-23.
Cities in India are often sites of divisions concerning inequality and poverty. Pushing digital technology in public spaces could lead to people being excluded. Not everyone is digitally literate. As this piece argues, some people's preferences may be ignored or get minimal attention. It states that smart cities can work only long as it has smart citizens. While the government is looking to further its Digital India Mission as well, we still have to understand who smart citizens are.
Then there's the question of how equitable is the Smart Cities Mission. The project was envisioned with the aspirational middle class in mind. If it benefits anyone above those social strata, that's a bonus. However, this leaves a large chunk of the population behind. No doubt the middle class wants their living standards to improve, but it does come at a cost. A Housing and Land Rights Network report stated the project doesn't address the needs of poor women and marginalised groups. If cities are their people, then shouldn't everyone benefit?
What's your opinion on this?
(Only subscribers can participate in polls)
a) The Smart Cities Mission is a smart policy.
b) The Smart Cities Mission is not a smart policy.
---
🕵️ BEYOND ECHO CHAMBERS
For the Right:
'I'm Dalit but identify as a Brahmin' — How Dalit comedians in India are smashing elite nexus
For the Left:
As Congress mulls next president, the flip side of inner party democracy
---
🇮🇳 STATE OF THE STATES
EV policy introduced (Ladakh) – The Union Territory of Ladakh has become the latest region to introduce an electric vehicle (EV) policy to its residents. Those planning to buy electric two-wheelers, three-wheelers and four-wheelers can avail of a subsidy of 10%. Public transport gets a boost as electric buses will get a subsidy of 25%. Other subsidies are also applicable for building EV charging stations across the region.
Why it matters: The main reason to introduce the EV policy, according to an official, is to make Ladakh a self-sustainable, smart, integrated and carbon neutral region. Boosting EV adoption has been among the key focus areas of the Union government. Several states across the country now have their distinct EV policies.
Manipuri Language Day (Manipur) – On the occasion of the 31st Manipuri Language Day on Saturday, Chief Minister N Biren Singh paid his respects to the people who made it possible for the Manipuri language to be included in the 8th schedule of the Indian constitution. Apart from a proposal to start a three-month course on studying the dialects and languages of different communities, he said that the state would set up a committee to regulate history books related to the state.
Why it matters: Manipuri language, also called Meitei language, has been categorised as 'vulnerable' in UNESCO's Atlas of the World's Languages in Danger. Manipuri was added to the 8th schedule of the Indian constitution by the 71st Amendment Act of 1992.
Science Film Festival (Madhya Pradesh) – The 12th edition of the National Science Film Festival of India will be held in Bhopal from August 22 to 26. While the inauguration will be held at Madhya Pradesh Council of Science and Technology premises, the remaining events will be showcased at Ravindra Bhavan premises. This edition will screen a film on the life of the scientist Acharya Prafulla Chandra Ray, depicting his contribution to India's independence.
Why it matters: This film festival is a flagship event of Vigyan Prasar, Department of Science and Technology, Government of India. It involves the screening of documentaries and short films on science, technology, health & environmental issues. Filmmakers get to participate in a national competition, and winners will be felicitated with cash prizes, trophies and citations.
Staring at women on a bus is a crime (Tamil Nadu) – The state government amended the Motor Vehicles Act and brought in provisions to arrest any person who stares at women while onboard a bus. The amended Act also listed whistling, obscene gestures, and sexual overtures against women as crimes. Conductors will have the duty to remove the offending male from the bus. At the same time, conductors will also be punished if they behave inappropriately against women.
Why it matters: Crimes against women in the state have been increasing over the years. A total of 2,421 crimes against women were registered in 2021, which was more than the 2,025 cases in 2020 and 1,982 cases in 2019. Rape, dowry death, cruelty by husband and his relatives, and molestation are the four categories of crimes that women are subjected to. Of these, cases of molestation remain high. In 2021, there were 1077 cases of molestation, which constituted over 44% of the registered cases of crime against women.
Virtual partition museum (West Bengal) – The Kolkata Partition Museum Project (KPMP), led by scholar Rituparna Roy, will set up a Virtual Partition Museum in Kolkata. It aims to highlight the art and literature reflecting the bond between the people separated by the border, with a particular focus on eastern India and Bengal's experience. It is a collaboration between KPMP and Architecture Urbanism Research (AUR), supported by Tata Steel.
Why it matters: Rituparna Roy noted that there was a Punjab bias when it comes to the studies of Partition in the subcontinent. She feels that eastern India's experiences regarding the Partition have been neglected so far. During her travels in Europe, she came across many memorials for the Holocaust. That made her think why there were no memorials of the partition in our country, eventually leading to the idea of setting up the Partition memorials in India. The work for a physical Partition museum in the city will happen soon.
---
🔢 KEY NUMBER
445 – PhD degrees awarded by Indian Institute of Technology, Bombay during its 60th convocation ceremony held on Saturday. It is the highest number of PhD degrees awarded by the institute since its inception.