August 21, 2022
Good morning. Every Sunday, we publish the results of polls from feature stories that were published the past week. We also give a brief overview of the topics that were discussed.
---
🗳️ POLL RESULTS – Week 87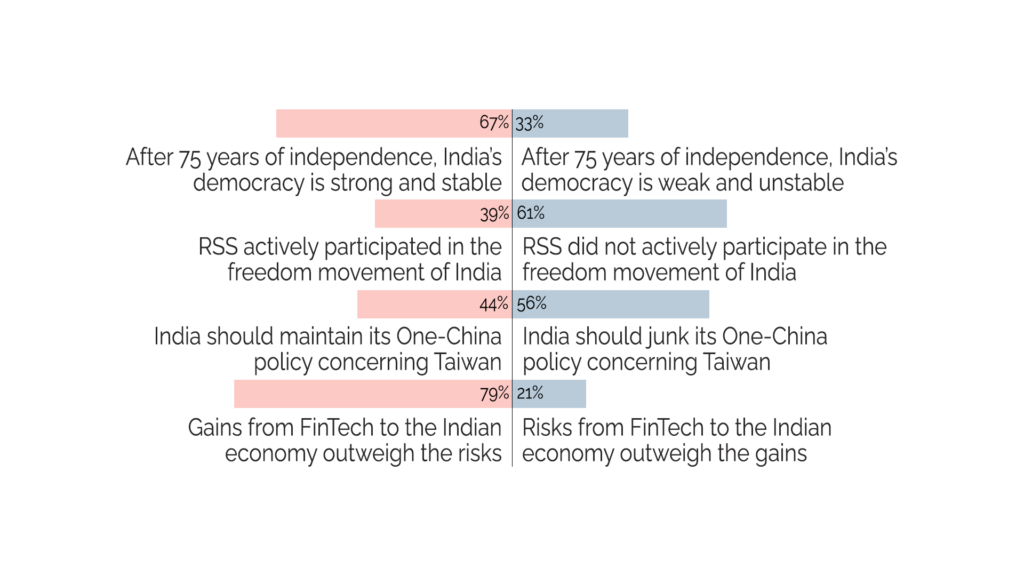 ---
🗓️ THE WEEK THAT WAS
75 Years After Independence – Is Indian Democracy Stronger?
Daily | 15 August 2022
India can seem like a country of a billion people and a million contradictions. Over the decades, various governments and leaders have been at the helm of the Indian republic. Many have made their mark, seldom without controversy. As India celebrates 75 years of independence, is India's democracy in good shape, despite the challenges before it? Or have we become weaker? Read more on this here.
Did RSS Contribute To India's Independence?
Daily | 17 August 2022
There has been substantial controversy surrounding the role of the Rashtriya Swayamsevak Sangh (RSS) in India's fight for freedom. While some argue that the RSS actively took part in all the freedom movements, many others believe that the party was subservient to the British. Follow this story here.
China-Taiwan Tensions – Should India Junk Its One-China Policy?
Daily | 18 August 2022
India has always maintained that it has an independent foreign policy. That could be tested once again. Should India engage with Taiwan and move away from its One-China policy? Or would that be too much of a risk? We unpack the issue here.
FinTech – Can It Boost The Indian Economy?
Daily | 19 August 2022
India has secured the position of being a solid FinTech hub globally as the market is promising. Although the numbers seem convincing, many industry leaders are sceptical about the profitability of this industry. While there are many expectations from this sector, is FinTech the solution to boosting India's economy? Read more on this here.
Rights Of Bank Account Holders
Know Your Rights | 20 August 2022
Consumer protection in the Indian banking sector is becoming increasingly important. There have been numerous cases of consumers being misled due to the incapacity of the bank, leading to financial insecurity amongst bank account holders. In light of this, it is imperative that we take a look at the rights awarded to bank customers. Read more here.