January 13, 2022
either/view ⚖️
Relations on the rocks
To: either/view subscribers
---
Good morning. In today's either/view, we discuss whether a political campaign in the Maldives has any effect on the country's relations with India. We also look at a 2000-crore statue being proposed in a state with dire finances, and a controversy surrounding a Maharaja's birthday, among other news.
---
📰

FEATURE STORY
The "India Out" campaign and our future with the Maldives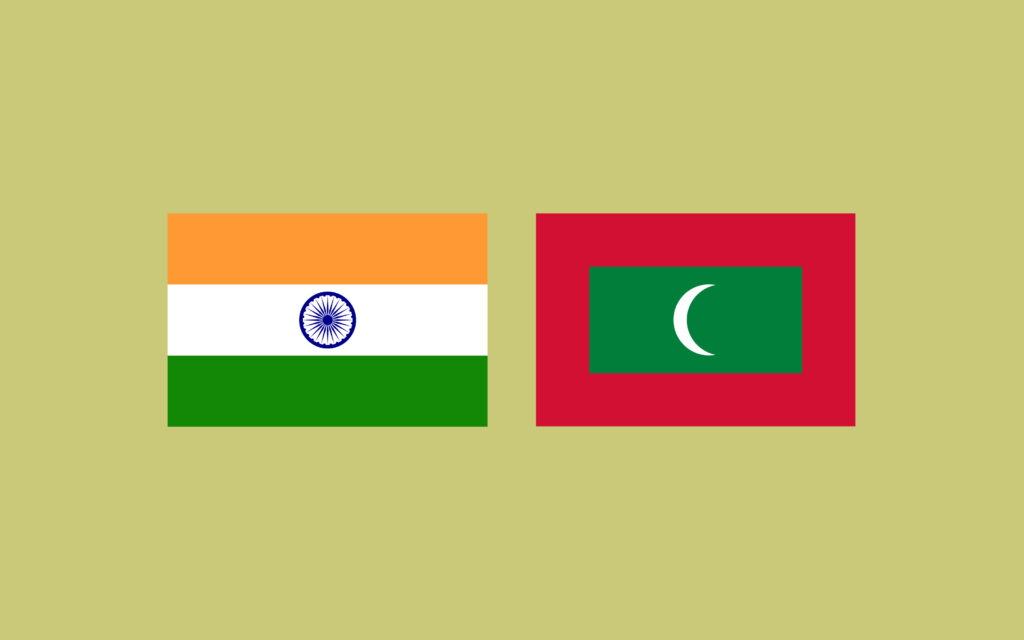 Ah, the Maldives… it's all just blue skies, pristine beaches and rich people on jet skis, right? Well, think again. Turns out, for India, the archipelagic state of the Republic of Maldives is way more important than just an aspirational honeymoon spot. When it comes to our recent conquests of trying to keep the Indian Ocean, in fact, Indian, the Maldives is a nation that we kind of rely on.
This is exactly why the growing "India Out" campaign that has been flooding Maldivian social media is garnering mixed reactions on this side of the sea. Sure, our long-standing close friendship with the country does allow us to breathe easy over future prospects. But looking at the sheer nature of social media and the importance of public perception, things could get complicated for us. All we can do now is brace for impact.
Context
Anti-Indian sentiments have been festering in the Maldives for a while now. Since 2013, to be exact. It was when Abdulla Yameen of the Progressive Party of Maldives (PPM) became president that those antagonistic sentiments really came to the forefront. Before that, India was considered to be a critical partner in the economic, defence and humanitarian sectors of the Maldives. In fact, official statements from both nations talk about how they still maintain a cordial and close relationship with each other and will continue to do so in the future.
So what is this "India Out" campaign all about? As journalist Ahmed Azaan explained on Twitter, it "is a call for removal of [the] Indian military from the Maldives. It is not a call to cut off diplomatic & trade relations with India." The claim of its supporters is that since their current president Ibrahim Mohamed Solih was elected to office, more "Indian boots" have been allowed on Maldivian ground. This, they believe, is "compromising the sovereignty" of the Republic of Maldives.
In reality, the Maldivian government has gone on record to explain Indian military personnels' business in the island nation. In a statement published back in November of last year, their government said "support provided by India on areas such as search and rescue capabilities, casualty evacuation, coastal surveillance, and maritime reconnaissance, directly benefit the Maldivian people." Thereby, officially dismissing any anti-Indian notions that could go on to hurt relations between the two.
Unfortunately, the internet is a whole other beast on its own. Every now and then, #IndiaOut would trend on Maldivian Twitter but that's really where it remained, on the fringes of social media. Now, the scenario's changed quite a bit. You see, the main reason why the Maldives moved away from India during Yameen's presidency was his glaringly pro-China rhetoric. And guess what? He's back and looking to re-enter politics again!
Since the end of 2019, Yameen spent his time in prison after being convicted for money laundering. And as of December 2021, he has been acquitted of all crimes by their Supreme Court. All charged up and ready for a good fight, Yameen has chosen to use his reclaimed freedom to spearhead the "India Out" campaign. Thus, formalising it by making it 'opposition-led'. The problem for India? He's actually popular and is gaining some serious ground with the Maldivian public right now.
New contenders and a complicated fight
Here's the thing, India and the Maldives have clearly been through a lot as partners in the past. And through it all, they seemed to have maintained a strong allyship with each other. So, it seems as if the only true area of concern for us is the possibility of a change in governance. A more anti-India and pro-China change in its government. A change that could happen soon, in Maldives' 2024 presidential elections. What are the odds of such a change happening, you ask? Higher than one might like, unfortunately.
When it comes to Maldives' internal politics, the playing ground might not be as stable as the current administration insists that it is. The ruling Maldivian Democratic Party (MDP) seems to be showing its "internal fractures" way more than it did before. The nation currently runs on a presidential system that former president Mohamed Nasheed believes is inadequate. He wants a parliamentary system. The problem with this is that none of the current-President Solih's partners wants anything to do with that.
It is also important to note that Solih came into power as a coalition candidate so garnering party support is really a top priority for him. And the issues don't end here; in April 2021, the MDP did miserably in the Malé city council elections. Essentially losing a "prestigious seat" as 40% of the Maldivian population live in Malé. That's not even it; guess who they lost the seat to… the PPM! The very party that ex-president Yameen won his presidency with. Another point of unpopularity comes from the Solih government's signing of the UTF Harbour Deal with India in February 2021. People believe that the deal "lacks transparency".
Coming to Yameen, our newly free potential candidate, the last time he was in power, Maldives' foreign policy took a hard turn towards China. Things were so sour that when PM Modi took his "Sagar Yatra" to visit nations in the Indian Ocean region, the Maldives was left out of that list. All throughout December, he was attending rallies, saying things like "I do not want a single soldier or a single pair of boots of the Indian military to remain on the soil." Clearly, if Yameen were to come back to power, looking at his popularity and a fractured ruling party, China could definitely gain centre stage in the islands again.
Just a bunch of hot air signifying nothing
As stated before, we have had quite a rocky relationship with the Maldives. But our ties are nowhere near the rocks, that's for sure. The Solih administration has time and time again made sure to mention the "India Out" campaign is nothing more than "hate-mongering". At the moment, India remains rather important for the island nation. And unlike in 2013, when Yameen came to power, Maldives' economy and security has become more dependent on Indian support. In fact, even while Yameen was in power, the concept of their current administration's "India First" policy was definitely followed to a certain extent. Especially when people-to-people relations were concerned.
India is currently one of the largest investors in the Maldives. Just recently, in August 2021, India and the Maldives signed a major $500 million infrastructure deal that "involves the construction of a 6.74-km-long bridge and causeway link that will connect the Maldives capital Malé with [three of its] neighbouring islands". And that's just the tip of the iceberg. Since 2018, India has been providing the Maldives with "considerable fiscal support" to deal with its debts to China. Even the UTF Harbour Deal, originally planned during the Yameen administration, states that India would only build and maintain a coastguard harbour and dockyard. Not establish a naval force as the anti-India voices claim.
Besides, even if we see another Yameen administration in 2024, it's not like we would stand to lose plenty. As analyst Dr Gulbin Sultana puts it, "Ultimately the Maldives does need assistance from India. It is not a very big power in the region and India is an important country… Yameen may not be able to do what he did in the previous tenure. Now India is not involved in just one project, there are many. So if they ask India to cancel all projects, it will be a heavy financial burden." Especially during the pandemic, with borders closing and the tourism industry taking a serious hit, Indian help remains rather important to them.
What's your opinion on this?
(Only subscribers can participate in polls)
a) India has nothing to worry about when it comes to our ties with the Maldives.
b) India should be worried about our relations with the Maldives.
---
🕵️ BEYOND ECHO CHAMBERS
For the Right:
In Varanasi, Priests Of 2 Key Temples Speak Against BJP
For the Left:
Time To Ask Arvind Kejriwal If Delhi Taxpayers' Money Is Earmarked For Punjab Polls
---
🏴 STATE OF THE STATES
₹2000 crore statue (Madhya Pradesh) – A 108 feet tall statue will come up of religious leader and philosopher Adi Shankara. As part of the ₹2000 crore project, an international museum will also be set up. It was announced by Chief Minister Shivraj Singh Chouhan at a meeting of the Board of Trustees of Acharya Shankar Sanskritik Ekta Nyas. The statue and the museum will be on an area of 7.5 hectares at the Mandhata mountain. The opposition criticised the timing and expenditure of the project, given the state's finances.
Why it matters: The state's finances are not in good shape to take up an infrastructure project of this scale, as the opposition stated. While the state's budget is ₹2.41 lakh crores, its total debt is ₹2.56 lakh crore. The state's farmers are also under stress as standing winter crops over hundreds of acres were damaged due to a recent hailstorm.
Extension of AFSPA (Manipur) – The Manipur government has extended the Armed Forces (Special Powers) Act (AFSPA) for another year. It's a u-turn from the government that previously asked the centre to remove the 'Disturbed Area' tag from Manipur. The reason given in the official notification was violent activities by extremist and insurgent groups. Hence, it requested the need for the Armed forces.
Why it matters: The AFSPA has come under the spotlight after recent events. It gives army personnel extraordinary powers in extreme circumstances of national security. While the centre has resisted calls for its scrapping, activists have said it puts innocent people at risk by giving the Army too much power. In 2021, 33 civilians were killed in insurgency-related violence. In 2020 it was three and 20 in 2019. The Manipur Human Rights Commission called the AFSPA undemocratic. Other organisations in the northeast have echoed similar sentiments.
Journalist detained (Chhattisgarh) – Police in Raipur detained journalist Jitendra Jaiswal, editor of the local Hindi-language news website Bharat Samman. It came in the wake of the outlet reporting on a protest by some police officers' family members alleging corruption in housing allotment. A Police official said Jitendra was arrested for violating COVID-19 norms by organising the protest. An FIR has been filed against him for violating the Indian Penal Code. If convicted, he could face up to six months in prison.
Why it matters: The past few years have seen several journalists taken into custody for reporting on stories that have upset local officials. Kashmir is another state where this has happened. The protests against the CAA and farm laws were other instances that saw similar arrests. The Committee to Protect Journalists found that India detained seven journalists as of December 1, 2021. In last year's World Press Freedom Index from Reporters Without Borders, India ranked 142 out of 180 countries.
Discussion to celebrate a birthday (Jammu & Kashmir) – The J&K government formed a committee to decide whether the birthday of Maharaja Hari Singh, the last autocratic Dogra ruler of J&K, should be observed. It comes in the wake of Congress leader Ghulam Nabi Azad's remarks in December on Singh's accomplishments for the people of the state, despite some calling him a dictator. The BJP in the state isn't happy with its party president and members having portraits of Singh because of Azad's comments on how Singh didn't allow outsiders to buy land and get a job, which was beneficial to the state.
Why it matters: The BJP's actions in J&K have been controversial. The scrapping of Article 370 has been one. Azad has been pushing for statehood by holding rallies for the past few months. He is invoking Singh to address Hindu voters in the state. The BJP is concerned that this strategy could work and eat into their core constituency. In recent weeks, the BJP has had no choice but to invoke Maharaja's name more forcefully.
Power bill increase (Telangana) – As the demand for power increases, Telangana's power bill has increased. Getting power from private companies costs ₹23,000 crores. It could increase to ₹26,000 crores in the 2022-23 financial year. The power purchasing cost has also increased over the past two years. It is expected to touch ₹4.68 per kilowatt. The Telangana State Southern Power Distribution Company said discoms need to buy more power from private generators. New stations, like the Bhadradi thermal station, are expected to be commissioned in the next year. They will help the state meet its power demand.
Why it matters: Many states have been facing a power crisis for the past few months. For Telangana specifically, the agriculture sector is the main reason for the power demand. Despite state-owned generators operating at capacity, there is a dependence on private generators that have driven up the procurement cost. When the state was formed, the generation capacity was 5000-6000 MW. It hasn't increased and forced the government to buy power from other states. Since the state's formation, power demand has increased to 14,000 MW from 7000 MW.
---
🔢 KEY NUMBER
35.8% – The government of India's stake in Vodafone Idea, making it the largest shareholder in the telecom company.