January 14, 2022
either/view ⚖️
Phone a friend
To: either/view subscribers
---
Good morning. Wish you a Happy Pongal/Makara Sankranti/Bihu! In today's either/view, we look at whether the government's stake in Vodafone Idea will help the company. Also, we find out why Anganwadi workers in Haryana and teachers in Tripura are protesting, among other news.
---
📰

FEATURE STORY
What does the government's stake in Vodafone Idea tell us?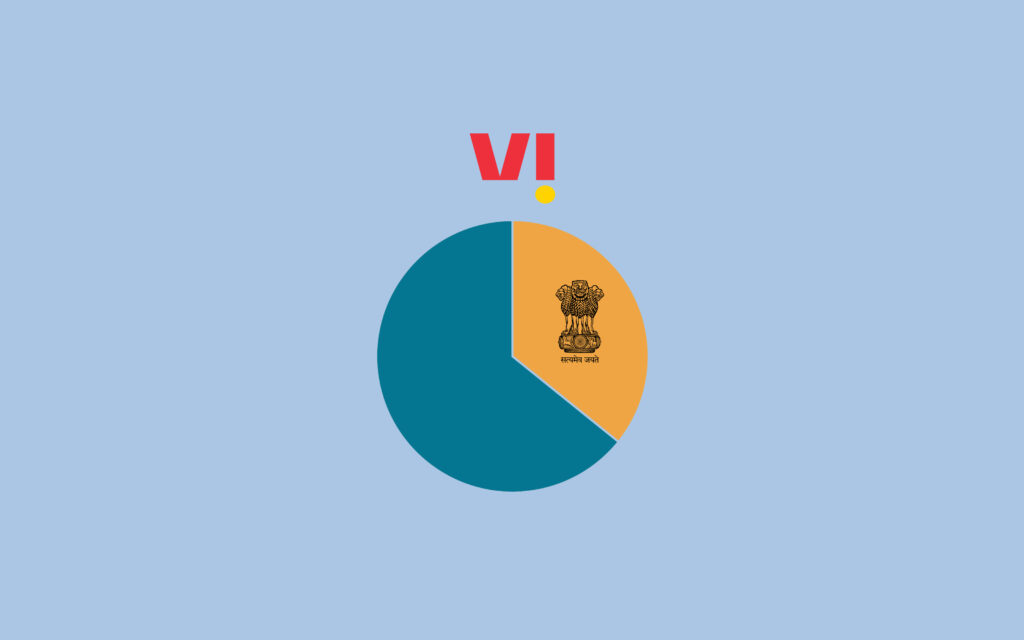 If you're Vodafone Idea (Vi), you're probably a bit dizzy and tired. It has been a bit of a rollercoaster ride the past couple of years. Peaks and valleys in the long journey. Given where the company was, if you were a Vodafone Idea subscriber, you were probably wondering if you should jump ship to another operator.
The ride was so precarious that the very existence of Vi was a question mark. The likes of Jio came in like a hurricane. But now, things have changed. Vi decided that the government would become its single-largest shareholder. Does the government having a sizeable portion of Vi's pie mean its troubles go away?
Context
Vodafone Idea was a passenger on the craziest rollercoaster ride of all, or probably the saddest one – the Indian telecom sector. It has been battered and bruised due to controversial legal battles with the government and financial troubles.
A quick trip down memory lane. A little over a decade ago, the 2G spectrum saga rocked the sector. The Supreme Court cancelled 122 licenses issued by the UPA government. Airtel, Vodafone, and Idea were the big guns. They managed to increase revenue and earnings as small carriers struggled. Making a profit was impressive given the sector needed investments for infrastructure and acquiring spectrum.
In 2016, Reliance Jio entered the market. They changed the game with their initial free and later low-cost services and plans. In its first 13 months of operation, Jio had a total subscriber base of 138.6 million giving it about 12% of the subscriber market share. The other players needed to step up. It resulted in consolidation – companies buying/merging with other companies. In 2017, Vodafone agreed to merge with Idea Cellular.
Over the past few years, the telecom sector and the government haven't exactly been best friends. The issue at hand is money. Money that the government believes it was owed. The fight went all the way to the Supreme Court. In 2019, the apex court ordered the telecom companies to pay the government ₹92,000 crores. The amount was license fees and interest on the revenue sharing model. The model is that the government wanted a cut when the companies made money.
All through this, Vi was battling to stay alive. The merger was a brief reprieve. In the wake of its proposed merger with Idea, Vodafone saw large-scale employee attrition. As the companies tried to outdo each other with lower tariffs, their debts piled up. Last year, the government was looking for ways to help the sector.
Most of Vi's debt was in the form of interest on spectrum owed to the Indian government. At a board meeting, the company decided to convert that debt into government equity, giving them a 35.8% stake in the company. Now, with the government gaining a sizeable portion of Vi, what does the future hold for the company? Is it smooth sailing or choppy waters?
An inadequate approach that won't solve Vi's issues
Yes, the government getting a 35.8% stake in Vi gives the company some breathing room. However, it's not enough to ensure its long-term survival or sustainability. Ultimately, it has to make money. For that, a lot of people need to opt for Vi as their operator. On this front, things have gone in the opposite direction. Its subscriber share fell to 23.1% last October from 36.5% in October 2018.
Vi's competitors have not restricted themselves from being pure telecom operators. Vi needs to grow as a result. With the government being the single-largest shareholder, they could be tempted to meddle in day-to-day decisions and the big picture stuff. What the company also needs is outside investors, someone with deep pockets. It won't be easy to convince investors, given the company's track record.
But the reason why Vi is in this position is its finances. It has ₹1.7 lakh crores of debt on its books. It needs investment to upgrade its 4G networks and any upcoming 5G services. Banks are understandably hesitant to lend. The existing promoters aren't willing to bring in fresh equity. The hope is that investors will see the latest move as a positive. However, it doesn't spark confidence. They could see it as desperate.
The timing is also peculiar. The government has been trying to divest many public sector undertakings, batting for privatisation without explicitly saying so. For the telecom sector specifically, MTNL and BSNL under government control are struggling. The move by Vi could set a contradictory and confusing policy precedent.
It isn't all bad news
It's understandable if some portray this move by Vi to be some form of nationalisation, given the government's stake in the company. Even the stock market seemed to have gained this impression. While it declined on Tuesday, it recovered the following day. However, Vi is still a private company. The government has also said that it doesn't want a role in its operations. Vi Managing Director said the government hasn't asked for a seat on the board and wants promoters to run the company.
It's also good news for us as customers. The government's stake is a lifeline for the company. If Vi fails, then the sector becomes a duopoly, with the only options available being Reliance Jio and Airtel. As consumers, we are entitled to have multiple options on the table.
One potential move could be Vi merging with BSNL. While that would raise eyebrows, keep in mind the upcoming 5G era. Vi has wireless coverage, and BSNL has pan-India wired coverage. They could complement each other well. It would help take on Jio and Airtel, pressing ahead with their 5G plans.
Given that Vi needs capital, the option it chose gives it room to borrow money. Money that it can use to spend on improving its network quality, investing in new technologies, and bidding for the 5G spectrum. From an investor's point of view, this is a positive. Also, the government has a higher credit standing. This will instil some confidence in potential investors.
What's your opinion on this?
(Only subscribers can participate in polls)
a) Government's stake in Vodafone Idea will help the company.
b) Government's stake in Vodafone Idea will not help the company.
---
🕵️ BEYOND ECHO CHAMBERS
For the Right:
L'Etat, C'est Modi
For the Left:
Religion As A Unifying Force
---
🏴 STATE OF THE STATES
Courting arrest (Haryana) – Anganwadi workers and helpers have been on strike in the state since December 8, 2021. The demonstrations have reached a point where protesters are now courting arrest in support of their demands. The demands include the immediate implementation of an increase in honorarium and retirement benefits for Anganwadi workers. Government employees, women and farmers from various organisations courted arrest on Wednesday in support.
Why it matters: In 2018, PM Modi announced a hike in honorarium of ₹1,500 for Anganwadi workers and ₹750 for helpers. Along with this, they were promised retirement benefits of ₹1 lakh for the workers and ₹50,000 for the helpers. They were also promised the status of skilled and unskilled workers that year. These changes were never implemented in the state.
Terminated teachers (Tripura) – It has been around 2 years since 10,323 teachers lost their jobs due to the Supreme Court ruling that teachers require a postgraduate degree to continue teaching. Now, the ex-teachers are threatening to move the courts as their particulars and termination papers are yet to be received by most of them.
Why it matters: According to the teachers' Joint Movement Committee, when they were let go, no proof of termination was given to them. They were simply told to not go to the schools again and their pay was stopped. A memorandum stating the same was sent to the Director of School Education months ago but nothing came of it. Now, the teachers say that a mass agitation might be coming up soon if the status of their papers remain unchanged.
No stopping family planning (Bihar) – Health Minister Mangal Pandey recently made it clear that despite the pandemic, Mission Parivar Vikas, the state's family planning campaign will not slow down. He also mentioned that the health department had prepared for such an eventuality and thus, had a plan ready to work through the apparent third wave. The campaign promises to cover everything from appropriate ages to get married to permanent measures of family planning.
Why it matters: In the last five years, when it comes to unmet needs for family planning, Bihar went from being the third highest in the country to showing the most improvement. While the state still has the highest fertility rate in the country, i.e. 3 children per woman, the use of contraceptives has gone from 24.1% to 55.8%. Clearly, family planning campaigns such as this are working.
Back to school (Maharashtra) – The Nashik Road Central Prison and the Rural Self Employment Training Institute of Bank of Maharashtra have joined forces to ensure that criminals, after serving their sentence, don't return to a life of crime. How are they doing this? By providing around 30 courses that will help inmates learn skills they can use to make a living in the real world. Courses like "gardening, parlour and salon, two-wheeler repair, photography, cooking, poultry farm, goat farming etc."
Why it matters: Since March 2020, over 10,000 convicts and undertrials have been released on either temporary bail or parole in Maharashtra. This was done to decongest the jails due to the pandemic. According to officials, several have returned on account of getting arrested for more crimes. A lot of this stems from economic instability. Thus, the introduction of courses is expected to curb this.
Inadequacies in coastal security (Andhra Pradesh) – Experts along with Coastal Security Police (CSP) personnel have pointed out the problems with the way things are going right now in the state. According to a senior officer, all the CSP stations are "understaffed by at least 60%" and all their fast interceptor boats lie defunct. The stations don't even have jetties built by them. When the Centre provided ₹3.5 crores for them, the state declared it insufficient and didn't bother pitching in.
Why it matters: A couple of days ago, five fishing boats of two fishing communities were burnt after they clashed. The disagreement was over "the use of ring seines or ring nets" while fishing. Senior officials believe that the rioting could have been minimised, if not avoided, if the CSP "was empowered to its desired vision." What happened was the CSP had to wait for the Indian Coast Guard to intervene.
---
🔢 KEY NUMBER
699 billion – According to the App Annie report, Indians spent more than 699 billion hours on their phones in 2021 alone. That's about 4.7 hours per day per person on average. This puts us in second place globally when it comes to media consumption. China topped the list and the USA came in third.