May 9, 2022
Good morning. In today's either/view, we debate whether the recent government rules regarding Virtual Private Networks (VPN) make sense. We also look at the removal of land ceilings in Himachal Pradesh for the tourism industry, among other news.
---
📰

FEATURE STORY
The Questions Around VPN Control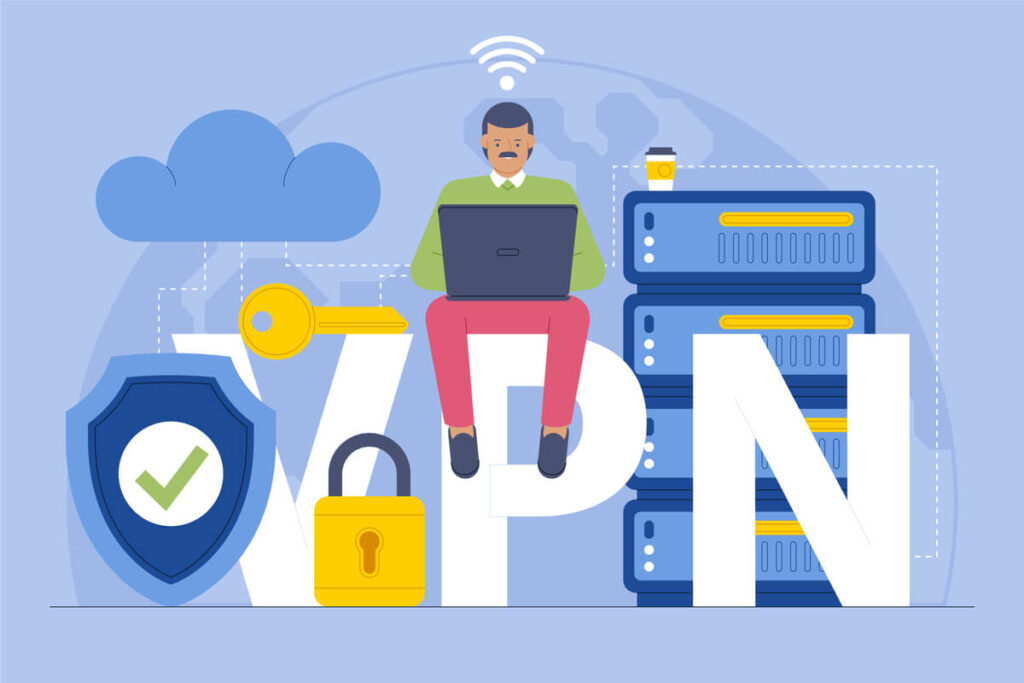 Among avid YouTube watchers, names like NordVPN and Surfshark have become something of a punchline. Turns out, they're tag-teaming it to keep the creator economy afloat. Besides sponsoring every YouTube video, the two have become major Virtual Private Network (VPN) service providers. And one of them is thinking about leaving India.
After debating over banning them entirely, the Indian government has come up with what they believe is a more conducive set of rules. As long as a VPN provider agrees to maintain user data for 5 years, they will be allowed to function within the country. The problem with this is that it directly goes against the very objective of the service.
So let's get into it: the unfolding standoff between a private internet and a whole country.
Context
Let's start with what a VPN is. A VPN or a Virtual Private Network is something that ensures privacy on a public internet connection. On a public WiFi network, the network provider has access to your Internet Protocol (IP) address. This essentially gives away your location, down to your ZIP code.
The VPN encrypts your data as you browse the internet on the public network. That data then gets tunnelled into what is known as an "exit node" that exists in a different location. This, to the service provider, makes it seem as if you are located in that new location. The VPN also blocks any external interference.
The Indian Computer Emergency Response Team (CERT-In) is a governmental body responsible for analysing and tracking cybersecurity issues on a national level. On 26 April, it issued some official directions regarding these VPNs that not many people are happy about, especially the VPN service providers.
The directive states that these VPN companies will have to start storing data in several categories. For example, customer names, how long they've been using the service, the IPs being used, their purpose for using the service, etc. The government even wants the companies to track the ownership patterns of the consumers and their valid addresses and contact information. The service providers also have only 2 months to adhere to them.
Now, the government sees this as routine use of information. According to them, this doesn't pose any threats to privacy as the VPNs will continue to function the way they always did. This is simply an added safety measure. The VPN providers, however, believe that this is going to hurt the industry as a whole, given their commitment to anonymity. And NordVPN is even looking to close their Indian servers.
VIEW: Adieu to digital rights
The Vice President of ExpressVPN, Harold Li, has described the government's move as "a worrying attempt to infringe on the digital rights of its citizens." Just this year, India dropped 8 spots in the Reporters Without Borders' Press Freedom Index. After a steady fall in press freedoms, the country has reached the 150th position out of 180 countries. It must also be noted that VPNs have become a great tool used by dissenters worldwide to do their work. Certain India-based journalists can vouch for the same. Given the government's internet crackdowns on dissenting voices, the suspicion over this move can be understood.
Some even believe that the onset of India's Aadhaar age has gotten citizens wired up about digital privacy. Since the ID system has become a necessity in most spheres – to pay one's taxes, open a bank account, even get an ambulance, etc. – Indian citizens are trying whatever they can to circumvent this surveillance state. According to Mishi Choudhary, founder of the Software Freedom Law Centre, "This is not just bureaucracy. It seems that the government of India is using every opportunity to make access to the internet much more controlled, as well as monitored."
According to the data released by Atlas VPN, one in five Indians used a VPN in 2021. Most use it to avoid geoblockers that block content from different regions on platforms or secure their information. All seemingly reasonable uses of the service. But the government seems to be using a "collect data first, ask questions later" outlook on this whole situation. As Anupam Chander, a law professor at Georgetown University, puts it, "if [India] needs it for law enforcement, intelligence purposes, or other purposes, they can grab it later." This simply comes off as another attempt to monitor your citizens.
There's a logistical issue to this too. VPN service providers pride themselves on maintaining anonymity over the internet. This means that a lot of their monetary interactions happen anonymously as well. For example, NordVPN accepts and deals in Bitcoin. ExpressVPN's company policy states that they "WILL NEVER" record your IP address, browsing history, DNS queries and traffic destination. Surfshark uses RAM-only servers, which means that, even if they want to, their tech simply wouldn't allow them to collect the necessary data. And in the past, Nord and Express have removed servers from countries over similar issues.
COUNTERVIEW: A valid safety measure
From the press release that accompanied the news of the VPN regulations, it is clear that the government sees this as a necessary evil. The statement said that the CERT-In found some gaps that were hurting the body's ability to trace and analyse certain incidents. These VPN measures are being implemented to ensure that lacunae are dealt with. Union Minister Ashwini Vaishnaw went on to dismiss the privacy concerns completely. Relating it to a masked shooter, he said, "Suppose, somebody takes a mask and shoots, wouldn't you ask them to remove that mask? It is like that."
Another report from Surfshark itself said that in 2021, India had so many data breaches that it ranked third worldwide in the category. Let's face it, this is the worst group to win the bronze in. Till November 2021, 86.63 million Indians had their data breached. In May 2021, Domino's Pizza had its data stolen, and over a million people's contact information was posted online. Later that year, 110 million users of MobiKwik had their personal data published on the dark web. Clearly, we're missing something, and law enforcement believes that monitoring VPN data can help reign in these attacks on national cybersecurity.
The government also believes that, if anything, these regulations are a compromise from the original plan, which was to ban VPNs altogether. In September 2021, the Parliamentary Standing Committee on Home Affairs said they wanted all VPNs to be banned as it facilitates content piracy and cybercrimes. The fact that it makes people's locations incredibly difficult to trace is what is so dangerous about the tech. It doesn't bode well that the only way to access the dark web is through a VPN. Given the CERT-In's main objective is the upkeep of cybersecurity, their go at VPNs makes sense.
Whenever this is brought up to a government official, their main response is that the VPN as we know it will remain unscathed. When it comes to user experience, there will be no difference. It's just an added bureaucratic measure that can essentially curb a lot of crime online and thus, make the internet safer for Indians everywhere.
What's your opinion on this?
(Only subscribers can participate in polls)
a) The new CERT-In regulations on VPNs are an affront to the digital rights of Indian citizens.
b) The new CERT-In regulations on VPNs are necessary for the cyber security of the nation.
---
🕵️ BEYOND ECHO CHAMBERS
For the Right:
From Nehru To Modi, India's 'Aatmanirbharta' Goal Has Remained A Pipe Dream
For the Left:
India's Dharmic Democracy Has Ancient Roots
---
🏴 STATE OF THE STATES
Saving a war memorial (Arunachal Pradesh) – On Friday, Deputy CM Chowna Mein called on the younger generations to protect the legacy and environment of the state. He praised the Bongal Yapgo Preservation Committee for looking after the memorial site of the third Anglo-Abor War of 1894. And also said that the government is set to send data regarding the state's unsung war heroes to the Centre for due recognition.
Why it matters: The Bongal Yapgo is a stockade wall built by the Padams in the 19th century. It was built out of rubble during their war with the British. The Abors of the Anglo-Abor Wars are actually the Adis, an indigenous group that used to live across most of central Arunachal Pradesh. Though the British won against the Adis due to their advanced artillery, several British generals and sepoys were killed by tactical tribal warfare.
Land ceiling removed (Himachal Pradesh) – On Saturday, the state government eased land ceiling laws under the Himachal Pradesh Ceiling on Land Holdings Act, 1972 for the tourism industry. Now, the hospitality sector can buy land over 150  bighas for tourist traps. According to officials, this will bring in a lot of investments to the state for opportunities, create jobs and will overall help the economy of the region.
Why it matters: In the past, there have been many instances where land bought for hotels has been used elsewhere. More often than not, hotels turned into real estate properties and the government never batted an eye. Research has brought up the state's mismanagement of afforestation attempts as over ₹20 crore have been lost due to this. The NGT too regularly calls the government out for its leniency towards the real estate sector.
Curbing irregular practices (Bihar) – After complaints about "irregular practices" at religious places, the state government asked its Circle Officers (COs) to identify all the registered and unregistered temples in their blocks. A senior official said that temples, mutts and dharamshalas will have to be registered with the Bihar State Religious Trust Council (BSRTC) as per the Bihar Hindu Religious Trusts Act, 1950.
Why it matters: As per government records, the Vaishali district has the most number of unregistered places of worship. In total, there are 438 unregistered temples holding around 440 acres of land. According to Law Minister Pramod Kumar, the state is estimated to have about 2,200 unregistered temples holding 3,200 acres of land altogether. The 4,500 registered temples will have fences built around them to prevent encroachment.
New MSME policy (Rajasthan) – The State Industries Commissioner Mahendra Kumar Parakh recently announced that the state will be introducing a new policy for micro, small and medium enterprises (MSMEs). The aim of this policy will be to ensure fast industrial growth and the creation of more job opportunities. This policy will also include new incentives and facilities that will help modernise the MSMEs.
Why it matters: As of July 2021, Rajasthan is supposed to have 26.87 lakh MSMEs. This has employed around 46.33 lakh people in the state with a major focus on women-run enterprises. There are about 3.80 lakh women-run MSMEs. The previous MSME policy of the state was implemented in 2015 and was in force till 2019. According to Parakh, these MSMEs have been the backbone of the state's economy.
Promises of charging stations (Karnataka) – Minister for Energy and Kannada and Culture V Sunil Kumar recently announced that the state is set to see over 1,000 Electric Vehicle Charging Stations (EVCS). In June, a "special drive" will be launched that is expected to give a big push to the EV infrastructure in the state. The state has already taken steps to set up EVCS along state and national highways.
Why it matters: Back in January, the Centre eased EVCS rules to accelerate the adoption of EVs in India. The Union Power Ministry basically allowed any public or private entity to set up charging stations on a revenue-sharing basis without any licensing. The state's moves are expected to be a result of this liberalisation of norms. All of this is getting done to promote green transport in the country, especially after the recent explosions of electric scooters.
---
🔢 KEY NUMBER
30% – The National Family Health Survey-5 report released on Thursday finds that 30% of women aged 18 to 49 have faced physical violence in India since they were 15. 6% of women in this age group have experienced sexual violence in their lives. But only 14% of them actually report these issues.