May 8, 2022
Good morning. Every Sunday, we publish the results of polls from feature stories that were published the past week. We also give a brief overview of the topics that were discussed.
---
🗳️ POLL RESULTS – Week 72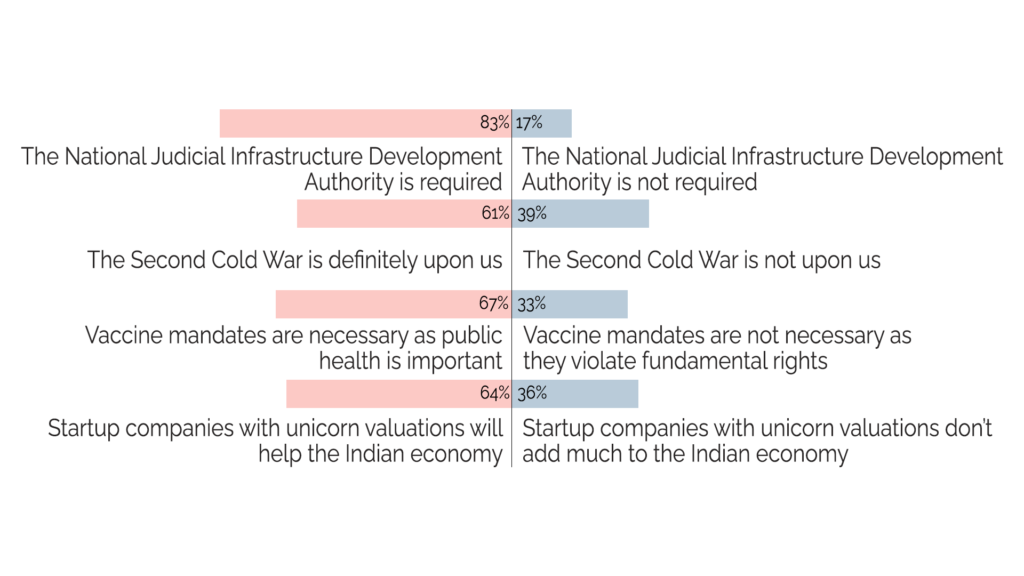 ---
🗓️ THE WEEK THAT WAS
Judicial Upkeep – Is A Separate Authority Necessary?
Daily | 3 May 2022
Is CJI Ramana's proposal for a central agency to oversee and execute judicial infrastructure necessary? Or is the Centre doing enough already in terms of funding and execution? We look into this here.
Are we in the Second Cold War?
Daily | 4 May 2022
On the one hand, you have a formidable China, a Russia-led war in Ukraine, and a rallying West with its allies. Obviously, crystal signs of a major power struggle. On the other hand, however, the evolved nature of the world and the rise of multilateralism simply aren't optimal conditions for a cold war. Follow this debate here.
Decoding the SC verdict on vaccine mandates
Daily | 5 May 2022
The Supreme Court made it clear that no one can be physically forced to get vaccinated, citing bodily integrity/autonomy of a person. It also said vaccine mandates imposed by states are not proportionate. Is the court right, or do vaccine mandates serve a broader public health purpose to help societies get back to some sense of normalcy? We decode this here.
Understanding Both Sides Of India's Unicorn Boom
Daily | 6 May 2022
The boom we're experiencing is seen as a good thing. And articles with unicorns in the title tend to cut through all the depressing stuff. But with unemployment high and general dismay all around, the claims of unicorns helping the people need a quick relook. Find out here.
Rights of a Memelord in India
Know Your Rights | 7 May 2022
To all the masters, lords and creators of the internet's very own units of culture – the meme – this one's for you. For the most part, things are pretty straightforward. Memes are meant to be shared – or not if you deal in niche memes in the basement. But things get a lot more complicated when a major corporation tries to pander to the terminally online by co-opting a reference they barely understand. Read more here.