November 19, 2021
either/view ⚖️
Civil devils
To: either/view subscribers
---
Good morning. For as vast as space is, there are always threats. This time, from Earth itself. Specifically, from Russia and its anti-satellite missile test. Carrying it out against one of its own satellites, the COSMOS 1408, resulted in a stream of debris that forced the crew of the International Space Station to take cover in the Soyuz and SpaceX Dragon capsules. The test didn't sit well with Western nations as they condemned it as provocative and irresponsible.
---
📰

FEATURE STORY
The War on Civil Society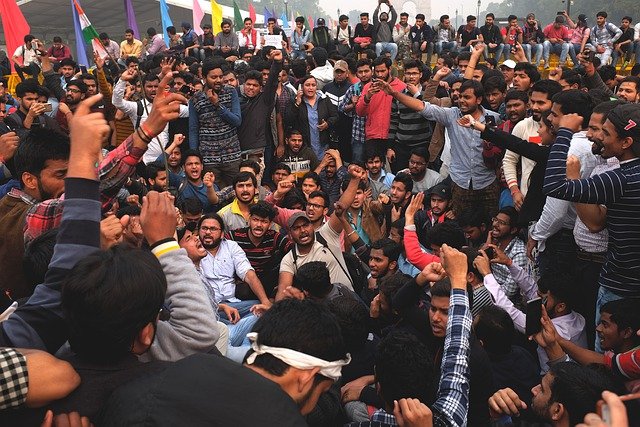 Remember when Archduke Franz Ferdinand had to be assassinated for the Great War to break out? Well, neither do we. It happened over a century ago, in 1914. The point being that major actions of the socio-political type were necessary to create an atmosphere ready for war. But apparently, you don't need all that anymore.
According to our National Security Advisor (NSA) Ajit Doval, "fourth-generation warfare" is revolutionising the way we affect political machinations in a country. Actual battlefields are a thing of the past. It's all about dividing and manipulating the "civil society" at this point. And sure, there are plenty of people that wholeheartedly agree with this sentiment. But what does this mean for us, as a nation, when the chief advisor on national security believes so?
Context
A good speech is often the most memorable one, and NSA Ajit Doval managed to deliver a great speech at Hyderabad's National Police Academy. Addressing the Indian Police Service's (IPS) passing-out parade, Doval went out and dropped a whole new political theory on them. Here's what he focused on:
"The new frontiers of war, what you call the fourth-generation warfare, is the civil society. Wars have ceased to become an effective instrument for achieving their political or military objectives. They are too expensive and unaffordable and, at the same time, there is an uncertainty about their outcomes. But it is the civil society, that can be subverted, that can be suborned, that can be divided, that can be manipulated, to hurt the interests of a nation. And you are there to see that they stand fully protected."
It isn't hard to see why the National Security Advisor would want to focus on securing the interests of the nation. But, it's his use of "civil society" that seems to have gotten some flak. After all, shouldn't civilians be a part of those national interests? And what even is a "civil society" anyway? Well, let's explore this a little further.
Yet another call to crush dissent
In the 70s and 80s, people were actively turning their backs on "unresponsive and authoritarian" governments. When major institutions fail their people, the people turn to those that listen. And at that point, associations "outside the state", formed in "reading clubs and soup kitchens", actually listened and planned to do something about the unresponsiveness. These spaces became known as the "civil society" and the associations, civil society organisations (CSOs). In India, CSOs play a very important role in securing the interests of the people and the Indian government has been at their throats ever since.
What Doval seems to be doing here is insinuate that any criticism or disapproval of the political government, immediately becomes a threat to the country. In his speech, he says that the "quintessence of democracy does not lie in the ballot box. It lies in the laws which are made by the people who are elected through these ballot boxes." It's the classic "rule of law" argument but Doval chooses to really press on the "lawmaker" part of it. If you don't like the lawmaker then you definitely won't like their laws. And what are laws if not the codification of national interest… right? Well, he sure believes so.
A former Intelligence Bureau director even said that Doval is, "asking trainee IPS officers to act against civil society groups and crush dissent. [Doval] seems to have forgotten that India is still a democracy and not a police state." Our Constitution is clearly set up such that this "police state" doesn't come to be and as a decorated public servant, Ajit Doval should have known that. Considering that this attitude is being displayed by the NSA himself, it serves as a dangerous precedent for the future of "unmitigated injustice" under this current administration.
A grave misunderstanding
It should be noted that Doval's speech started this whole sentiment off with "People are most important." This "fourth-generation warfare" that he later talks about refers to conflicts where the "state loses its monopoly on war and is fighting non-state actors". These "non-state actors", like insurgents, terror groups, etc, are known to have quite a strong sway over people. And surely, it's not like they are ecstatic about our national interests. Some believe that it is this specific aspect that Doval was referring to. Whether it's through their sources for funding or foreign backing, the workings of a CSO can threaten national security.
Considering how important civil society is to a democracy, where the right kind of debate is key, keeping it on track and away from the "non-state actors" becomes a must – even on an individual level. Just a day before Doval delivered his speech, General Rawat said that the people of Jammu & Kashmir willing to "lynch terrorists" was a "positive sign". For various reasons, this is definitely not what India's about. Simply put, the law mustn't be in the hands of citizens. In fact, most citizens don't even want this to be the case. It's just that the loudest voices always get heard and unfortunately, they usually tend to be on the extreme side.
Civil society isn't against the state and neither is the state against it. It's just that every now and then, a little redirection is necessary. It happens to the best of us. Doval even told the new IPS officers to adopt the "right attitude, right bent of mind, the right training and self-actualisation". Everything needed to keep empathy alive. The goal here wasn't to attack CSOs but to keep them from flying too close to the sun.
---
🕵️ BEYOND ECHO CHAMBERS
For the Right:
Modi's Development Plans for Uttarakhand Can Wreck Its Ecology
For the Left:
Vir Das And His Idea Of India Neither Stand Nor Qualify As Comedy
---
🏴 STATE OF THE STATES
Drone police unit (Tamil Nadu) – The state government has issued a Government Order to establish a Drone Police Unit for the Greater Chennai Police. At an estimated cost of ₹3.6 crores, the unit will have three types of drones, each designed to serve different purposes. It's part of a policy to assist police officers to reduce their response times to distress calls, probe VIP routes, and survey crime-prone areas.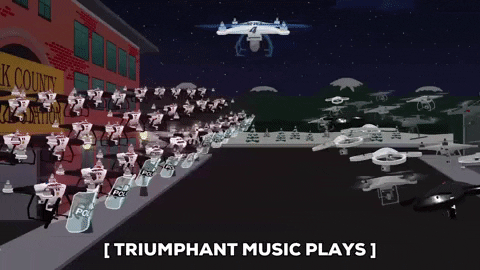 Gurudwaras lend their space (Haryana) – Due to protests by right-wing organisations and some residents, the number of sites for Friday prayers has shrunk in Gurugram. Lending a hand is a local association of Gurudwaras. They said their doors will be open for Muslims to offer namaz. Gurdwara Singh Sabha Committee of Gurugram, which has five Gurudwaras affiliated with it, said it will seek the administration's permission. A welcome instance of one community helping another.
Protests against Tata (Jharkhand) – The decision by the Tata Group to shift some of its head offices has caused controversy. The Jharkhand Mukti Morcha (JMM) blocked the main entrances of the Tata Group of companies and to the Tata-run mines in West Singhbhum district as a protest. JMM MLA alleged that Tata Motors and Tata Cummins were planning to move to Maharashtra. Tata responded by denying any news reports of shifting operations. Both companies have large production units in Jamshedpur.
Increase in government school enrolment (Maharashtra) – Since 2018, the state has seen a 9% rise in students joining government schools. The data was released in the Annual Status of Education Report (ASER) 2021. Due to the pandemic and schools going online, parents in rural areas have preferred to enrol their children in government schools closest to their homes. One point of caution is that a rise in enrolment doesn't mean an improvement in the quality of education.
'Project Aagaz' (Sikkim) – Chief Minister Prem Singh Tamang launched Project Aagaz for school children. Launched by the Education Department, it will make school environments safer, introduce health and hygiene measures, and include psychological and nutritional needs. Due to the pandemic, some schools will also have wellness centres to provide information on COVID-19. As part of this initiative, students, teachers, and community workers will receive training.
---
🔢 KEY NUMBER
₹2,629 crore – The amount the Tamil Nadu government is seeking from the centre as relief for rain-related damages. It comes as a six-member team will visit the state to assess the damage by visiting the worst-hit districts.