September 29, 2021
either/view ⚖️
Behind the story
To: either/view subscribers
---
Good morning. Love knows no bounds. Do you believe that a person in love can go to any extent and sacrifice big things in their life? Take a look at the love story of the Japanese Princess Mako.
Mako is ready to give up her royal status and a royal payment of $1.35 million to marry her college sweetheart Kei Komuro, who is a commoner. Reports say that the wedding date is in October and after the wedding, the couple will jumpstart their new life in the United States. Well, we couldn't have asked for a sweeter fairytale romance now.
---
📰

FEATURE STORY
Under the radar – Amazon vs Panchjanya controversy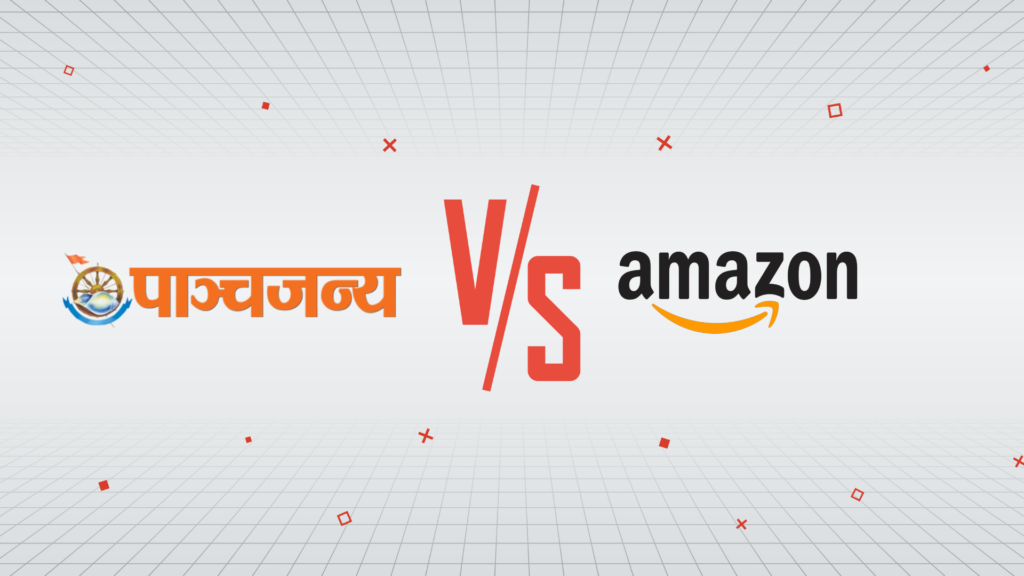 E-commerce giant Amazon needs no introduction. We have been shopping, making payments and watching content, thanks to Amazon. But for quite some time now, Amazon has been treading over a trail of controversies in India.
The latest controversy comes right from the papers of a Hindi weekly 'Panchjanya'. In its latest edition, the magazine has featured a story titled 'East India Company 2.0'. The point in focus is that Amazon has been disruptive to small businesses. Two days back, the US-based company issued a statement in response to the magazine's story. From what they say, Amazon has actually helped several small retailers. Let's dive in.
Context
Panchjanya is a Hindi weekly magazine affiliated with the Rashtriya Swayamsevak Sangh (RSS). Started in 1948, the magazine has a long history of carrying controversial cover stories. This particular article in question is part of its latest edition, which will hit the stands only on October 3. Yet it has grabbed many eyeballs by drawing parallels between Amazon and the much-dreaded colonial company.
As for Amazon, this is not the first time they have found themselves in a dispute. The company has been dragged to the courts many times. In one of the legal tussles, the antitrust body of India launched a probe against Amazon for promoting only a few select sellers on its platforms. The company has also been accused of using practices to suppress competition. But Amazon has discarded all these allegations, including this.
In Panchjanya's story, Amazon has been criticized for its monopolistic nature and how it has invaded the economic, political and personal freedom of Indians. Notably, another RSS affiliate, Swadeshi Jagaran Manch had earlier voiced against Amazon for being unethical and detrimental for traders.
Amazon is East India Company 2.0 : Panchjanya
Let's start with why the magazine calls Amazon a modern East India company. The article describes how the latter had first attacked Indian culture and then led to conversions. In a similar vein, Amazon has been accused of airing anti-Hindu content and trying to hit out at cultural sentiments. Previously, even the Ministry of Information and Broadcasting and some state governments had pulled up the company for publishing controversial shows like Tandav and Paatal Lok.
Apart from cultural invasion, the article criticizes the company for its monopolistic ways. The Panchjanya Bureau alleges that Amazon "wants to have sole rights on the Indian market." The first step is visible in how the e-commerce giant has floated shell companies and captured the online market platform. Interestingly, the story has received support from the Confederation of All India Traders. The organization's National President BC Bhartia explained how Amazon, like the East India Company, sells cheap goods, kills competition and monopolises the market.
At the core of the accusation is the argument that Amazon has affected small businesses. Amazon had initially promised to help small traders reach a larger platform. But this has not been the case, says the article. The company gives preferential treatment to large sellers and has been in the headlines for that.
The article also writes about Amazon's recent bribery scandal in India. It is alleged that the firm's legal representatives have supposedly spent nearly ₹8,546 crore as legal fees. This unusually high amount of legal expenditure for only two years (2018-2020) has raised many suspicions as well.
Lastly, while Congress does not meet eye to eye with the RSS-linked weekly, it does agree that the issue against Amazon is pretty serious. The party has demanded a Supreme court-monitored investigation in the alleged bribery case of Amazon. Although they have their own differences with the article, Congress claims that the allegations against the e-commerce firm are serious and has to be attended to.
Amazon is beneficial for Indian sellers
In its response, Amazon has stated that the firm is all about helping small businesses. The company proudly shows statistics to prove they have left a "positive impact on small businesses" like sellers, artisans and other local traders.
The company has revealed that during the pandemic, Amazon has joined hands with over three lakh new sellers. Among these, nearly 75,000 are local neighborhood shops that sell a variety of goods such as furniture, stationery, beauty products, electronics, etc. These sellers are spread across more than 450 cities, which shows Amazon's focus on uplifting local businesses.
The firm has a special exports programme that benefits Indian sellers. The idea behind this programme is to transcend 'Made in India' products to the global market. The company discloses that for this project, Amazon has partnered with more than 70,000 exporters in Tier I, II, III and IV cities in India. Statistics show how these exporters sell crores of Indian products to nearly 200 countries in the world.
When it comes to the bribery accusations, Amazon has rebutted that the media were portraying misleading information. Apparently, the huge sum was spent for legal and professional expenses like outsourcing, customer research, logistic support services, etc. If all of this is excluded, the legal fee comes up to merely ₹52 crore.
Aside from Amazon's claims, it also needs to be noted that Panchjanya has been involved in writing controversial stories. It's been only weeks since the magazine accused Infosys of supporting anti-national forces. They had cited glitches in the Income Tax Department's e-filing portal by Infosys to prove their point. Many politicians even within the RSS and other right wingers condemned the article. They said it was very opinionated and distanced themselves from the story. So, it's debatable if the stories written by Panchjanya should be taken seriously.
---
🕵️ BEYOND ECHO CHAMBERS
For the Right:
What would today's government have done with Gandhi and Bhagat Singh?
For the Left:
Congress-mukt Bharat is not just BJP's dream anymore. Other parties want it too
---
🏴 STATE OF THE STATES
Patriotic Progress (Delhi) – To instil patriotism in students, the Arvind Kejriwal-led Aam Aadmi Party (AAP) government in Delhi rolled out the Deshbhakti curriculum yesterday. One period every day for patriotism studies is made mandatory for students from nursery to class 8. For classes 9 to 12, two classes will be held every week. The aim is to inspire students to feel proud of their nation. This plan is being implemented across all public schools in Delhi. The curriculum will not be based on rote learning. It will be activity-based and stories about independence and the nation's pride will be narrated. What do you think about this initiative?
One Family One Entrepreneur (Sikkim) – Entrepreneurship is key to the development of individuals, their families and society today. Keeping this in mind, CM Prem Singh Golay launched the 'One Family One Entrepreneur' scheme. It is different from 'One Family One Job'. Here, support from the government will be provided to businesses as Sikkim people are mostly engaged in first generation businesses. This push is necessary to revive the state's economy. The plan is to push the economy back into the state instead of pushing it outside. In the past, leases were given to outsiders. However, the government will lease hotels to the locals and will try to change the system with local businesses. The government is hopeful and ready to support the entrepreneurs. CM says that 'you are giving livelihood to the government and its people'.
Paperless Travel (West Bengal) – Air travel is the best and fastest. But the bundle of paperwork could often tire us. No worries, Kolkata airport will soon be ready for paperless air travel. It is all set to roll out the biometric boarding system (BBS). This system is expected to come into action sometime in November. It awaits the software platform testing and go-ahead sign from the Bureau of Civil Aviation Security. Initially, passengers of IndiGo and Air India will participate in the trials and it will slowly be extended to other airlines. Registration, self-check-in kiosks and automated gates have been installed. One important challenge is that we would have to remove masks for the sensor to detect face contours. This can be managed with social distancing. The system is expected to ease travel and reduce contact points. We are very much excited to travel paperless, are you?
First Woman Speaker (Gujarat) – Development of women in every sector is important in India, especially in politics and governance. In a move that loudly speaks of women empowerment, Senior BJP MLA Nimaben Acharya became the first woman speaker of the Gujarat Assembly. Both the government and the opposition Congress were in support of her. This way, she was elected unopposed as the new speaker. Acharya has assured the House that she will try and fulfil her responsibility to her best ability. This news has made our day.
Caste Chauvinism (Karnataka) – Caste has always been a debate in India. The issues are sometimes extremely discriminatory. On September 4, a two-year-old Dalit kid ran into a temple premise and the family was penalised ₹23,000 for purification purposes. Following this, police filed a case. In a similar incident, a Dalit man was forced to spend ₹11,000 and arrange a feast for entering the temple. A few months ago, a theft took place in the village and it was decided that no one should enter the temple except the priest. Since the Dalit man had taken a vow to do some rituals, he had entered the temple. Following this, he was forced to spend the amount. The police had detained eight people in this connection and a suo moto case has been filed.
---
🔢 KEY NUMBER
₹5.03 lakh crore – Centre plans to borrow ₹5.03 lakh crore in bonds over the second half of the fiscal year 2021-22. This borrowing is aimed to fund the revenue gap. During the first half (April-September), the government borrowed ₹7.02 lakh crore.