June 14, 2022
Good morning. In today's either/view, we discuss whether Indian companies and brands can benefit by using NFTs. We also look at the number of illegal buildings in Gujarat, among other news.
---
📰

FEATURE STORY
Can Indian companies and brands use NFTs for their benefit?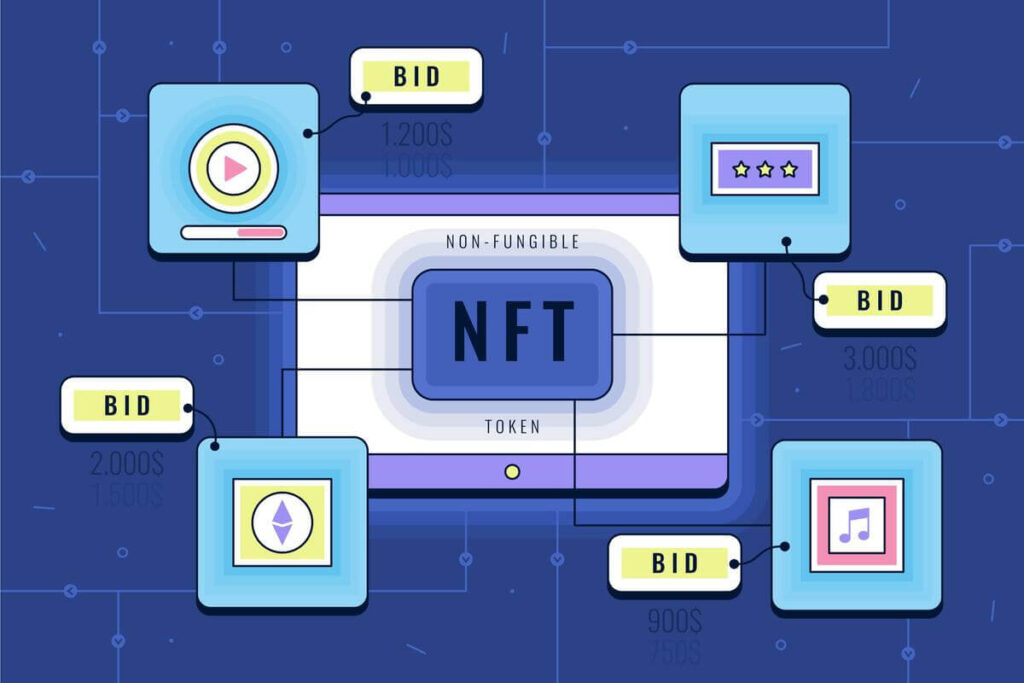 A lot of big companies are jumping on the NFT bandwagon. They seem to be everywhere, and brands want to cash in. You can now show off your favourite NFTs as your Twitter or Reddit profile picture. There's a certain dot-com anxiety and fear of missing out (FOMO) mentality at play as mass-market players and luxury brands are dipping their toes.
In India, companies are looking to follow suit. India might not be ahead of the pack by any means. Only this year has the debate and discussion begun in earnest on cryptocurrencies. That being said, just how potent and lucrative is the NFT landscape in India? Can brands replicate their foreign counterparts? Or are there just too many unknowns in general and in the Indian market specifically?
Context
What are NFTs? Is it a platform, an art form, or a system? They're Non-Fungible Tokens. Non-fungible means they're more or less unique and can't be replaced with something else. A bitcoin is fungible since it can be traded. You trade one bitcoin for another of the exact same thing. However, let's say you have a one-of-a-kind trading card. Even if you trade it, you'll get something different.
What do NFTs constitute? They can be anything digital like art, music, multimedia, etc. Although, all the current excitement is around buying and selling digital art. Even a tweet can be an NFT. In fact, Jack Dorsey, the founder of Twitter, put up his first tweet as an NFT. Last March, crypto entrepreneur Sina Estavi bought it for $2.9 million. The most expensive is believed to be a work by an artist known as Beeple. An NFT of his work sold for $69 million at Christie's.
NFTs run on these things called blockchains. A blockchain is a way to store data without needing to trust one company to keep it secure. While there are some nuances to this, it's pretty much what a blockchain is. In 2021, the overall trading market of NFTs crossed $21 million. Its global market capitalisation is $40 billion. If 2021 was the year of the world opening up to the possibilities of NFTs, then 2022 could be the year for it to go relatively mainstream.
If you're an artist, NFTs are an option to showcase and sell your work when there otherwise won't be a market for them. Here's one example. There are some NFT marketplaces where the artist gets paid every time the NFT is sold and changes hands.
For India, the market is still in its infancy. Indian experiments with NFTs have grown over the past year. In June 2021, WazirX, India's largest cryptocurrency exchange, launched its NFT marketplace for Indian artists. At launch, it had about 300 creators. The company announced it received more than 15,000 applications from creators and collectors to register on their platform. So, what's the scope for Indian companies and brands looking to cash in?
VIEW: Brands need to gear up
Looking at NFTs as a fad might be the wrong way to look at all this. As Indian entrepreneur Anuj Jasani said, "People don't understand NFTs, Metaverse, and crypto today the same way they didn't understand online shopping in 1995." It could alter the face of e-commerce and brands' interaction with consumers. And e-commerce is certainly something India is familiar with. Here's the potential – the NFT market is expected to be $80 billion by 2025.
To develop a successful NFT marketplace, a few important ingredients are necessary. Talent and content capable of generating digital assets and interested investors. India has those. There's already a marketplace for Bollywood and fashion NFTs. Amitabh Bachchan, Kamal Haasan, and Salman Khan are among those who have become involved. Amitabh Bachchan's NFT collection was sold for ₹5.5 crores.
It's a new way for celebrities to reach out to their fans. Think of it like Instagram and how famous people and brands use that to connect with their audiences. We may not be far from a musician's next album being an NFT launch. It remains to be seen if NFTs are just disruptors in marketing and advertising. However, we're now in the realm of first-mover advantage. In the short term, brands can use NFTs purely on novelty value. Plus, companies in India have two things going for them – Bollywood and cricket. They're money-makers.
COUNTERVIEW: Let's not jump the shark
With all this talk of the NFT marketplace and the large sums of money, it can be easy to get carried away. However, it's important to take a step back and look at the Indian market. There's a supply and demand gap. Creators and collectors paint a different picture of the NFT potential in India. While artists are selling their work, not many buyers are Indian. For example, none of the collectors of artist Samosa Rani's work is Indian.
There's a fundamental question that still needs to be answered – what about regulation? Other countries have been grappling with this. Also, since cryptocurrencies are used in NFT transactions, regulations on one will affect the other. The Finance Bill includes 'Non-Fungible Tokens' within the definition of virtual digital assets. However, the government has decided to impose a 30% tax on the income from the transfer of virtual digital assets. This will only add to the uncertainty in the Indian NFT market.
The biggest issue in regulation is defining it. Currently, it's being looked at by legislators only from a transaction point of view of artwork and images as volatile assets. IP and Media rights expert Priyanka Khimani opined that the Indian NFT space needs proper legal recognition and regularisation. There's a chance that NFT could become a highly speculative marketplace like crypto. With no legal backing in place, NFT investments are risky.
What's your opinion on this?
(Only subscribers can participate in polls)
a) There's scope for Indian companies to leverage NFTs.
b) It's risky for Indian companies to leverage NFTs.
---
🕵️ BEYOND ECHO CHAMBERS
For the Right:
India's Blasphemy Battles—Hindu Or Muslim—Show Reason Has Succumbed To Faith
For the Left:
How Mamata Banerjee's Bid To Upstage Congress And Grab Leadership Role Has Vitiated Opposition Attempt To Forge Consensus Over Presidential Candidate
---
🇮🇳 STATE OF THE STATES
Bulldozer politics (Uttar Pradesh) – The state police deployed bulldozers to demolish parts of the homes of two of the accused arrested for disturbing the peace and social harmony. In the wake of the violence on June 3 in different parts of the state, Chief Minister Yogi Adityanath directed officials to take strict action to set an example. He asked law enforcement officials to be in contact with religious leaders. He said the government will maintain a dialogue with all parties.
Why it matters: Over the past few days, there have been attempts by anti-social elements to cause disharmony in places like Kanpur, Firozabad, and Ambedkar Nagar. In cases where the public property was damaged, the losses will be recovered from the accused. The chief minister stressed that bulldozers are being used against criminals and the mafia, and this course of action should continue.
Public health bill draft concerns (Kerala) – The proposed public health draft bill has come under criticism from Ayurveda and homoeopathy practitioners who come under the AYUSH umbrella. They say the bill was framed with a narrow mindset by officials and experts who cite allopathy as the only acceptable form of medicine. They say the bill allows for only allopathy doctors to treat people and would destroy Ayurveda and homoeopathy.
Why it matters: Schedule 38 of the bill states that modern medicine practitioners can issue medical fitness certificates for infectious diseases. The AYUSH fraternity claimed that the bill was framed without consultations and remains vague on if traditional medicine will be integrated into the state's public health policy.
North Bengal expenditure (West Bengal) – State spending in North Bengal has declined over the past few years. Now, there are questions on whether this is why there's a demand for a separate state in the region. The TMC's base in the region has eroded as the BJP won it in the 2019 Lok Sabha elections. Some have speculated that the decline in development in the region has prompted local BJP MLAs and other elected leaders to push for statehood.
Why it matters: Per the state budget, its allocation for the last financial year was ₹776.51 crores. The estimated expenditure was 271 crores. During the 2020-21 financial year, the budget allocation was 731.76 crores, and expenditure was ₹274.44 crores. This could be due to the pandemic and lockdowns. Some of the money could've been diverted to meet other departments' needs during the pandemic.
Illegal buildings (Gujarat) – After a three-month survey of more than 8,300 buildings, the urban development department concluded that almost 35% of them are illegal without building-use (BU) permissions. The reasons for this include additional floors and jurisdictional issues. The department recommended an ordinance with conditions for owners to overcome this. In Ahmedabad, 32% of the 1,050 buildings surveyed didn't have BU permissions.
Why it matters: Last July, the state government responded to a petition in the high court concerning fire safety and the regularisation of illegally constructed buildings. It said the government remains committed to an impact-free ordinance and would give time to property owners. The government doesn't want any demolitions of illegal constructions. Some owners don't come forward to get BU permissions due to revenue issues.
Discovering places of indigenous faith (Arunachal Pradesh) – A team from the National Monuments Authority will visit the state's ancient monuments, including those bordering the Tibet-China region. The goal is to find places of indigenous faith that connect the state with the country. The team will also meet with local tribal leaders. NMA Chairman Tarun Vijay credited Prime Minister Narendra Modi for initiating the annual yatra from Arunachal to Porbandar in Gujarat. The team hopes to find local monuments and heritage that connect them to the westernmost coast of Gujarat.
Why it matters: The state has lagged behind in heritage protection and enlisting new monuments in the centrally-protected list of national archaeological sites. To document its heritage legacy, the Arunachal Pradesh Heritage Authority (APHA) was constituted in 2019. The state has three sites listed from India for World Heritage Sites. However, none of them has any formal designation.
---
🔢 KEY NUMBER
₹2,060 crores – The value of the stake bought by Chinese technology conglomerate Tencent in Flipkart. The company bought this share from co-founder Binny Bansal through its European subsidiary.