March 17, 2022
Good morning. In today's either/view, we discuss the controversy surrounding 'The Kashmir Files' movie. We also look at a Gujarat person's fight for the right to be forgotten, among other news.
---
📰

FEATURE STORY
Decoding "The Kashmir Files" Debate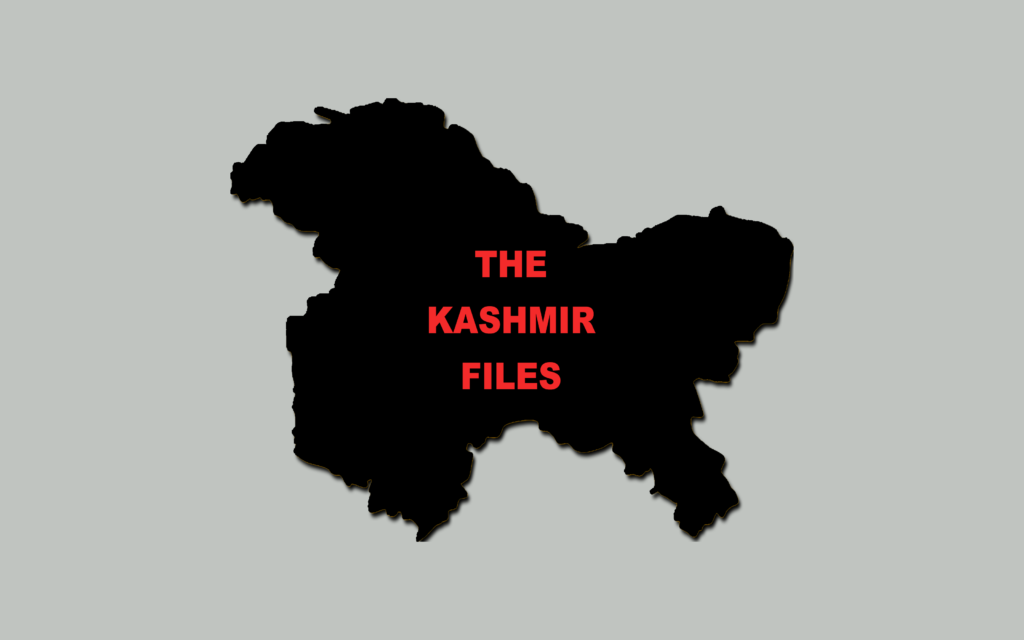 "Narrative has an important moral function," says writer and director Anthony Minghella, piggybacking off Ingmar Bergman's notion of fiction not being for pleasure. According to some, Vivek Agnihotri's 'The Kashmir Files' is one film that manages to do both within a structure that usually isn't the most conducive for such experiments. Even the PM gave his blessings to the low-budget production for exploring the truth.
The problem is that the truth can be subjective. Especially when it comes to artistic expression, instances become plot points, and people become characters. Portraying the facts without any feelings is a feat in itself, and those not too happy with Agnihotri's film are sure that there are some biases at play. Considering that the film is about the Kashmiri Pandit exodus of the 1990s, these biases can actively hurt several people.
So let's get into it – the polarising nature of The Kashmir Files.
Context
The Kashmir Files is a movie about a university student who learns about the plight of his Kashmiri Pandit parents. According to his grandfather, our protagonist's parents were killed, not by accident, by Islamist militants. The film is based on video interviews of first-generation victims of the Kashmiri Pandit genocide in 1990. States have waived taxes on it, Madhya Pradesh's police were given a day off to watch it, and the PM is clearly a fan.
This lesser-known part of Kashmir's history goes back to the late 1980s when the Valley's Muslim-majority population witnessed an armed rebellion against Indian rule. The upper-caste Pandits of Kashmir, a minority group despite their approximately 300,000 population, soon started getting targeted by the militants. As of today, the Kashmiri Pandit population in Kashmir is expected to be something around 3,000.
While the real reasons for the exodus are still contested, it is widely known that several Pandits were killed in Kashmir during that time. The general atmosphere of aggression and insecurity didn't help either. Soon after, the Kashmiri Pandit cause was hijacked by Hindu right-wing groups, and the issue as a whole became more about politics than actual individuals.
When it comes to The Kashmir Files, however, the issue isn't about history. A little scroll through Twitter will show that the debate is definitely not with genocide deniers. Instead, it is over who is telling the story and how it is being told. One team sees this as airing out an open wound – it hurts but will eventually lead to healing. The other sees a lack of nuance and the vilification of Kashmiri Muslims.
Facts are not facts
Last Thursday, a district court in Jammu issued an order against the release of The Kashmir Files. The order was released after Shalini Khanna, the wife of late Indian Air Force Squadron Leader Ravi Khanna, approached the court about the falsification of his death in the film. According to the movie, Ravi Khanna dies in a random shooting while giving sweets out. In reality, he succumbed after taking 27 bullets from militants while fighting them despite being unarmed.
Now, director Vivek Agnihotri himself said, "facts are not facts" while talking about taking artistic liberties in his films, which circle around major political events. As it may be true that artists can stretch the truth to a certain extent to make narratives enticing, the context in which one does that definitely matters. The utter lack of nuance in dealing with an issue as complicated as the Kashmiri Pandit exodus is setting us up for several public safety issues.
Agnihotri's penchant for depicting overwhelming suffering in his films does push audiences to favour the victim over the perpetrator; that's completely natural. Usually, a general understanding of the issue being presented, along with complex characters, keep things from getting too blatantly black and white. The problem with The Kashmir Files is that, for the most part, the differences between a Kashmiri Muslim and a militant is never featured. And, every perpetrator of violence was characterised as a Muslim.
As journalist Sagrika Kissu tweeted, "Not every Muslim is a terrorist/militant or a terrorist sympathiser. We should be very sensitive when we paint all of them in one colour. This movie sets in a very bitter emotion for Kashmiri Muslims as [a] whole." And this isn't even the first time Agnihotri has been called out for such unsubtle inaccuracies. His previous film, The Tashkent Files, was accused of depicting rumours as facts regarding the death of former Prime Minister Lal Bahadur Shastri and even had to face legal notice from Shastri's family.
According to documentary filmmaker Sanjay Kak, a Kashmiri Pandit himself, Agnihotri's The Kashmir Files tells the Kashmiri Pandit story the way the right-wing wants it. That is, without the nuance and complexity it deserves.
Dismissal is dangerous
Over the years, Kashmir's heavy past has inspired many books and films about the exodus from various perspectives. But, according to author Rahul Pandita, none ever really focused on the causes and concerns of Kashmiri Pandits alone. Of course, this has to be taken with a grain of salt as Pandita himself has written a book – Our Moon Has Blood Clots: A Memoir of a Lost Home – about the issue. Yet, the sentiment here remains quite prominent among the Kashmiri Pandit community across the country.
Even as media and art portraying the horrors of the 1990s in the Valley definitely exist, the chances of them breaking into the mainstream consciousness of people are very rare. As Pandita describes it, "My book is into the 10th year of its publication, and I still receive at least three-four emails every single day from people from all corners of India, or some from outside of India, saying we had no idea about the quantum of this tragedy." Thus, finally seeing a Bollywood film featuring veteran actors tell a story the community has been trying to for years does add a level of "emotional catharsis" to it.
Commonwealth prize-winning author Siddhartha Gigoo even goes on to say that The Kashmir Files actually does offer up some truth through its portrayal. Covering the "whole truth" in any situation is a herculean task as every story and testimony is different. This is just one version of it, and it needs to be treated as a valid one. Simply dismissing a film that has managed to strike a chord with not just Kashmiri Pandits, but with the broader Indian audience as well, would result in silencing those that have suffered. This just opens the public up to discussion, not pose as the final word.
Some even hope that, given all the state support the film has gotten, the government can now actually look into the matter. Thus, resulting in some compensation to those that have lost gravely.
What's your opinion on this?
(Only subscribers can participate in polls)
a) The Kashmir Files lacks the nuance required to tell the story of the Kashmiri Pandits.
b) The Kashmir Files portrays an important perspective in the Kashmiri Pandits' story.
---
🕵️ BEYOND ECHO CHAMBERS
For the Right:
The Anti-Hijab Campaign Is A Form Of Cultural Cleansing Of Muslims That We Ignore At Our Peril
For the Left:
The Creation Of A Winning Electoral Formula
---
🏴 STATE OF THE STATES
New waterbodies (Delhi) – To recharge the groundwater, the Delhi Jal Board (DJB) will create nine new waterbodies. The Delhi government will use the treated water at sewage and water treatment plants. Near these plants, work will begin to create lakes and ponds. One lake has already been created at the Pappankalan sewage treatment plant (STP). The DJB has identified farms in Chhatarpur, Bijwasan, and Sultanpur, among others, where treated water will be provided for horticulture.
Why it matters: Delhi has a little over 1,000 waterbodies. Earlier this year, it was reported that ten of them could be designated as wetlands by the Delhi State Wetland Authority (DSWA). However, over 400 waterbodies in the capital have been encroached upon or have dried up according to a study by the wetland authority. These can't be revived. A 2019 order from the Delhi High Court said water bodies that are conserved better could be notified as wetlands.
Report on traditional drugs (Kerala) – The Drug Controller and Licensing Authority of Kerala will investigate a complaint against two traditional drugs for a possible violation under the Drugs and Magic Remedies (Objectionable Advertisements) Act, 1954. These have been promoted for diabetes, obesity, and hypertension. Dr Babu KV, in his complaint, said the company known for dealing in ayurvedic medicine has been guilty of violating Sections 3 and 7 of the Act. The complaint alleges false advertisements of the drugs concerning their use.
Why it matters: In the early weeks of the pandemic, Kerala looked to interlink the administrative framework of traditional medicine systems in the state with its public health administrative system to help combat COVID-19. Previously, public health experts from modern medicine have argued that no action has been taken against offenders of the Act. It allows ayurvedic manufacturers to continue unabated. In Kerala alone, there are more than 130 similar cases in different courts.
Praise for rural healthcare scheme (Chhattisgarh) – Chhattisgarh's Mukhyamantri Haat-Bazaar Clinic scheme, which provides healthcare access to people in remote rural areas of the state was praised by NITI Aayog. The think tank stated that more than 14,000 patients have been treated in 15 such bazaars under the Mukhyamantri Haat Bazar Clinic Yojana in a few districts. These clinics also offered free consultations, medication, and screenings for HIV, diabetes, TB, leprosy, and eye disorders.
Why it matters: Launched in October 2019, the Haat bazaars have provided treatment to over 15 lakh people. Free medicines have also been given to more than 13 lakh patients after medical screenings. Under the scheme, mobile healthcare vans are deputed at weekly Haat bazaars across the state. Among those who visit the clinics are forest dwellers. There are more than 1,400 such clinics across the state.
Notice to media houses (Gujarat) – The Gujarat High Court issued notices to Google and some media houses on a petition by a businessman who sought removal of news content based on an FIR naming him. He said the case against him was scrapped. He cited the right to be forgotten as a fundamental right. The businessman, Rakesh P Rajdev, described himself as a reputed trader operating in Rajkot and across India. He also has NRI status.
Why it matters: In October 2020, the crime branch of Ahmedabad filed an FIR against Rajdev and another person for alleged cheating. Two months later, the high court quashed the case. He informed Google and media outlets to remove articles that were defamatory against him. However, there was no response to his request. A similar judgment was passed by the Delhi high court last May directing Google and IndianKanoon to remove content about an American citizen of Indian origin.
New department for tribals (Assam) – Chief Minister Himanta Biswa Sarma said the government will create a department to work for the promotion of the faith and culture of anthropologically indigenous and tribal communities. In meeting with representatives from tribal communities, he spoke of preserving and promoting the cultural significance of the state's indigenous tribal communities. The department will undertake research to help educate the younger generation on their importance.
Why it matters: Given the state's many tribal communities, Sarma has previously spoken about preserving tribal art and culture. In September, he said a budget of ₹100 crores will be allocated for this purpose. He also urged non-tribal people to be engaged in this as it enriches Indian culture and civilisation. He previously spoke of the new department last July stating it will be an independent department.
---
🔢 KEY NUMBER
₹56,543 crores – The economic cost of road accidents in Tamil Nadu in 2019 per an IIT-Madras study. It accounts for 2.5% of the state's GDP.